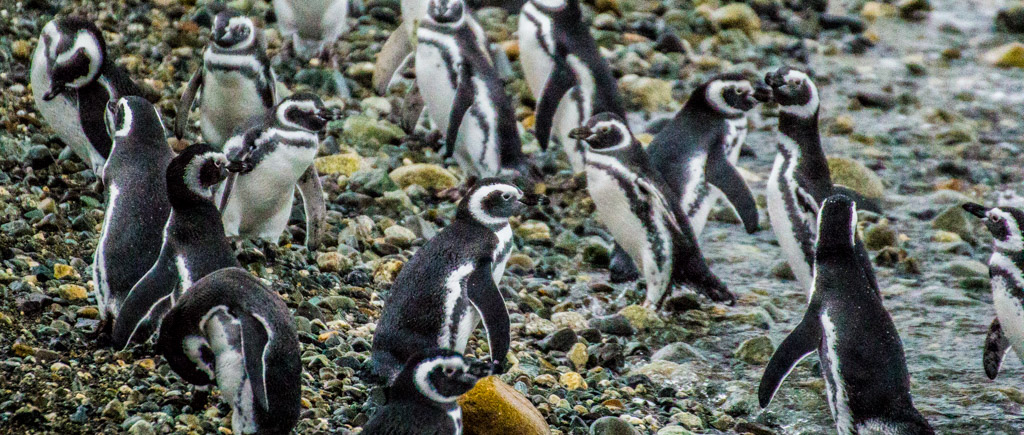 Patagonia
By Amanda Rawls
March 11-19, 2017
Amanda's Guest Blog, Part One:

A guest blogger, how nice! I've never done one of these before so bear with me as I try (and fail) to describe Patagonia's beauty. I am truly thankful and #blessed to be sharing in this adventure/journey/once-in-a-lifetime trip with family. I wouldn't be in South America if my Dad and JoDon hadn't decided to do some exploring. And they wouldn't have planned such a pampered excursion if I weren't joining. So hey, we both win!

I will have two weeks in South America. Week one was spent in Patagonia (both in Chile and Argentina) and week two will be spent in Iguazu Falls and Buenos Aires, so this blog entry will describe Part 1 - Patagonia.

I departed Austin, Texas on March 10th and had over fifteen hours of travel and two custom stops before my Dad and JoDon picked me up in Punta Arenas, Chile. To save a penny instead of flying directly from Houston to Santiago I flew Austin => Mexico City => Santiago => Punta Arenas, Chile. Although it was a long trip it passed quickly and Latin American Airlines (LATM) was pretty wonderful (you get wine with an in-flight meal and new movies too!). Although since arriving to South America I should have expected that wine was included (I'm not complaining).

Before leaving I started this trip with a small amount of trepidation. I don't speak Spanish. I haven't flown internationally by myself before. Could I survive the hikes and weather in Patagonia? Was this really going to be as amazing as I anticipated?

Spoiler alert - You don't have to speak Spanish when your Dad does, just don't lose him. Weird bits of Spanish that were living in your brain are suddenly spoken. I fly all the time - so internationally was no big shake (I did stumble around the Mexico City airport but I found my way). I did survive the over 35 miles of hiking (not easy, but music helps). And was Patagonia amazing? Yes. Duh. Of course it was! My Dad and JoDon have been to more than 80 counties and according to my Dad "this is the most spectacular scenery I have ever seen in my life. Ever." My world travel pales in comparison, but I agree - it's the best!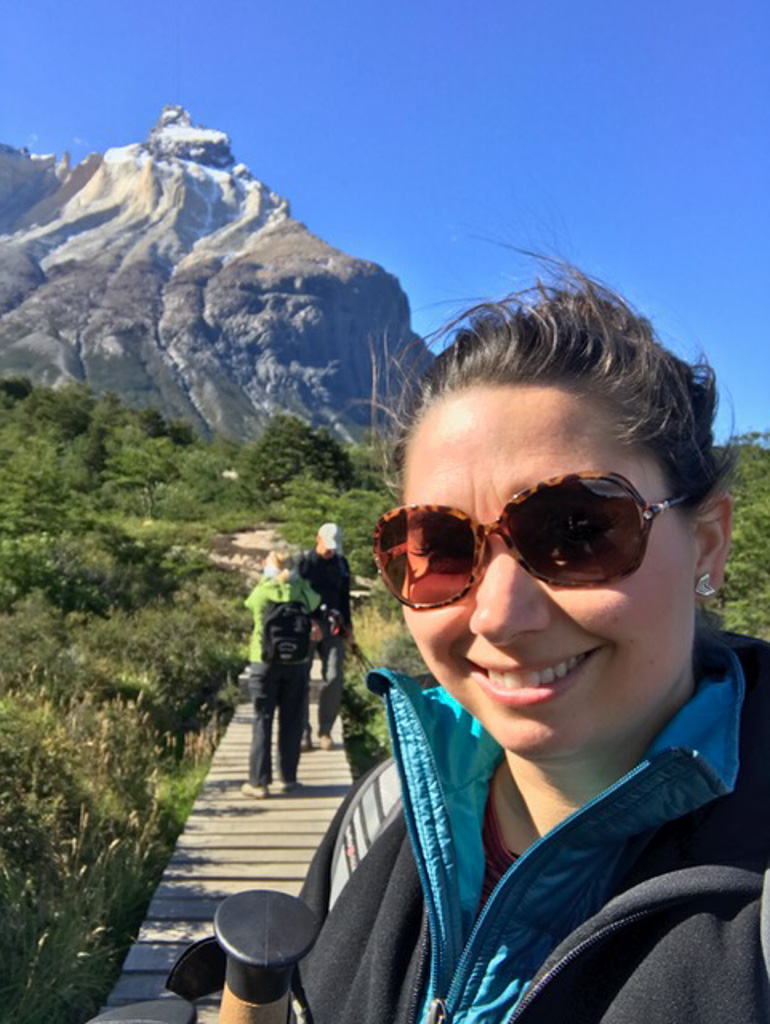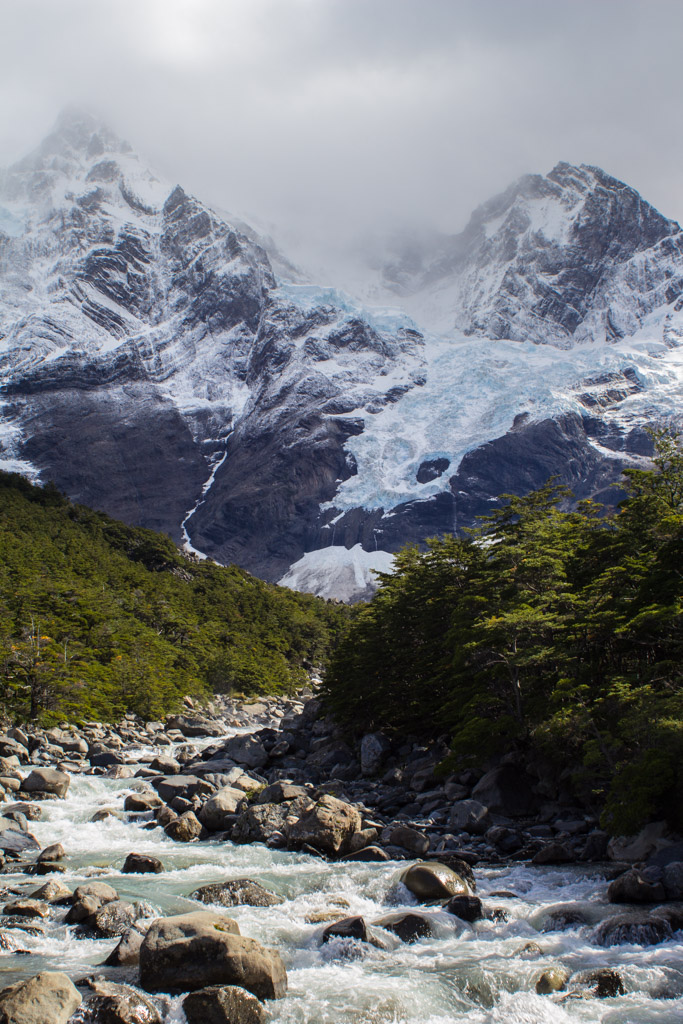 But I digress… you reader don't care about how I got to Patagonia…you just want to hear about the dang trip already.

So I will do my best to share our collective experience, although words are hard to come by when thinking back about what we saw, what we felt, and what we took away. It's easier to start at the beginning. After my long flight I was happy to see two smiling faces and a taxi waiting for me when I landed in Punta Arenas, Chile. We dropped off bags had a glass of wine to celebrate my arrival (horray!) and left for lunch and some walking. Cemeteries are big in South America (most cities have it as a tourist recommendation). And if you don't have a lot going on then, hey, why not stop at the Cementario Municipal where it's touted "among South America's most fascinating cemeteries with both humble immigrant graves and flashy tombs"? It was pretty (a choir was singing when we arrived) with parts resembling a flashy New Orleans crypt. It definitely gives you a feel for history (German, Swiss, Eastern European family tombs) and age (tombs dated back to wool barons of the 1800s).

But selfishly, I was hungry after flying so a trip to the fish market for lunch was on my mind. Punta Arenas is off the coast (Strait of Magellan) so seafood is their specialty (lucky me!). We had lunch and my first local beer (Austral) and walked the plaza before I took a long nap. That night I had my first lamb dinner at a parilla. You walk past the sizzling cuts of meat that are roasting over an open flame and look at the menu. Most of us are used to having two or three cuts of meat listed, here there are ten. What to do? Just order a plato (platter) where you get a bunch of different cuts of meat, cooked a bunch of different ways. You can't go wrong. And the ribs - always order some ribs. You're welcome.

Although dinner was delicious, Day 1 was really just a hold over for our first adventure - viewing penguins and starting our trek to southern Patagonia. Hello day 2! When booking our trip we decided to use a local travel group called Cascada Expediciones. Why? To save yourself a bunch of hassle. Could you set up your own trip to Patagonia? Sure. It's tempting to have your own Wild adventure and be one with your very heavy backpack, sleep on the trail, and catch a bus in your own time. But did I mention that your backpack is really heavy? We opted to use a company that planned the transfers, gave us a bed, gave us a guide, supplied unlimited wine at dinner, and provided a spectacular three course meal each night with a welcome cocktail to boot. Was it glamping? For sure, but judge me all you want, our Ecocamp was worth every one of my Dad and JoDon's pennies. But we will get there.

First the penguins…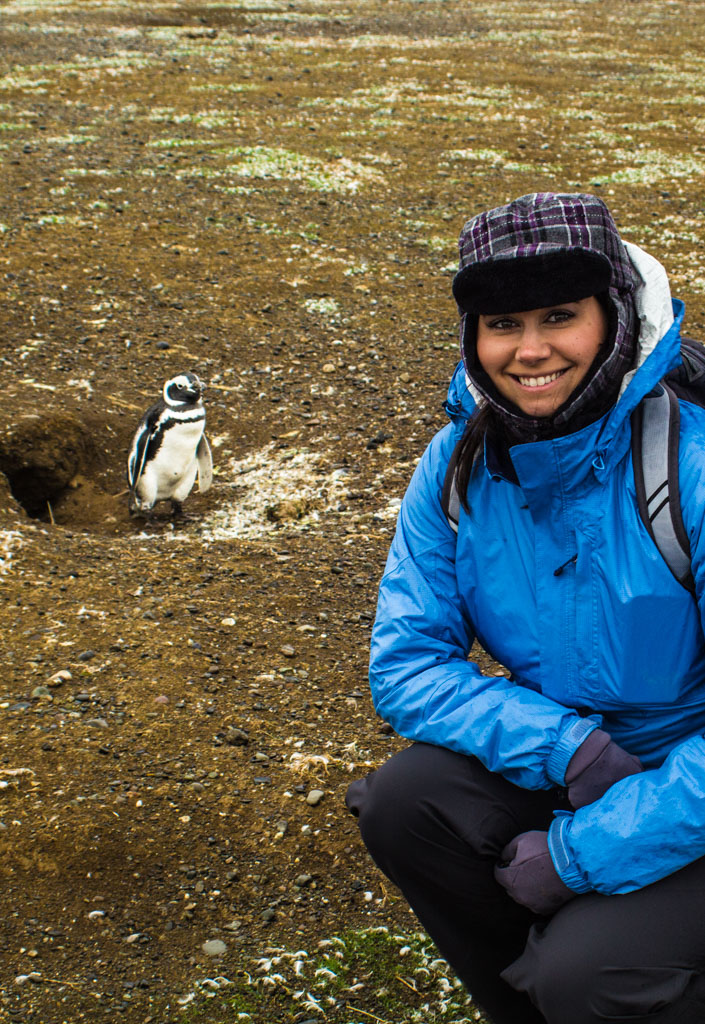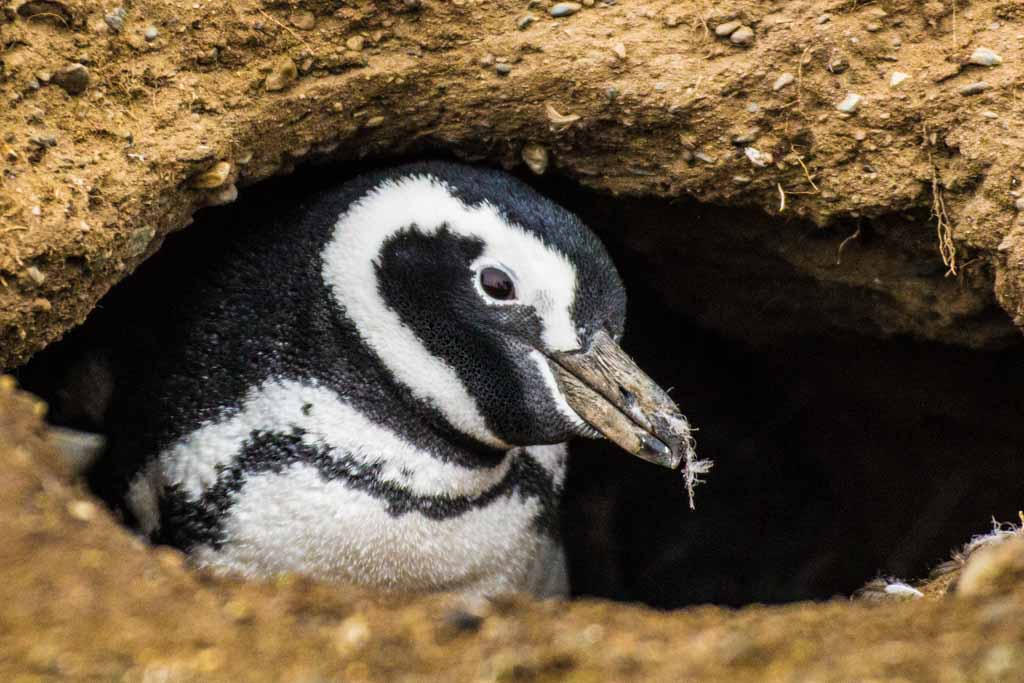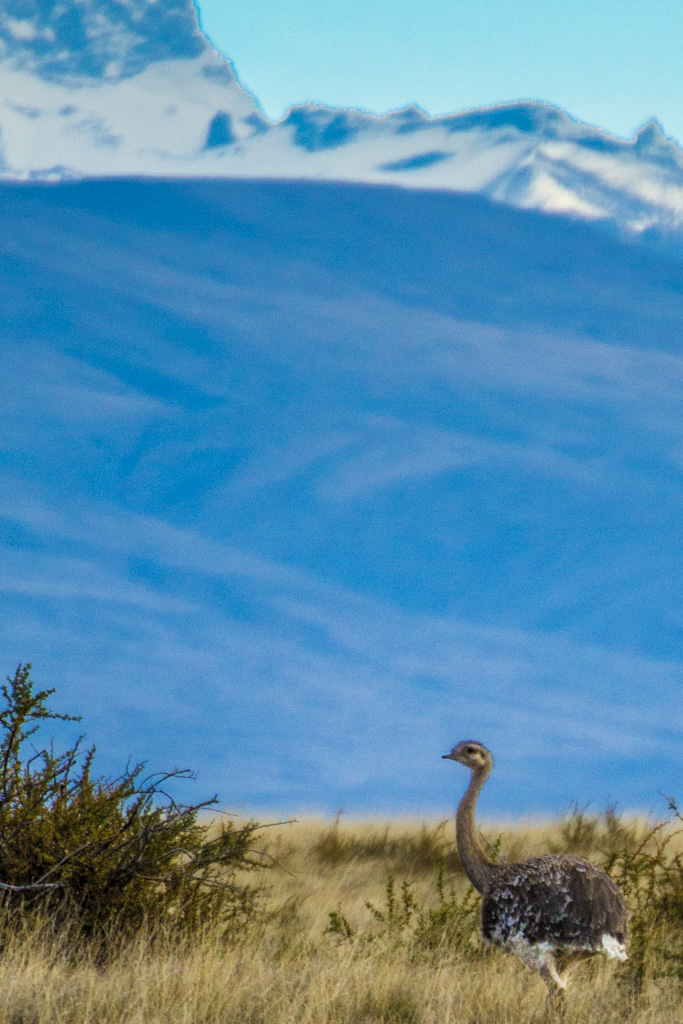 Before we headed North we had a shuttle pick us up to for a half day of viewing penguins. How exotic right? I had the good fortune of seeing Polar Bears in the Arctic Circle with my Dad and JoDon two years ago so when we talked about this trip I thought, "why not see Penguins together on the other side of the world (believe me I know how spoiled I sound writing that sentence)." But when offered the invitation, you accept! And lucky for us because we really got to get close to the penguins. We had to cross the Strait of Magellan (notoriously choppy water) in a small boat with about 25 other passengers. The Maegellanic penguin colonies have their own dedicated natural park called Monumento Natural Las Pinguinos on Isla Magdalena. It was an hour ferry ride that lands for an hour on the island so we not only got to see the penguins but walk around right next to them. The penguins are only on the island seasonally and are due to migrate in about two weeks. The males arrive on Isla Magdalena first and build a den, then the females arrive, and the baby penguins pop up shortly after. Since it was close to migrating a lot of the penguins were molting and walking down to the shore to swim and test their feathers out before their big swim. It made for a lot of activity on the island. There is a dedicated walking trail to follow, a lighthouse, and local birds to see while walking around. On the island I also got my first taste of the Patagonia winds. Right when we docked the boat you about blew over getting out. But you find your footing fast, zip up your jacket, and start looking for the pinguinos. They didn't seem to mind the human traffic and you almost had to watch out to not step inside a den since some of them were made so close to the trail. After we walked the trail circuit we piled back into the boat. Our trip was meant to see both penguins and sea lions but due to the choppy water we had to cancel our ride to the second island and just head back to port.

After getting back we were dropped off for lunch and to hitch a ride towards our Ecocamp in Torres del Paine National Park. There we met six other travelers who shared our 15 passenger van for the next three hours. We got through it and got to know everyone a little better. I get car sick so I should say my Dad and JoDon got to know everyone a little better. I had headphones on and was playing my own soundtrack to the beautiful scenery. We stopped to see wild flamingos in a lake (who knew flamingos were also in South America?). We saw mountains and hills and ranches and horses and sheep. We thought it was pretty great, but it only got better as we drove closer to Torres del Paine. Our shuttle stopped in Puerto Notales so that we could pick up our guides Jano and Jonas and get a bigger bus. We still had another two hour drive together so we arrived at Ecocamp after dark but with a welcome cocktail.

The Ecocamp consisted of a bunch of domes, all with different amenities. They were basically really nice permanent tents in the shape of a bowl turned upside down. And inside we had beds, a bathroom/shower, and a wood stove for heat. There were domes for sleeping, a community dome, a Yoga dome, and more. We came with our backpacks, trekking poles, optimism, and of course "the box". "The box" gained a small amount of fame to our 5 Day Treking Group because apparently nobody brings a box to Patagonia. You bring a backpack or luggage - not a cardboard box. But our box was important because we brought wine and scotch so a cocktail box is essential camping gear to the Rawls.

After unloading we met up with our guides and to meet the rest of our group. Everyone who was also arriving the same day were split into groups depending on the activities you signed up for. Some were choosing a different adventure everyday like horseback riding, hiking, kayaking, etc. Some (like us) were strictly there for the hiking and you could do that in 5 days or 7 days. Our group was the 5 Day Trek and so we spent almost all of three days together on the trail, sharing meals, and getting a briefing for the next day's activities.

Ecocamp was great, but the hikes were better. Each day we hiked a different route completing almost all of the famous "W" trail. We only spent one night at Ecocamp before riding a shuttle for 45 minutes to take us to a ferry which then brought us to a refugio. Essentially this is like a dorm basecamp for hikers. We took a small overnight bag, dropped our stuff, and started a 12 mile walk. The ferry ride was cold but the scenery was amazing. The lake was a perfect turquoise blue due to the melting glaciers nearby. It was a very neat color contrast to the perfectly pale blue sky, white clouds, green hills, grey mountains, and brown trails.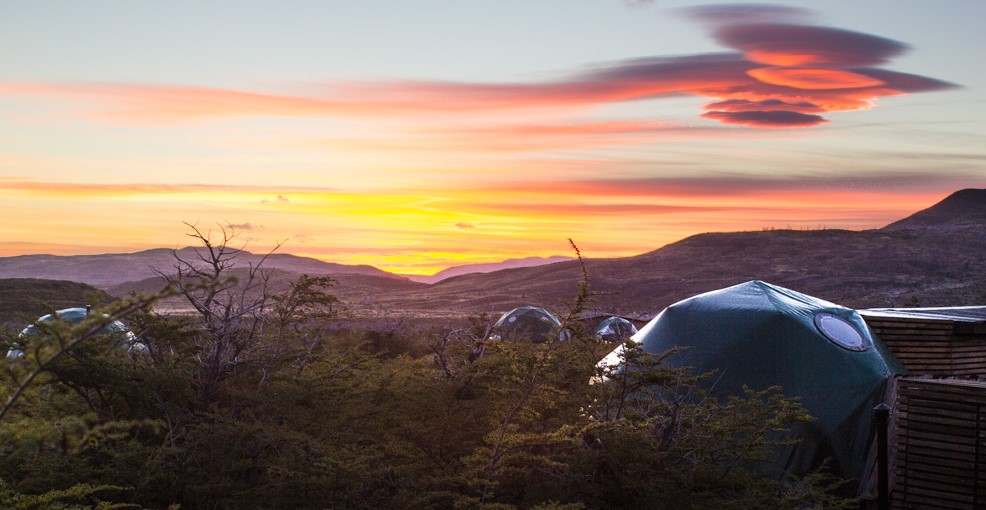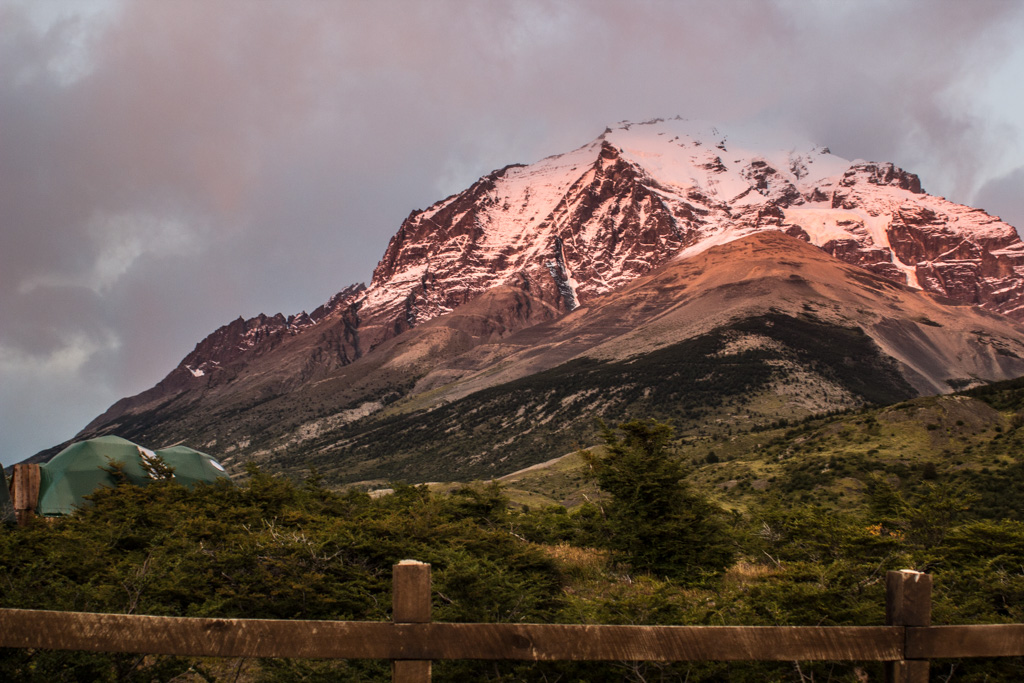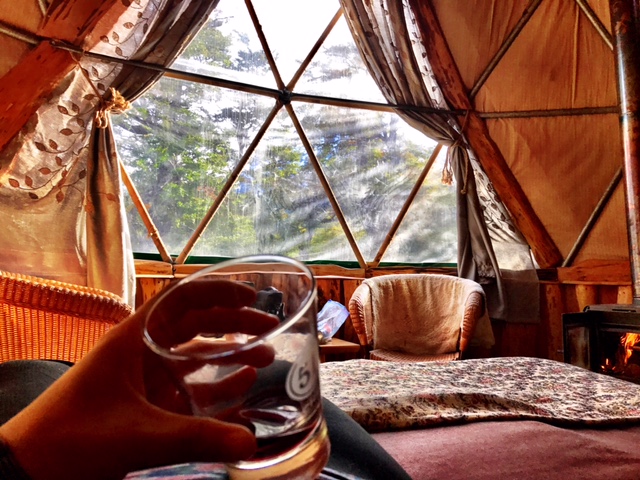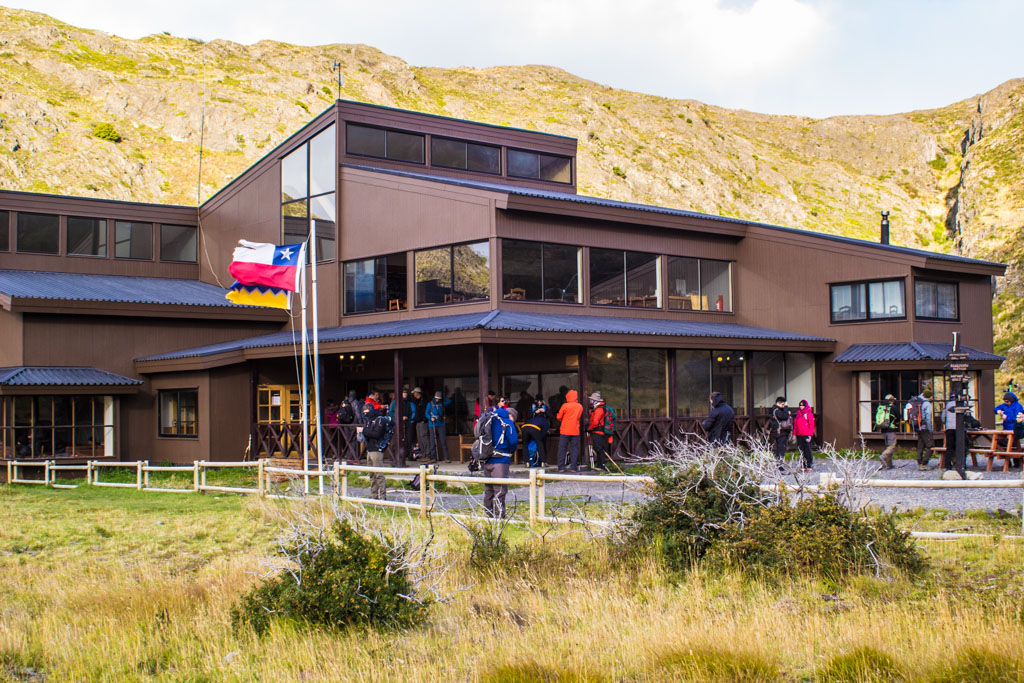 Refugio
Ecocamp
Ecocamp

Our first trail was a good introduction to how our days of hiking would be going. Bring a water bottle, lots of layers, and just keep looking around to absorb it all. It's tempting to only stare at your feet as you walk so you don't trip on rocks, but as lovely as the brown rocks are you have to remind yourself to look up at the expanse of it all. There is nothing to interrupt your view except for another mountain. We walked on soft gravel, hard rocks, grass, under trees, and over boulders to get to our first view point. Our guides were good about taking a break and if you needed a refill on water you just dip your Nalgene bottle into the running creek. You can't do that in Texas! The water is clean and fresh from a trickling glacier nearby.

You can't imagine a more beautiful place to be and unfortunately tourists have damaged the park over the years. Two of them have accidentally set fires with one wildfire burning for over ten months. We walked through the part of the forest where the trees are still scorched. A good reminder of the anthropologic effects we can have. But apart from the scorched trees everything else was just…perfect. We saw four different lakes that were four different colors of blue. We sat on rocks that were as big as houses. We saw a valley with glacier water running through it. We breathed air that will never be as clean and fresh as it was there. We chatted with other travelers and ate our snacks looking at snowcapped mountains. And of course I had to take a selfie or two only to show that I actually made it to the top.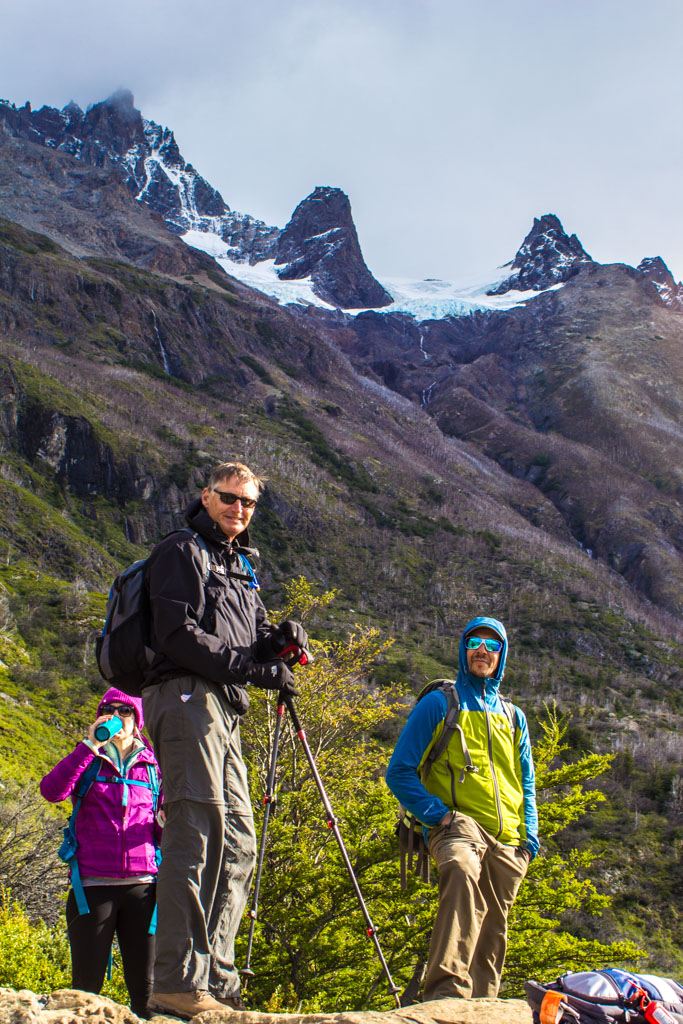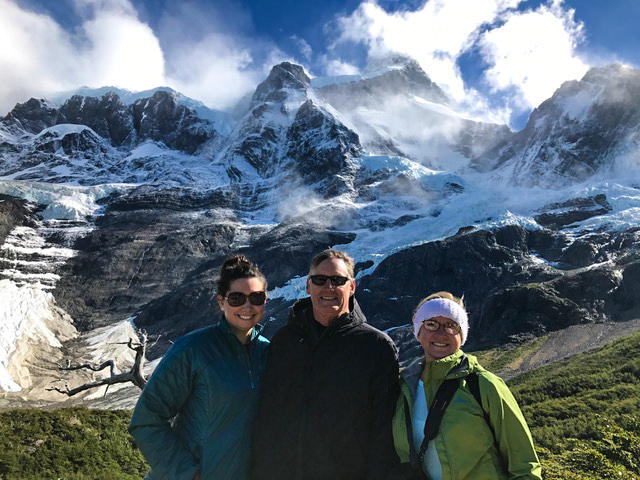 Also it is worth mentioning that the weather and wind in Patagonia are notoriously fickle. A forecast for sun means rain and winds can range from 5 to 50 MPH while you hike. We had perfect weather. We got a couple of strong gusts while on the open side of a mountain, but once we made our way into a valley the winds were low and the sun was out. Layers came on and they came off again as we worked the trial, but that's Patagonia.

Our guides were good about keeping us together as group on the way up, but on the way back down the trail we were free to walk at our own pace. This was good because I was losing steam and I wanted more time to stop and stare and not hold up the group. Most of the trails were just an out and back and we were happy to see the refugio as we turned the corner because it meant we got to kick off our boots, shower, and open our cocktail box.

Glacier

Guide Jano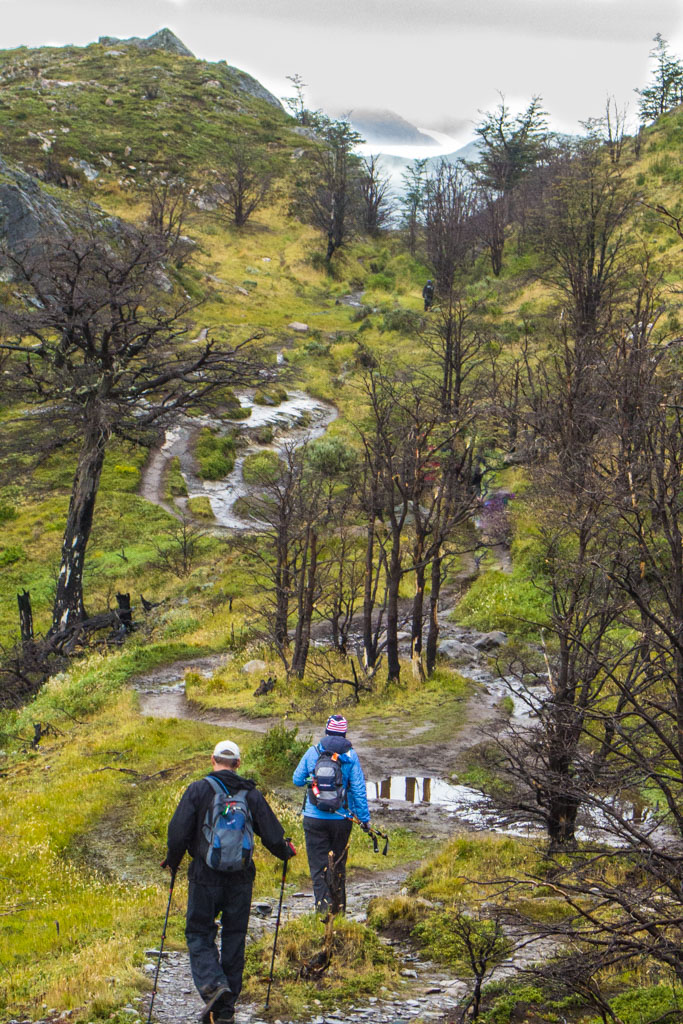 We bunked in a room with three other people and it felt like summer camp as we turned out the lights at 9 PM before they woke us up at 6 AM. But an early day meant an early start on the breakfast crowd. Our second hike was the French Valley which was about six miles and took us through mostly a heavily wooded area before opening up to Lago Grey. It's called the grey lake because of the milky grey color. The lake is filled with melting glacier water so as we walked we could see little icebergs that had calved off the glacier floating in the lake. It was fitting because it was mostly a grey day with a little bit of rain at the beginning of the hike. The sun never really shined through, but it was wasn't too cold or windy or rainy so I'll take grey. The drizzle made for a very soggy trail, but the things we saw were still beautiful. We passed by waterfalls, climbed over soggy fallen tree limbs, passed over small creeks, and walked onwards to the next refugio.

From there we boarded a ferry which took over an hour to cross the lake. After the hikers boarded the ferry it passed by Mirador Galcier Grey where there was a crowd of people snapping pictures and selfies from the back of the boat. My Dad and I stayed inside the cabin and enjoyed our pisco sours because we were wet and wanted to dry off and we already had plans to see a glacier in Argentina. I think we came out ahead on that one.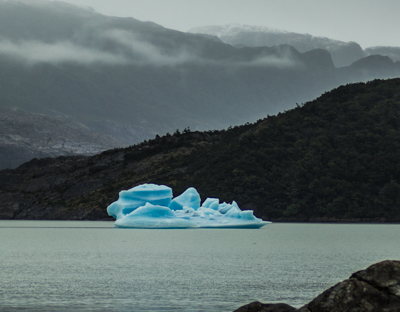 After the cafeteria food we had at the refugio we were really appreciative of the nice dinner we would be having at Ecocamp. Dinners are three courses and one night we had grilled octopus, gnocchi, and rice pudding. Yep, we were winning at life again. Some people hang out after dinner in the community dome because there is a bar. Some people go to bed. We had been walking back to our dome to enjoy the fire and our cocktail box. But that night our German guide, Jonas, asked if I liked Jenga. The game or the movie? Jenga, like with the blocks he explained. Sure, who doesn't like Jenga? Do you want to play? OK. And because he asked an extremely competitive dinner group to play Jenga we had a very obnoxiously loud game of Jenga complete with razzing, a tambourine, and maracas shaking in your face as you gently tried to build the Jenga tower.

It was fun.
But as that day ended we realized we only had one more hike and this time we got to do it straight from camp. And this last hike was the most spectacular. Gosh, it's like they do that for a reason. Our last hike was to the Base of Two Towers (Torres de Paine) and it was touted as the longest and hardest hike of the trip. We had a pretty steep rocky incline on our first day. I was out of breath and asking Jonas "how much further" probably a little too early into the climb so I was a little nervous about this one. I'm not used to long consecutive hikes and I started hike 1 at 100% energy level, started hike 2 at like 75%, and wasn't sure where I'd be before hike 3. But all those little worries disappear the more you walk. You find in hiking if you just take another step you get a little closer. And thinking about the whole thing is overwhelming so just think if the next little leg or lookout you need to get to. Once there, you can keep going.

Side note about hiking - you don't want to live inside my brain while I am walking for eight hours straight. For some reason only the songs you don't know all the words to get stuck in your head. I started thinking "I'll do this hike step-by-step" and then I thought I used to really like the show "Step By Step" on TGIF, then I started singing the Step by Step theme song (but I don't know all the words). And then it was stuck there. Damn it! My Dad kept singing "don't worry, about a thing, cause every little thing…is gonna be alright" so "Three Little Birds" was our happy trail song.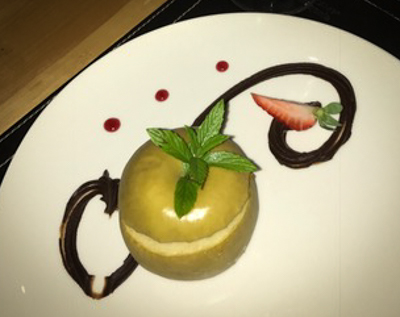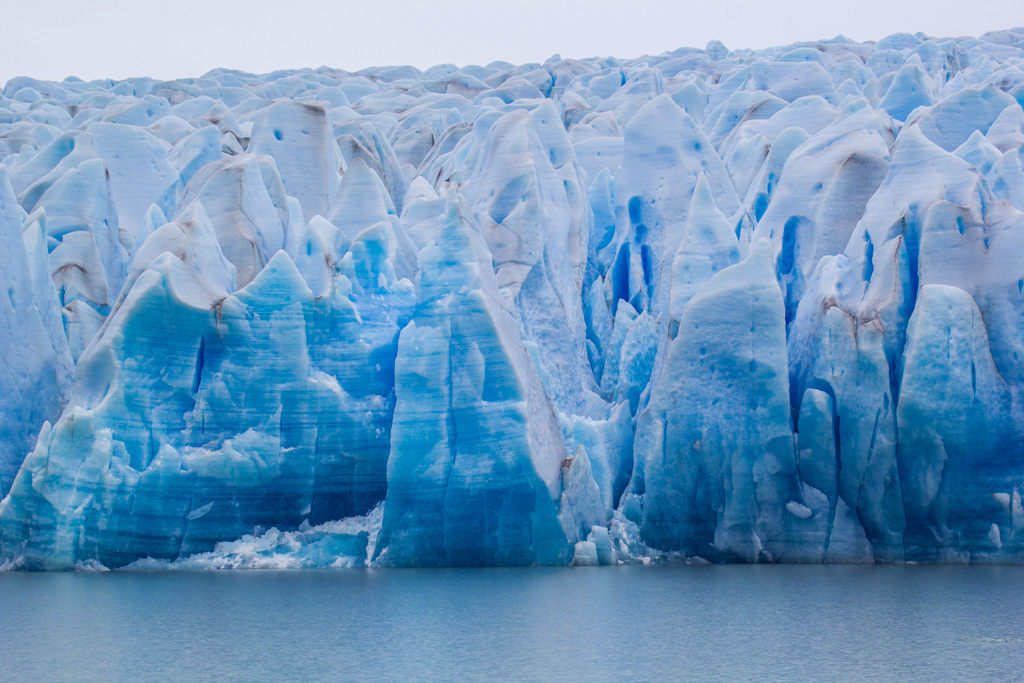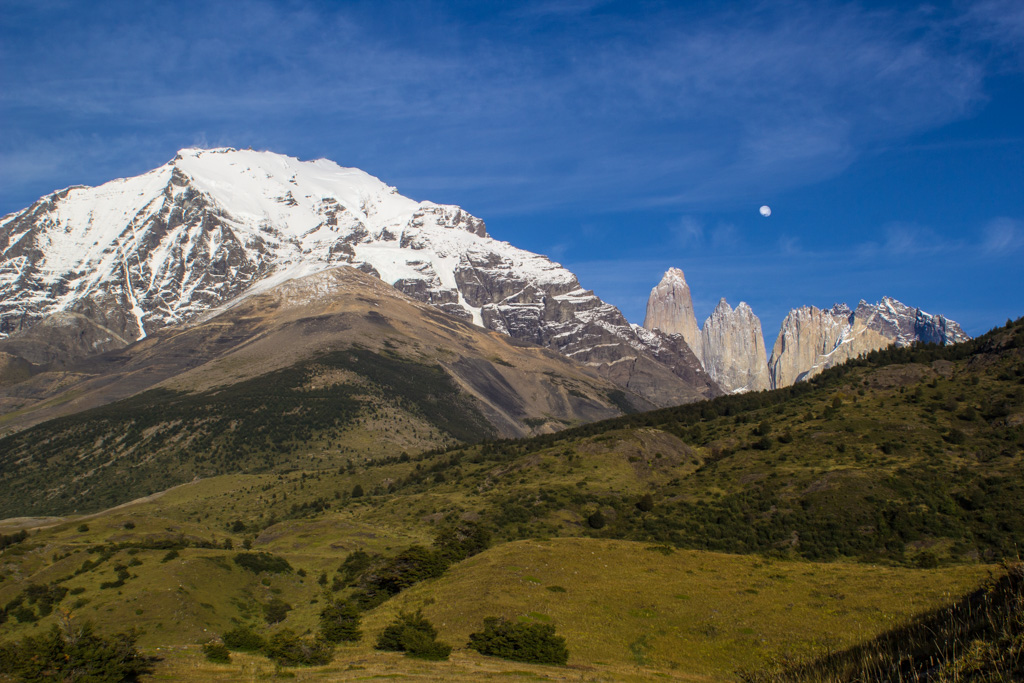 So I was prepared for the long trek. If you had pointed to the top of the horizon at the beginning of the hike and said "this is where you are going to end up" I would have thought you were crazy. There was no way we could walk that far and that high and be back before sundown. But we did and we made it back to camp ahead of schedule. We walked up a hillside? mountainside? (it's hard to tell) on a pretty steep incline for about 30 minutes which was supposed to prepare us for the amount of up and down and winding we were about to walk. Or should I say undulating. Our guides really loved that word. And it is perfect, because nothing in Patagonia is flat - it undulates.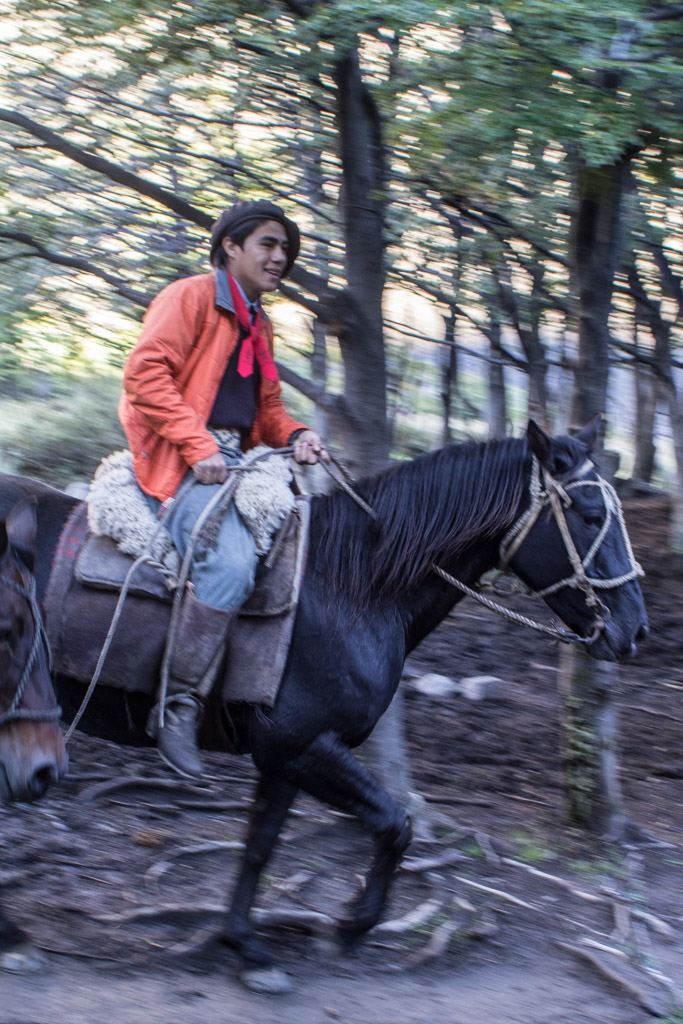 The scenery got better with every step. Looking around it felt like we were in the green mountains of Switzerland. You just wanted to starting singing "the hills are alive.." and I resisted until the end because what better way is there to celebrate after the end of the trail. But we walked and almost got trampled by horses stampeding past led by a gaucho (Argentine cowboy). There is another refugio on this trail and horse stalls are there so they can carry supplies to campers and also be used as aid if anyone is too hurt or tired to finish the hike. What they don't tell you is that these horses will peel around the corner of the trail running at full speed no matter who is standing there. We just happened to be coming around a corner the same time that about ten horses did too and we had about 4 to 5 seconds to jump off the trail and into the dirt hillside to escape their path. It would happen again later that day. But I survived!

We soldiered on and it gave the hikers and me a new topic to talk about. Can you believe we were almost trampled? Yeah, my Mom would have killed me. Wait, the horses would have already done that. Good point. We walked through the dusty trail into a river valley. This trail was great because we got to hike through so many different kinds of places. Parts of the trail were dry and dusty. Other parts were like the forest where Hansel and Gretel would have walked. There were boulder hillsides and a lookout point unlike any other. Blue and green was all you saw as you looked at the horizon. The lookout point was sort of the last "easy" part of the trail. The hard part was the 45 minute extremely steep, unforgiving incline we would have to power through to get to the top. But isn't it always that way? The hardest part before the best part.

I needed some help with this incline and a different place to think outside of my little voice that says "this is hard" so I drowned that out by playing music. There's nothing like a good playlist to distract you. So Sublime, Daft Punk, and whatever other odd songs in an old 4th of July playlist helped me take each step. We climbed straight up some rocks and roots as we edged our way out of the dense forest. We made it to the open side of mountain? hill? (not sure what to call it) and then walked at a 30° or 45° incline (calves are burning now) until we got to another high point. From there you shimmy over and wind around another corner but instead of just walking straight up in loose dirt you are climbing up and down rocks following a narrow path and rocks marked with an orange flag. The path is close to the edge of the mountainside so if you don't love heights (like me) you just stare at the rocks at your feet and side. It was slow work for me, but I moved step-by-step listening to my headphones with my Dad behind me. The song "Sh-Boom" from The Chords was playing as I turned the corner and realized we had made it to the end.
And the view was WOW "…life could be a dream.." was singing in my ears as I saw the Base of the Paine Towers with the blue pool of water below it. This is the iconic granite rock centerpiece of Torres del Paine National Park and it's on the cover of most Patagonia/Chile travel books. And not only was the view amazing, but everyone sitting on the boulders looking at the towers were equally happy and thrilled by the experience. No one was frowning. We had all made it to the top and were enjoying a water break, snack, and/or stillness to take it all in. Our group had spread out over the rocks along with many other hikers. Everyone had their cameras out trying to capture the space and beauty in just a photo. Those pictures and our memory would be our only takeaways. Our guide Jano gave us a short geology talk and we took the necessary group photo before heading back down. You have to remember now that we got to the top, we were only half way done. We still needed to work our way back down and over to Ecocamp. Only this time I tried to give an encouraging word or two to the strained faces that we passed on their way up as we made our way down. "You are SO close….keep it up…it's worth it…just keep going!"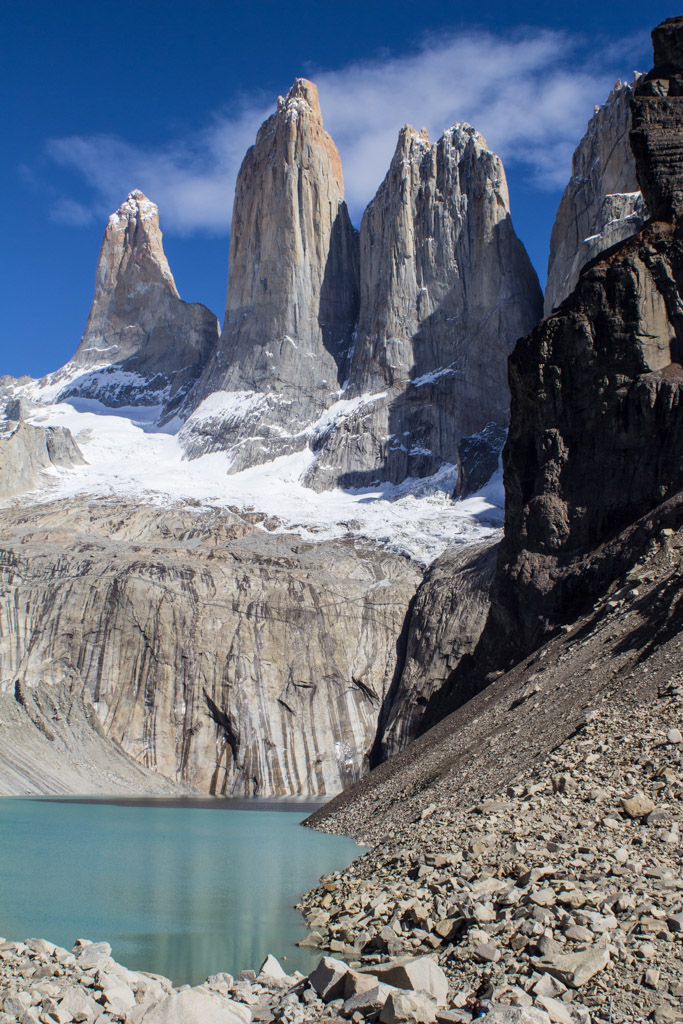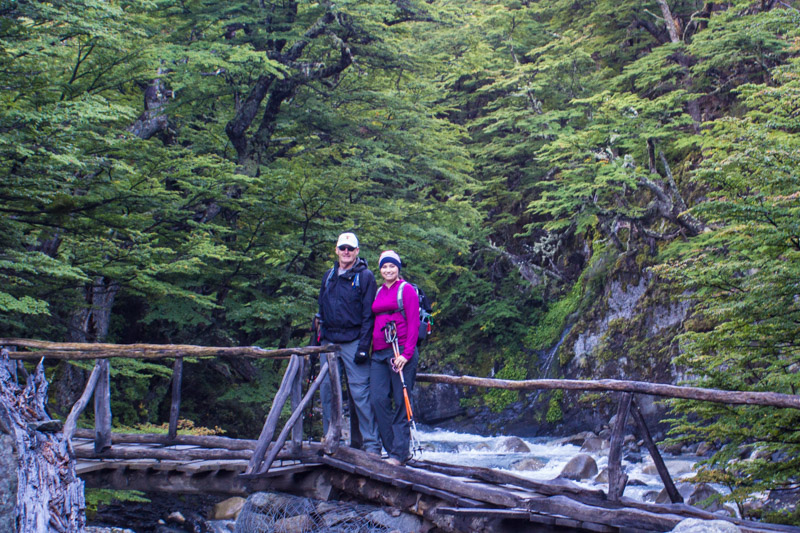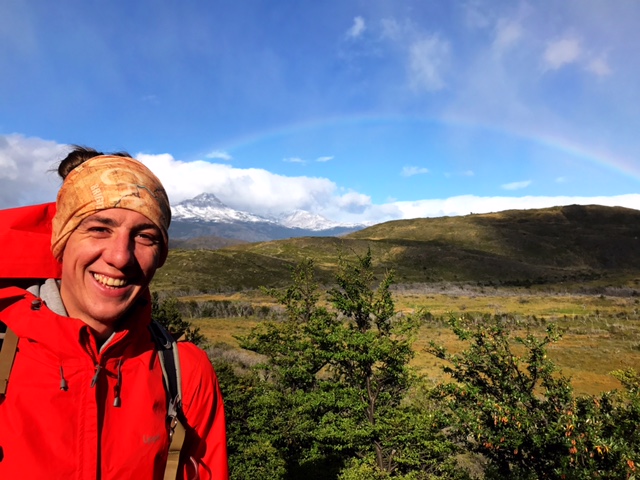 That night we had out last dinner with guides and the group. We had even more wine and said our thanks to Jano and Jonas who truly were amazing people. Jano looked like he was 30 but said he had been a guide for over 20 years, so he knows his stuff. He was strict and often told my Dad "to chill out" when we were asking questions. He described me as a "clever girl" who is the Hello Kitty version of my Dad. Jonas was only 23 and from Germany but moved to Chile for his Chilean girlfriend who works in the National Park service while he is a guide. He was so optimistic, helpful, and silly - you couldn't help but like the guy. He was also sick with a cold and my Dad reminded him that he was our Germ Man (get it?). Best dad joke of the week. It's hard to say thank you to two people that showed us so much. I was reading a book of travel poems on my flight to Chile and chose to recite a few words from Walt Whitman's Song of the Open Road. I figured if all of these random travelers in our group found their way to Patagonia then we all had a bit of wandering in our hearts. We were people who naturally take to the open road of travel.
Guide Jonas
Before sleeping I choose to look at the stars one last time on my walk back to the dome. This was going to be the darkest skies we would see in South America. Since we are in the southern hemisphere you have to remember that the stars are flipped too. It's just a new way of looking at them. You could see the Southern Cross (only visible on the south side of the Earth) and the actual Milky Way with all the tiny stars swirling down the middle of the sky. Even at night the view will still impress you.

We departed early (around 6:30 AM). As we left the Ecocamp it clicked why the Patagonia company logo is of purple/grey mountains with a pinkish sky behind it. Because that is exactly what we saw as we drove out of the National Park. We left when it was still dark and had about a two hour drive to get to the public bus we would be riding to El Calafate, Argentina. The sun was slowly rising during the drive and the entire sky was pink, orange, and yellow. The sky was so big it looked like an ocean of pink with clouds looking like little ripples of waves. It looked like we were actually driving into the sun, because that was all you could see on the horizon. A wall of flittering color. One last reminder about the beauty you would be leaving.

And onward we went to cross the border to Argentina. Strong and content we traveled the open road.

-Amanda Rawls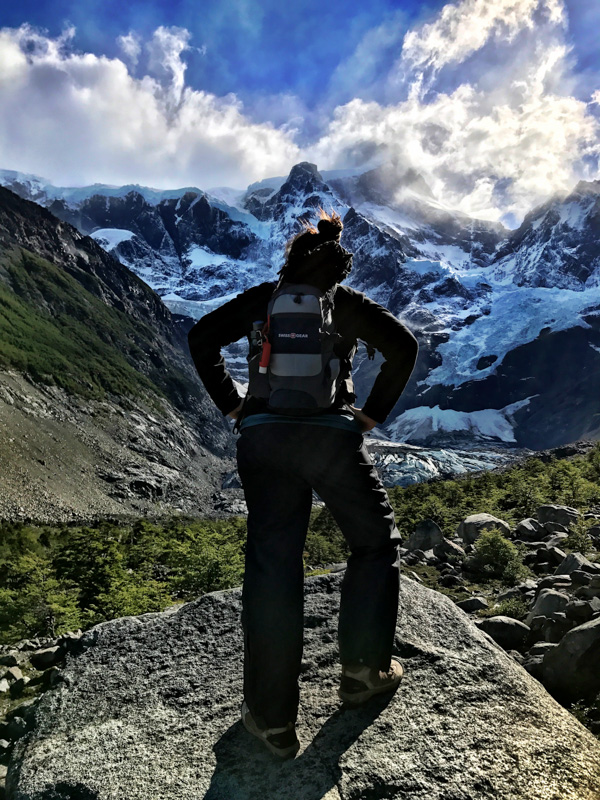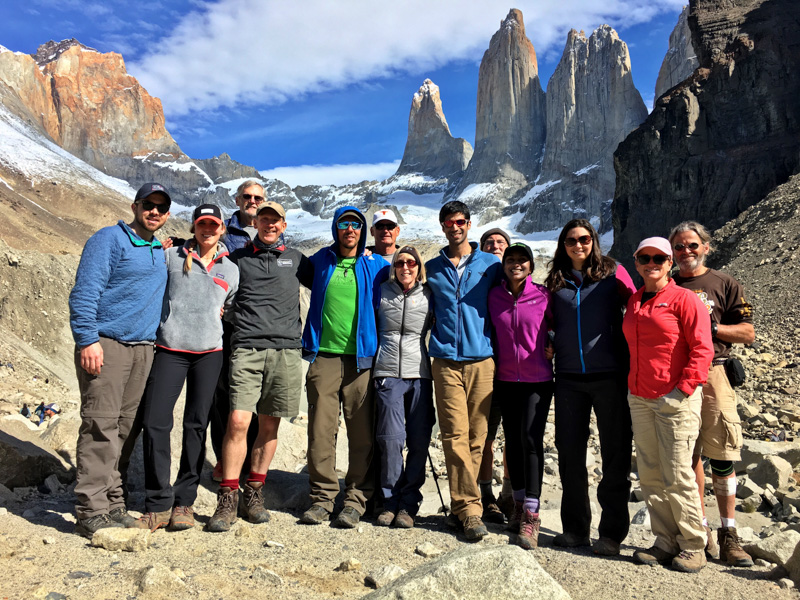 And man was it worth it. The views on our walk were unbelievable. On the way down we got to take our time and think about what we were looking at a little more. I should mention that I keep saying blue skies, blue mountains, blue lakes, etc. The park got the name Paine (PIE-nay) because it's the native Tehuelche language word for blue, as in the blue glaciers. And since blue is my favorite color I was tickled to see all of its varying shades displayed for us during our time in the park. My knees were killing me from all the resistance it took to step down the incline and back down the trail but the trekking poles helped. We were making fast time and even our guide Jano called us robots for not taking a break and just moving along. He asked what we were in a hurry for? We said we weren't in a hurry but we had a box waiting for us so that was motivation alone to make it back to the dome (as it was nearing 5 o'clock).

We finished the trail about 30 minutes ahead of schedule, which meant I had time to join the Yoga class. After 15 miles of walking I didn't need a workout, but I did need some stretching so that I could actually walk the rest of the trip and I am so glad I went! The yoga dome had a wood stove going with mats laid out and a picture window of the Patagonia expanse. Our teacher encouraged us to do the lesson with our eyes closed and just relax…become one with Patagonia…pretend you are butter melting into the floor…raise your arms and connect to the clouds as your feet connect to the ground. It sounds cheesy but this voice was one of the most soothing I've ever heard. Plus I brought a glass of wine in a coffee mug with me which was I sipping before the class started. So I was already feeling relaxed.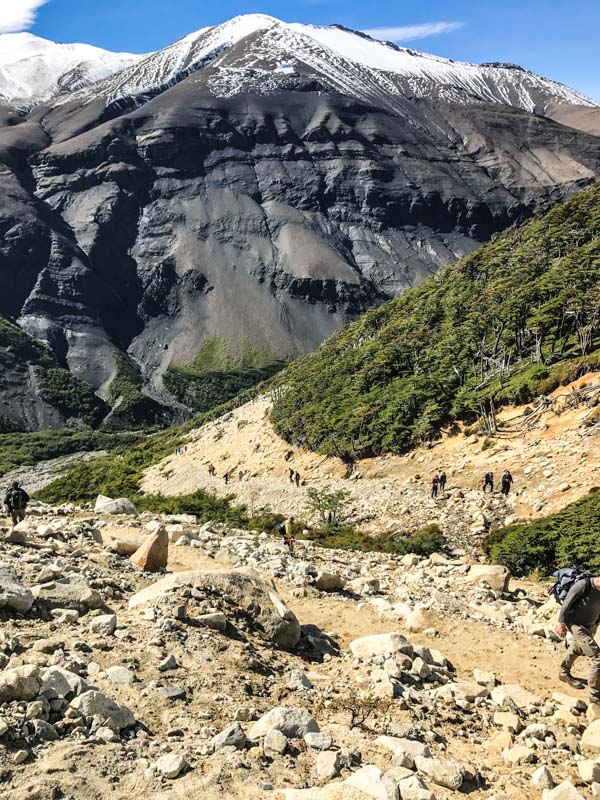 Looking down a smooth section of the "hard" part.
Afoot and light-hearted I take to the open road;
Healthy, free, the world before me,
The long brown path before me leading wherever I choose.