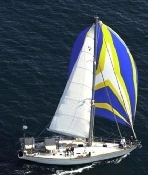 Journal 11; Bahamas - DR - PR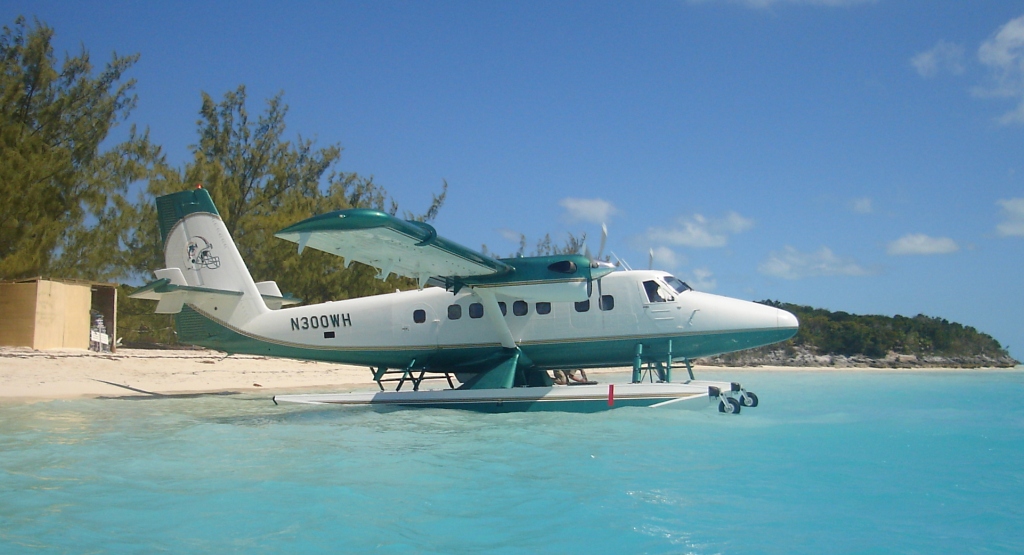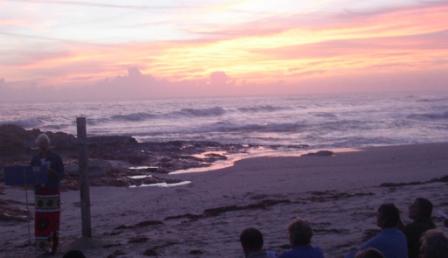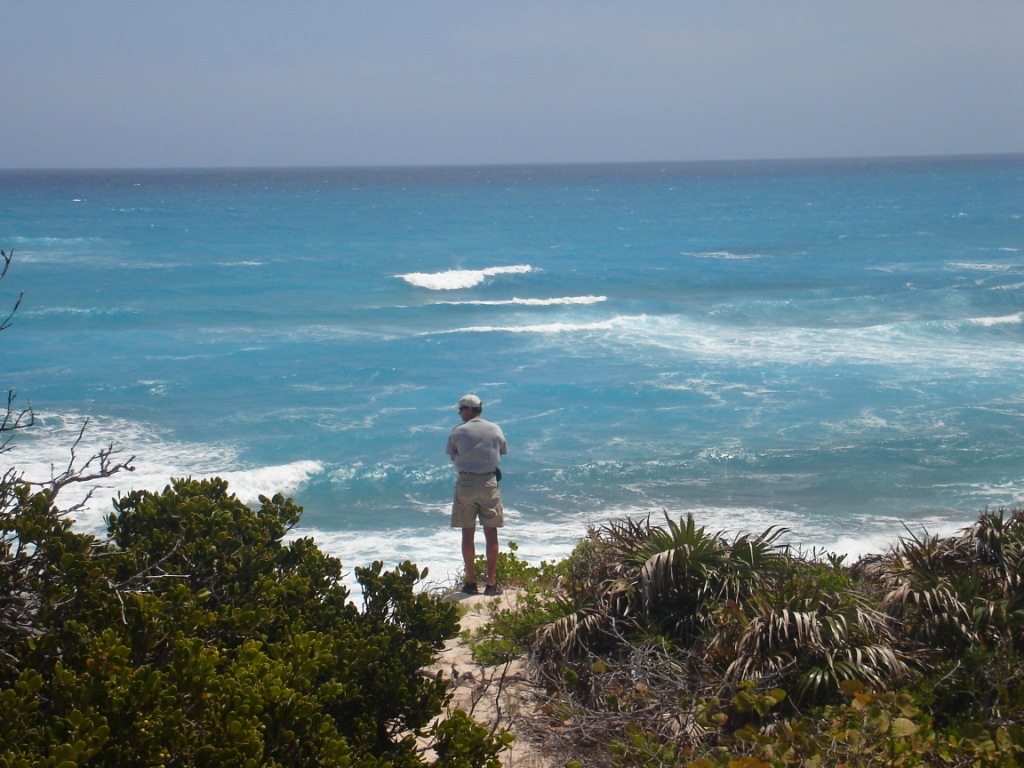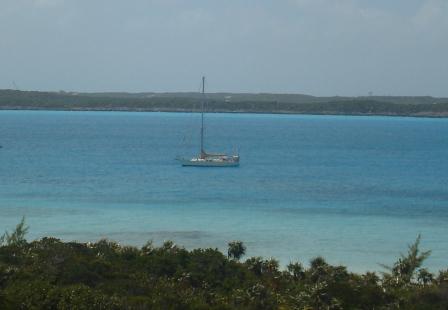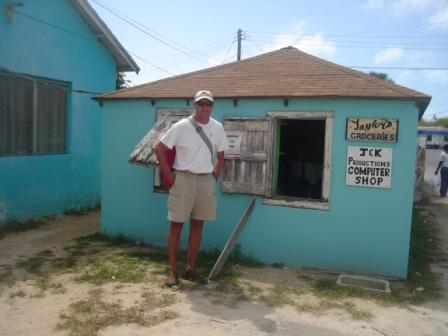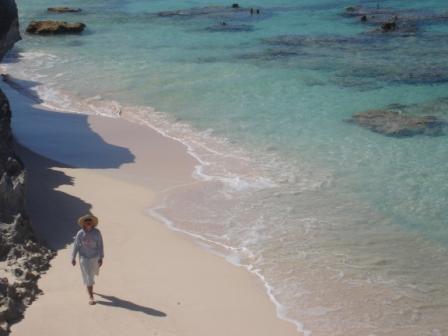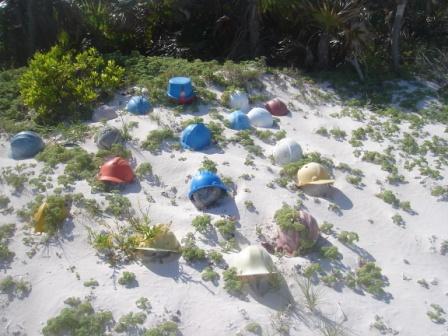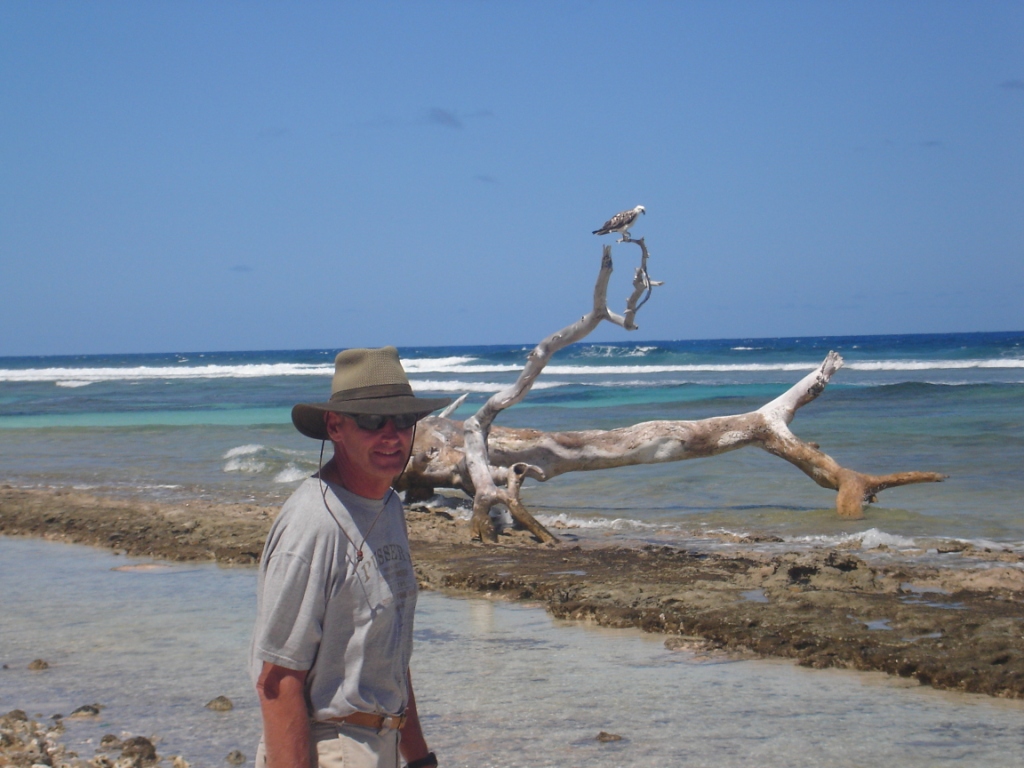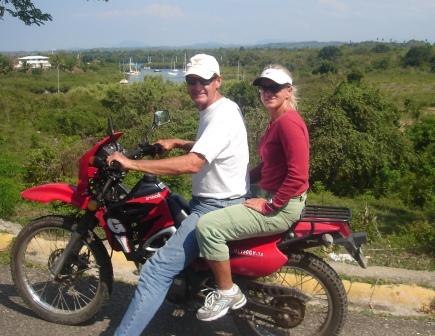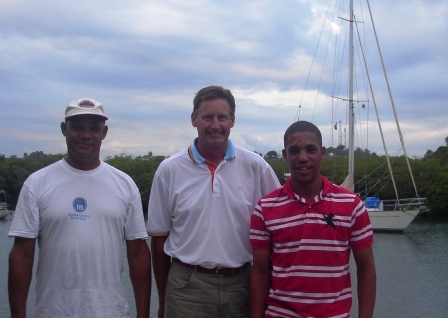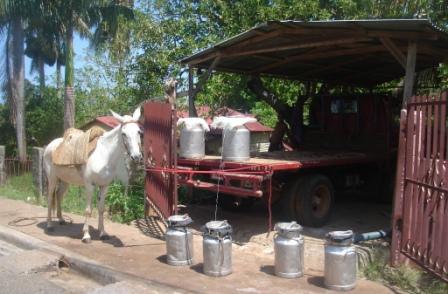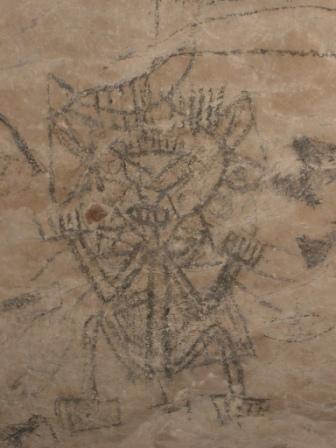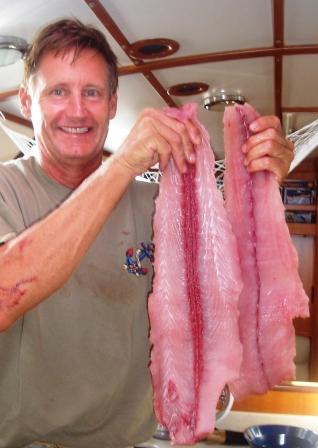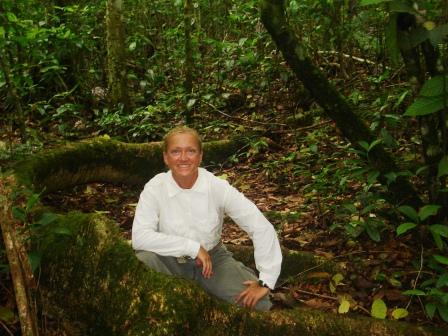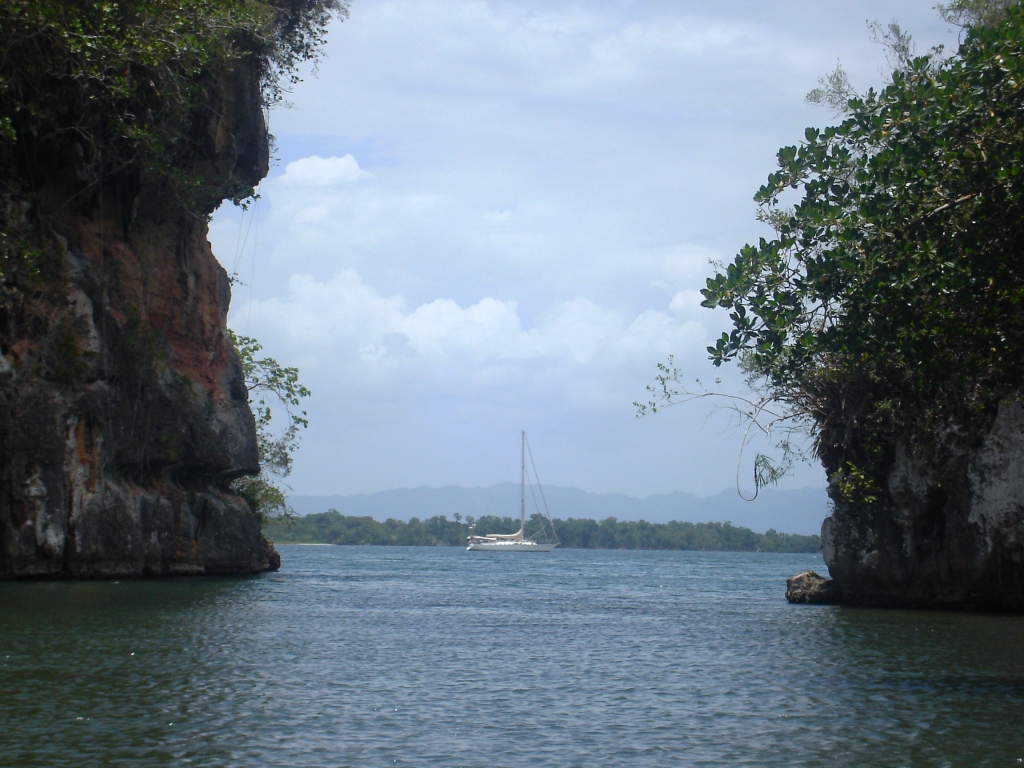 Our stay in Georgetown, Exuma Islands, Bahamas was extended because we were waiting on a part for our wind generator to be shipped from England. The good news was the part was in warranty; the bad news was that it took forever to arrive. In fact, we had given up on it arriving and had already made plans to depart Georgetown and then it suddenly appeared the day before our departure.

With the extra time in Georgetown we were able to play volleyball every afternoon with cruisers, hike the hills that divide the Atlantic Ocean from Victoria Harbor; fish while snorkeling, go to town for supplies, check on our package at the post office and do Internet. The photos above show Brian looking at the rough Atlantic side and El Regalo calmly at anchor on the harbor side. The Internet providers (there are three) were unusual. One was located in a shack that I would not normally store my lawn mower but cruisers were elbow-to-elbow doing emails. The second provided wireless service across the bay for anyone that has a booster antennae (we do) and the third was a free service at a local bar. I'll let the reader guess which our favorite was.
March 21 - May 7, 2008
Also, one day the sister of the owner of the Miami Dolphins had an urge for a Georgetown hamburger. So, take the plane and go, landing through the middle of the anchorage! Tell me we're not anchored some place cool.
Since I have mentioned bars, we observed that a large portion of the local male population spent their days drinking beer on their front porch or in local bars. It would be interesting to know what they told their working wives they did all day.

Attending Easter sunrise church service at Georgetown was a blessing. We had never attended a sunrise service and it was a very moving experience being on the beach, the waves pounding the surf and listening to the familiar story, He is risen.

A good weather window opened up and we, and most of the Georgetown cruisers, lifted their anchors and departed on April 6th. Most were going to Florida where
many of the Canadians, and some Americans, store their boats in the summer months. By coincidence there were two other boats heading south and we formed a line departing the narrow south channel. It was thrilling to be back at sea and the day sail to Concepcion Island was absolutely perfect with a strong favorable wind, sparkling deep blue ocean and bright sunshine. We were the last in the line leaving the harbor and JoDon got a special 'kick' that El Regalo flew past the two other boats that included the French built 53' Amel Super Maramu ketch. We were both very pleased that our boat performed so well and thrilled beyond description to be back at sea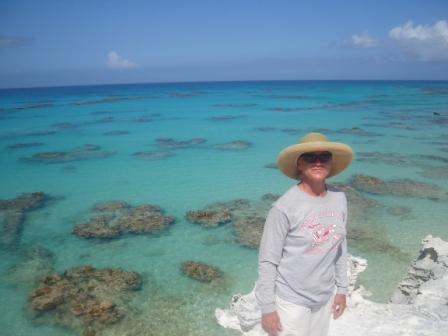 Concepcion Island is a beautiful Bahamian island so we stayed extra days to await more favorable winds to move south. The reefs surrounding the Northern edge reminded us to pay attention when navigating at night. While hiking we came across a collection of plastic helmets that someone had lined up on the beach. Speaking of, it's dismaying to see the
amount of plastic that washes up on the ocean side shores. Shoes, plastic oil cans, chairs… if it's plastic its there. Some of the plastic is probably thrown overboard by ships while some of the items must have floated down a West African river and across the Atlantic

In this time of year, strong cold fronts from the north become less frequent and the SE trade winds directly oppose our desired course. After several days of hiking and exploring the mangrove forest in our dinghy, we decided to take advantage of calm winds by motor sailing southeast to the Dominican Republic. Motor sailing is monotonous and boring but we made good progress toward our destination, an estimated trip of three days.

The seas had big swells but with little wind they looked like the rolling plains of America. The skies were overcast and you could not see where the horizon began and the sea ended, it was all gray in every direction. During this motor sail, with the steady drone of our diesel motor, it was about as exciting as plowing a never ending field across Kansas. We did spot two whales, our first whale encounter while aboard El Regalo. It was exciting until we thought, "What if they attack the boat?" Our only excitement was that our auto pilot started acting up by occasionally not working.

By nightfall of our second day, Otto (our nickname for the auto helm) completely stopped working so we had to manually steer El Regalo. JoDon and I took one hour shifts and the seas were getting rougher and rougher. This was night #2 at sea and with one hour shifts we really could not sleep the entire night. The sea and wind continued to increase, combined with our fatigue, steering El Regalo was difficult. There was no moon; it was pitch black and there were occasional passing squalls. It was miserable and hard to stay on course. It was like driving a car at night and not seeing past your headlights. For me, it was an extremely disoriented situation but I could hear in my head John Oliver's (our company's air pilot) voice, "Always trust your instruments." By 2 am we decided to delay the crossing to Dominican Republic by stopping at Big Sand Cay, Turks and Caicos (the country) for the night and resume sailing the following night.

We used our paper charts (thank you Amanda!), GPS, and radar to find the edge of Big Sand Cay and we dropped anchor at 4:30 am. It was the first time we had ever anchored at night and we were completely exhausted after one night of little sleep followed by a second night of no sleep. After the anchor was set JoDon mentioned that she thought we should have anchored closer to the shore but with the roar of breaking waves we quickly dismissed any idea of moving closer until daylight. Wow, what a night!

The following day we did nothing. JoDon slept most of the day and I just hung out, half heartedly tidying the boat for the next leg to DR. At the last moment before raising the anchor I asked JoDon, "Is there a reason we must be in the Dominican Republic tomorrow? We're retired and sailing all night, hand steering sounds like way too much work." Without hesitation we bagged that night's trip and celebrated with an early happy hour, dinner and bed. We woke up the next morning very content and very well rested.
Our Big Sand Cay stay was pleasantly extended due to unfavorable weather to head south to the Dominican Republic. We passed the time fishing while snorkeling (see Hog Fish above) and hiking the uninhabited island with its spectacular sandy beaches and its gin clear water.

After three relaxing days and a good weather window it was time to move on. We departed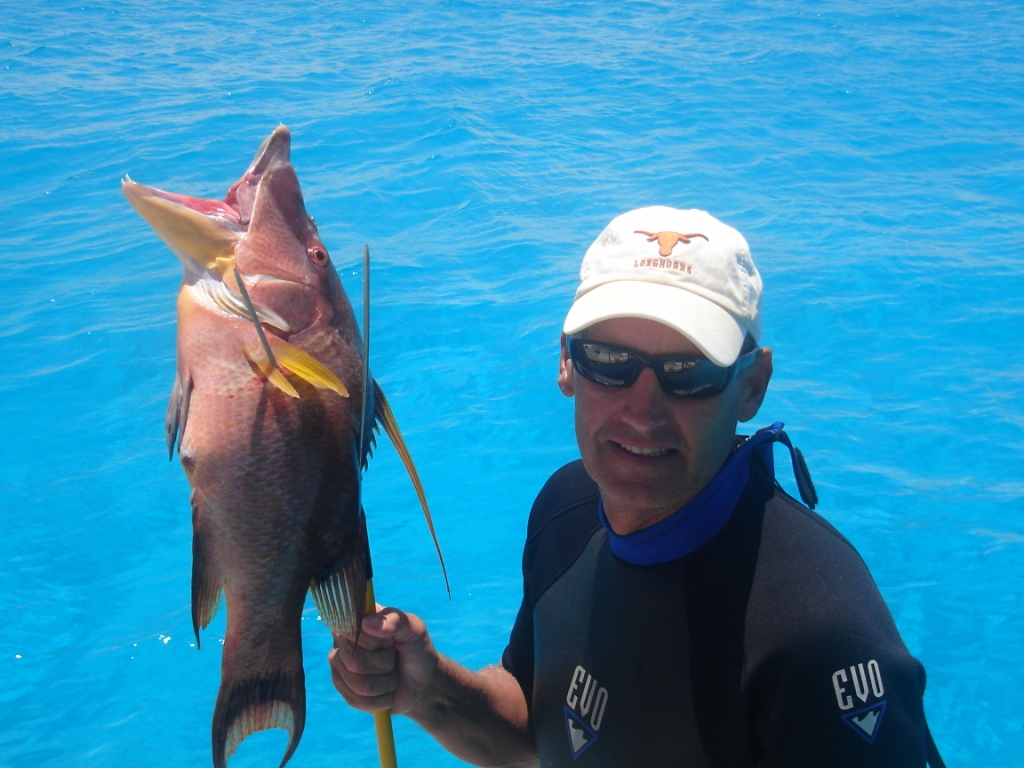 at night and hand steered to the Dominican Republic so we would arrive with the morning light. The trip was about 80 nautical miles. When about 20 miles from the shoreline we knew we were getting close to land because we could smell smoke from the charcoal fires burning in the hills. The entrance to Luperón, DR is tricky with coral reefs and mud shoals but we made it through with great apprehension but no incident.

I describe Luperón as the Chesapeake Bay of the Caribbean. Its protected harbor makes it one of the best 'hurricane holes' in the Caribbean. The downside is there is not much wind and the water is no longer the inky blue of the Caribbean ocean. Like most Dominican sites, there is an overabundance of trash.
We cleared Customs and Immigration and went into town to catch up on Internet. While there I emailed the special assistant to José Clase, a friend and former supplier to Haggar to let them know that we had arrived to their country and to make plans for a visit. That night while enjoying cocktail hour on board El Regalo, a row boat approached with two locals. To our total surprise a young man called out, "Mr. Brian? Mr. Clase would like to speak with you." I spoke to José by mobile phone and he explained that his captain, Tony, along with his son, Papín, were at our disposal for anything we needed while in Luperón. Way too cool and what a great welcome to La Républica Dominicana!
Since we had such a tranquil setting we decided to get some maintenance and repairs completed, along with waiting for a part to clear Customs that we had ordered while still in Georgetown. Our biggest project was re-finishing our toe rail that requires sanding, varnishing, re-sand, re-varnish…. It's a process that takes several applications and several days. We also changed the motor oil and repaired the auto pilot. Thank
goodness that was an easy repair (for once). With the help of Papín, we polished all the stainless and the decks were cleaned spotless. At the end we remarked that El Regalo had never been so clean since we moved aboard a year ago.
We also had some fun by riding a motorcycle to El Castillo, near the town of Isabela, which holds the ruins of the first settlement of Europeans in the New World. Isabela was founded in 1493 and had 5,000 residents until the capital
was moved to Santo Domingo. In the 1950's the Dominican dictator, Trujillo, ordered a crew to clean up the site in preparation of the arrival of Spanish archeologists. Following Dominican logic and the orders of the dictator, the crew bulldozed the entire site and pushed the stones into the ocean. Along this moto ride we saw numerous milk cans waiting to be picked up which reminded us of Cowan Farms.


From Luperón we had a great sail along the Dominican north coast to Samaná. We departed in the morning and arrived at noon the following day. Although we had worked in the DR for over 20 years, we never knew the northern coast was so beautiful. The tall, rugged green hills that emerge right out of the ocean in many ways reminded us of the north shore of Molokai, Hawaii. It was a great sail with steady winds, inky blue water, calm seas and spectacular vistas.

not good for solar panels and wind generator to keep our batteries full. So to avoid running the generator using pricy diesel, we decided to make do with what we had by collecting rain water in buckets for washing dishes and taking showers in the cockpit. I never knew two people could take a proper shower with only one small bucket of cold rainwater. If rain water had been steamy hot, then we would have needed five buckets of water to do the same! Use your imagination!
The anchorage in Samaná is within the Haitíses National Park. The 'Haitíses' root word is from the Talmal Indian word 'jaití' meaning mountainous. The Dominican government describes the forest as 'humedores' meaning high humidity forest. As luck would have it, we discovered a hiking trail along with the archeological cave sites adjacent to our anchorage After hiking one hour up the trail, drenched in sweat from our heads to below our beltlines, we agreed that both names were appropriate.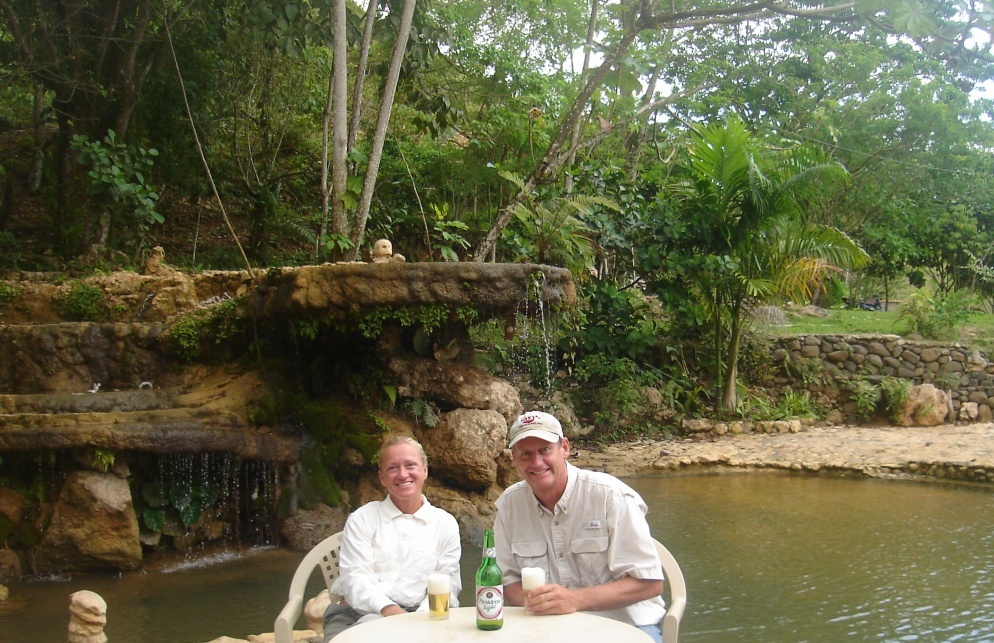 We were rewarded for our efforts by discovering an Eco hotel at the end of the trail, located literally in the middle of no-where. There we sat down by one of their eleven fresh water pools and enjoyed several ice cold Presidente beers. Ah, the good life of being retired and drinking a cold beer at 11 o'clock on a Monday morning! We definitely had a flashback to our days of a beer stop while hiking in Hong Kong (see our website:
Prior to El Regalo; Hong Kong). As we sat down JoDon said our often used comment of the past 10 years, "The party continues, only the location changes." That really brought a smile to my face.
sailed and it was very boring. The good news is the stretch from The Bahamas southward to the Leeward and Windward Islands is known as 'The Thorny Path." The name was bestowed because the strong Caribbean trade winds are normally directly on the nose, SE. In the old days, English trade ships would sail from England south to Africa (sometimes pick up slaves), then to the Caribbean (for rum and spices), then to America for cotton. They could only sail in this circular direction, hence the term "Trade Winds." Since we were heading directly into the trades, we were blessed to have little wind to damage El Regalo and provide a safe passage.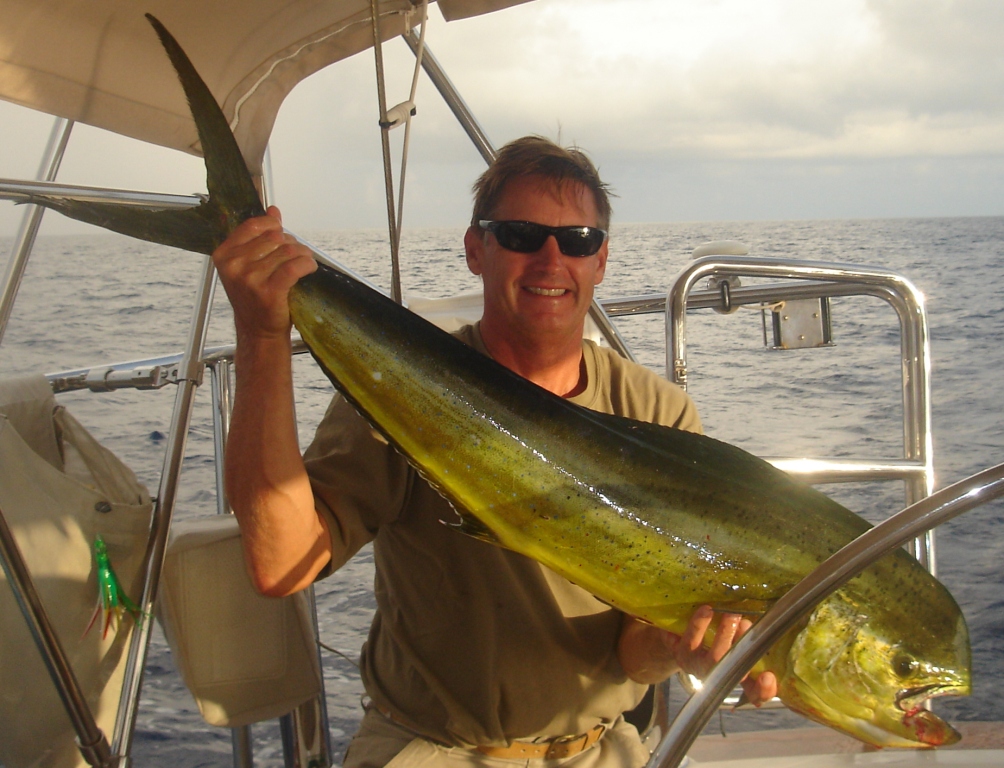 We departed the DR on Thursday morning and arrived at Vieques, Spanish Virgin Islands, Puerto Rico at 2 am early Saturday morning. We again anchored at night totally exhausted. After putting away the minimal, we gave a night-cap toast to Otto, our auto helm, for working throughout the passage with comfort and safety. One thing about a sailboat, you take none of your equipment for granted.

The next day we walked to the Vieques airport to clear Customs back into the U.S. What's the one thing you don't want to hear when clearing Customs? "Sir, we have a problem. There's a warrant for your arrest." The Customs agent could not have been nicer; he didn't even put me in handcuffs after patting me down. I thought that I would spend the weekend in jail for an obstructing the justice warrant from Key West, Fl. Since there was no extraditing to Florida and no federal charges they let me go. Woo-Hoo!! More later as I sort out this issue.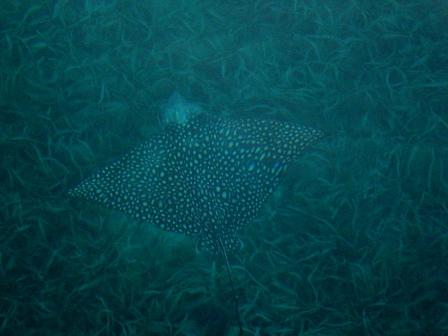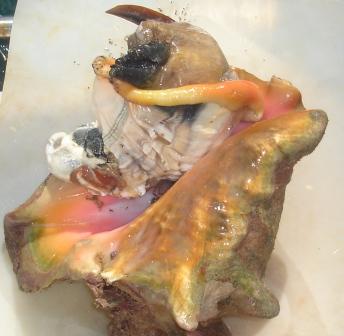 The following day we did some snorkeling & fishing and came back to the boat with a conch (AKA Lambi). I had never cracked open and cleaned a conch (konk) but the effort was worth it. Great afternoon snack! While snorkeling we saw a magnificent spotted ray. The following morning he paid us a visit and we were able to take this photo from the deck of the boat through 15 feet of water.

A final few final thoughts on the greatest modern inventions to improve sailing life. (you have plenty of time to think during a night watch):

1. GPS & electronic charts: to know exactly where you are, even during a night storm.
2. Auto pilot: it never gets distracted or sleepy.
3. Small electric fans: to keep the crew civil when it's raining and the hatches are closed.
4. Soft scrub soap to clean white fiberglass boats: for evening red wine drinkers the following morning.
5. Duct tape: never leave a safe harbor without two rolls aboard.

Hasta Luego!
BR/JD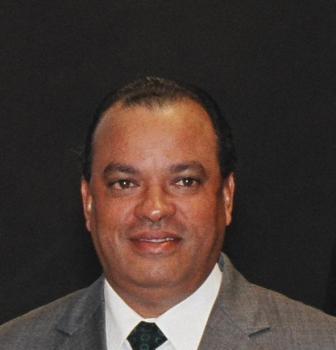 While approaching the western shore of Puerto Rico we caught a very nice Dorado (Mahi). It was the first Mahi we had caught since Georgetown. This Dorado is ten meals for JoDon and me: 6 dinners of delicious filets, 1 meal of sashimi and 3 meals of Sopa de Cabeza de Pescado (fish head soup, Cuban style).

We delayed our departure for Puerto Rico awaiting favorable northerly winds, but they never arrived and conditions were calm winds and seas. We motor
When motor sailing south to Luperón we used the engine's power to run our water maker and fill our tanks with fresh water. After eleven days in Luperón our water tanks were getting low. We thought we would refill the tanks while motor sailing to Samaná. However, we were extremely lucky with the weather and were able to sail without the motor the entire 27 hour trip After arriving, Samaná had very light winds and overcast, rainy skies. This is