May 8 - June 6, 2008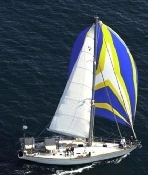 Journal 12; The Virgins to The Leewards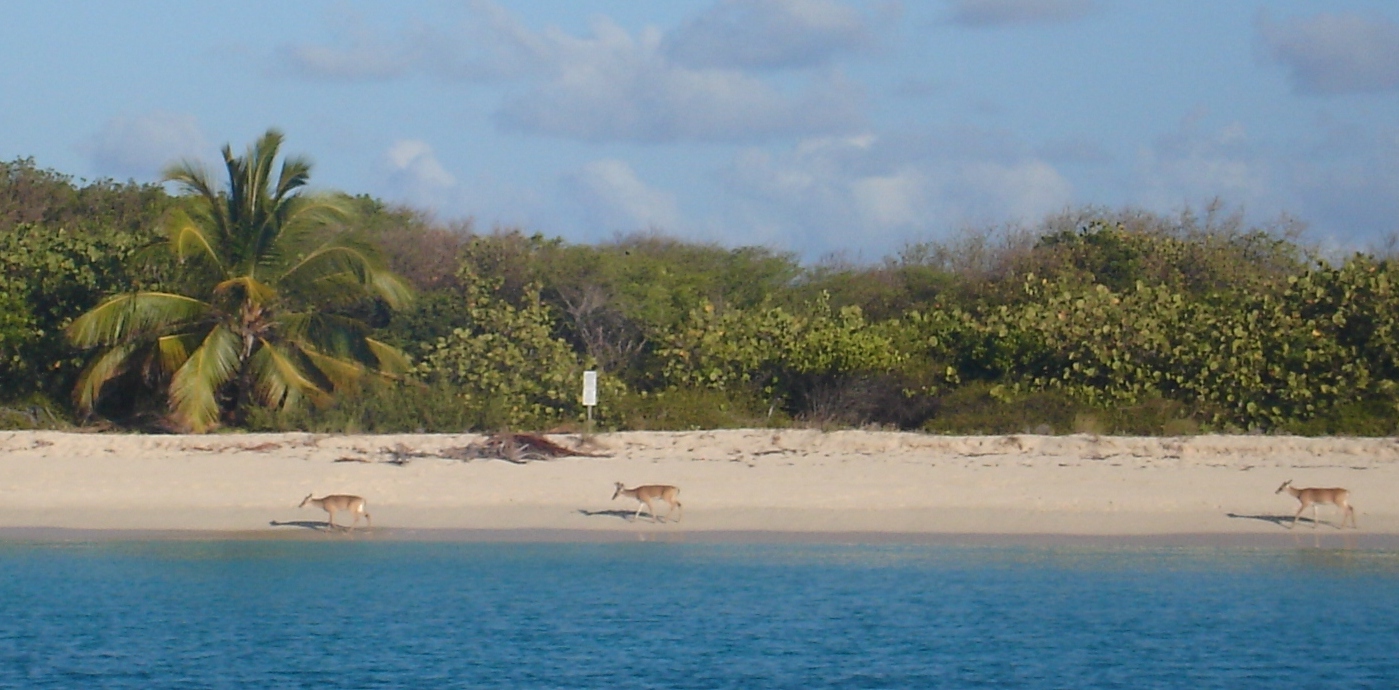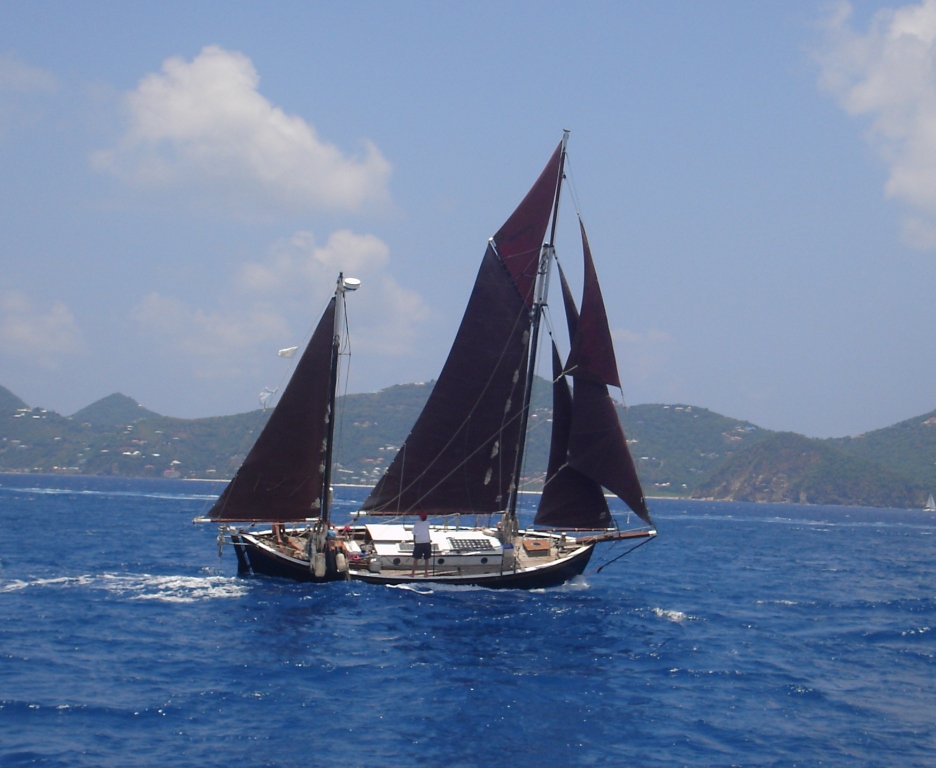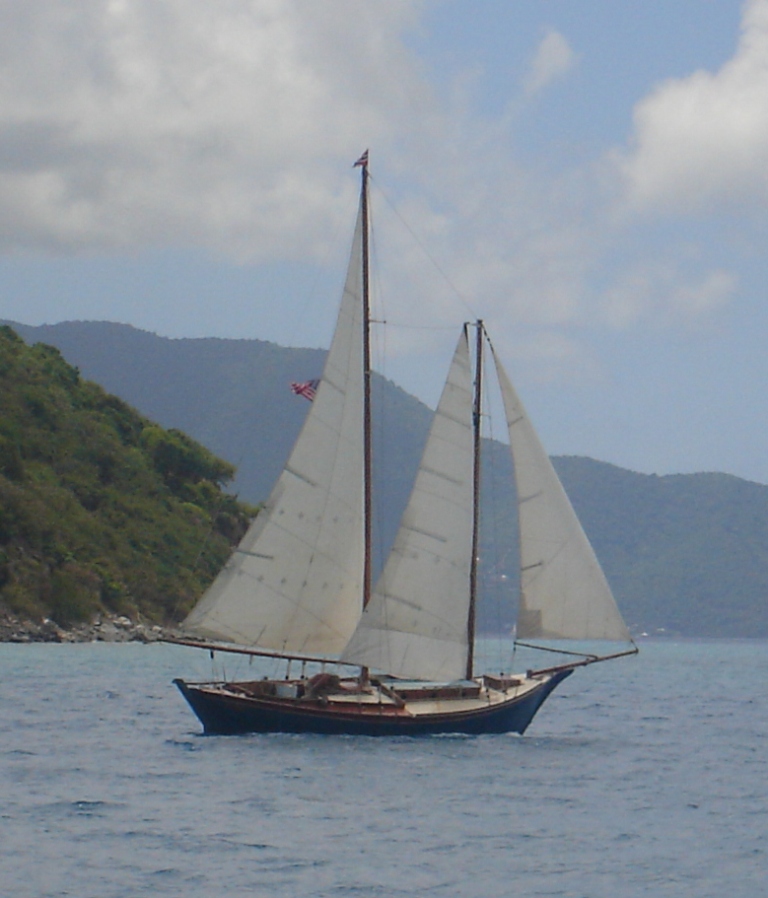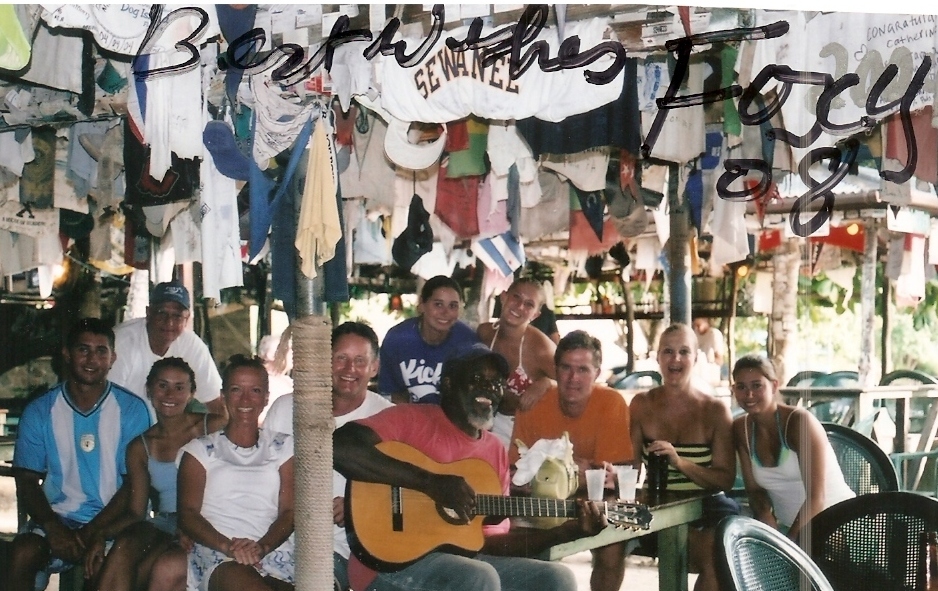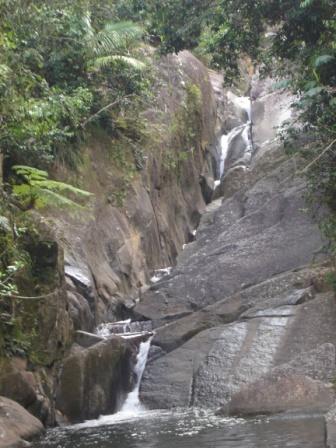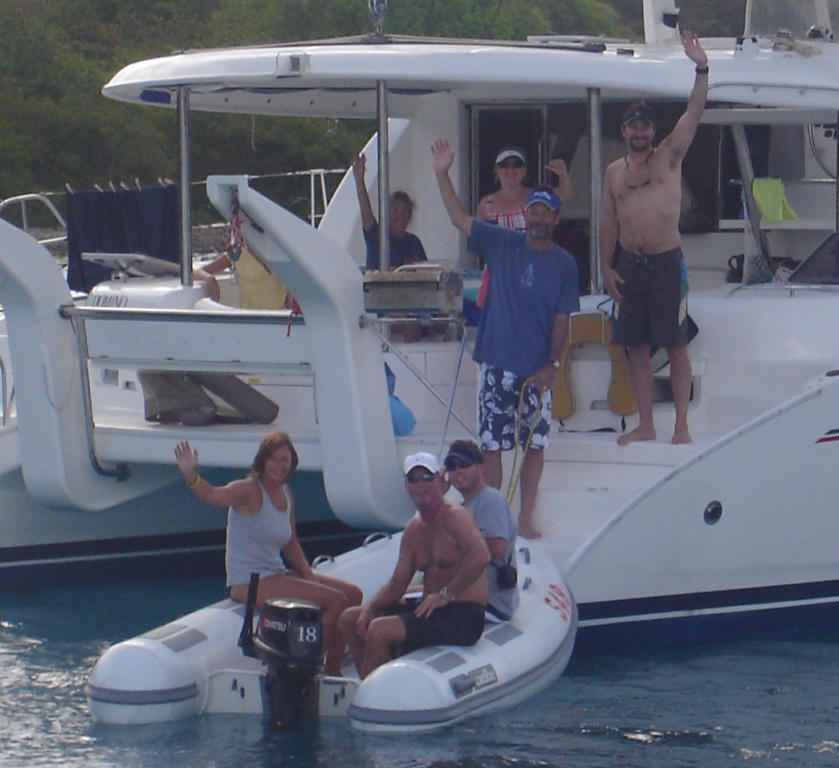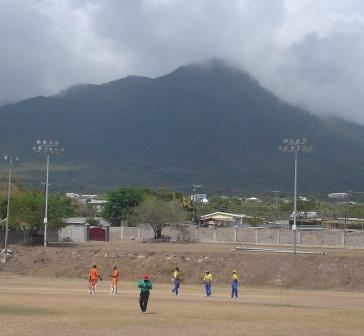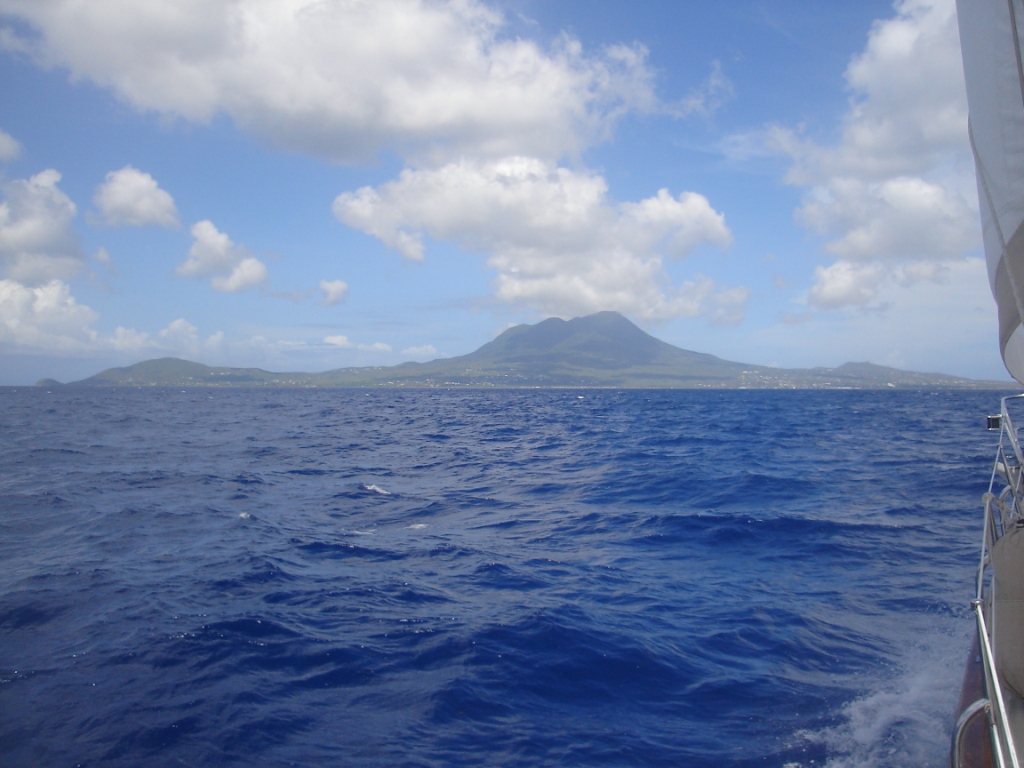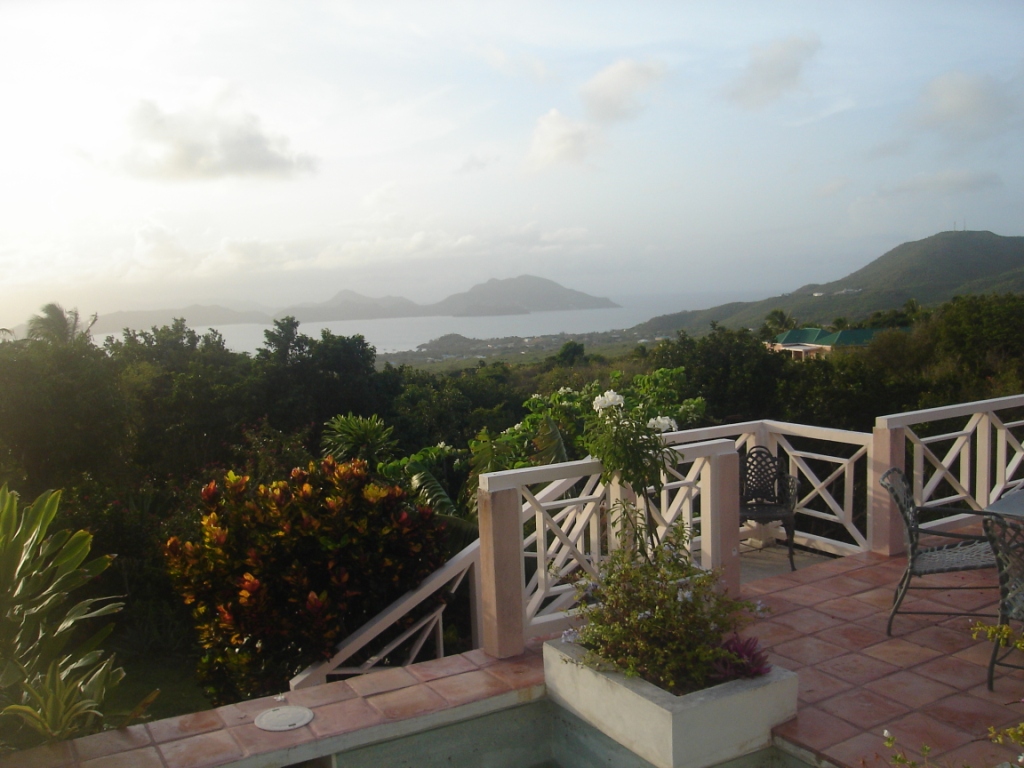 Fuel Strike!!
After motor-sailing through the lower Bahamas and onward to Puerto Rico, JoDon and I declared a fuel strike because of the rising cost of diesel fuel (that and we're just plain tired of motoring!) We pledged that from now on we only start the motor to pick up the anchor and get us in and out of a harbor. We own a sailboat, we're using it. If we have to sail against the wind we can keep tacking or wait for a better weather day. We've kept to this for the past four weeks and are enjoying the sailing!

In our previous journal entry, we had cleared U.S. Customs at Vieques, Puerto Rico which is part of the Spanish Virgin Islands. We had several relaxing days in Vieques snorkeling and hiking the former Navy base and controversial bombing site. During this time we had a minor part break but we were told by fellow cruisers of a good marina and a West Marine store in Fajardo, Puerto Rico. We lifted the sails and moved on to Fajardo and had a pleasant sail across the bay. The Puerto del Rey Marina, Fajardo, was one of the largest marinas we had ever seen. It was so big they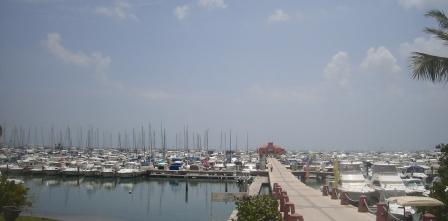 would send golf carts to your boat to pick you up and take you to the main office since it was such a long walk. That's service! And air conditioning, what a marvelous luxury to have on a boat!


While shopping the Fajardo Wal-Mart, and their sister grocery store, Amigo, we thought we had returned to South Texas except that everyone spoke at a level two decibels higher than necessary and their car stereos were about 30 decibels higher our preference. But, it's the Puerto Rico (and Dominican) culture to speak loud and abrasive, so we just chuckled as we went our course. We did some brief sightseeing to Yunque national forest. The hillsides were a shade of deep green that no author or camera could ever properly describe. It was awesome!

We installed our part and moved on to some of the other islands of the Spanish Virgins. They were all good and each unique. Our first stop was Cayo Icacos. There we were introduced to the Puerto Rican Navy, the name affectionately given to the huge fleet of Puerto Rican pleasure motorboats. Every culture has their ways and inevitably Puerto Ricans anchor their boats with a stern anchor (anchor holding the tail-end of a boat rather than
the bow). Next, it is imperative that all Puerto Rican Navy officials crank up their stereos to their max with salsa music for everyone to enjoy??? Oh well, so much for nature! We knew we were in a part of America when the pizza boat showed up and had a vibrant business selling pizza to the navy.

We also made stops to Luis Peña Island and Isla Culebrita. At Luis Peña we found a herd of conch on the sea bed and we decided to try our luck again at breaking open the shells and cleaning the meat. Breaking open the shell requires considerable effort and I wondered how Bahamians do it so effortlessly. The shell is as hard as concrete and a large hammer will not crack it easily. After breaking open the shell you must then insert a knife to cut the muscle of the conch from the shell and then pull out the meat. Again, cutting the muscle is no easy task. Once out of the shell, the meat must be cleaned and skinned. That would not be too hard except there is a slime that makes holding the meat almost impossible and is impossible to wash off your hands. My suggestion is that if you're invited to eat conch, please respect the effort required in protracting the small amount of meat. But, when it's fried up like calamari, with lime, salt and a very cold beer, life is good!

Isla Culebrita was memorable for us (apart from being a beautiful location) by the bees and our anchor. When we were ready to drop our anchor would not drop! Somehow it got impaled into the bow sprit (front portion of boat that the anchor sits) and it would not come loose with all my tools and cursing. Fortunately a boat left and a mooring ball became available so we tied up. With some maneuvering and additional cursing we got the anchor free only to discover why so many boats were leaving the harbor. There was a swarm of bees that were seeking fresh water. They would swarm the boat in huge numbers and were quite frightening until we figured out they were not aggressive and didn't sting. Always something new! We endured the bees by putting screens in the windows to keep them out of the cabin and we either stayed below or in the water. We were kept entertained watching a continuous string of boats anchor, start swatting madly and then leave within minutes. The bees only stung if you sat on one, which I did, and ended up with a huge lump on my posterior (I am allergic to bees). Anyway, we had the anchorage to ourselves for 3 days to watch the deer walk on the beach undisturbed.
By May 20 we were ready for a change so we picked up anchor to sail to the British Virgin Islands. BVI is only about 30 miles due east from Isla Culebrita but the trade winds are normally from the east. So the straight line thirty mile trip took us all day to complete as we zigzagged our way northeast then southeast against the prevailing wind. We held to our "no motoring" pledge until the last few miles into Great Harbor, Jost Van Dyke Island, home of one of the world's best beach bars, Foxy's www.foxysbar.com <http://www.foxysbar.com>

Foxy is a sly figure who tries to pretend he is just a dumb ol' Caribbean. Despite always barefoot wearing rolled up slacks and a tee shirt, Foxy is a clever businessman and entertainer. On special occasions he sings his own comedy ballads of news events throughout the world. His songs are hilarious and there is no subject that is taboo. Four years ago we had a family photo with Foxy and this year we had him autograph it.
Foxy's was celebrating their Wooden Boat Regatta and it was a privilege to see such classic boats at harbor and also racing. Besides the racing, Foxy's had internet and a great bartender who was from La Romana, Dominican Republic, our old stomping ground and one of my previous homes (most bartenders/cooks and waiters in the BVI are Dominicans). He and I chatted in Spanish about mutual friends and he complimented most of our drinks. Cool!

After a few days of relaxing and catching up with internet, we once again were ready to move. We decided to move El Regalo just around the corner to Sandy Spit but we started catching fish and ended up sailing from the southern tip of BVI to the most northern island, Virgin Gorda (fat virgin
island; the island's profile appears to be a fat woman lying on her back). Since we had nothing to do and a fast boat, we spent many days just sailing for fun rather than sailing as a
means to get somewhere. It was great to just sail for fun, especially in the BVI where it once was one of our training grounds of learning to sail.

We had been to the BVI many times so we decided to anchor in many secluded anchorages that we had not experienced; Long Bay, Pond Bay and Benures Bay. All were wonderful and remote; not the norm for BVI. Speaking of 'not the norm,' I will describe one of the weirdest sightings we have seen since sailing. When we arrived at the secluded Benures Bay there was one other boat anchored and we noticed an older man sitting nude on the bow. The weird part was that he was a 'relationship' counselor with two gay women on board (fortunately they were clothed). He lounged about on his boat, always nude, while
pontificating about life and counseling on relationships (we did not eavesdrop, he spoke very loud). We thought you would have to have a very screwed up relationship to want to board a sailing vessel with a nude old man that was constantly trolling, but to each their own!
We were very happy to meet up with Mark & Susie (Dallas) at Norman Island. We had introduced Mark to the BVI and serious sailing plus their son, Mike, visited us onboard El Regalo while in Charleston, SC. As they say, "New friends are like silver and old friends are like gold." It was great to hook up with the Dillon's and meet the crew of Domino, their bareboat catamaran. After the gracious hospitality by Domino, the next morning I woke up very hung-over and began listening to a weather report of diminishing winds over the next few days for our route to Nevis. If I was going to feel bad, might as well be seasick! So we hastily prepared El Regalo, waved goodbye to Domino, and set off for Nevis/St. Kitts, West Indies with strong E/SE wind.

The trip southeast into strong headwinds was eventful. Since it was just JoDon and me we trimmed the sails for speed, not comfort. El Regalo was heeled over the entire trip; 30 hours from BVI to Nevis. About 15 miles from Nevis we were boarded by the St. Kitts/Nevis Coast Guard. Three armed soldiers boarded our boat and rode in with us the final three hours. When we arrived at Charlestown, Nevis, four other police and customs agents boarded. Now there were seven of them, plus us. We were both frisked down (my second time in three border crossings) and they tore apart our boat looking for drugs. After two hours of being searched (ransacked is a better description) we were two pissed off cruisers. At the end they thanked us for our cooperation and welcomed us to Nevis. My reply was simple, "get off my boat." We usually 'go with the flow' of the locals, especially Customs officials, but these guys deserved no respect. The following morning, when we actually cleared Customs, the head of the task force that searched us was in the office and we did not hold back our anger at how we were treated.

From some angles Nevis looks like a sombero, peaked in the center and low around the edges. Clouds usually cap Nevis Peak, which is over 3000' high. On occasion they cling to the summit and fall down the sides, looking just like snow. Same say this is why Columbus named it "Nuestra Señora del las Nieves" (Our Lady of the Snows) after one of his favorite churches.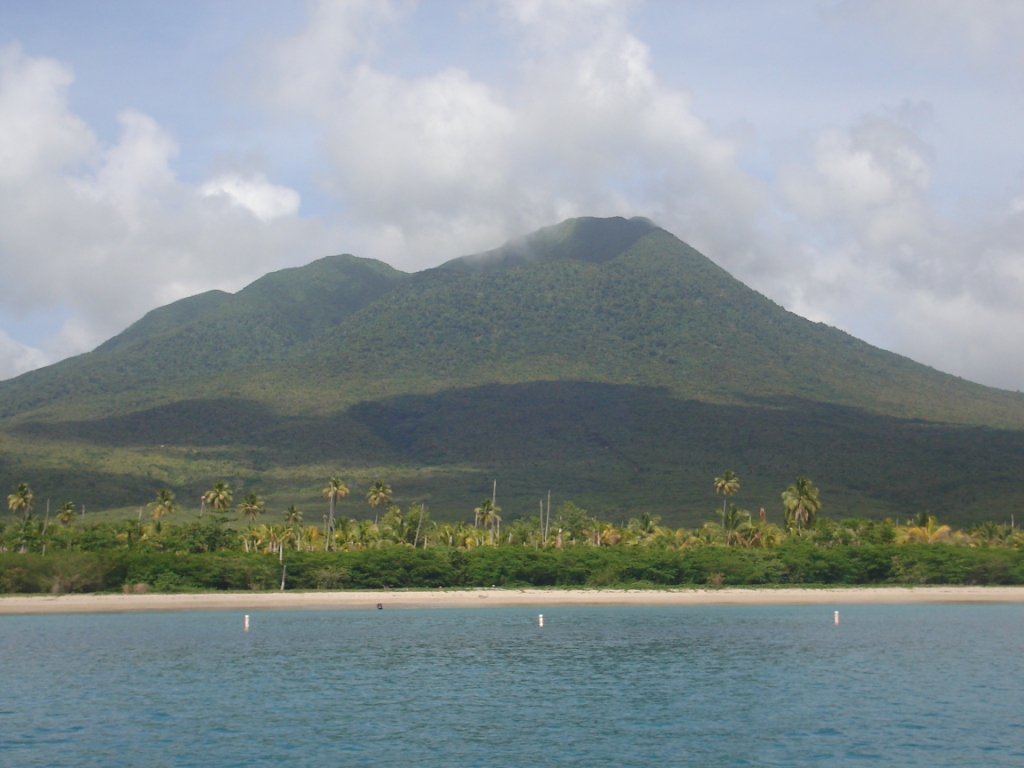 Our poor first impression of Nevis quickly evaporated when we entered Charlestown. The people are very outgoing and friendly and it's hard to not become enamored to the country. Mt. Nevis rises straight up out of the ocean making it a dramatic backdrop. While at a beach bar, we met several Americans who are roughnecks. They were not drilling for oil but for thermal
springs that will be used to generate electricity. So it appears Nevis is moving toward a fuel strike, also.
Nevis is part of the Commonwealth so their favorite sport is cricket. I have been explained the rules of cricket several times when in India, but I still do not understand the game. While at The Double Deuce Beach Bar, I made the comment to Lyndetta, the owner and bartender. Lyndetta is a very outspoken, and big, local and she explained cricket rules very succinctly. She said, "You married? Well then, you got the bat and the balls. She has the wicket. Any questions?" We were also befriended by a local (formerly from England) and he took us to feed his animals. The last photo was the spectacular view of St. Kitts from his house.

In the week ahead we are looking forward to seeing more of Nevis and it's sister island, St. Kitts, with my sister and brother-in-law, Tina and Robert, and then off to Grenada, a three day/night sail south.

Until next month,
Brian and JoDon