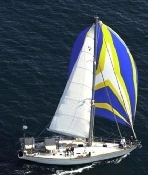 Journal 16: Tobago to Martinique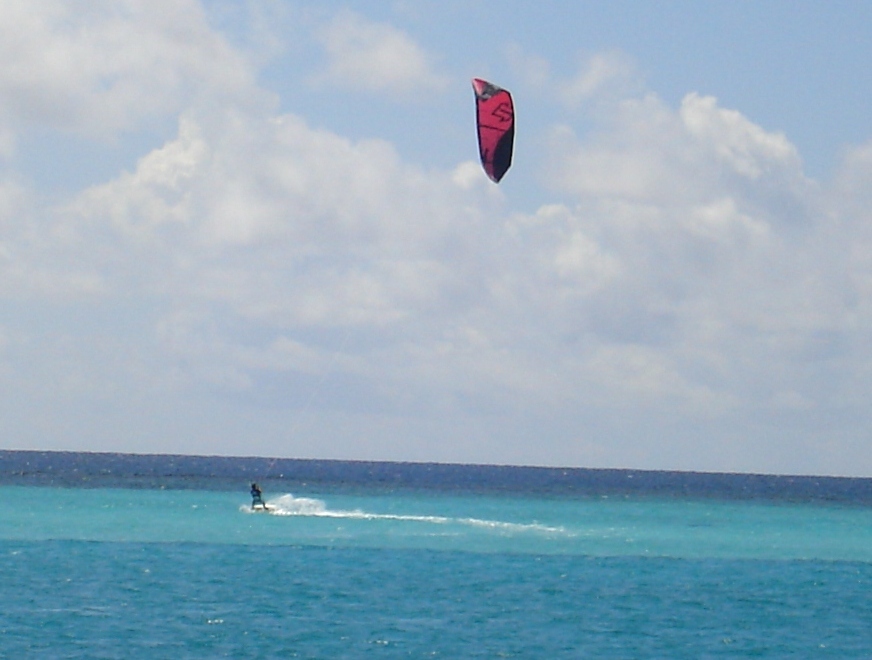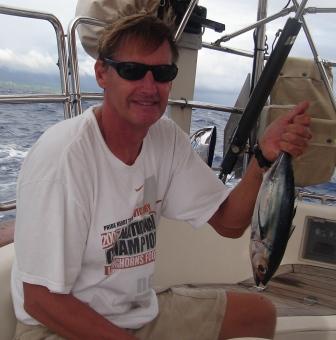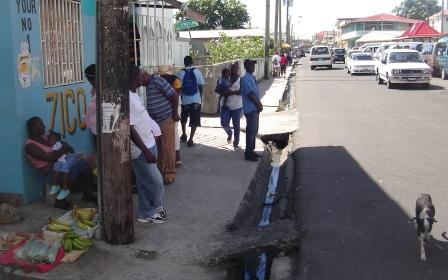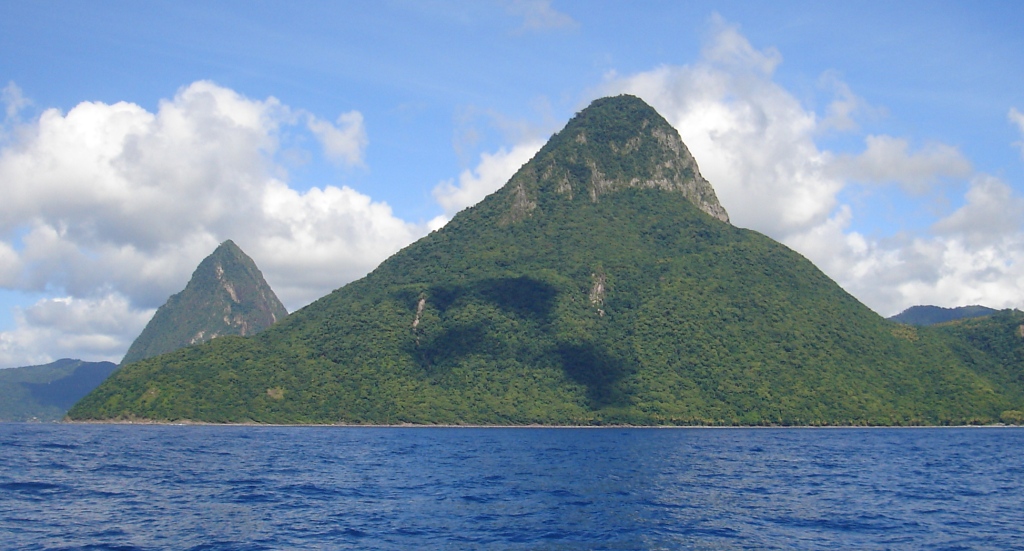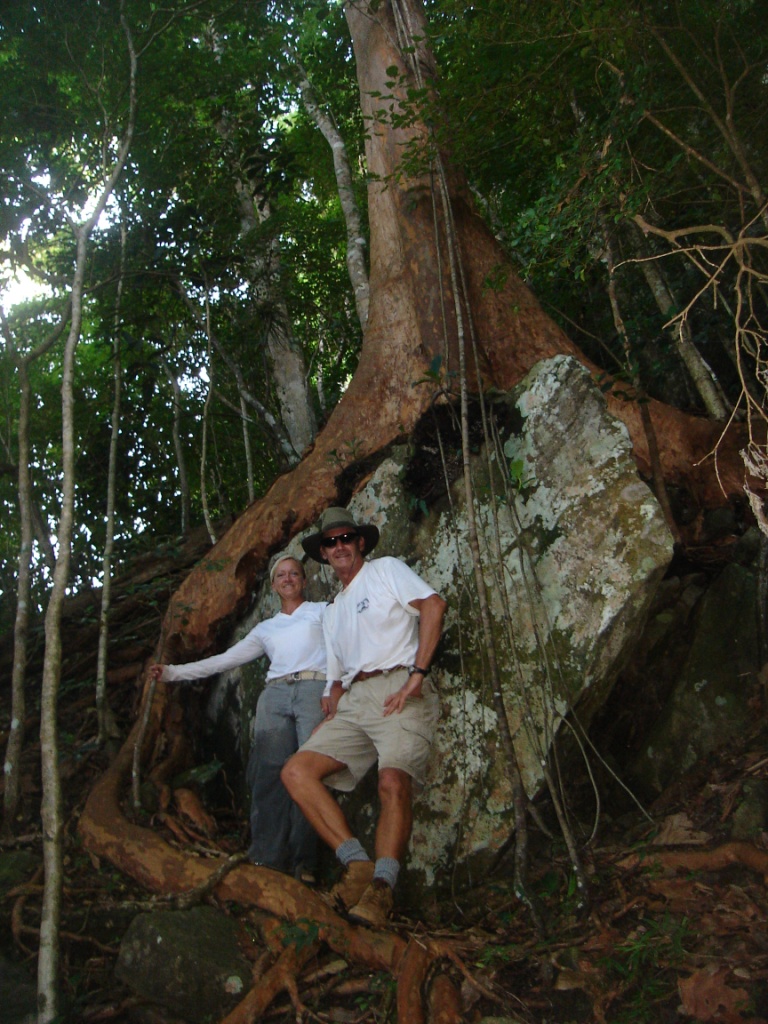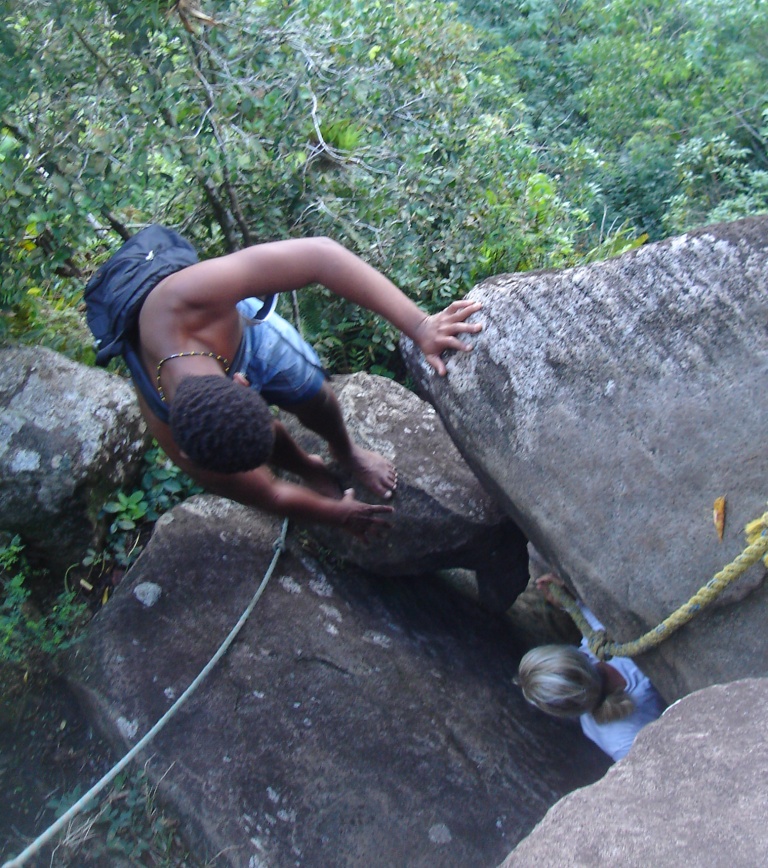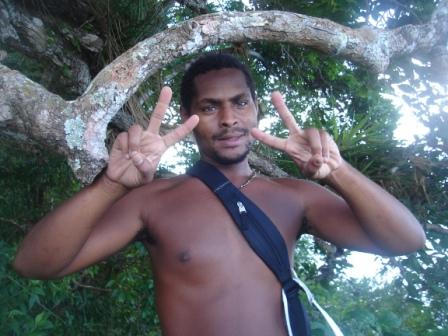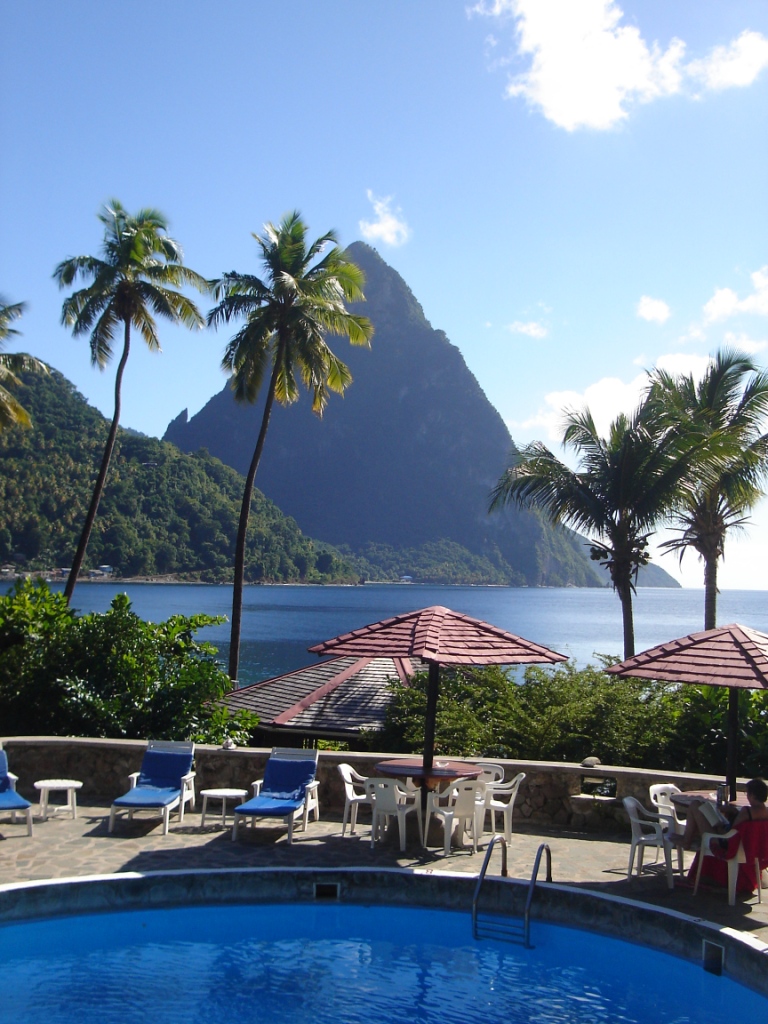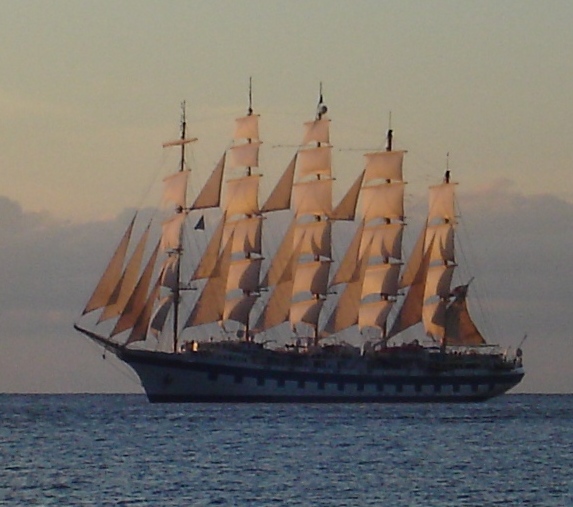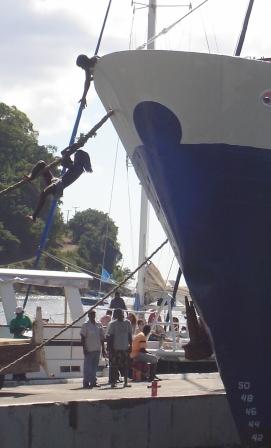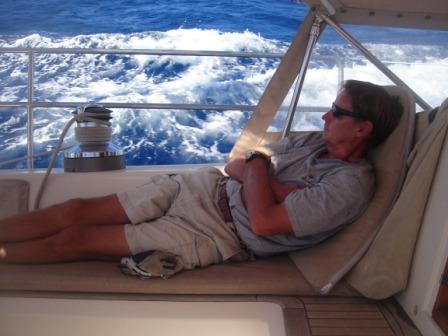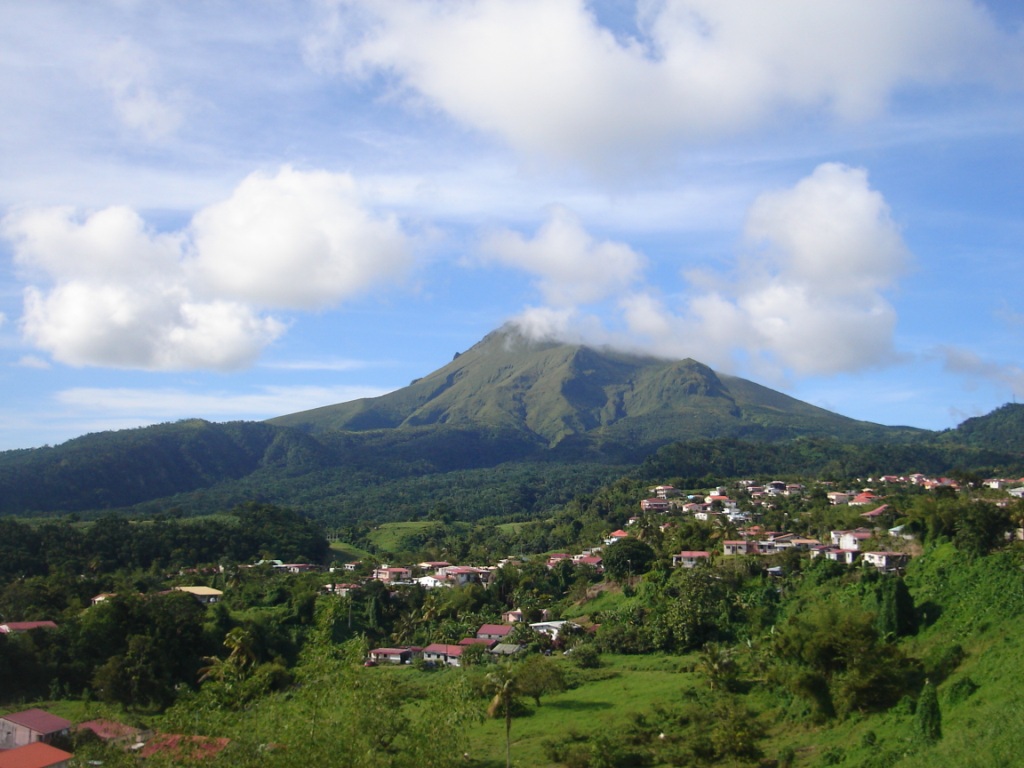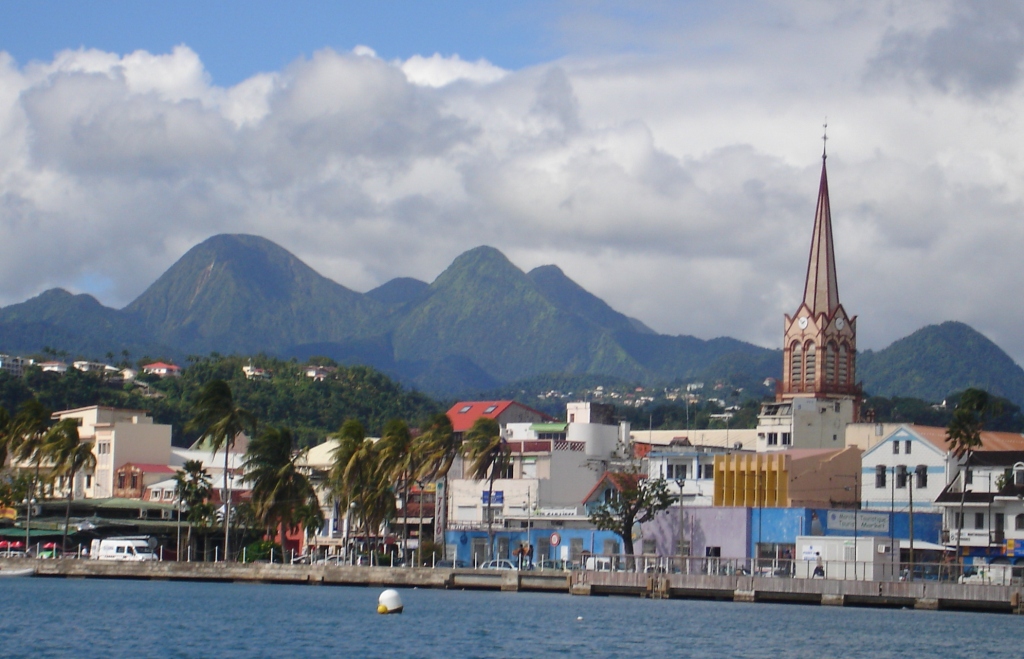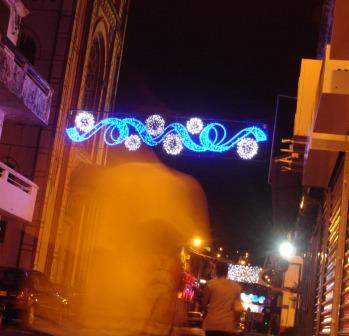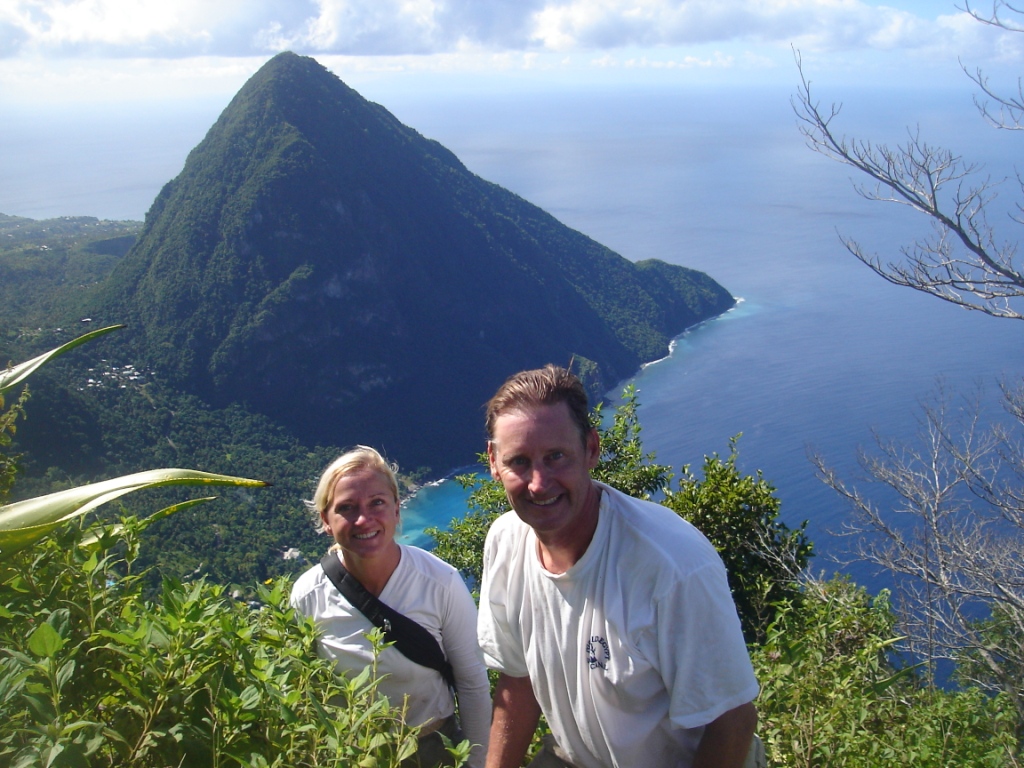 October 12 - December 10, 2008
Seasons greetings from the Caribbean!


October we recorded our last journal entry. There have been two "Most Recent" updates since that we are incorporating into this December journal. The first part of our journal may seem familiar if you have kept up with our blog but the final portion is all new.

Petit Piton viewed from The Hummingbird Hotel
In October we made an overnight trip from Tobago to Grenada that was quite eventful. We started our trip motoring (no wind) and later we sailed the night through various lightening storms. At 6AM we could see a huge vessel approaching us from our stern but we lost visual contact with the passing of a very strong squall, later to-be-named Hurricane Omar. The adrenaline rushed as we tried to gain control with 30+ knot winds coming right up our behind. Fortunately El Regalo took everything in stride. We knew from radar that the ship was approaching on a collision course. When the storm finally passed we could once again see the vessel behind us, it was a US Coast Guard Cutter. At first they acted like they were going to pass us, then they changed course and followed us. Once they realized we were not throwing burlap bags overboard, they hailed us on the radio. After about 15 questions, a young sailor asked, "What is the purpose of your trip?" I try not to be a smart-ass with government officials but I answered, "Well, until about 30 minutes ago before the squall hit it was pleasure, since then it's been pure hell." With that reply, the Coast Guard Cutter changed course, looking for their next victim.

After relaxing and visiting with friends we picked up our anchor from Prickly Bay, St. Georges, Grenada on 10/28/2008 and sailed the west side of Grenada headed toward Carriacou. The island of Carriacou is part of Grenada and we anchored at three locations: Tyrell Bay, Sandy Island and Hillsboro. Sandy Island was a tiny beautiful uninhabited island where we enjoyed snorkeling and reading books. We cleared out of Grenada at Hillsboro and then sailed to Union Island.

Union Island is one of many islands that form the country, St. Vincent and The Grenadines. From Union we sailed up to Tobago Cays, which is famous for its snorkeling and diving. Here we started seeing more bare boats (rented boats with vacationers from US, Canada and Europe). With the bare boaters present, small boats with enterprising guys would drop by your boat in the morning offering fresh baguettes, ice, tee shirts, lobsters, etc. If they didn't have what you wanted, no problem, by the next day they fulfilled almost any special orders.

While at Tobago Cays we learned of the U.S. election results and that Mr. Obama will be the next president. We have read that the world is relieved with the results and here in the Caribbean they are ecstatic. For the past two months, every foreign customs and immigration office had an Obama sticker attached to their computers and many people in the streets were wearing tee shirts with Hussein's picture and the "Hope and Change" motto. When 'liming' with locals they have wanted to engage the conversation to politics but we have avoided any spirited discussions by saying that we were not voting. As a note, the only way for us to vote was to sail to Trinidad and vote at the American embassy.

By mid November the weather pattern changed to heavy rains. November and December is the rainy season and we got pounded with heavy rains and strong winds while at Admiralty Bay, island of Bequia (pronounced beck-way). But we filled our tanks with rainwater and spent several pleasant evenings aboard s/v Sea Otter (Houston) and s/v Princess of Tides (Canada).

11/20/2008 we sailed north to St. Lucia on another eventful sail. We started the trip with strong and favorable winds. While crossing the Bequia Channel we hit a squall that delivered steady 30K unfavorable winds with a strong opposing sea current. With 40K gusts, the seas built to 10'-12' and for two hours the trip was miserable. JoDon and I don't get seasick much anymore but we weren't feeling too good. We kept pounding forward and some waves broke over our bow so strong that they came all the way down the sides of El Regalo and swamped our cockpit with about a foot of water. It sucked. El Regalo persevered and we finally passed the storm and caught a small tuna. That tuna's bad luck became our good luck as the winds suddenly changed in a more favorable direction. From that point we had some of the best sailing, averaging about 8.5K in very calm waters arriving safely at Vieux Fort, St. Lucia.

November 22 is apparently the official kick-off day for Christmas music on St. Lucia radio. But, it's quite different than 'back home'. To give you an idea of the socca rhythms:

"On de Christmas day, Joseph he be so happy, and Maria yelled, Oh-yey, oh yey, I'm be so happy."

Or another: "It's de Christmas day, let the children play and let there be no crime today."
From Vieux Fort we sailed a short trip north to The Pitons, St. Lucia. Oprah Winfrey has made this location famous by proclaiming the twin peaks of Gros Piton and Petit Piton (Big Peak and Little Peak) one of the 'Top five places to visit before you die.' Well, we are not ready to die but we can scratch that one off our list of things to do! While at 'Between the Pitons' we got the idea of climbing Petit Piton using a local guide 'Marlon Brando.' (as we've told you before the locals all have nicknames).

The 2,500' climb was challenging. We literary started at sea level by taking off our hiking boots and wading ashore. From the seashore we started our ascent. Marlon hiked barefooted up the mountain and he was proud that his shoes never wore out.

Most of the climb required us to use our hands to pull ourselves up and our boots
to dig in. God blessed us by providing abundant tree roots and rocks so that we could make the very steep natural trail up a narrow gully. Where God had not provided, locals had hung ropes. From the top it was scary. The wind blew hard and on all sides the cliffs dropped off for hundreds of feet. But the scenery was spectacular and we could see almost all of St. Lucia and the coastline of Martinique.


At anchor we had a front row seat to the local attraction, The Pitons, and one of the things we enjoyed was watching all the cruise ships do their "fly by". Just about every evening one or two cruise ships would slowly drift by giving all the passengers on deck 30-45 minutes to take pictures. We stayed eight days. After another long hike into the rainforest we decided it was time to move on from 'Between the Pitons' and the neighboring community of Soufriere and head to Martinique.

These two young boys were climbing the dock lines up onto the freighter at the town dock in Soufriere.
The crossing of the St. Lucia Channel was more windy than expected but we made good time, only six hours, and it was much more pleasant than the Bequia Channel crossing. This is Brian after working hard to get the boat doing 7 knots.

Martinique has become our most favorite Caribbean island. It's clean and organized with terrific food and fresh baguettes; so French! It's not an inexpensive island except for the French wine. A bottle of nice French wine is about US$4/bottle and we now have seven cases on board El Regalo. Our friends drink so much!
Fort de France, Martinique
Our favorite activity off the boat is hiking. We did two long hikes; one trail was called 'Trace de Jésuites' or 'The Jesuits Trail' and another trail was up to the top of Montagne Pelée. While fording a river on the Jesuits Trail we took the wrong path and ended up with a rigorous climb up a mountain. But, we made it.
The cloud covered peak is Montagne Pelée as viewed from the town of Mourne Rouge after our Jesuits Trail hike.
The weather pattern has changed bringing cooler temperatures and lower humidity. We now keep our overhead hatch partly closed at night because it's so cool. The days are warm, but perfect. Everyone around the islands are putting up Christmas decorations. The extreme cold back in the states is mentioned during our daily Caribbean weather updates and this too reminds us that it is Christmas time.

Our next destination is the island of Dominica. Life is good!

Fair winds,
Brian and JoDon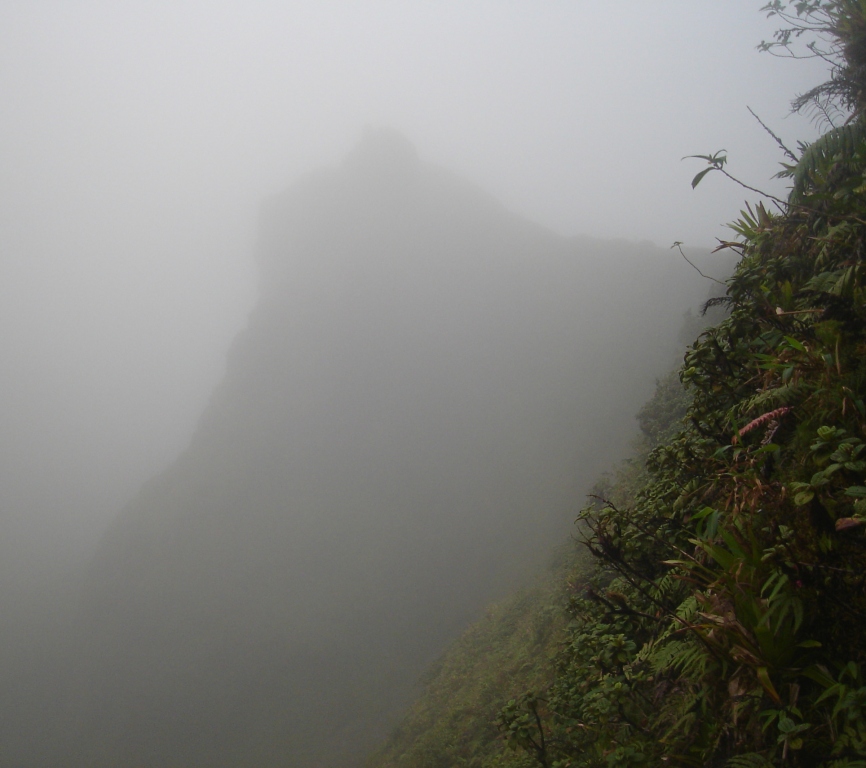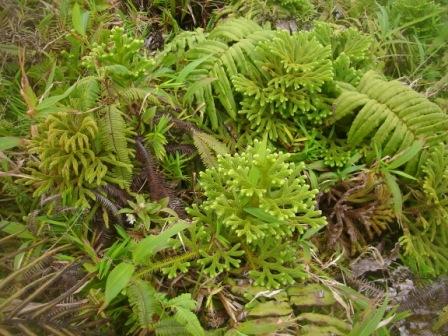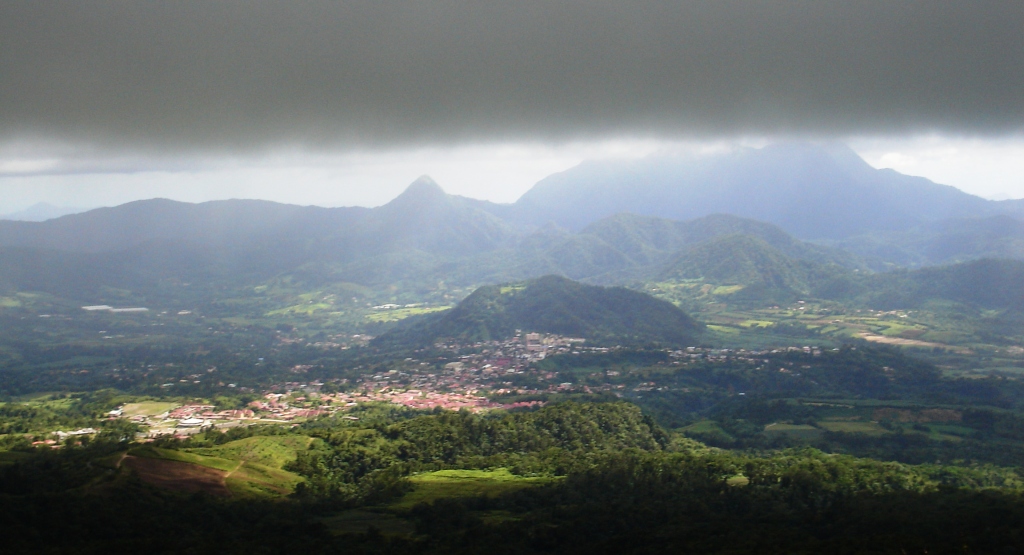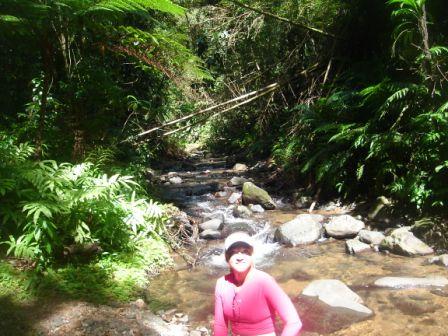 The trail guide for Montagne Pelée is written in French and I did not take the time to translate the path's description until the day after the climb. The trail was described: "The trail is very direct but very difficult. The path is tortuous and the soil is very unstable. It is extremely windy and it rains constantly, almost one meter of rain per year." That about sums up our hike, but we enjoyed the climb. Fortunately the rain did not begin until we were walking back on the road down the mountain. We hitchhiked back into town and avoided getting soaked. My pitiful French has improved to a point that I can converse in as long as the subject is simple; "Did you enjoy the hike?" "Yes, but there was a lot of wind" or "It was very pretty" etc.
Above: View of one of the many peaks of Montagne Pelée during our hike there.

Right: Small vegetagion at the top of the peak.

Below: View of Mourne Rouge from the trail. Note that we are high enough that a cloud is blocking the view.