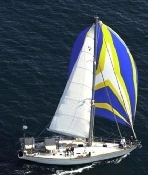 Journal 17; Martinique to Puerto Rico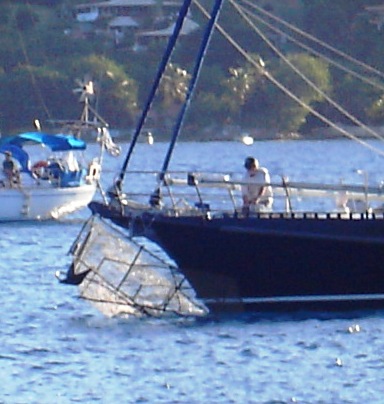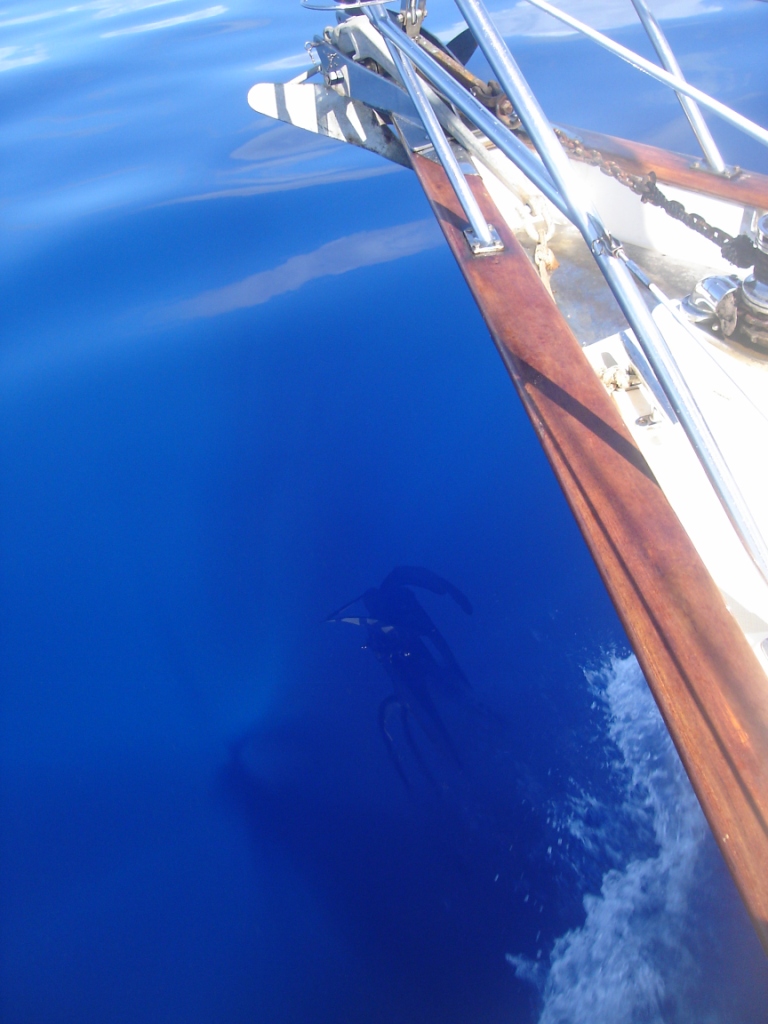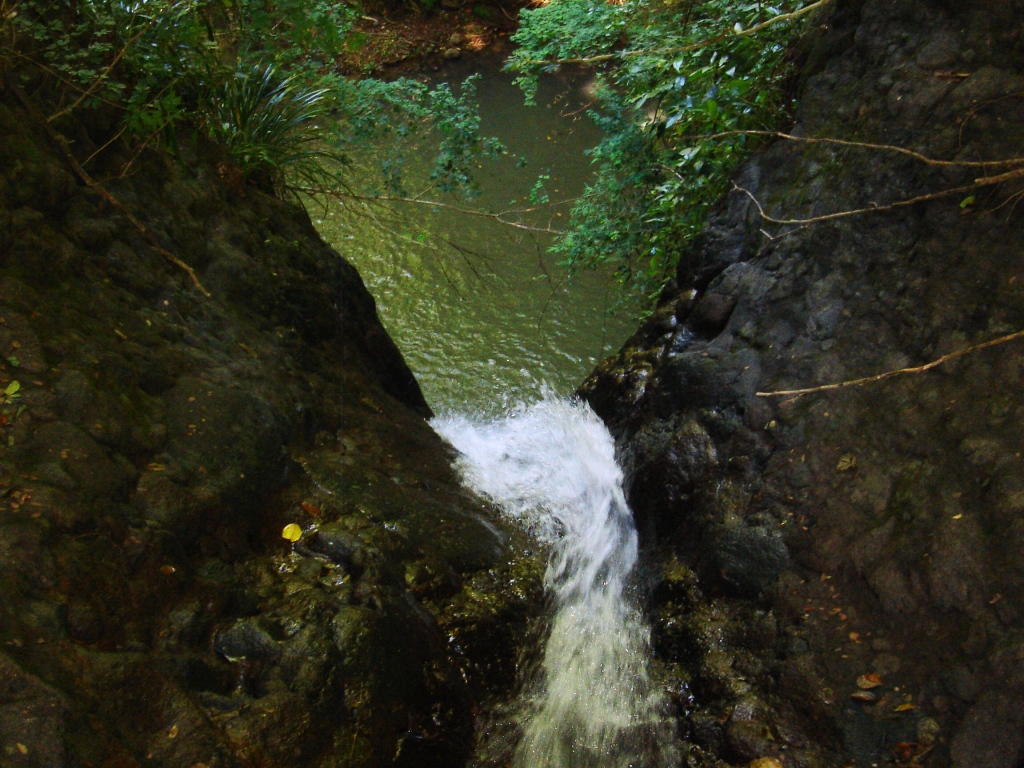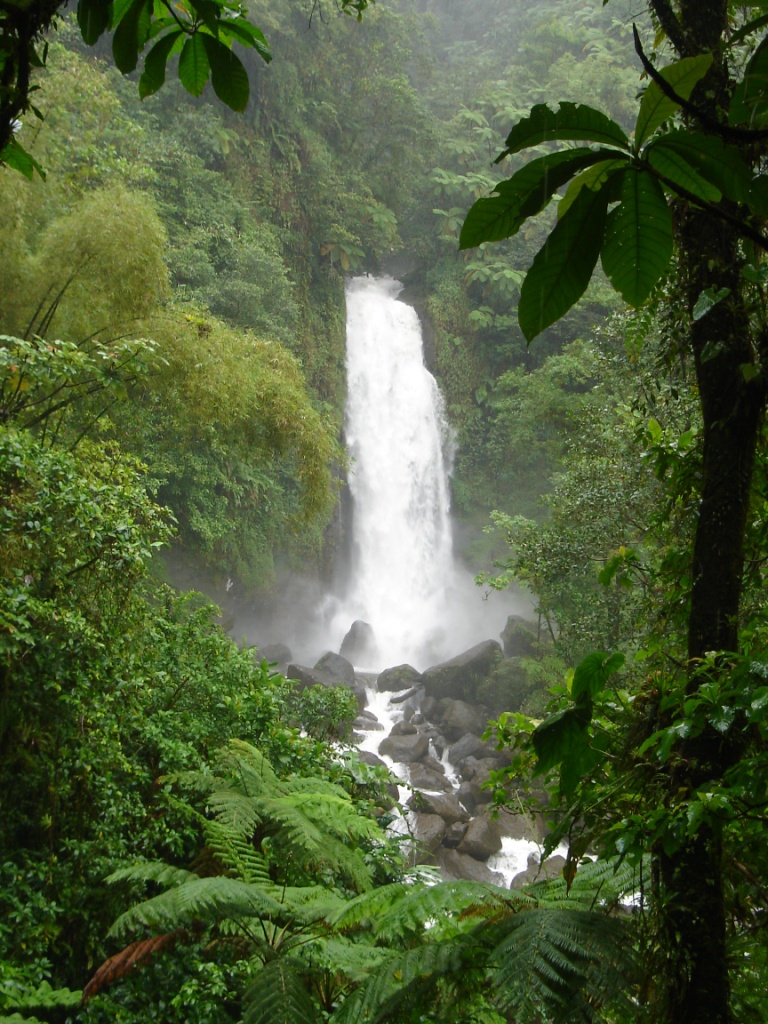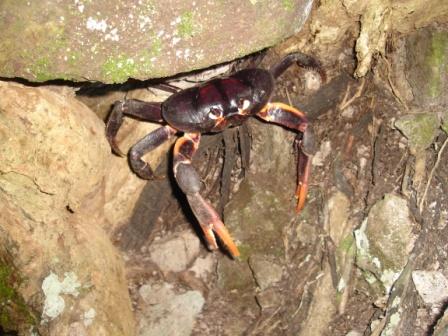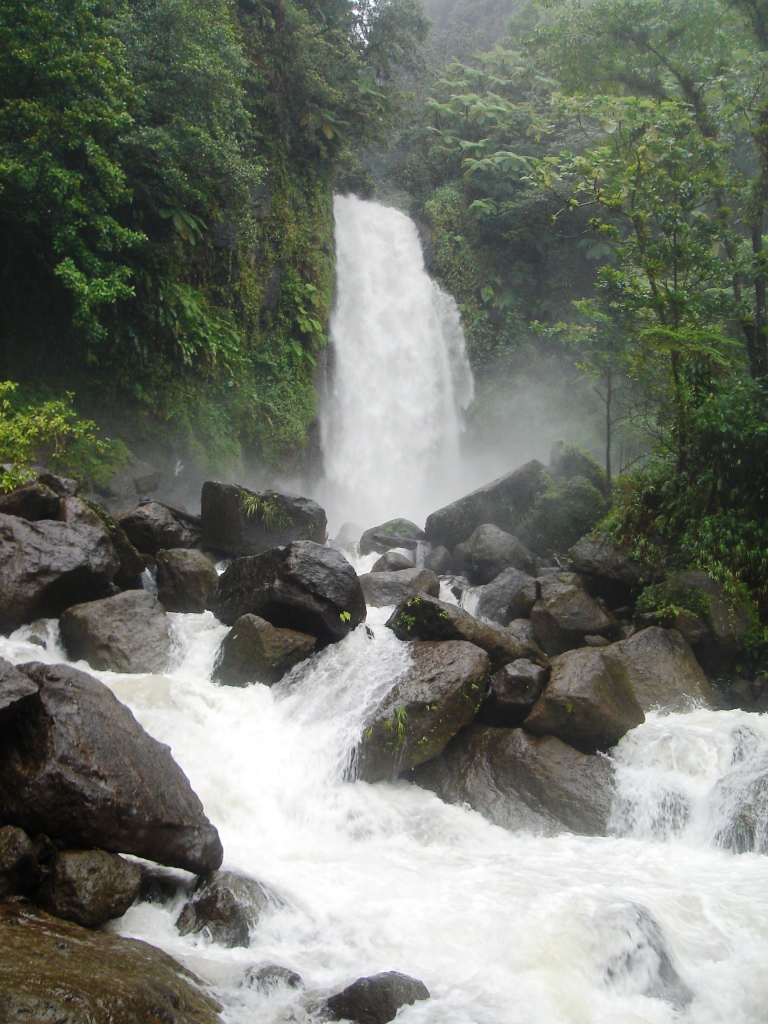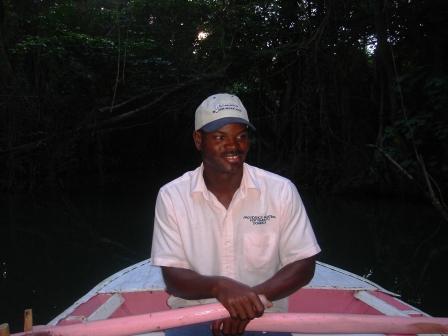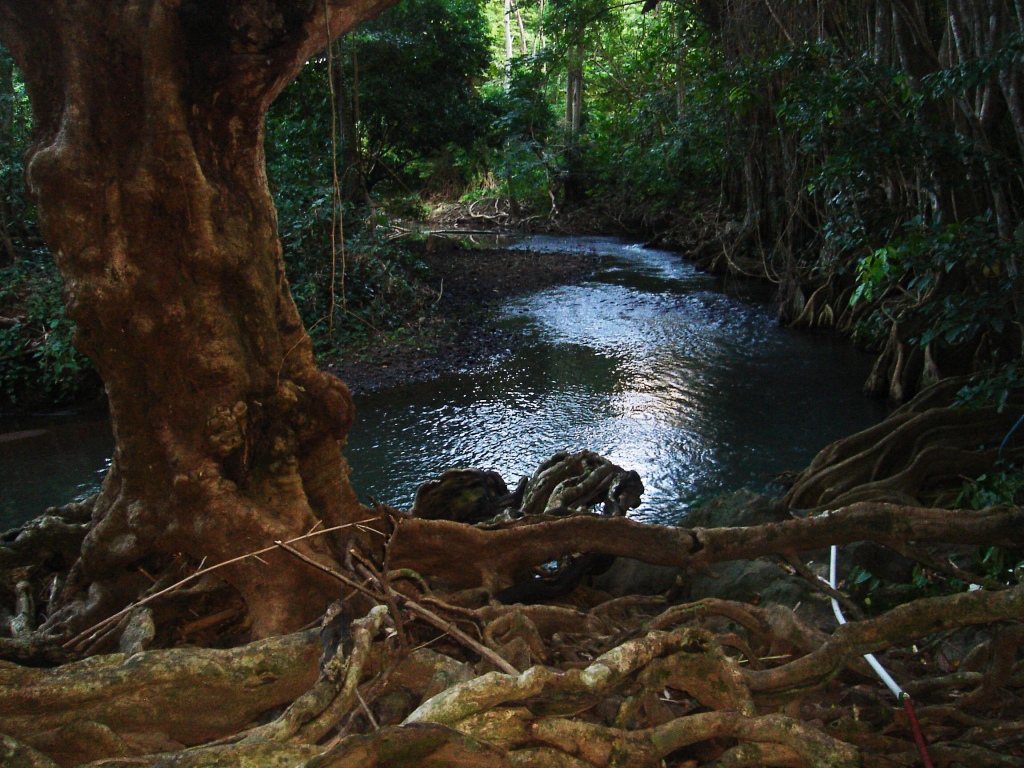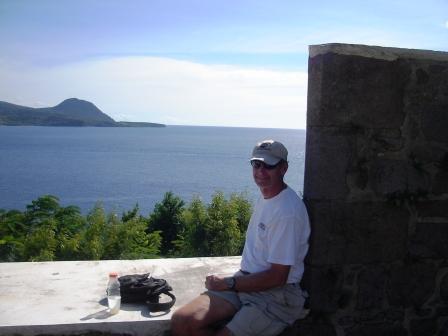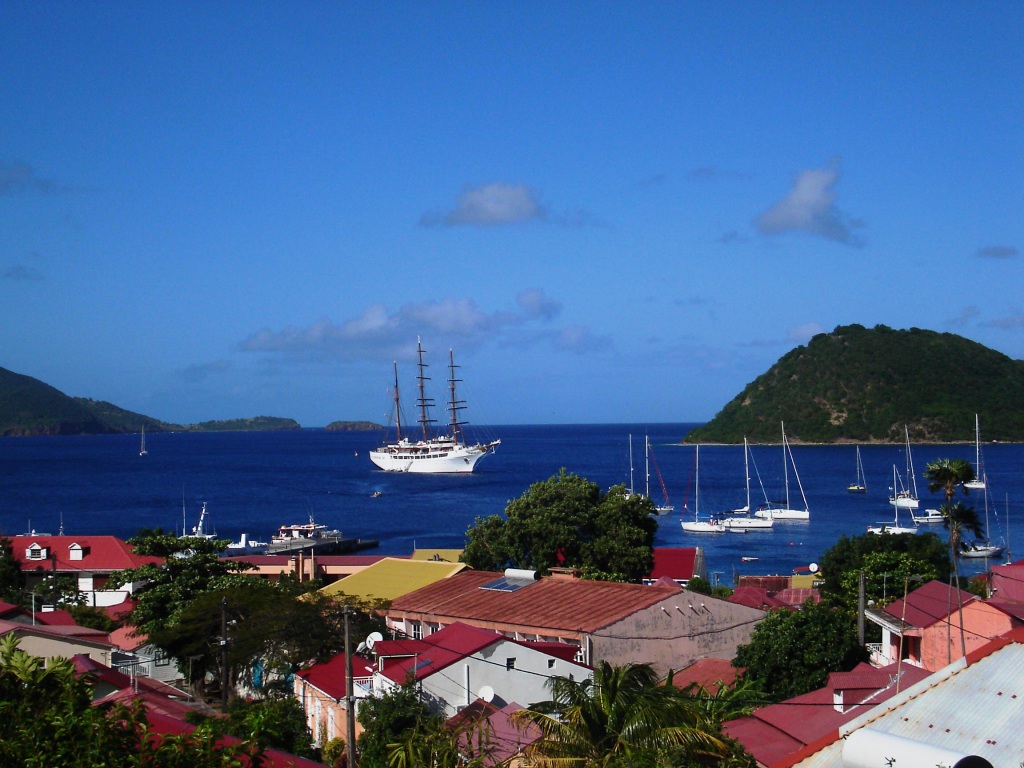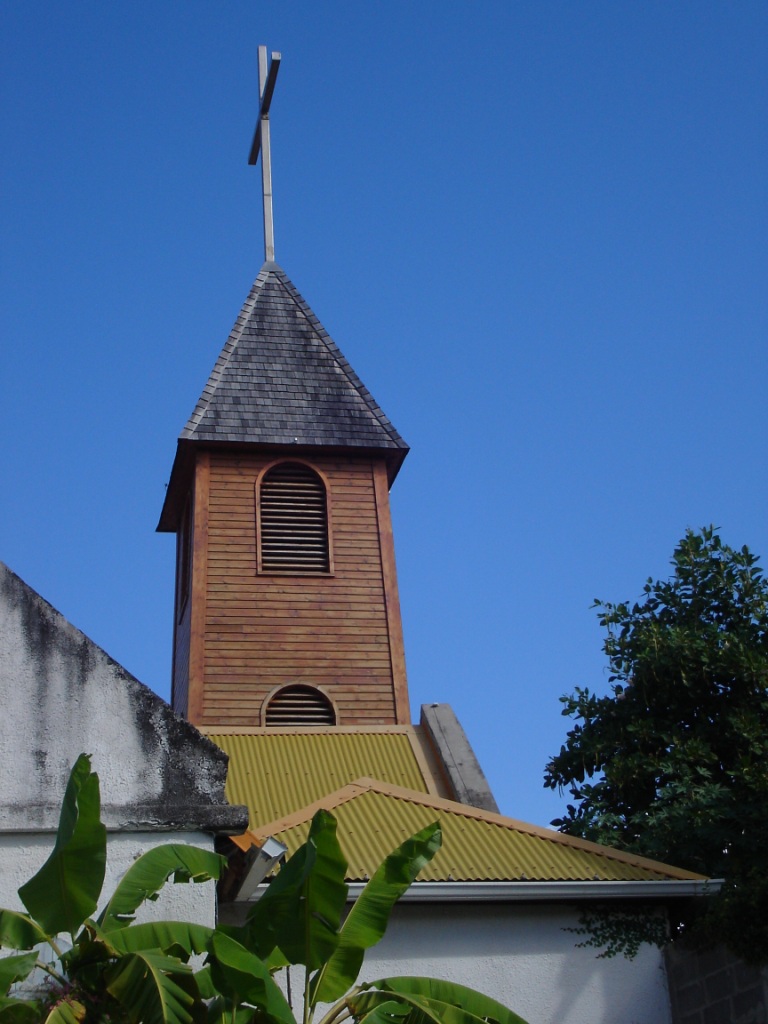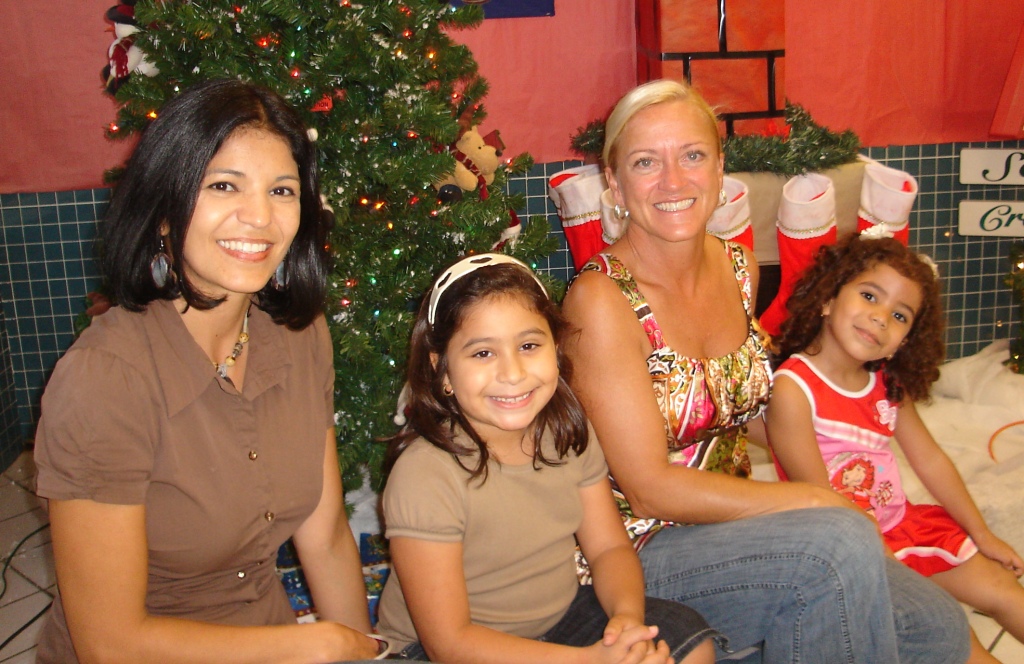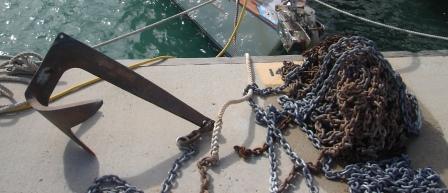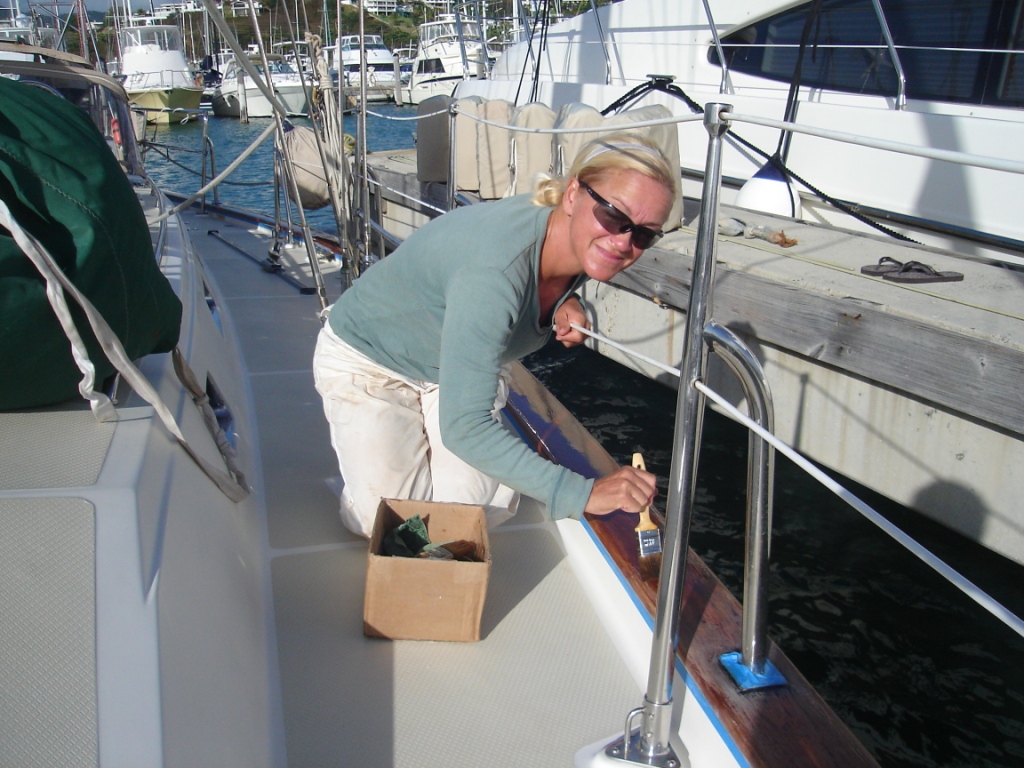 December 11, 2008 - January 27, 2009
After enjoying Martinique, we had a lively sail across the Martinique channel followed by a boring motor sail in flat calm seas in the lee of the coast of Dominica (pronounced do-mi-NEE-ka). They say if Christopher Columbus returned to the Caribbean he would recognize this island since so little has changed from his original visits. Dominica has a small population, around 80,000, and vast parts of the island are national parks. That makes it ideal for our favorite pastime, hiking and exploring
We anchored at Portsmouth on the north end of the east coast. From there we took a bus south with Dick and Jane of s/v Cheetah II to view the Trafalgar Falls and the capital, Roseau, which had two cruise ships in port. Later in the week we also took a half day hike through the jungle along a mountain ridge that overviews the ocean. Picture cannot describe the beauty and we only came across one other person, a remote farmer tending to his goats, during our hike.
One of the most impressive ventures was a 6:30 am tour up the Indian River with Martin (AKA Providence). Martin did an excellent job of explaining the history of Dominica, the plants that are used as local medicine (cinnamon controls diabetes, mint for hypertension) and he could name every bird we saw, which there were many. The Indian River was indeed very impressive.


Our final hike was a short one to the English fort that once protected Dominica from the French neighbors, Martinique and Guadeloupe, which are to the south and north. After a final peace was made with France, the English abandoned the fort since it was too expensive to maintain and no longer had a useful purpose.




After a week in Dominica, the weather was favorable for another island hop north to Îlse Des Saintes (The Saints). This is an irresistible group of islands with idyllic Gallic charm. The only town, Bourg des Saintes, is on the largest island, Terre D'en Haut. Bourg des Saintes is an adorable seaside town, sparkling clean and picturesque, with red roofs and a handful of older Caribbean buildings that are all balconies and gingerbread. Flowers grow in abundance around the houses and no one is in a hurry. Local boats are anchored along the waterfront.
Each anchorage has its own unique aspects. In this very French island, they take their bread (baguettes) very seriously. In the early mornings, many boats send their young boys (5-7 years old) with their dinghies to get fresh bread. When mom & dad wake up, they have fresh bread with their morning coffee. Ah, çe le vivre (the good life!).

On Christmas Eve we attended a Catholic mass which was in French. Afterwards, while leaving the dinghy dock with my glasses in a case in my back pocket, they went overboard. I was very distraught about losing my good glasses but on Christmas morning I snorkeled around the dock and found them!! I was so happy to receive that Christmas gift.

On Christmas Day we barbequed a marinated leg of lamb that barely fit in my BBQ. Somehow it came out to perfection, not sure how that happened. After that big afternoon meal we needed a walk so we went into town. Throughout the town locals were gathered in grocery
stores and sidewalk corners playing Christmas music and signing songs together. It seemed a very special way to spend a very special day. At the end of our walk we joined a group at a local grocery store/bar where there was a woman playing her accordion and a man playing a guitar and everyone singing. It was fantastic listening to "Silent Night" in French. With the accordion, I felt we were in a scene of the movie, Amélie. That evening was memorable and will remain with us forever.

The day before our departure, December 28th, our anchor chain got wrapped around a big machine on the ocean floor 50' down. It was wrapped in a way that I could not untangle and I cannot free dive down to 50' (technically I could go down 50' but not live to tell about it). I flagged down a dive boat and asked them for a favor of getting my anchor chain released. They were very gracious and dove on the chain but after several minutes the diver came up and explained that our chain had become lodged under the machine and he would return with a giant air bag to lift the machine. Being impatient (and cheap) we used El Regalo's motor to pull on
the chain at various angles and it finally released. Hooray! Problem solved! Well, not quite. When JoDon was pulling in the chain the windlass (electric motor to pull in the chain) suddenly bogged down. Since the water was gin clear, we could see a car axle wrapped around our chain with various lines entangled. Our windlass could not lift the weight of the axle and the chain so we tied a line to the stern and used our main winch to pull it up higher so we could swim on it and release it. As I was diving and trying to get the axle released, I had a vision of the axle finally getting free and one of the many attached lines wrapping around my ankle and pulling me 50' down. I kept telling myself, "Safety first!" In'sha'Alla, the axle released and I climbed aboard. What a day! During our activities a nice elderly lady swam out to our boat and asked if we were hung up. We admitted that we were and she informed us that this was an everyday occurrence in this area. We had earlier witnessed this boat pulling up a fish trap with their anchor.

It was time to move on so on December 29th we departed Isle des Saintes for Vieques, Puerto Rico, a 40 hour trip. The weather forecast was for strong winds the first day and little wind the last 12 hours.

After sailing EL Regalo for 1 ½ years I never felt that we had gotten the best out of her until this trip. With strong winds (20K+), a favorable swell and adjusting the sails in a different manner, we sailed fast. For the first 16 hours we averaged 8.75 knots including some brief moments of over 10 knots. As predicted our winds died down but we still made the trip in 36 hours vs. 40 hours, meaning that we anchored at Vieques at midnight.

Anchoring in the dark is not recommended but Vieques is a wide open anchorage that gradually shallows toward shore. Plus, we had anchored here at night the previous May so it was no big deal. The following day, New Year's Eve, we hitchhiked to the airport to clear Customs/Immigration. This time I did not get arrested. It was a good day. On our return to the boat, an elderly couple that was honeymooning gave us a ride. They had been married two weeks. They had met 58 years ago on a ship when emigrating from Latvia to North Dakota. As they say in Fargo, "Yah, I wish I knew the rest of their story! Yah!"

Vieques was so relaxing we stayed another day just lounging and reading. On January 2nd we moved to the Puerto Del Rey Marina with a long list of parts and repairs that needed to get done. We estimated we would need 14 days to get everything done and we left after 12 days. The 12 days spent in the marina were grueling, we felt that we had to work from sun up to sun down to get our money's worth.
We did take a break from fixing the boat and re-provisioning by driving across Puerto Rico to visit a friend and former Haggar colleague, Lilliana. She now has two beautiful girls, Monique and Shayana, and we enjoyed the opportunity to catch up on what's new with their lives.

While at the marina we ordered parts and did boat maintenance that is not feasible while at anchor. One of our projects was replacing our anchor chain that had become rusty and brittle. JoDon normally drops and raises the anchor so she has had to deal with the anchor chain problems. She was so excited about 'her' new chain that she called it her birthday present (her b-day is December 26th). Indeed, she has become quite a sailor. The Old and the New. Note: I did take her out for a lovely French dinner in Isle de Saints on the night of her birthday.

We also replaced our alternator that was on its final days, repaired the main and jib sails, put five new coats of varnish on our toe rail (including hand sanding before each coat) and spent a lot of money at West Marine and Wal-Mart.

We have since left the marina and went to some of the tranquil Spanish Virgin Islands. At night we look out from our most peaceful environment back on to the 'hustle & bustle' of Puerto Rico. We are awaiting parts that we ordered to arrive and then we will decide our next destination, maybe the island of Barbudos with its beautiful beaches?

Hasta luego,
Brian and JoDon