April 23 - June 17, 2009 posted July 9,2009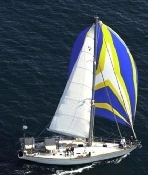 Journal 20;
Eastern Caribbean to Panama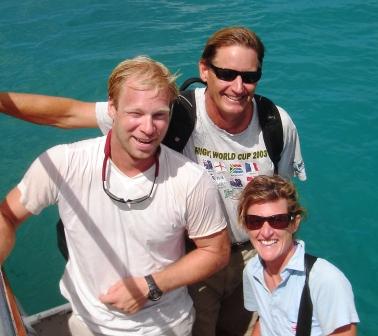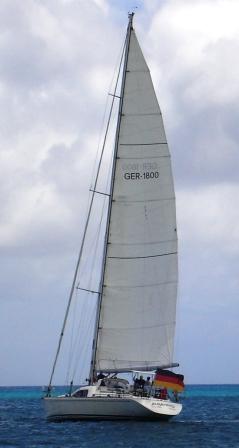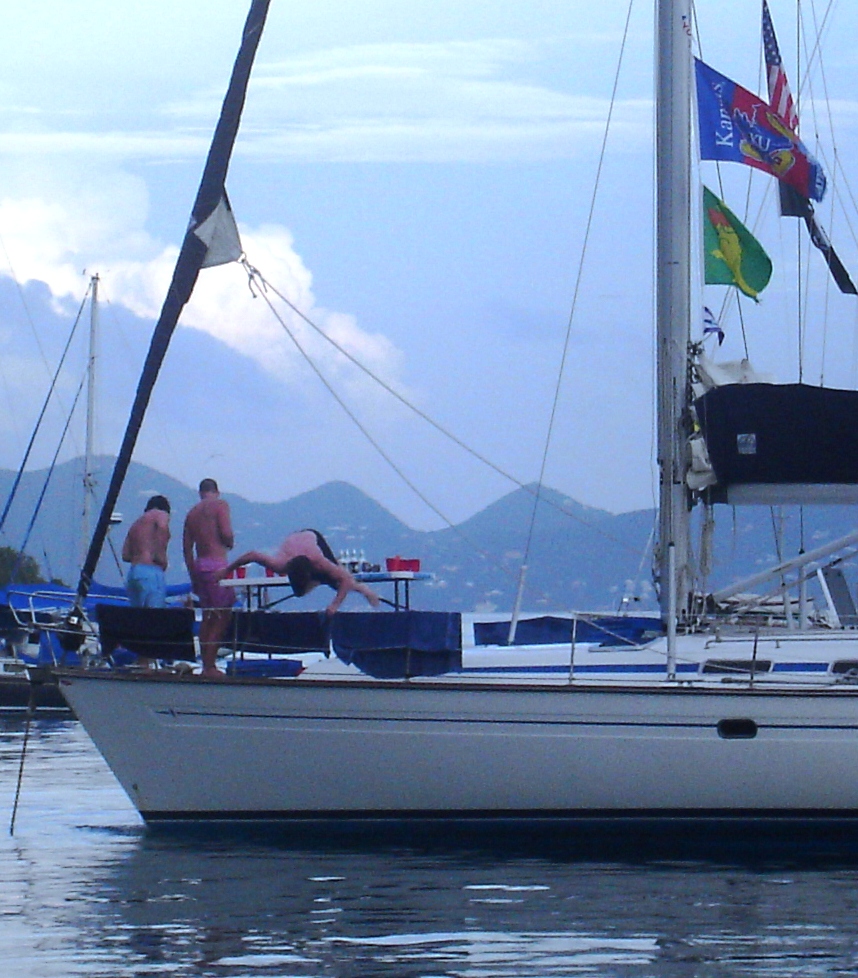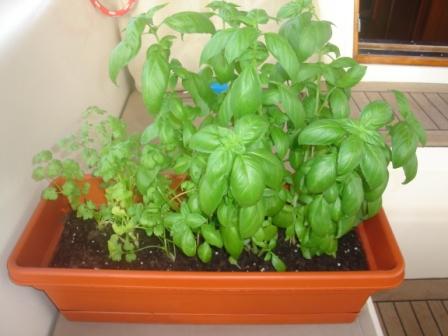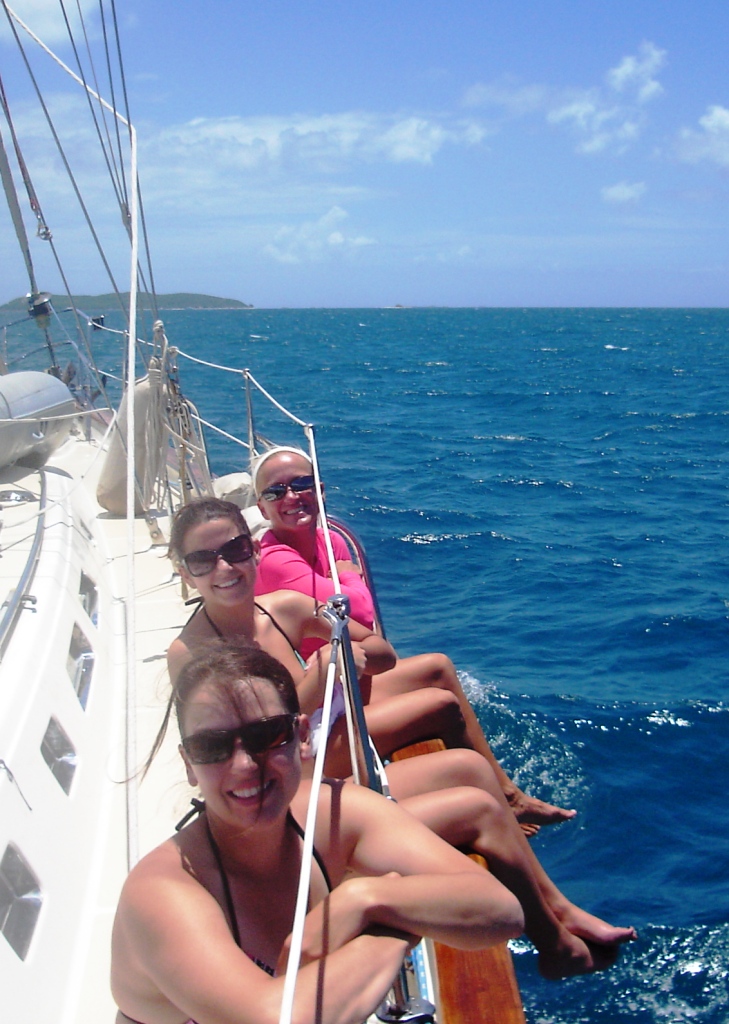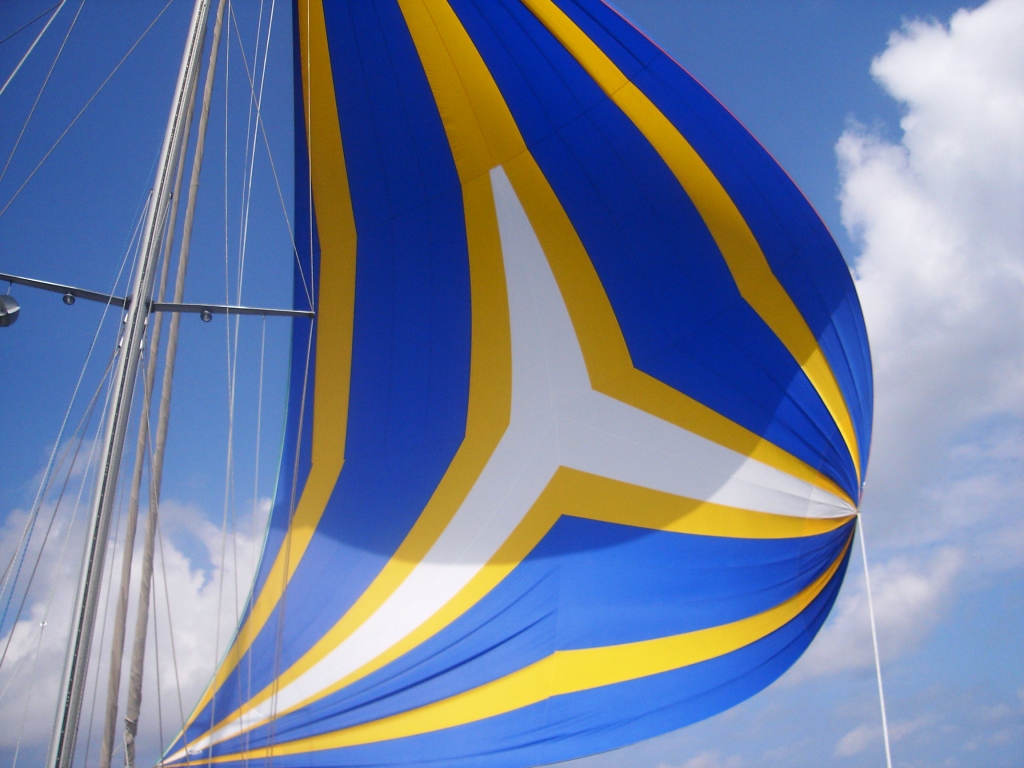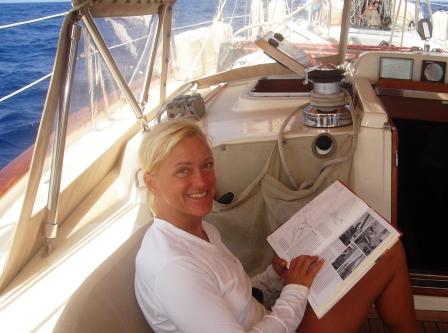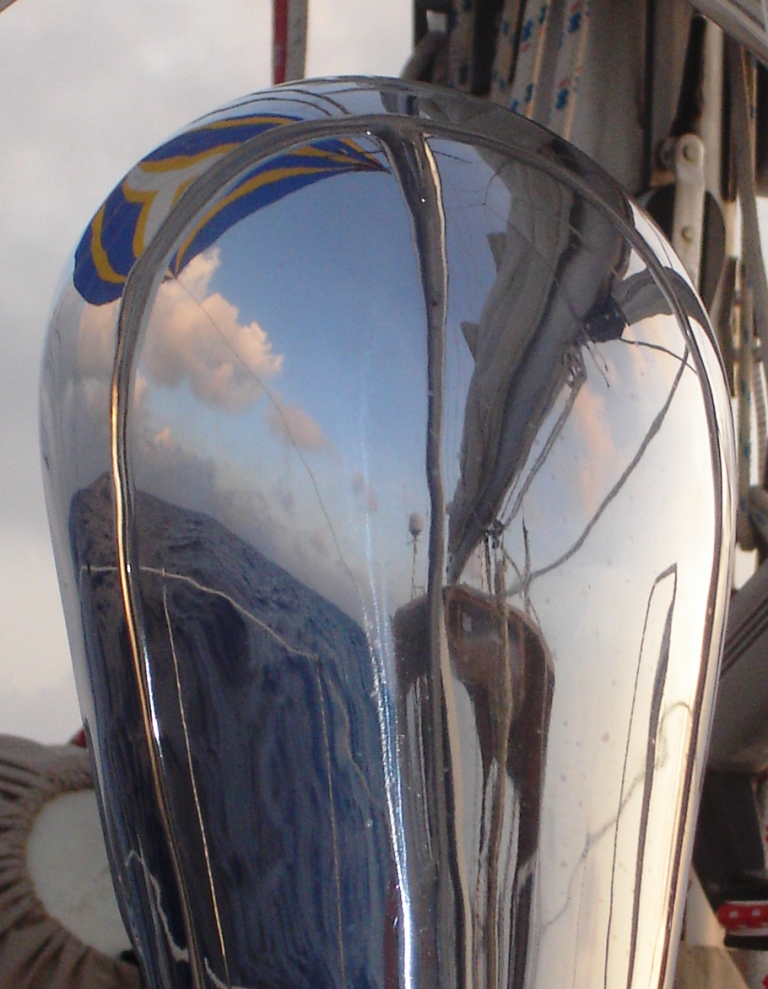 Before we get started on our longest journey we need to get caught up with where we ended out previous journal. Soon after the Antigua Classiscs Regatta we made an overnight passage from Antigua to St. Martin with a delightful young German couple. Charlotte and Thomas needed transportation from Antigua to St. Martin. Like many sailors they had an interesting story. They decided to take time off from their work in Germany to sail in the Caribbean but found airline fares too expensive. So they made their first Atlantic crossing aboard a freighter. They crewed for several sail boats throughout the Caribbean. Their main purpose for going to the Caribbean was to crew on a return trip from St. Martin to Germany. We saw them leave the morning after we dropped them off.

Our longest journey to date.
While in St. Martin we did some provisioning and visited our goods friends, Guy and Christine of s/v Princess of Tides. We both are not fans of saying good-byes so we hope to see them in the years ahead.
From the BVI's we sailed the brief distance to St. Thomas for additional provisioning and clothes washing. Since we had been there before getting around was simple. By this time we learned that one of JoDon's nieces, Ciera, and her friend Sam were planning to vacation in Puerto Rico. So we changed our plans and stayed an additional week to see them. Our time together was brief but it was very enjoyable to have the first Cowan family member aboard.

With visits over and provisioning finished it was time to move on to Panama. We started by listening to the Panama Cruisers Net on SSB radio to get an idea of what was going on. Most days the reception of other boats 900 nautical miles away from us was quite good.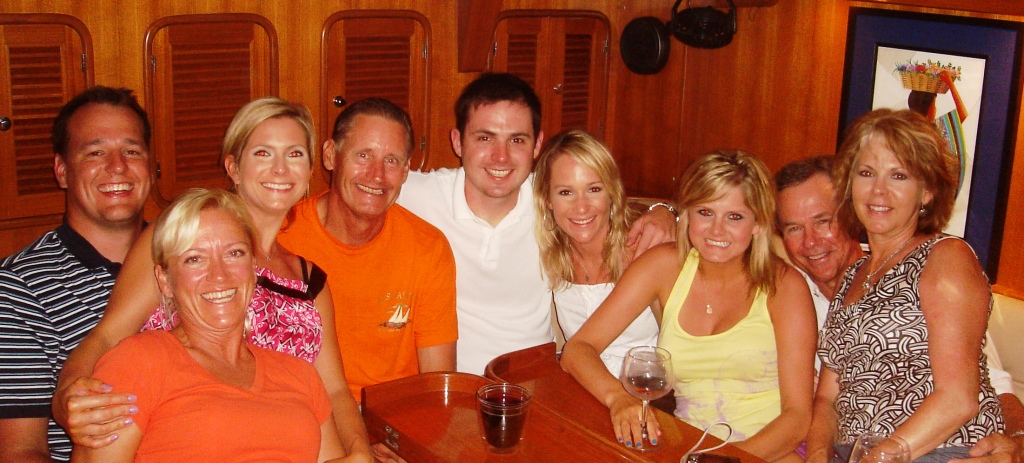 From St. Martin we sailed overnight to the British Virgin Islands (BVI) to meet the Cotten family, who were bare boating (chartering). It was great to spend time with old friends and to meet Matt, the latest Cotten family addition. As always, the BVI lived up to its reputation of being one long continuous party as we witnessed with this boat flying its Jay Hawks flag. At first we couldn't understand why anyone would have a large folding table on board, but as the drinking game got fired up, we soon saw the reason. Like most drinking games the object was simple; bounce the ping pong ball into the red plastic cup full of beer. What got tricky was when the ball went overboard, as it did most times, someone had to dive in, retrieve the ball and climb back on board.

A weather window opportunity arrived on Wednesday, June 10th to begin our trip. Chris Parker, the cruiser's weather guru, suggested that we leave even though there were squalls and little wind in the immediate area. But, if we could get to 17°N we would find wind. The mountains of Puerto Rico were quickly out of sight lost in the rain clouds. We spent the entire day putting sails up and taking them down with the unpopular combination of very little wind and then 20 knot winds when a squall would hit. We used 'every tool in the toolbox' to keep sailing and were both better sailors by the end of the day. We were also both dead tired and it was only the first day of our six day trip!

During the first night shift we twice had to dramatically change course to avoid collision with freighters. Yes, sailboats have the right away, but something about metal vs. fiberglass is not a good way to prove who is 'right.' It often amazes me how in a big, huge ocean two ships can almost collide. I wonder what the odds are?

When we got close to 17°N the winds arrived as predicted and our speed dramatically increased. By the end of the first day we had gone 135 nautical miles (nm) or 5.6 knots (kt). Without our gennaker sail (an oversized light air sail) we would not have made as much progress.

Day two brought stronger winds and it was time to start bringing sails down, not put them up. The gennaker came down and we put one reef in the mainsail (made it smaller). With the winds and seas on our aft quarter we made really good time, 176 nautical miles or an average of 7.3 knots.

The third day brought winds gusting to 32 knots and building seas. We put a second reef in the mainsail and held on. Pictures can not adequately describe the environment. When looking out behind the boat, at time you would only see a huge wall of a wave that looked like it would crash down on us. As the wave approached, El Regalo would also rise with the wave and the wave would gently pass beneath us. It was quite a sensation although once a big wave "pooped our deck" and several hundred gallons of water crashed into our cockpit. That will wake you up! On our best hour we averaged 8.88 kt and chart plotter estimated we would arrive at Panama in 2.8 days (we knew that wouldn't happen!).

During the big waves and strong winds El Regalo really showed her stuff. She was so smooth that sleeping in the cabin was like sleeping on a train. It was a gentle rhythmic sway that provided great comfort.

The Journey to Panama
On this trip we changed our nightshift patterns. Before on multi night trips, JoDon and I would be three hours on/three hours off. For me, I always felt like crap, as if I just got only three hours of sleep and I cannot sleep during the day. Anyone who knows JoDon well knows she can sleep at any place and at any time. With our new schedule, JoDon would sleep from 7pm to 10pm and then take the helm until 4am. After I took the helm at 4am she would sleep as long as she could. This schedule worked much better for us. As always there we times we had to wake the other up to help with sail changes due to wind shifts or collision avoidance, but that is part of the territory

By the middle of the night on day three the winds started to slacken and so did our average speed. We finished with 164 nm crossed and 6.6 kt.

Sunday morning at 02:30 we had a tremendous lightening storm that would make any sailor nervous. With our metal mast protruding 65' toward the sky made you want to pray. The storm also eliminated all of the wind.

At this point let me insert a side story. As I have done several times before making a long passage, I write Don Jack an email asking for him to include us in his prayers. On this trip Jack replied in his email that he had prayed for a safe passage and to keep us out of any storms. Well, I think Jack's prayer was so powerful that it protected us from all the threats of storms AND all of the wind. As we approached the Colombian coast, one of the world's windiest areas, we did not even have one knot of wind. Motto: "Be careful what you wish for."

For the remainder of that morning and almost all of that day we drifted toward Cartagena, Colombia. Most sailors at this point would have turned on their motor. When asked, they would say, "We had to turn on our engine." The way we see it, we do not "have to" turn on our engine. We had no appointments in Panama and if it took us an extra day or two to get there, so what?

Some people ask, "What do you do while drifting all day?" The days always pass, but the first thing we did that morning was to make some Bloody Marys and think about the day. We normally do not partake while underway but with no wind, flat seas and not a cloud in the sky, why not? We spent the balance of the day straightening up El Regalo and hanging clothes and gear on the life lines trying to dry things out. We brought out the basil and cilantro to get some sun. We also took the time to enjoy the adult pleasures of married life. You know these types of activities, and on this day it was tracking down an electrical problem in our chart plotter. Ain't sailing great!

At the conclusion of day 4 we had made only 123 nm with an average speed of 5.1 kt and Day 5 would be even slower @ 82 nm made good at just 3.4 kt. While sailing was slow the gennaker kept us going and the ride was as peaceful as it looks in this reflection off the back of the dorade. Oh well, Day 6 was109 nm @4.5 kt. On Day 6 JoDon and I were both in the cockpit and we felt El Regalo bump into something. We just looked at each other and then we felt the bump again. What the? I looked over our stern and spotted a water soaked green log that we had hit. There was a fish swimming on the top of the water that was a perfect green camouflage as the log. The fish appeared to look up at El Regalo and say, "Hey, watch where you're going."

On Day 7 we were "In irons" or without wind. Our weather charts predicted no winds for the next three days so we finally started up our Iron Genny, the motor. Fortunately the weatherman was wrong and after a few hours the wind picked up to 10 knots and we hoisted the gennaker sail again.

On the beginning of our eighth day, 170 hours since we left Puerto Rico, I spotted land. I jumped up and yelled, "Land Ho!" OK, it was corny but I always wanted to say that. We felt pretty cool sailing into Panama with our gennaker showing off El Regalo.

Upon landing at the tiny island of Porvenir, San Blas Archipelago, Panama, we had a welcome drink (or two) to celebrate a safe arrival. With this trip, in the past 2 1/2 years we completed 8,000 miles aboard El Regalo and are located at 09°.31N and 78°37W. Miami, Florida is approximately 1,000 miles due north (I never thought Panama is due south of Miami). Dallas, TX is 1735 nm from San Blas. Also, another geographic surprise is that Panama is divided by regions, East Panama and West Panama. I would have thought it was North/South, but it isn't.
This is how we made way to Panama:

Motor: 6.5 hours
Main sail & Jib sail: 30 hours
1 reef in main sail + Jib: 14.5 hours
2 reefs in main sail + Jib: 11.5 hours
Main sail w/ Jib poled out: 29 hours
Gennaker sail with no main sail: 64 hours
Wing-on-wing: 3.5 hours
Drifting 12 hours

Total: 171 hours
907 nautical miles

Marriage still intact.