February 23 - April 8 , 2010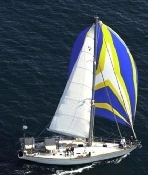 Journal 26, Galapagos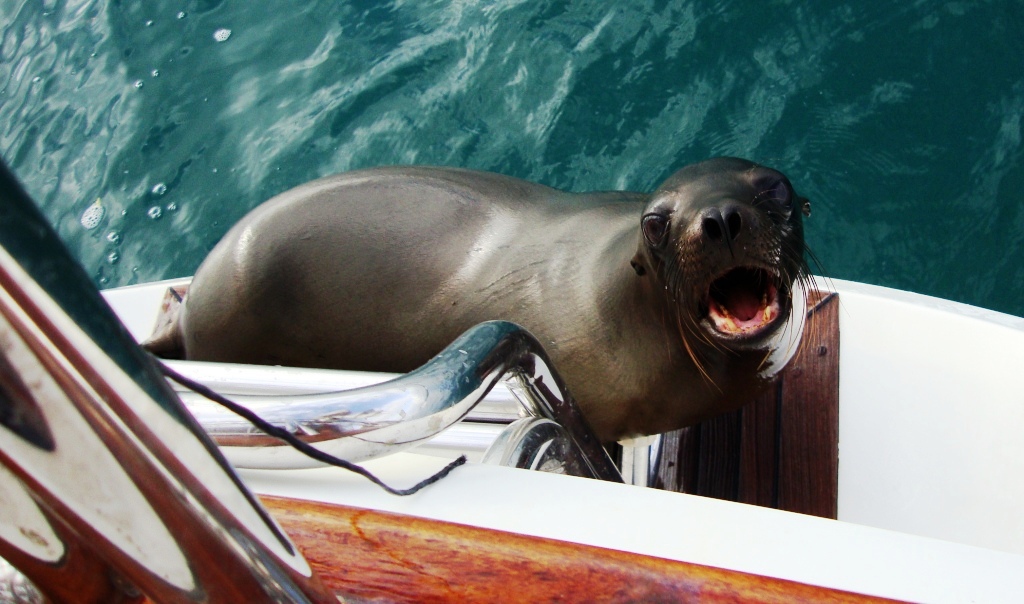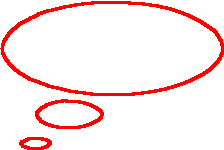 Where's the beer?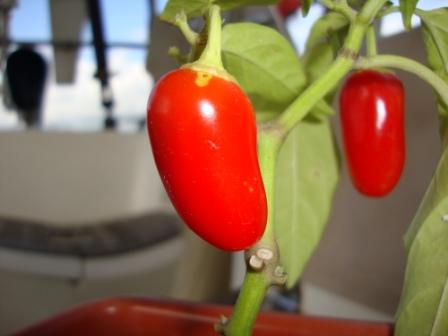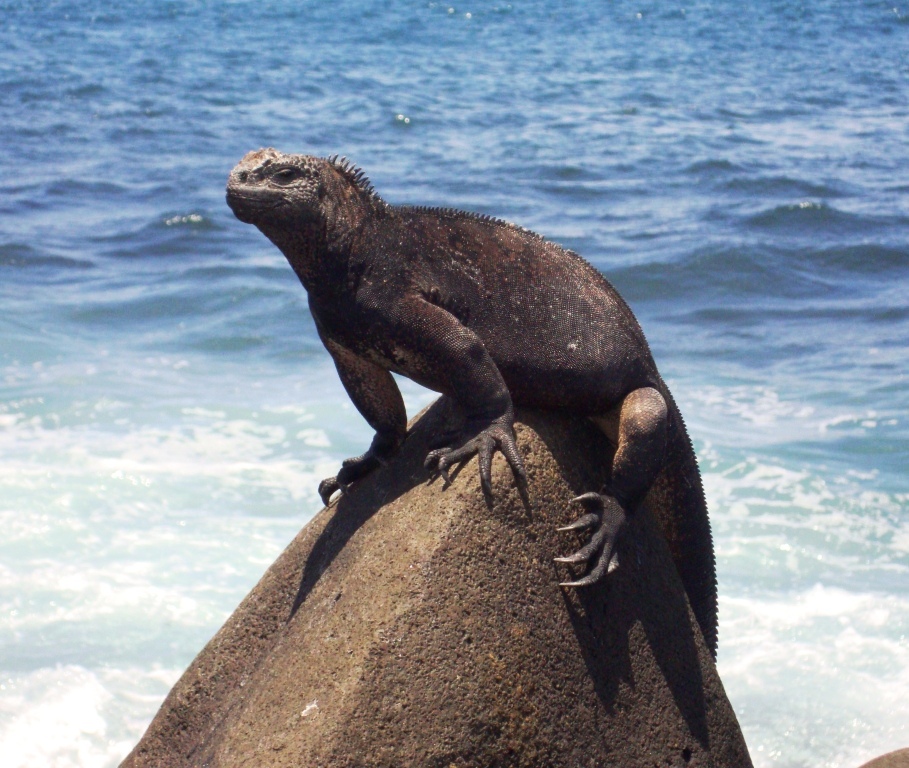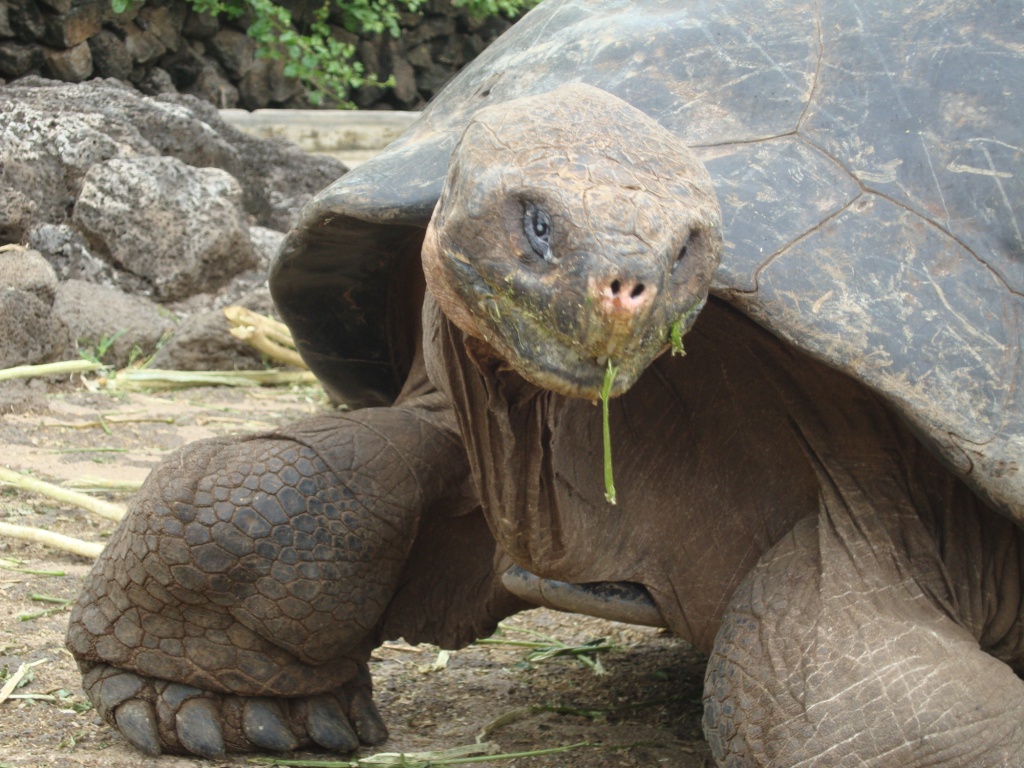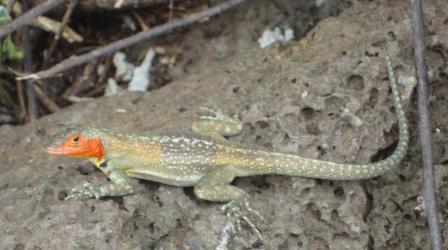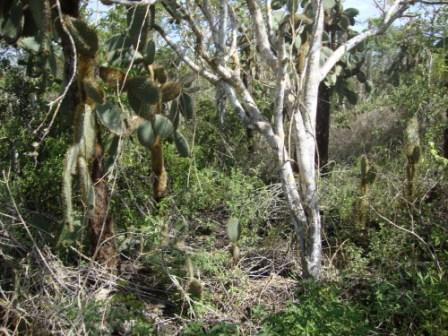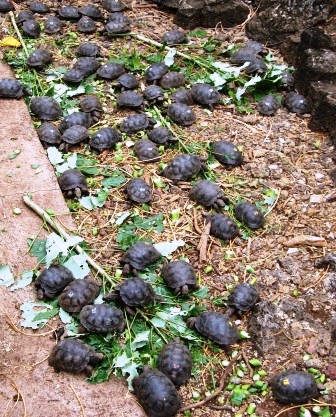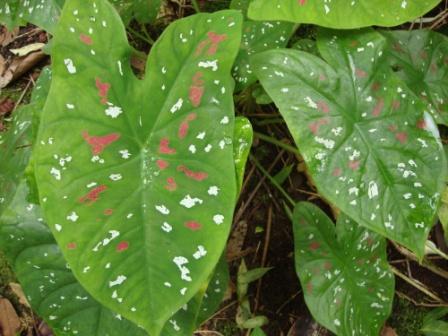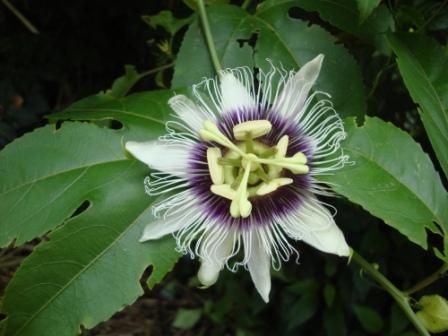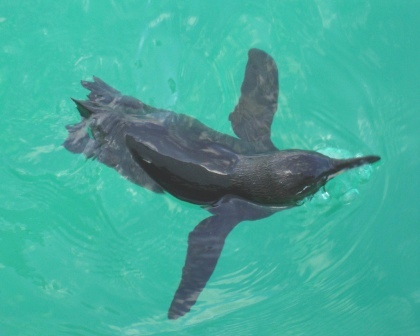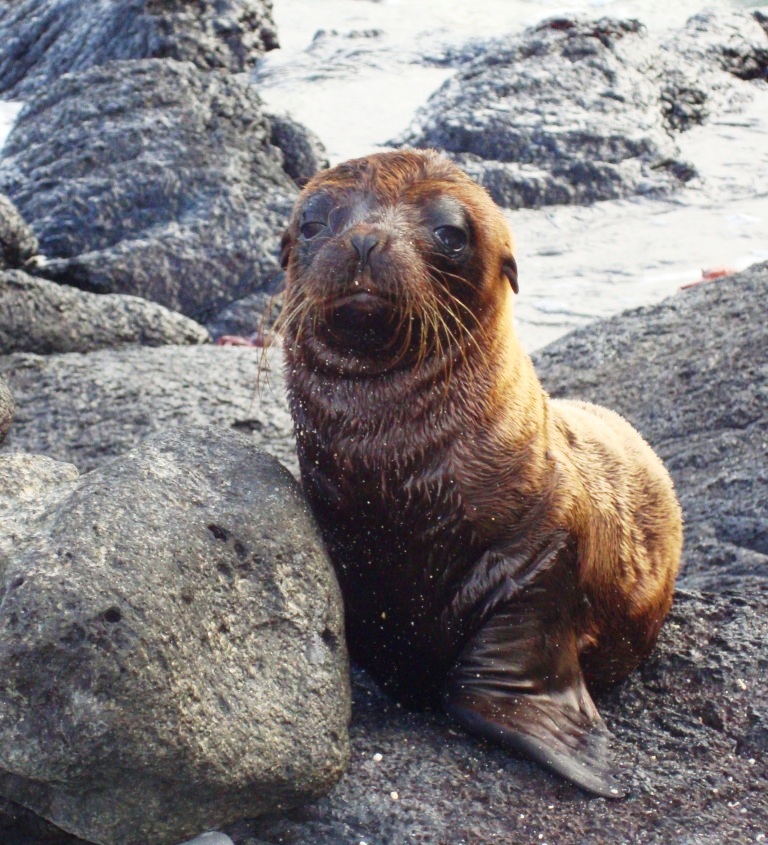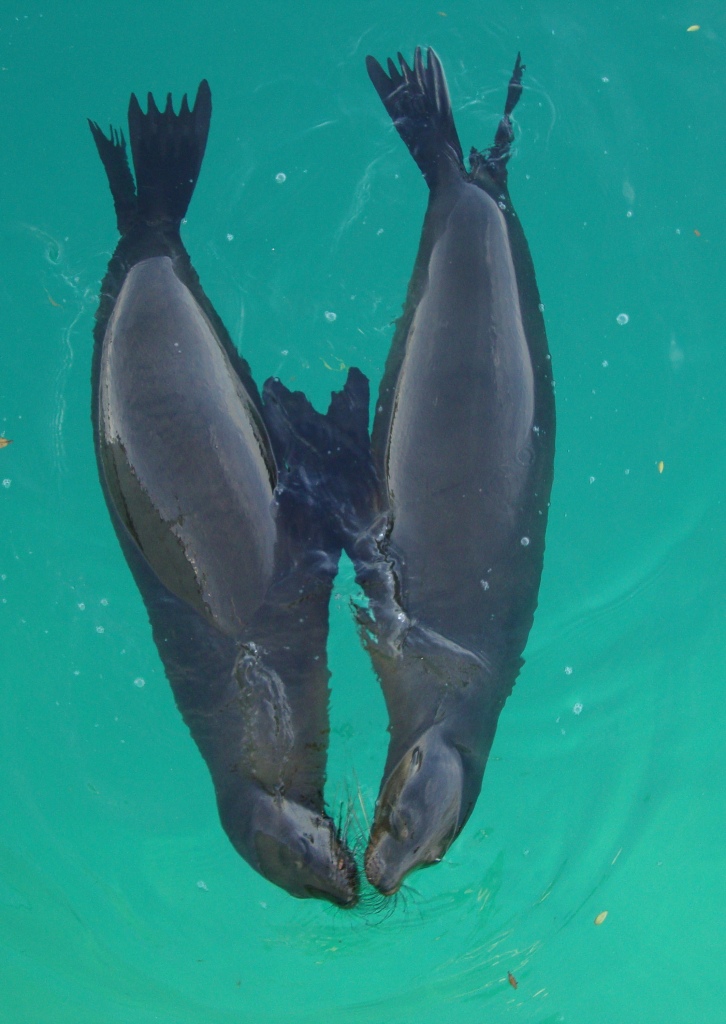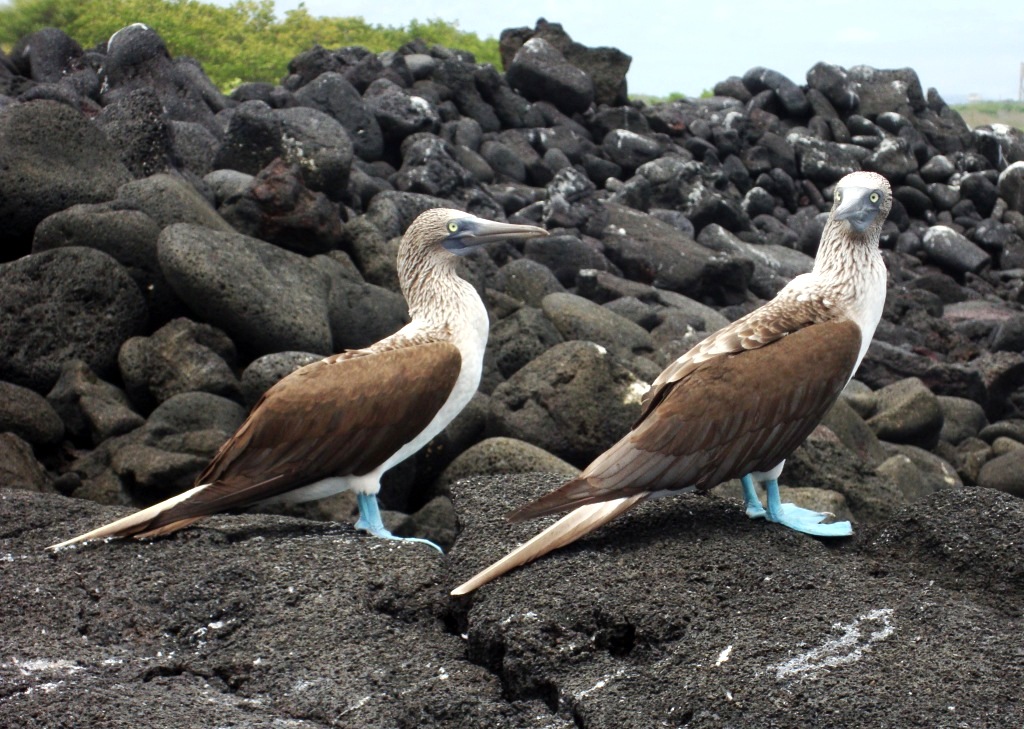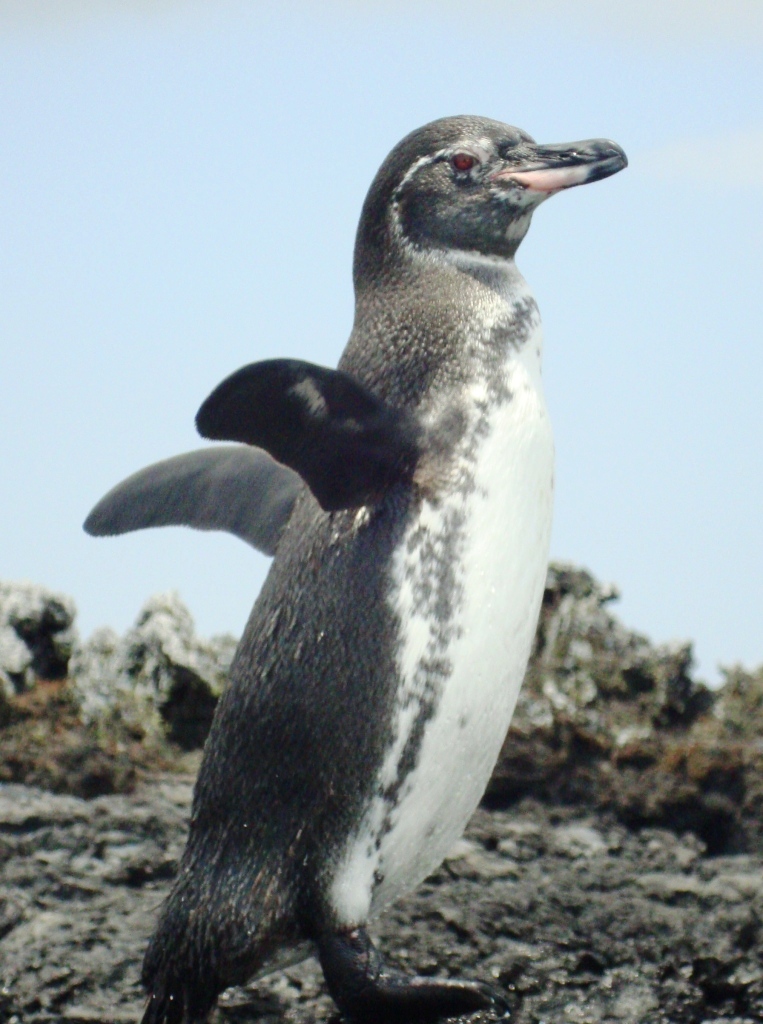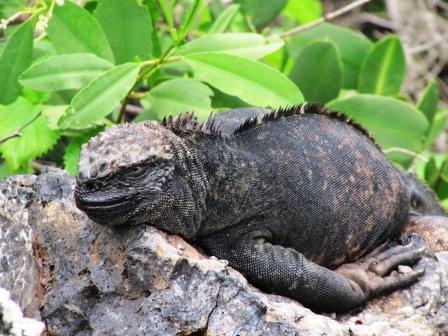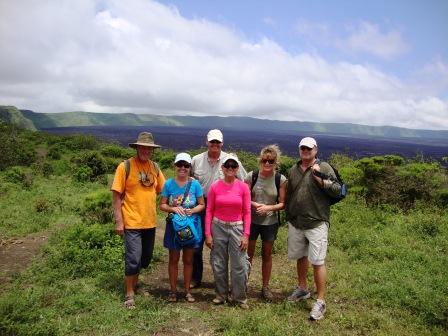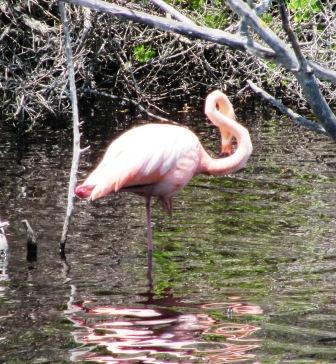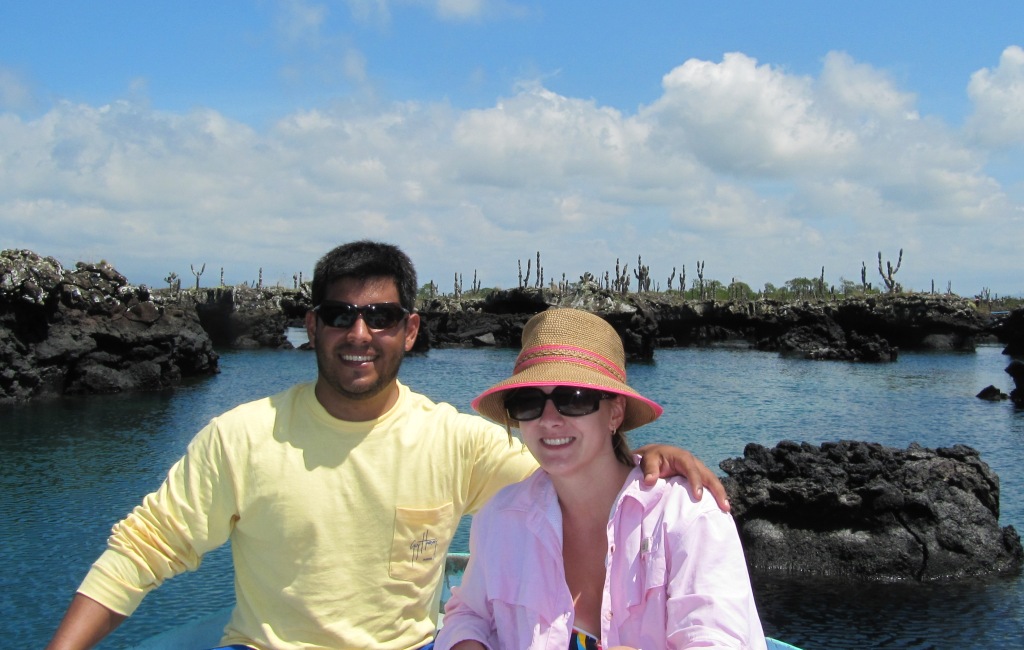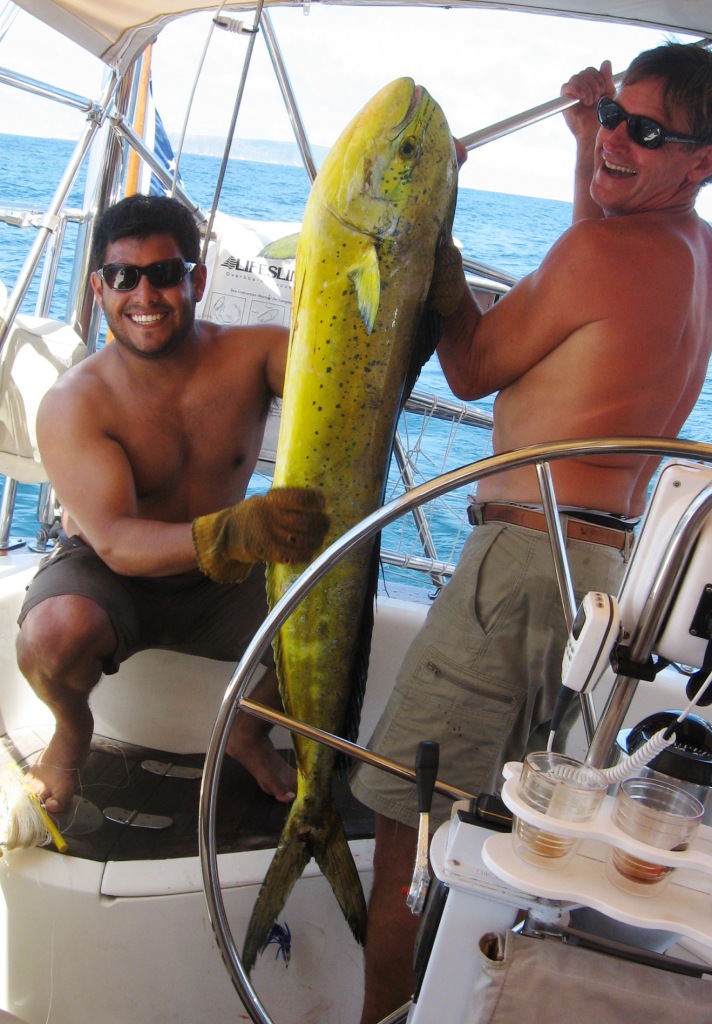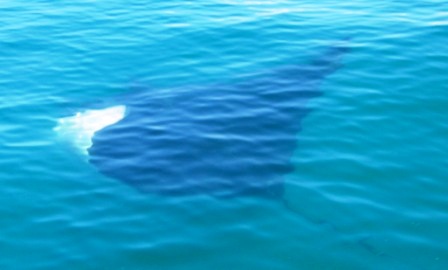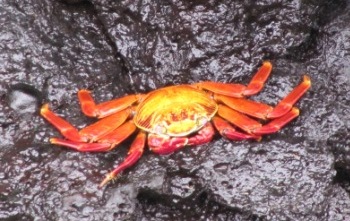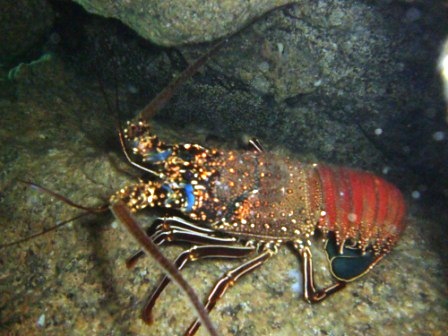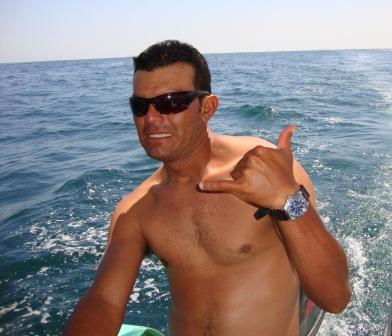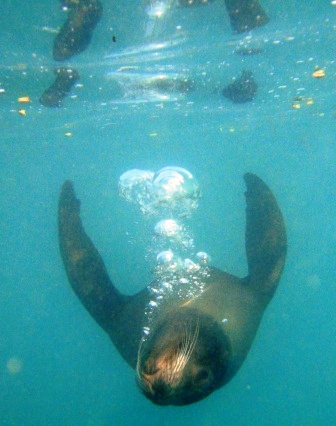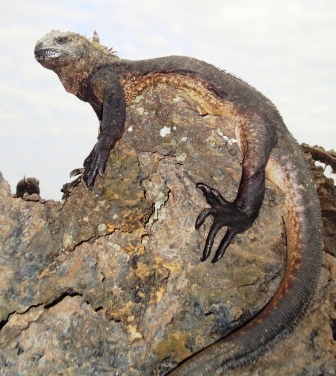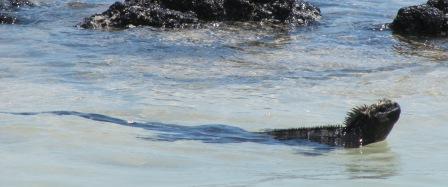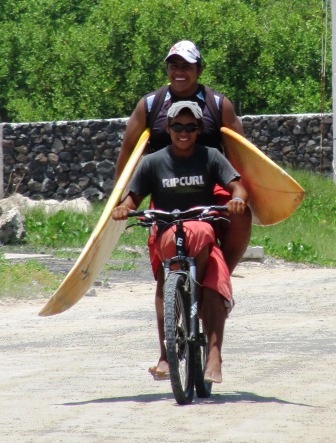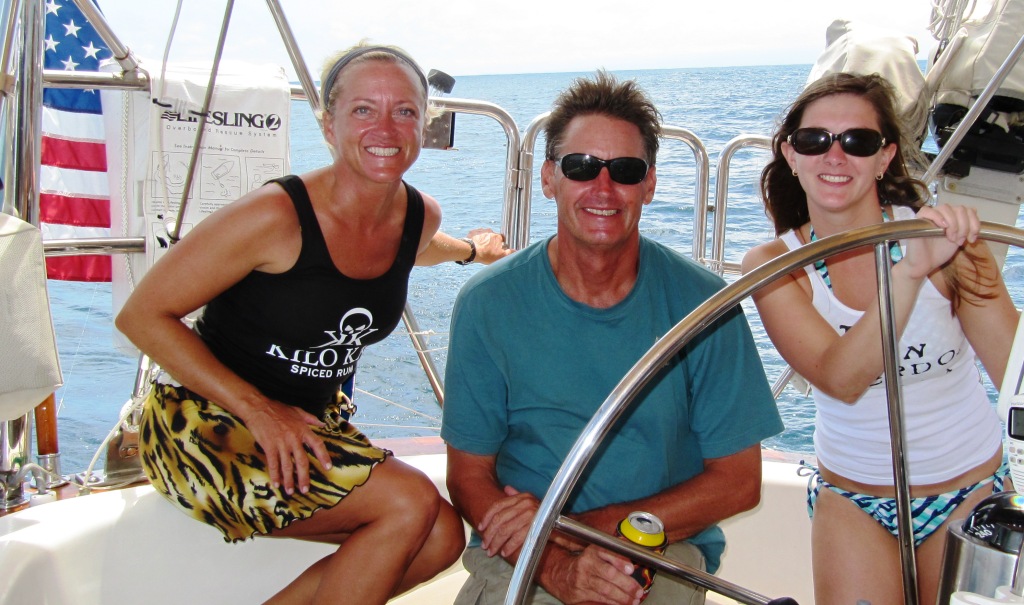 Our February 27th departure from Bahia de Caráques (mainland Ecuador) went smoothly. We did not leave until the late afternoon because the harbor entrance is only 2 feet deep so we depend on an 8 foot high tide to get El Regalo across. We had estimated it would take us five days to reach Galápagos and it did!

The winds along the Ecuador coast were light but when the winds increased we caught five black tunas in
1½ hours. With our freezer full we stopped fishing that day. We harvested these 2 very small jalapenos that would be the only resluts from 5 months of tending this plant. We did other boat chores and watched the course, but we couldn't stand it and put the fishing lines back out. We hooked some more tuna before arriving at San Cristóbol Island, Galápagos. Two days out from our destination we estimated that we would arrive to the port at night so we 'hove-to' El Regalo for us to slow down for a morning arrival. To explain, we put our sails in opposite directions which slowed us to 1 knot of speed. Also, despite being in open seas the ride was very smooth and we both got a good night's rest.

The Galápagos is one of the most unique places of the world. Owned by Ecuador, 97% of the twenty four islands are a national park. Only five of the islands are inhabited by humans and each has unique wildlife.

During the 1800's pirates and sailing ships decimated the islands by collecting firewood and capturing tortoises for their meat and their oil for lighting street lamps. Tortoises could live up to a year aboard a ship and sailors valued the fresh meat. It is estimated that over 100,000 tortoises were taken from the archipelago during this era.

In the mid 60's Galapagos only had 1000 tourists per year. There now are 180,000 tourists per year. The Ecuadorian government has prevented the development of high rises by allowing small cruise ships to handle the additional tourists. Most of the cruise ships are quite small with less than 20 passengers. Meanwhile the population in Galapagos has increased to over 30,000 and growing to support the expanding tourist industry.

As mentioned previously, all of the islands are different. In Cristóbal Island, the sea lions (lobos del mar or sea-wolves in Spanish) are found all along the docks and the main street that runs along the bay. They spend their days lazily sleeping on park benches and sidewalks so they remind us of the homeless in downtown Dallas.

Also on Cristóbal surfers were having a big go of it with the winter surf. We spent several pleasant afternoons watching the surfers from El Regalo's cockpit. We also took several long walks and bike rides along trails and deserted roads. Within a few miles you could see a difference from cactus and shrubs of the coast to the lush flora and fauna of the interior. Along the way we came across a donkey in the ditch that turned into a humorous photo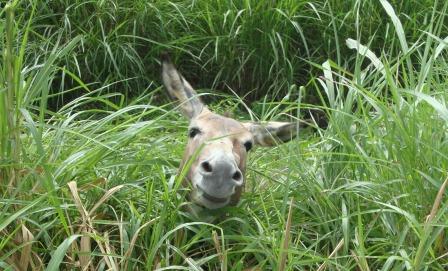 While on Santa Cruz Island we visited the Darwin Research Center where they have a tortoise breeding center. Sadly, there is about a 100% death rate of tortoises born in the wild due to animals (rats & donkeys) that have been introduced by man to the islands. The rats eat the eggs and donkeys can smash the eggs when walking across their nests. Goats and donkeys can starve out adult tortoises by eating up all the available foods. The breeding centers are now protecting the baby turtles until they are released back into the wild, generally after they are five years old. They have now released hundreds of tortoises and have thousands of turtles less than five years old. A tortoise lives up to 150 years so no current visitors to the breeding centers will ever see these babies grow into mature adults
On Isabela Island, penguins and sea lions swam around our boat. The Galapagos penguins are the only penguin subspecies to live in the tropics. The penguins darted around so gracefully that you would think each one was so happy with life! Also common are blue footed boobies. Don't ask us how these birds evolved into blue feet!
In every island the sea lions can be found playing (and sometimes fighting) amongst themselves. Sea lions are playful and will investigate you when snorkeling but sometimes they can out-smart themselves. We once saw a sea lion tossing about a fish it had killed. The sea lion was having a marvelous time tossing the fish around until a pelican swooped down and stole the fish! Sea lions are so cute to watch but they smell so bad! They love to climb aboard your boat to take a snooze. The intro picture is El Regalo's transom. We later put up guards to keep them off; otherwise we would spend an hour cleaning up the fur and blood (they fight amongst themselves)
Close-by to our anchorage was a foot path, Los Tintoreas. We always spotted so much wildlife that it was fun to go there early in the mornings and late in the evenings when the tourists were not present. The Sally Lightfoot crab is a colorful creature that is found on all islands. The most gruesome creatures are the marine and land iguanas. The iguanas are the same color as the black lava so you can easily almost step on these vile looking creatures. If you get too close they will spit at you.
We spent one day with some fellow cruisers, Dominique & Nathalie (French) s/v Etoile de Lune; Caroline (Swiss) & Petre (German), s/v Endless; climbing the volcano Sierra Negra. The crater is the second largest in the world and the close-by volcanoes are active.
We were very blessed to have family come visit us on Isabela Island. Brian's sister, Tina; her husband, Robert; daughter, Tillery; and boyfriend Joe spent some very busy days at Isabela Island snorkeling, beach walking, animal sighting, enjoying sun-downers and being together.
Our best adventure was going to Los Tuneles with a guide, Fabricio. To enter from the open water was quite a thrill with Fabricio at the helm of his panga (small boat) timing the big breaking waves and the shallow rocks. Repeatedly we would be at idle speed waiting for the right moment and then he would go full throttle across a wave. It is hard to describe the event but 'white-knuckle' would be one appropriate description along with a few shrieks from the women crew. The tunnels were formed by lava flowing into the ocean. They create a natural resting areas for turtles and sharks and great hiding areas for lobsters. Fabricio knew a spot for some sea horses which were a rare treat. We also spotted many huge rays, about 14 feet across, along the coast.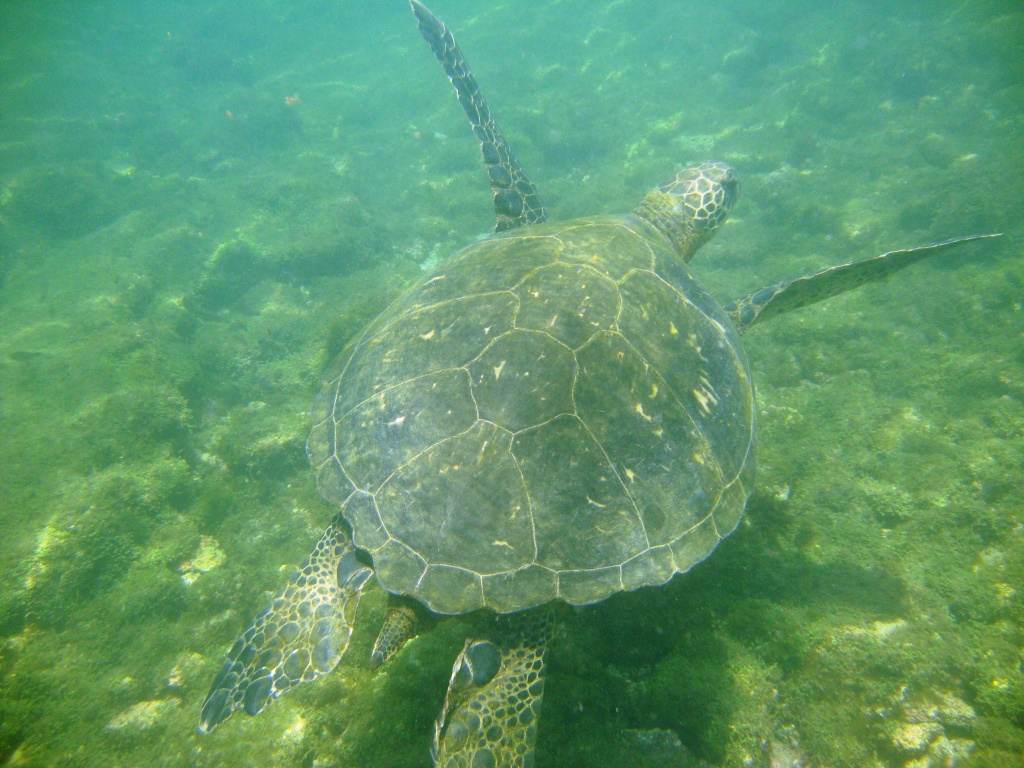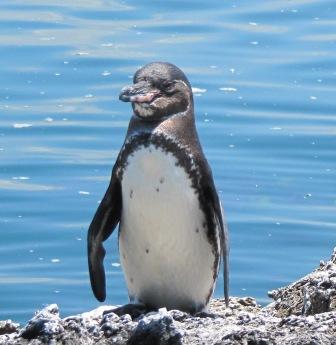 While sailing to and around Galapagos we were lucky with our fishing. Besides the previously mentioned tuna we caught three Spanish Mackerels and one black fin tuna. Tina caught our first-ever yellow finned tuna and Joe caught our biggest-ever mahi, a huge female. Joe pulled in this monster with his hands and the 100 lb. test line leader was so stretched that it ALMOST broke. Needless to say, our freezer is now full again.

The Galápagos has been great to us but now it's time for our longest passage ever, Galápagos to Marquesas Islands, a 3,200 nm trip. We estimate it will take 20-25 days so you will not be hearing from us for most of April.

All the best and fair winds,

Brian and JoDon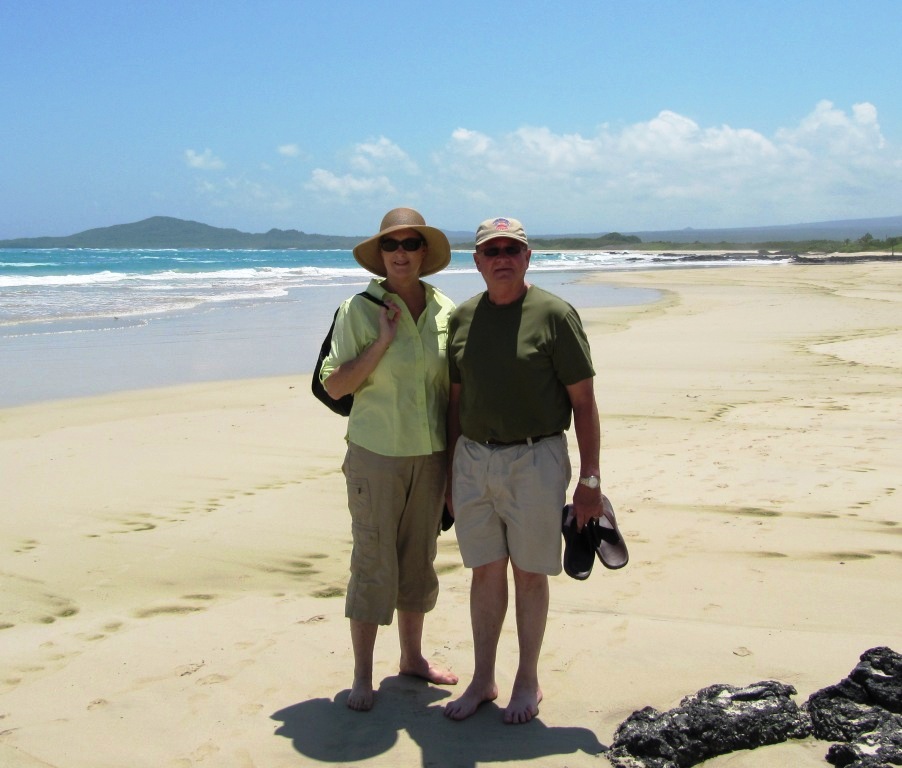 Photo by Joe
Photo by Joe
Photo by Joe
Photo by Joe
Photo by Joe