May 26 - June 25, 2010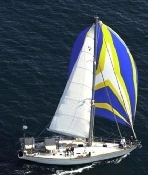 Journal 28; The Tuamotu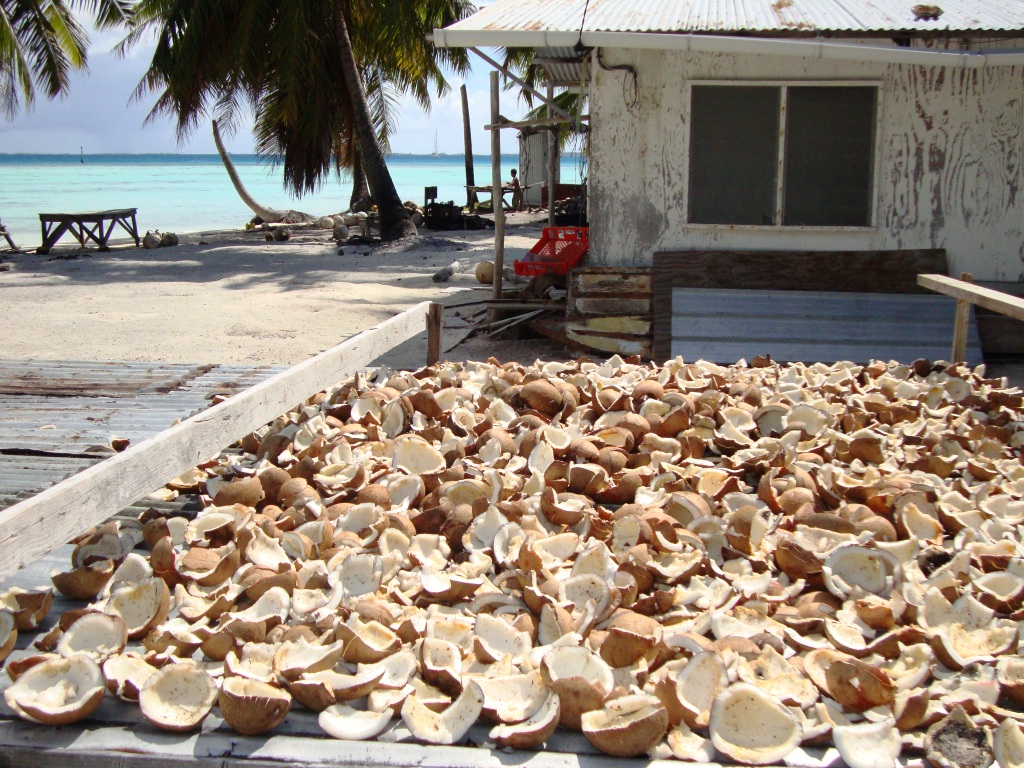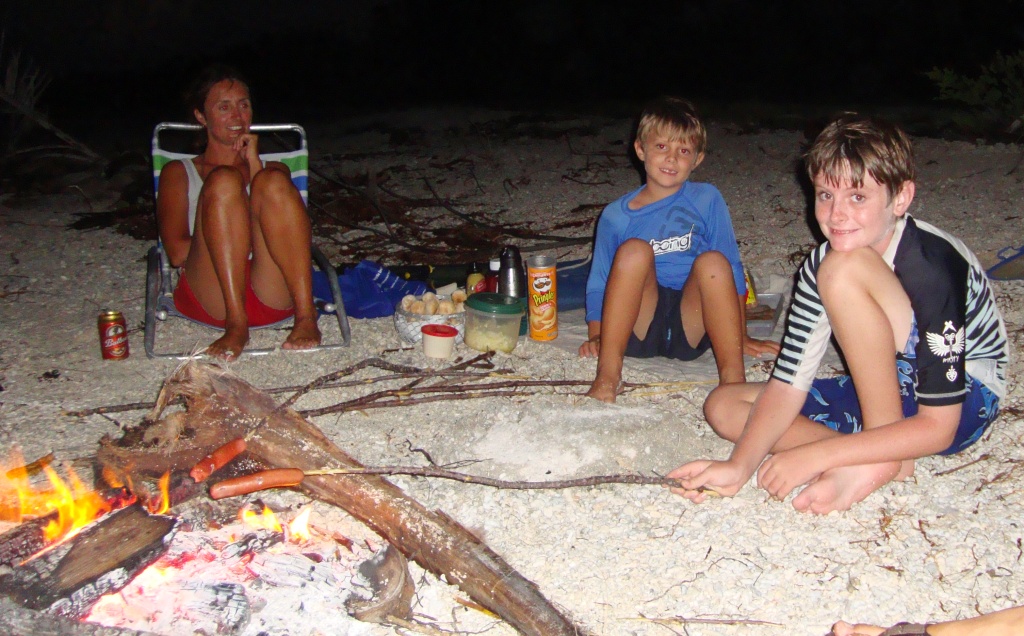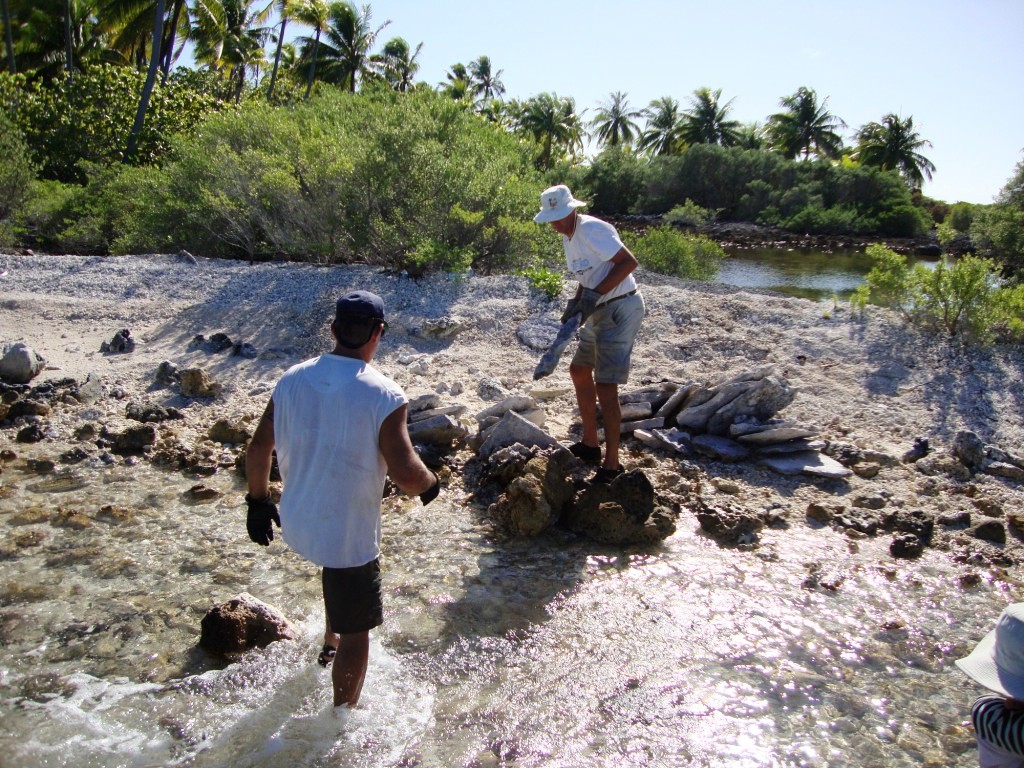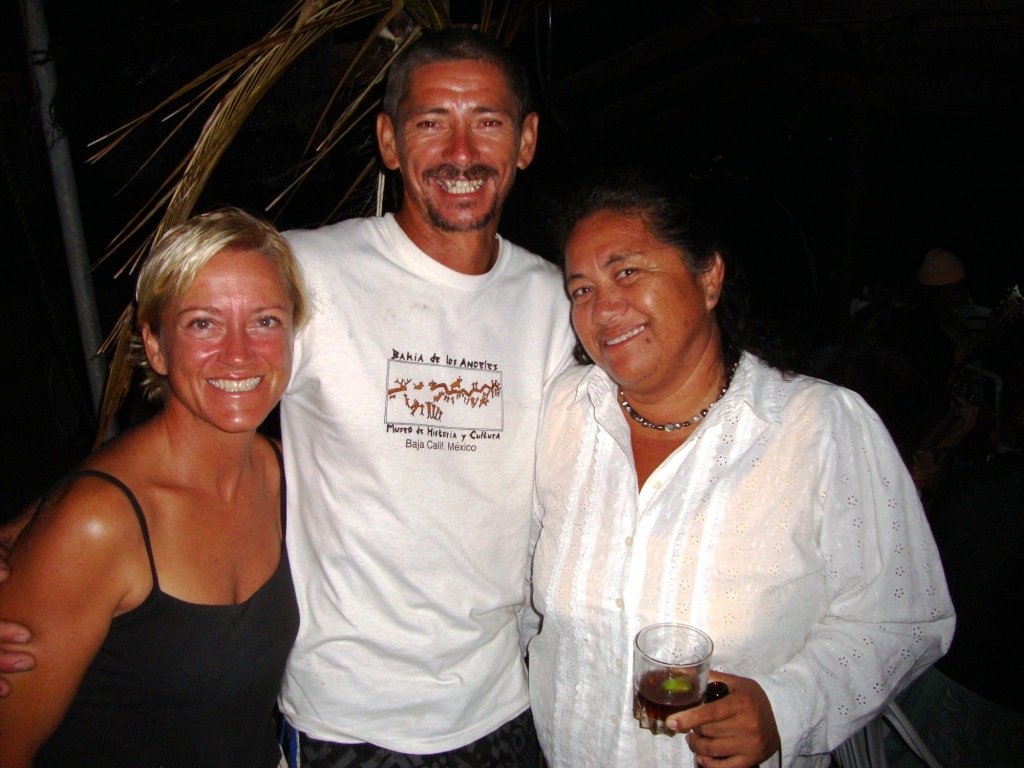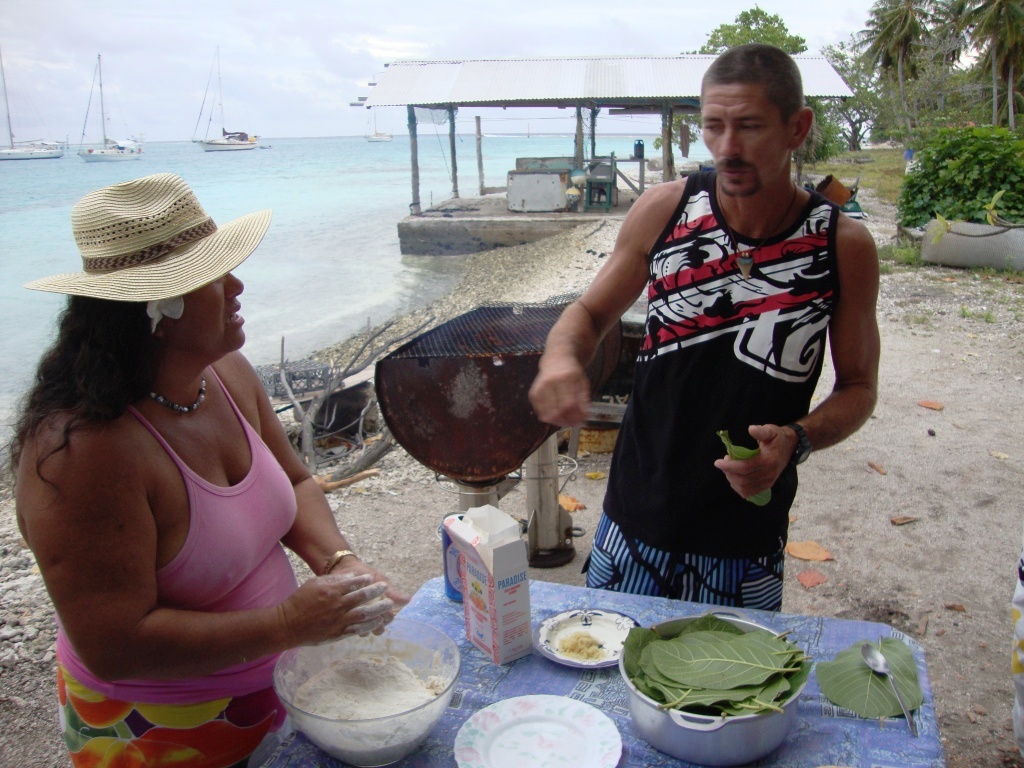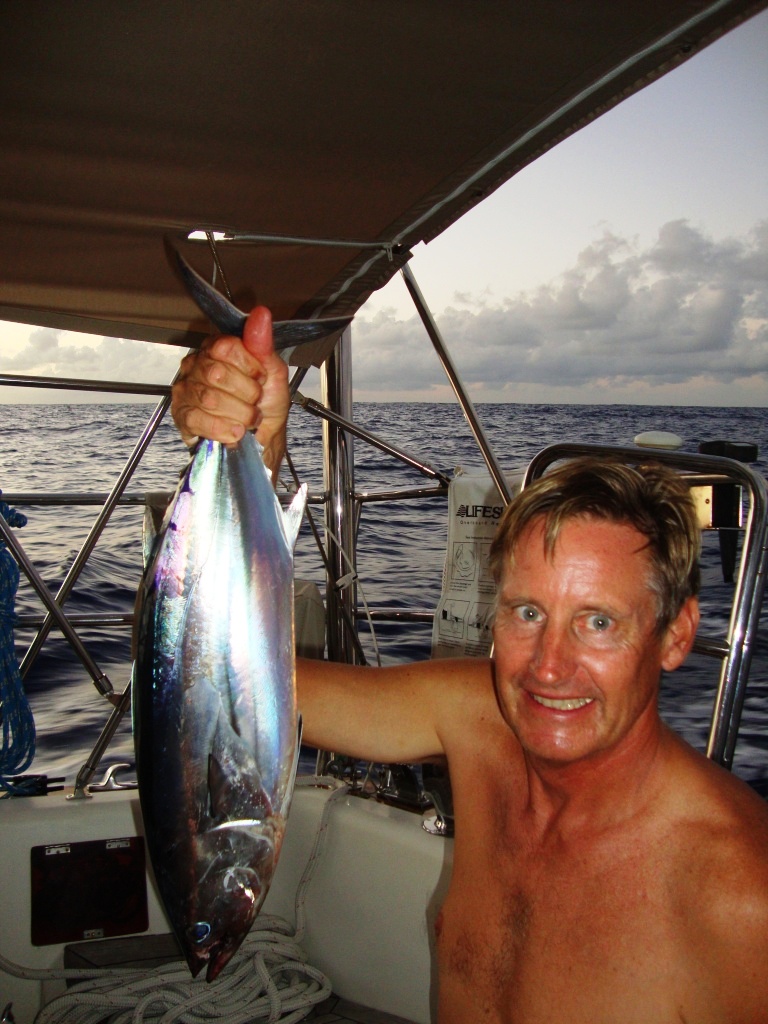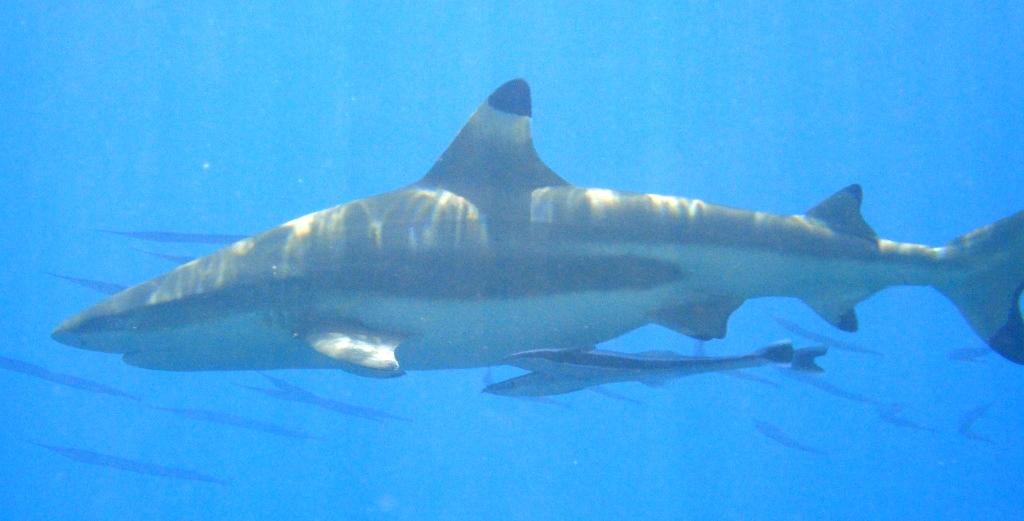 Going from the Marquesa Islands to Tuamotus is like going from one dessert to another. Both French Polynesian island groups are spectacular, but quite different. The Marquesas has tall, rugged mountains that shoot up from the ocean while the Tuamotus are only a few feet above sea level but offer crystal clear water with abundant sealife. Again, both are very unique, but quite different.

We really enjoyed our stay in Tuamotu and spent twice the time there than originally planned. The islands have many coconut trees which appear to be growing wild but upon close inspection are actually planted in rows, as in orchards. The locals collect the coconuts, split them open and then dry the meat in the open air. The coconut meat is then called copra which is sold to make coconut oils and fragrances.

The highlight of the islands was the fantastic snorkeling inside the lagoons and thru the passes. Sharks like the one pictured here with two remora were very common but never paid attention to snorkelers. We also spent a lot of time interacting with locals and other cruisers. On one occasion a group of us helped a French guy, born on the Fakarava Atoll, load & unload very heavy flat coral stones into his boat. The stones were to be used as path stones for his small hotel.

One evening on Kauehi Atoll we were invited to a weenie roast by s/v Tyee. They're a Canadian boat with two young boys. We had a marvelous time!
On Toau Atoll we spent a most delightful week relaxing, diving and getting to know the only inhabitants, Valentine & Gaston. When we first arrived to Toau we asked Valentine for permission to hike around the island. With her lovely French accent she said, "Take the dog (Babu) and he'll show you around." Sure enough, the dog (a big Rotwiller) led us through the brush to the reef. It was low tide so Babu was running and jumping through about a foot of water chasing fish. He quickly caught a Parrot fish in his mouth and laid it at JoDon's feet. We took the fish back to the boat and had fish sandwiches for lunch. That was the first time we recall a dog bringing us lunch!
For Father's Day we had a potluck dinner. Valentine & Gaston hosted the event for all the cruisers at their restaurant. Gaston is a character and he walked out of his restaurant carrying two big boxes of frozen chicken. He was yelling that the chicken he had just purchased was no good and he threw both boxes into the ocean. A few minutes later he said it was all just a joke and he retrieved the chicken. It was a unique but effective way to defrost a chicken, no need to salt the meat. Meanwhile Valentine prepared barbequed bread, another first for us. She sent some of us with Gaston to find a special tree with wide, fragrant leaves. Valentine then rolled heavy dough balls and wrapped them with the leaves and put them directly on the grill. Gaston flipped them a few times and voila, tasty bread for 30 people.
Soon it was time to SAIL to Tahiti without the option of motoring since we were low on fuel (we last filled up 4,500 miles ago @Galapagos). The trip normally is 48 hours but after 24 hours the winds collapsed and we were trying anything/everything to get this heavy boat moving. Tiny sail boats motored by us and called out via the VHF radio, "Are you guys OK?" It was nice of them to check on us as they couldn't imagine why a nice big boat was voluntarily trying to sail without wind. 48 hours brought daybreak and we were blessed with a spectacular view of Tahiti (30 miles still to go). As it turns out, we arrived to Tahiti only about 7 hours later than the boats that motored by us. We got one Tuna on board and saw a Wahoo and a Mahi jump out of the water and take off with lures.
We are now in Tahiti enjoying 'civilization' and internet. We last had internet a few months ago and its amazing how much we do not miss it or traffic jams, fast food joints, etc. Despite 'civilization', the island of Tahiti is surrounded by beautiful, crystal clear water. At our anchorage we have a spectacular view of nearby Morea island. Life is good.

Fair winds to all,
Brian and JoDon
Under water photos taken in Tuamotu. Click photo to enlarge.