Journal 46:
Alaska
Canada & The Alaska Marine Highway
May 1- May 21, 2014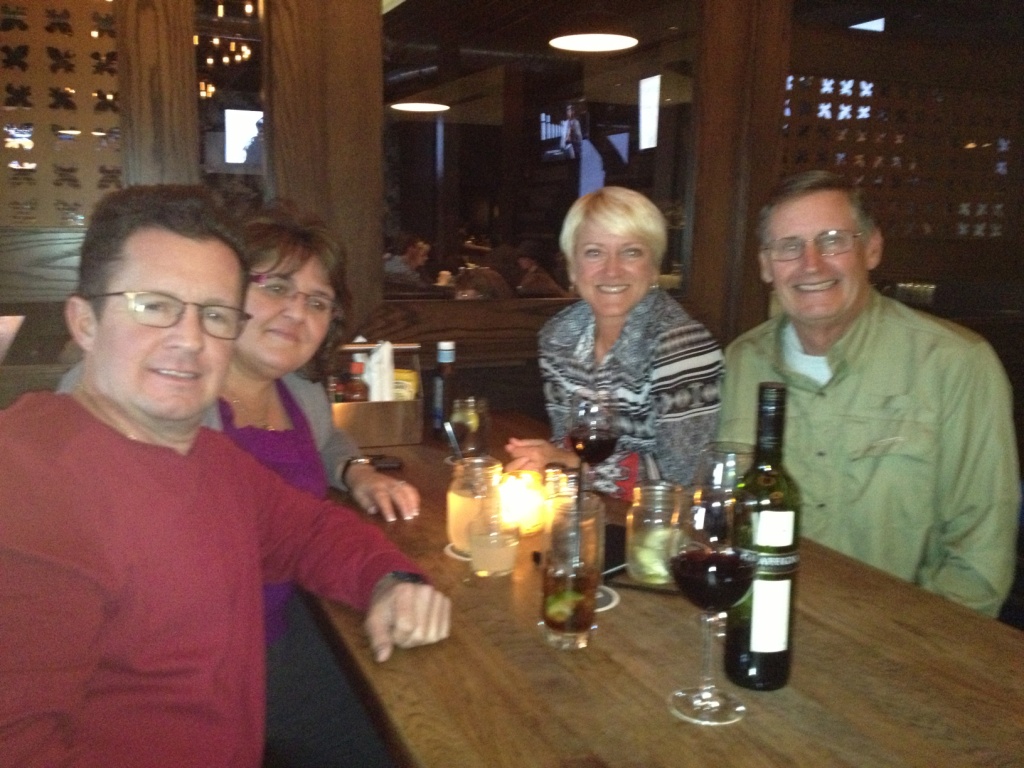 We crossed the U.S./Canada border on May 1st, exactly one month and 2,785 miles from Mission, TX and the U.S./Mexico border. Its funny that in life some things pass too quickly while other times it seems that time is in suspension. It is like our April 1st departure was six months ago, so much occurred in a short time.

One of our first stops in Canada was Red Deer, Alberta to see old friends, Pepin and Claudia, which we had previously worked together in Mexico for many years. Much has changed in their lives, and their children's lives, and lifestyles now they are Canadian citizens. It was a real hoot getting together again in a different country and sharing our stories (a few of those stories might actually be true, LOL!).
Driving across the plains of Alberta is much like driving across the Mid West of U.S. except much colder. Vast open acreage of wheat, cattle and horses with the snow capped Rocky Mountains in the distance is an awesome sight, but it just goes on, & on, & on. Before we started this trip we had joked that our trip to Alaska was really a trip driving across Canada; the Alberta plains seemingly had no end.

The effects of hydraulic fracturing (AKA fracking) for oil can be seen throughout the Alberta province. The same familiar trucks are traveling Canadian highways as in Texas: Halliburton, Baker Tools, Schlumberger + a slew of Canadian oil service companies. One positive result is huge subdivisions of new houses and apartments surrounding Calgary, Edmonton and many smaller communities. You have to see it to believe the growth.

We also saw the impact of drilling in the small, far northern community of Grand Prairie, Alberta. While shopping in a Wal-Mart we noticed an unusually high percentage of immigrants working and shopping in this remote drilling center. Amongst the local workers there were Russians, Somali women, Filipinos, Mexicans and persons from India. Nothing wrong about it, but it was just strange to see so many cultures thrown together (it is now much more difficult to immigrate to Canada than in the past).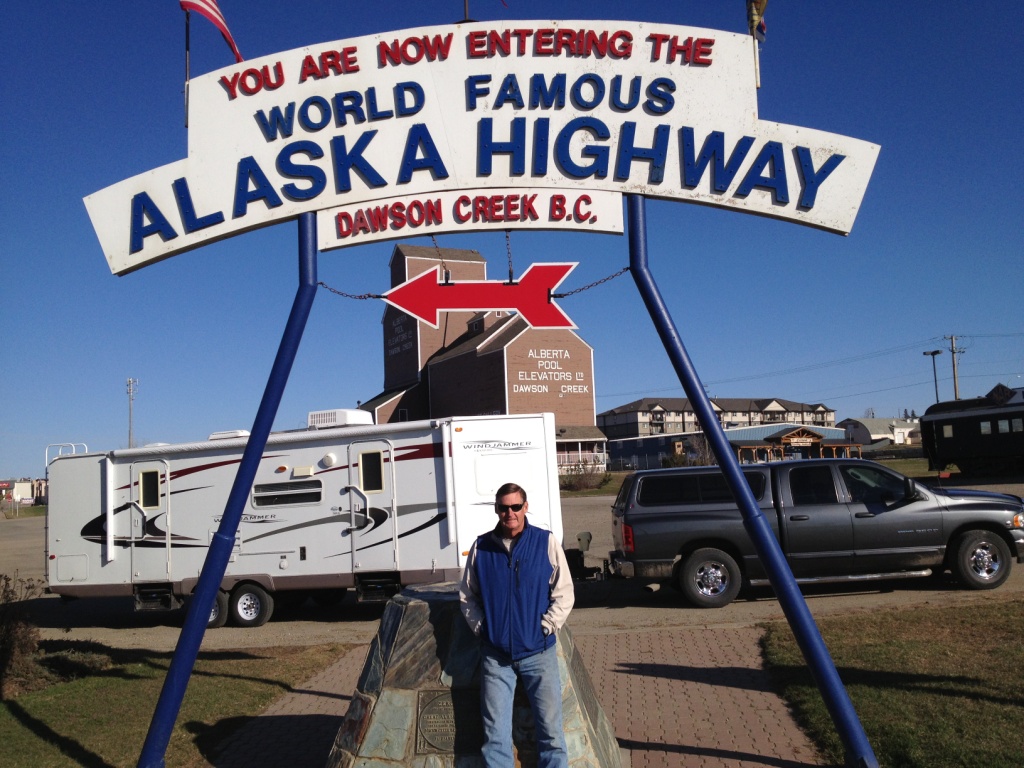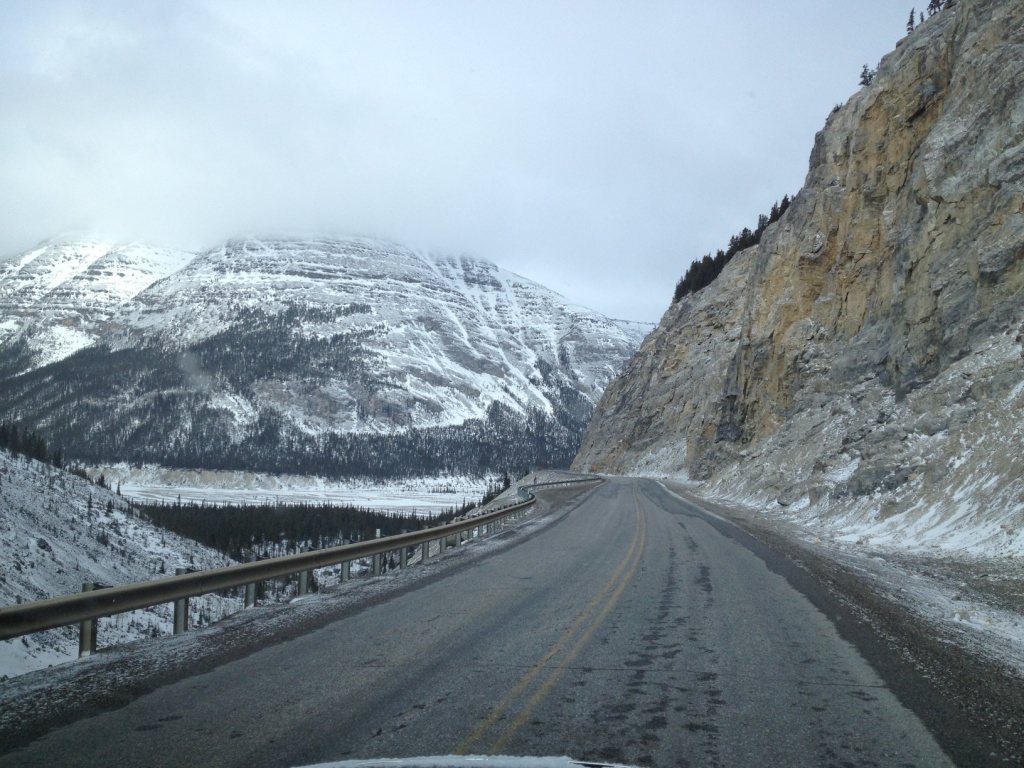 The Alaska Highway starts in Dawson Creek and covers 1221 miles thru Canada before making it to the Alaska border. Its still a little early in the season to be traveling to Alaska but that is the way it worked out for us and we were overall blessed with good weather…. until northern British Columbia. We awoke with a good dusting of snow but with a forecast of clearing skies we set out to cross the top of the Rockies. Unfortunately the weather never cleared and as we crawled up the steep and narrow pass the snow kept falling and the roads got icy. Thank goodness the B.C. highway department had been out in force sanding the road. I had never pulled a trailer in snow and ice and once at the top off the pass we weren't sure about sliding down the other side.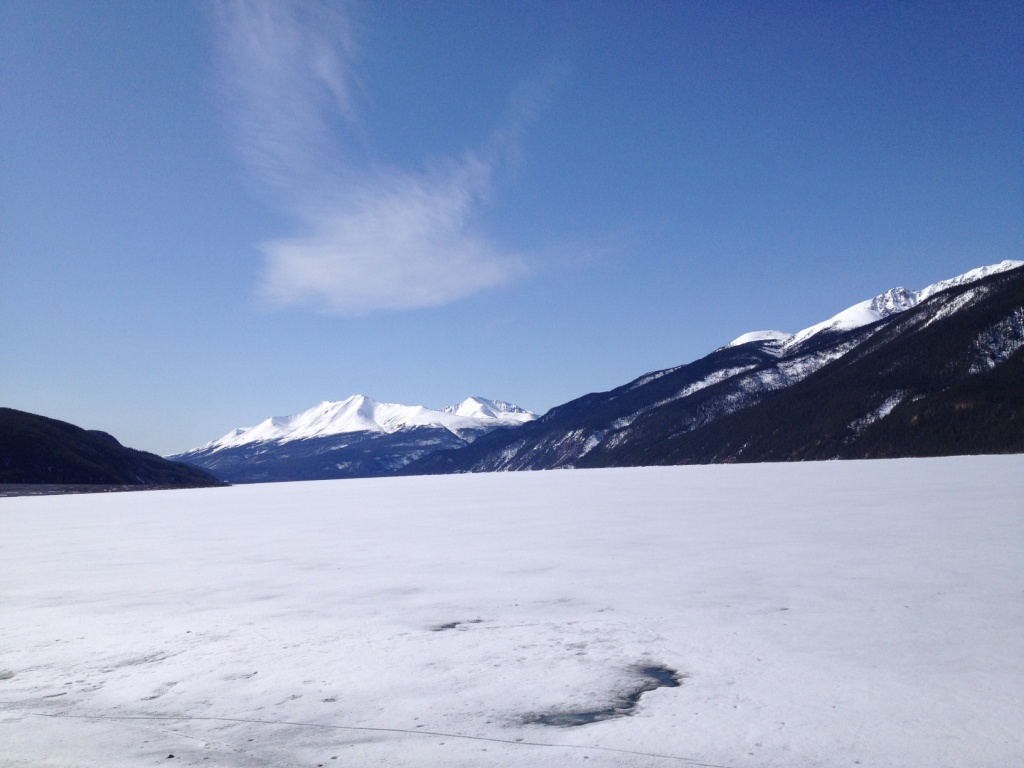 When we reached the bottom of the pass I pried my fingers off the steering wheel and we quit driving for the day. It was an horrendous experience and we were happy to pay the Toad River Lodge $15 for electricity and a peaceful spot to park for the next 24 hours.

Even though it's the month of May most lakes we've seen have still been frozen over. It's a sight we cannot get accustomed. The snow and ice in the foreground of the below photo is Muncho Lake in BC.

The weather has warmed sufficiently that wildlife along the Alaskan Highway are prevalent. So far we have seen moose, caribou, eagle, black bear, brown bear (they are vicious even eating a plant), Dahl sheep, bison, and many birds that we have yet to identify.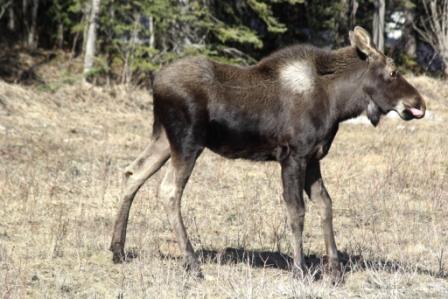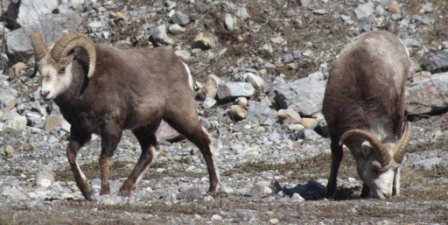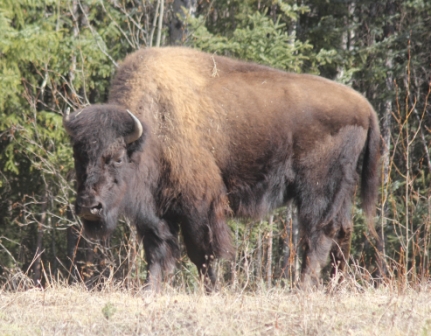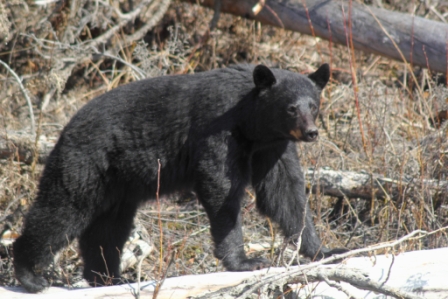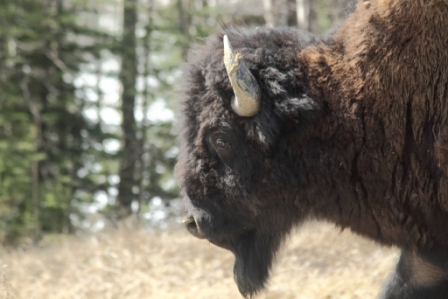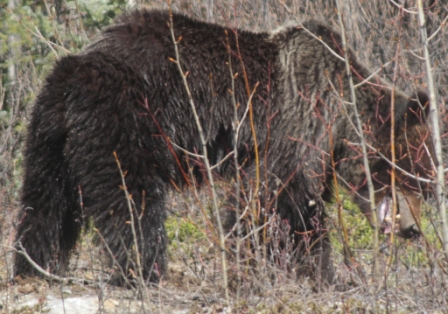 In the town of Watson Lake, B.C. they have a sign forest in the middle of town where travelers have posted signs from around the world. I found my birthplace, Visalia, CA and also a sign from Harlingen, TX. It was fun!

Since we do not want to pay Canadian phone roaming charges free WiFi is now our best friend. A&W (root beer) restaurants (remember those?) are very popular here and all have free WiFi. A&W is now our 2nd newest best friend.

You can travel the world (and we have) and not find a more majestic snow capped mountain journey than the road to Haines, Alaska. It's a dead end highway; the road branches off the Alaskan Highway, crosses the Chilkoot Pass (made famous during the gold rush) and ends at Haines, Alaska & the Pacific Ocean fjords. On this section of road we saw porcupine, ptarmigan (TAR-me-gun; the state bird of Alaska) and even the coyotes look majestic in their thick fur. Yes, JoDon's sitting on the shoulder of the road to get the porcupine shot. There was so little traffic it seemed perfectly normal.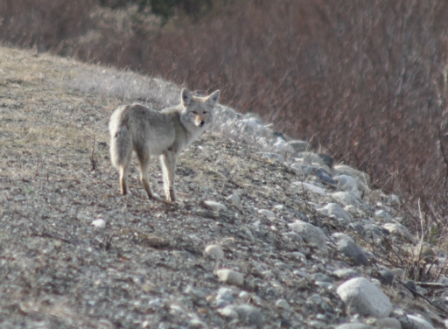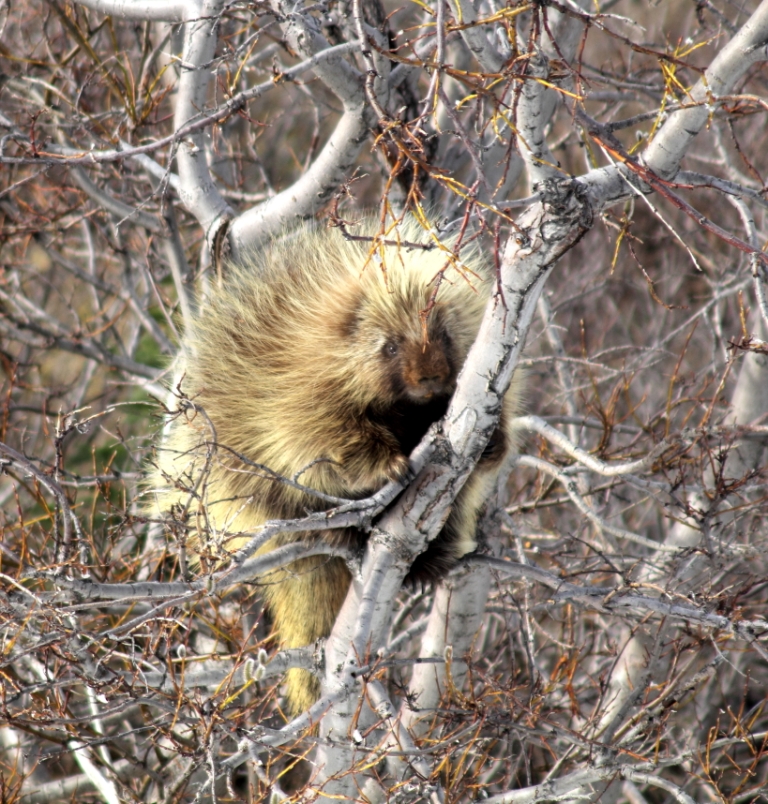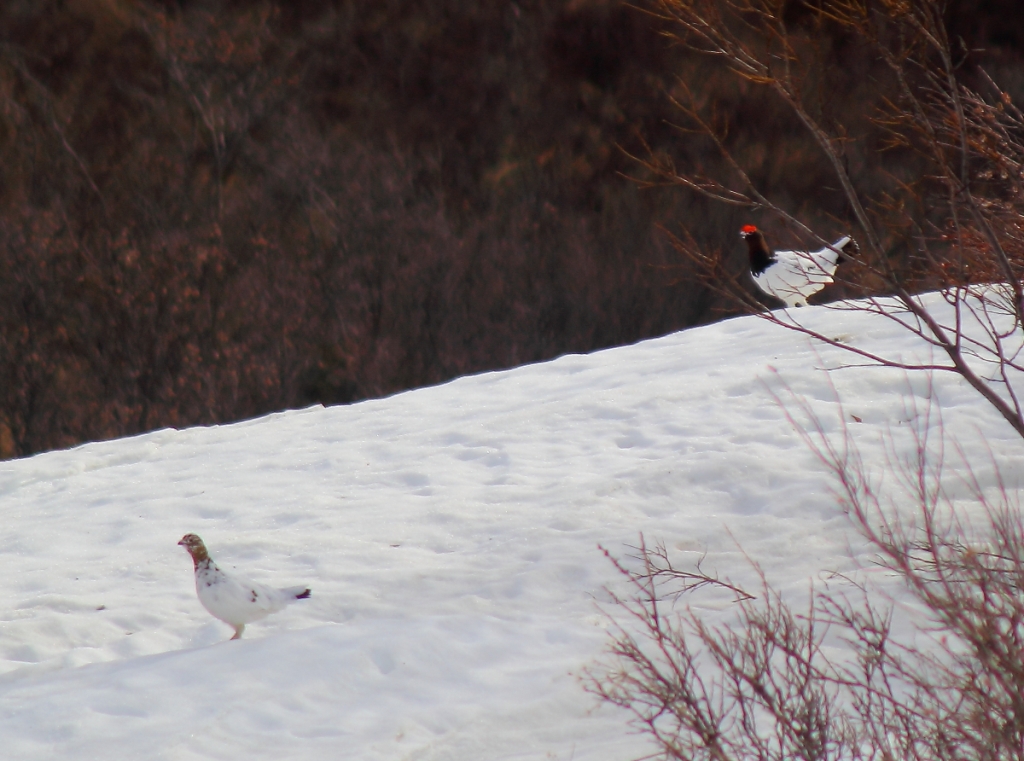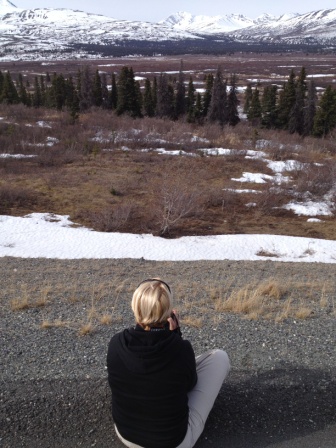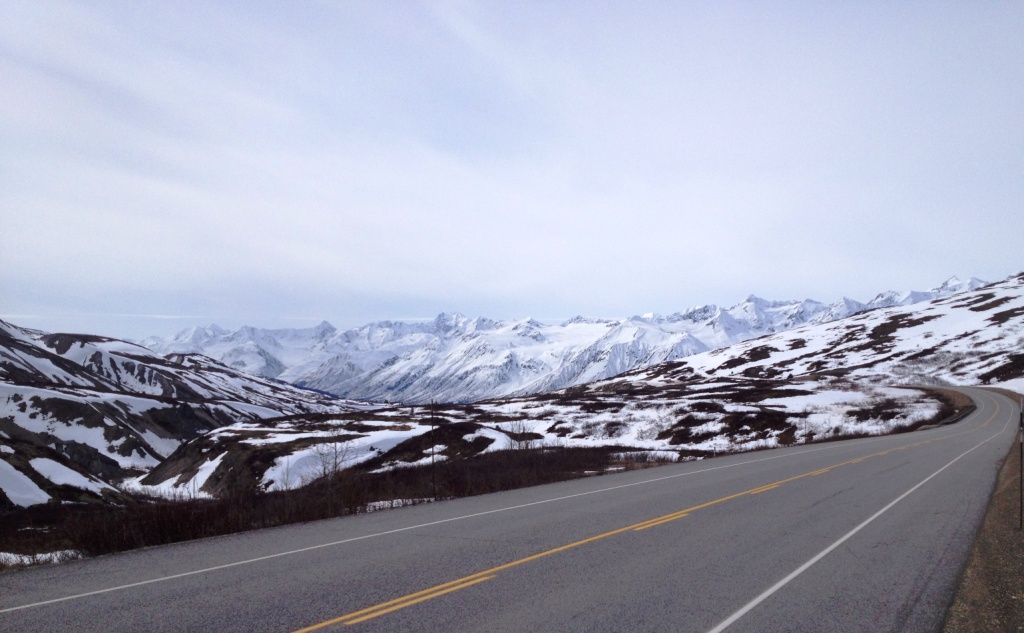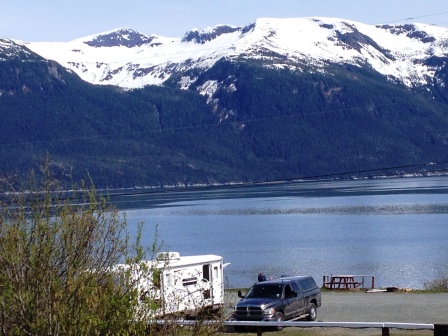 Haines is magnificent! It's a small town on the ocean surrounded by snow capped mountains and glaciers. Most of the residents flee the winters for they are very dark and VERY cold. A few years ago they had a record 31 feet of snow. From our travel trailer we could spot whales, sea lions and eagles constantly gliding overhead.

A brief history of the Tlinglet Indians and Chilkat Pass: The Tlinglets inhabited this area for about 1,000 years. The Tlinglet lived along the coastlines of Alaska all the way south to northern California. The men wore tall, pointed hats and large nose rings. They were shrewd traders with inland tribes. The Tinglets would catch what locals now call 'hooligan' or 'candlefish'. This smelt is an oily fish the Tlinglets boiled and the residue was made into a candle wax they would use for trade. The path to cross the Chilkat Pass to trade was called "The Grease Trail" and was later used by gold prospectors to reach Dawson City. It was an extremely treacherous trail with year round snow and steep cliffs. To read more about the gold miners and how they packed their supplies across a mountain range, read James Michener's novel, 'Alaska'. It does an excellent job describing those extreme hardships.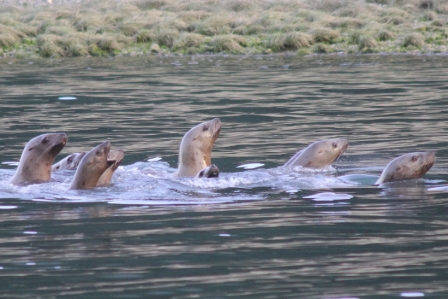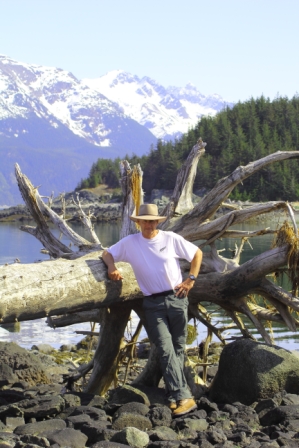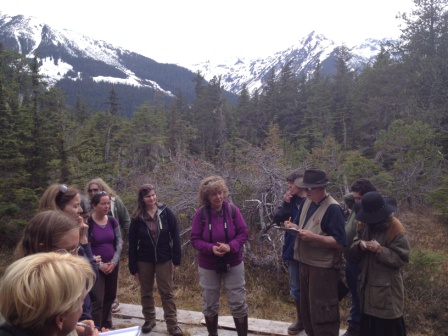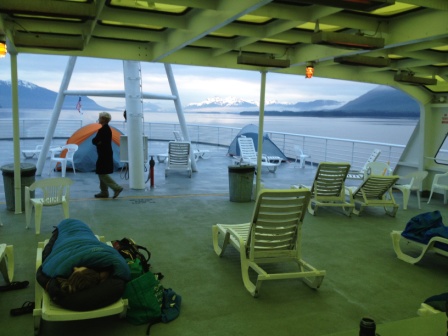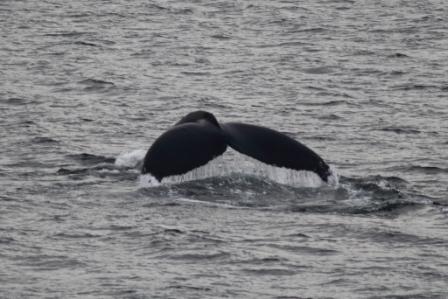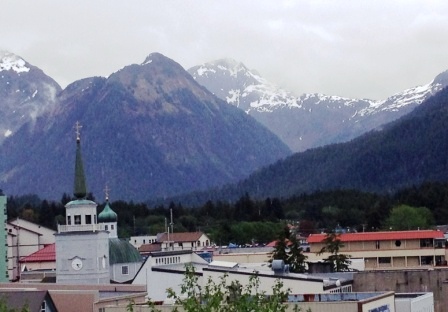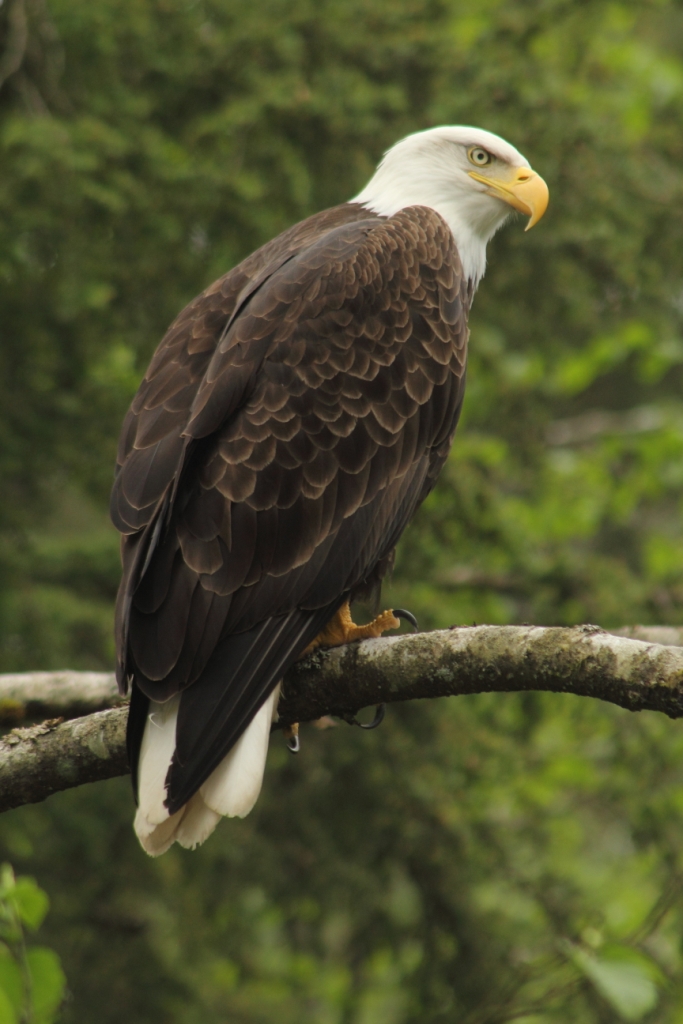 While in Haines the hooligans (smelt) were making their run up the Chilkoot River. Their natural predators, sea lions and eagles, were also following them looking for an easy meal. We were able to witness quite a show with sea lions coming up the river on high tide (19' tides in Haines) and the eagles ambushing the hooligans from above.

Also in Haines we joined a group of locals for a nature walk. The city of Haines is a summer cruise ship destination so the local museum sponsored a "Fortnight of Learning" to educate local guides about plants, geology, history, etc. It was a great learning experience (and it was free). After the guided tour we were invited to a Barn Dance; SE Alaskans square dancing. It was a hoot!
We wanted to experience an Inland Alaskan Cruise, on the cheap, by taking the Alaskan Marine Highway Ferry to Juneau and Sitka. We left behind the truck and trailer and boarded the ferry from Haines.

The ferries are a story to themselves. In 1963 the state of Alaska began a ferry service to connect the many coastal cities that have no roads to the inland. Highways were not viable so they built a ferry system. The longest of the ferries begins in Washington State, makes many stops along the way and arrives in Skagway, AK two days later. Cars and large trucks drive into the ferries and there are cabins available. If you want to go cheap, you can pitch a tent on the aft deck. Alaska is 98% undeveloped and the mountains scenery, the whales and the crystal clear ocean is magnificent.
Juneau is the state capital and you cannot drive to get there, you must travel by sea or air. There are lots of homeless downtown, but it's a beautiful, small city. The state capitol building looks like an old inner city high school. We stayed downtown in the Alaskan Hotel, one of the oldest hotels in Alaska, and a backpacker type of hotel. The hotel is haunted with a ghost but the residents in the upper floors must think that marijuana smoke keeps the ghost from entering their rooms.

There's a cable tram that takes cruise ship tourists to a peak overlooking the city but you can save $64 by having a wonderful hike up the mountain. The beer taste so much better after a good mountain hike!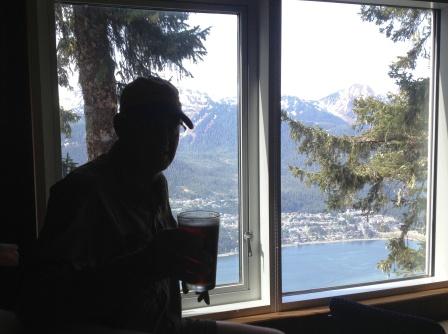 The Russians left behind the Russian Orthodox faith and the churches. Orthodox churches around the world have the similarities of believing in the strict interpretation of the Bible, including marriage is a union of a male and female. Their unique cross includes an additional slanted bottom bar that represents the two thieves that were allegedly crucified along with Jesus. The upper slant represents the thief who repented and went to heaven; the lower slant represents the thief who scoffed at Jesus and went to hell.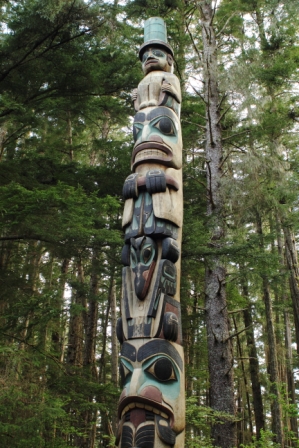 Being a gold mining state, Alaska had their fair share of rascals. During the gold rush an Indian chief paddled to Sitka to try to get prospectors to find gold in his area so he could sell his land (later to be called Juneau). The chief found a grubstaker to finance two miners, which included Joe Juneau, to look for gold. When the miners arrived at the chief's village they stayed on the beach and traded all their supplies for a local alcohol. They never looked for gold and later returned to Sitka empty handed and broke. The chief was upset so he paddled his canoe back to Sitka (a week long journey) and reported their activities. Long story short: Joe Juneau was sent back, he found gold, got rich and paid off voters to change the town's name to Juneau.

Sitka was our next stop; it was the original capital of Alaska and was developed by Russians. Another long story short: the Russians landed in Kodiak Island, killed off the sea otters so they moved on to Sitka. The Russians thought the Tinglets were inferior and took their land. They also forced the Tlingliets to stop trading with Americans and the British. The Tinglets were good traders; the Russian goods were crap, and their land was being taken so in exacerbation they killed all the Russians. The Russians later returned, there was an indecisive battle, but the Russians remained. Meanwhile, Russia sold Alaska to America and the capital was moved to Juneau

Sitka has a park where totem poles have been collected. We learned there are several types of totem poles: ones that honor an event or leaders, honors the dead and ridicule poles that defame individuals. Most poles feature the raven (bird). It's complicated but Tlinglets are separated into two main groups: ravens and eagles; then there are further subgroups. Ravens can only marry eagles and vice versa. Your identity is determined by your maternal origin. Ravens as a symbol are dominant because they are tricky and can morph from human life to animals. At the top of a Tlinglet totem pole it usually has a squatted man with a tall hat that is known as "The Watchman" (we had to chuckle because security guards in the Dominican Republic are known as "Watchy Mans"). The more rings in the hat, the more honored the individual. Totem pole meanings are vague and subject to interpretations so it's a creative art vs. a true historical document.

The term "low man on a totem pole" is a total misnomer. The lowest carving on a totem pole usually represents strength. Therefore the lowest carving is usually a bear. The ridicule pole is fun: it features creatures carved upside down + shrimp and crabs. Shrimp and crab are bottom feeders so their use is poignant. Ridicule poles could be used as advertising to warn of deceptive traders. When totem poles fall down they are allowed to fall into decay but Sitka's park has preserved them to teach and share the legacy.

Of course, Brian and JoDon did not spend all their time in Orthodox churches and learning parks. We had fun getting to know some 'real' Alaskans at the Sitka Pioneer Bar. It opens at 8 am and by 4 pm it is packed with fishermen and construction guys. It's no wonder Alaska has one of the highest alcohol consumption levels in the States but it was fun.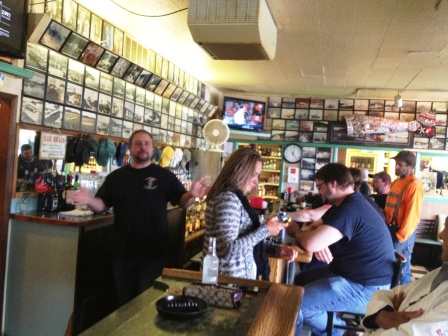 We returned to Haines, drove back through Canada for one day and then through U.S. Customs to re-enter Alaska. We have driven 5,235 miles and have yet to reach central Alaska but we are far from disappointed.

Next stop: the coastal town of Valdez, AK to visit with Cousin Tabitha.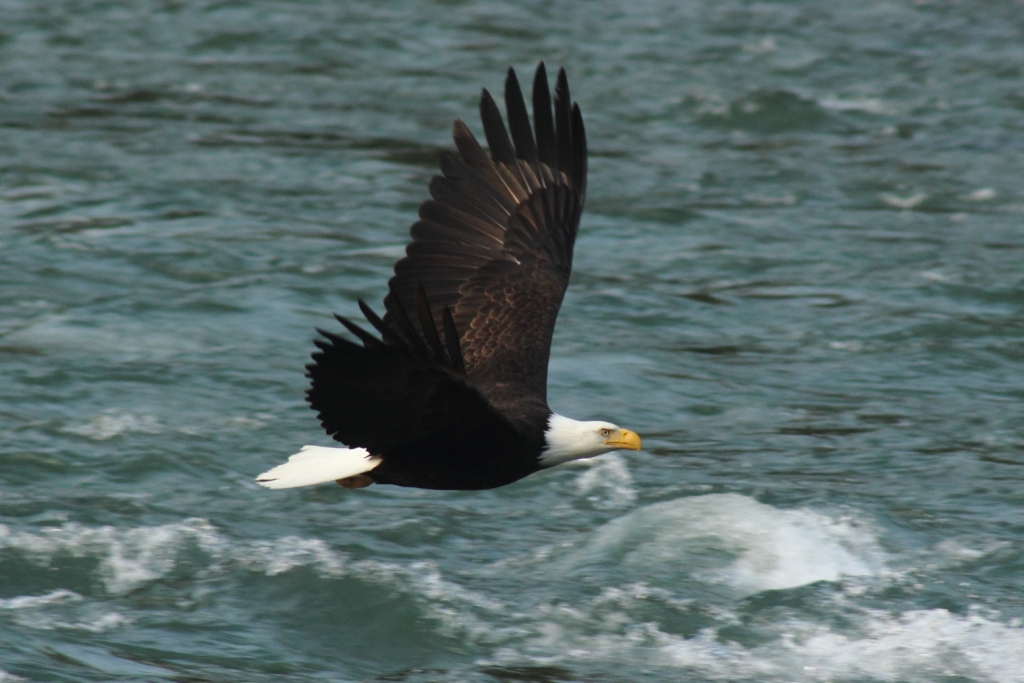 A few final comments in this journal about Alaska:
-The longest days are still ahead of us but the sun now sets around 11 pm and rises around 5 am.
-Although the sun is down, @2 am there is enough light to see several miles. JoDon had the foresight to make black-out screens so our bedroom is as dark as a cave.
-We expected light traffic on the Alaskan Highway but vehicles are very few; we see a car about every 10 minutes.
-Most of the gas stations and trading posts along the highway are closed so its best to plan ahead your fuel consumption.
-In remote areas of Alaska, diesel sells for about $1/gallon more than Texas, about $4.55/gallon.
-The price for diesel in remote Canada is US$5.50/gallon (we once paid $6.30/gallon).
-If you're worried about fuel cost, don't travel to Alaska.
-The Alaska Highway road is a wide, fully paved road in good condition. The only exceptions are summer construction and northern permafrost heaves that buckle the roads. The highway crews have these areas well marked so there are no surprises.
-We were once asked, "Why do you want to pull a trailer to Alaska, it just cold and wet?" Yes, it can be cold and it does rain, but it's worth it.

Regards,

Brian and JoDon