Kenai and South Central Alaska June 14- August 4, 2014
After giving an 'Adios' to the big city of Anchorage we headed SW to the Kenai Peninsula, famous for its fishing and spectacular views. After spending 1 ½ months here in Kenai our expectations were surpassed.

The attached pictures are a small sample of the views throughout the Kenai. Mountain lakes, glaciers, sparking rivers and beautiful ocean views are prevalent.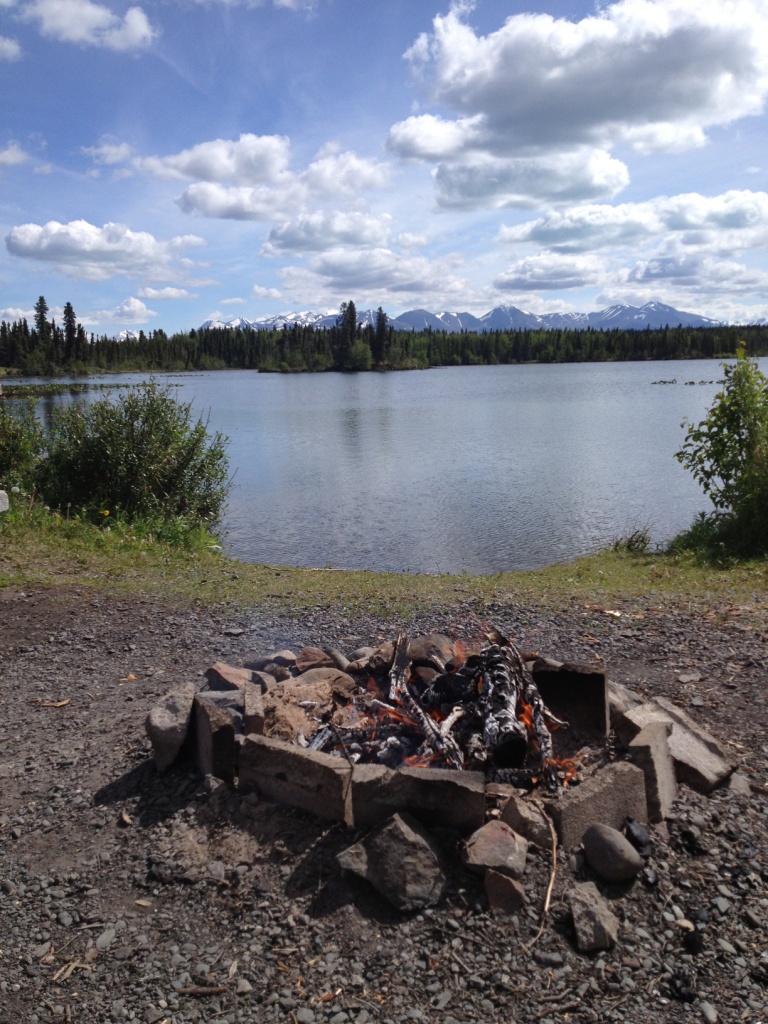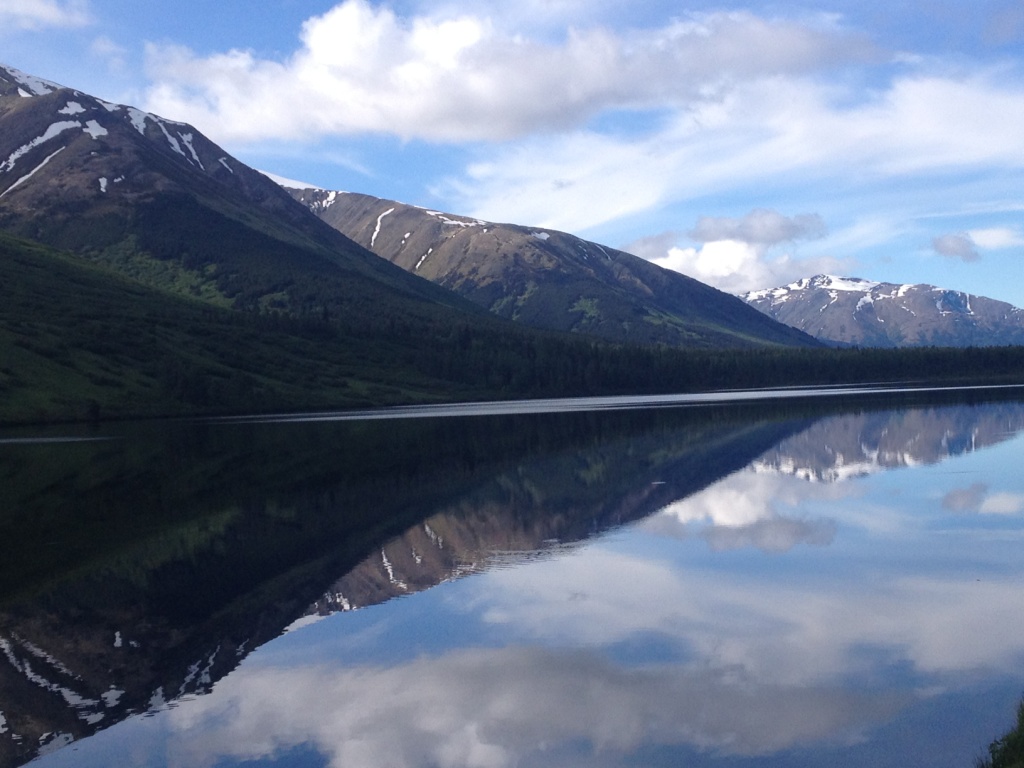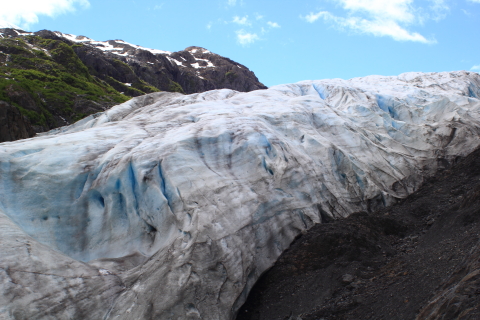 Journal 48
Alaska
When we first arrived to the City of Soldotna (Russian for soldier) we were invited by our good friends, Bert & Ingi, to fish in the Russian River. We met Bert & Ingi while sailing in the South Pacific so another adventure with them seemed natural. We were gifted by a fabulous hike and fishing experience. As luck was with us, on this day there was a run of Sockeye (Red) salmon and the fishing was fast and furious. We quickly caught our limit and hiked back out the trail heavily loaded with sacks of salmon filets.

Exit Glacier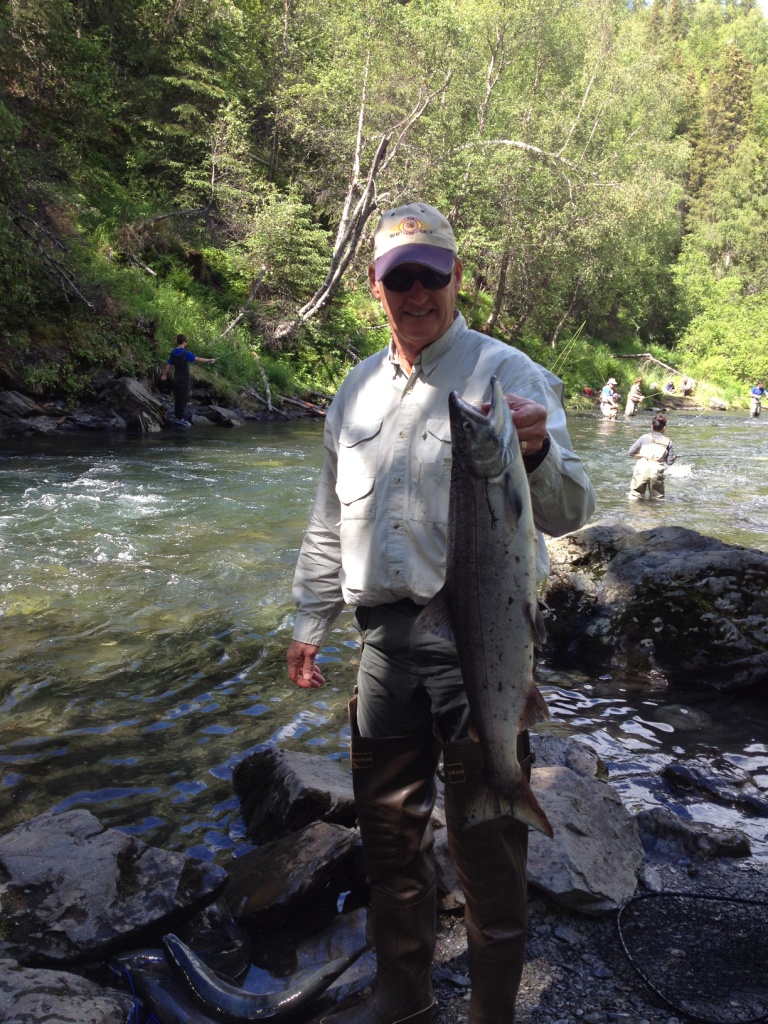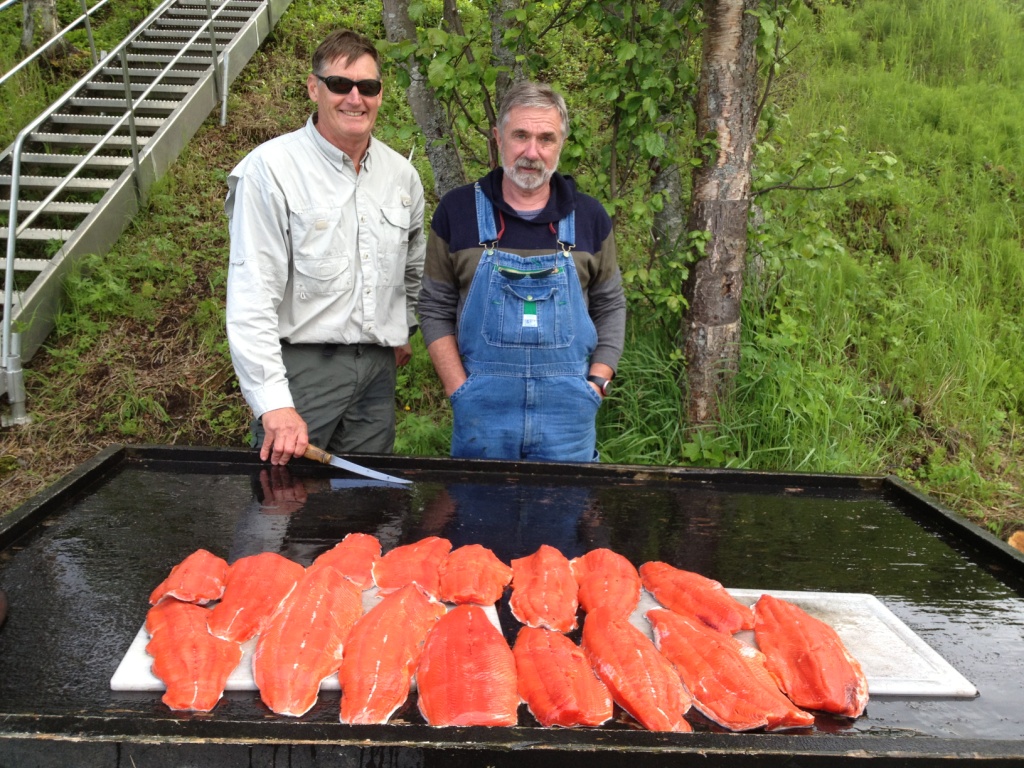 Alaskan salmon fishing is interesting; you constantly cast but never reel in the line. You simply make a short cast then retrieve the line with your left hand and cast again; and again, and again, literally 100's of times. You fish with a bare hook with only a piece of yarn for floatation. The picture is the first salmon that I ever caught, which is also the biggest salmon I have ever caught. Pictured with me is Bert after the chore of filleting was completed. JoDon concluded the Russian River trip by making a huge tray of salmon sushi.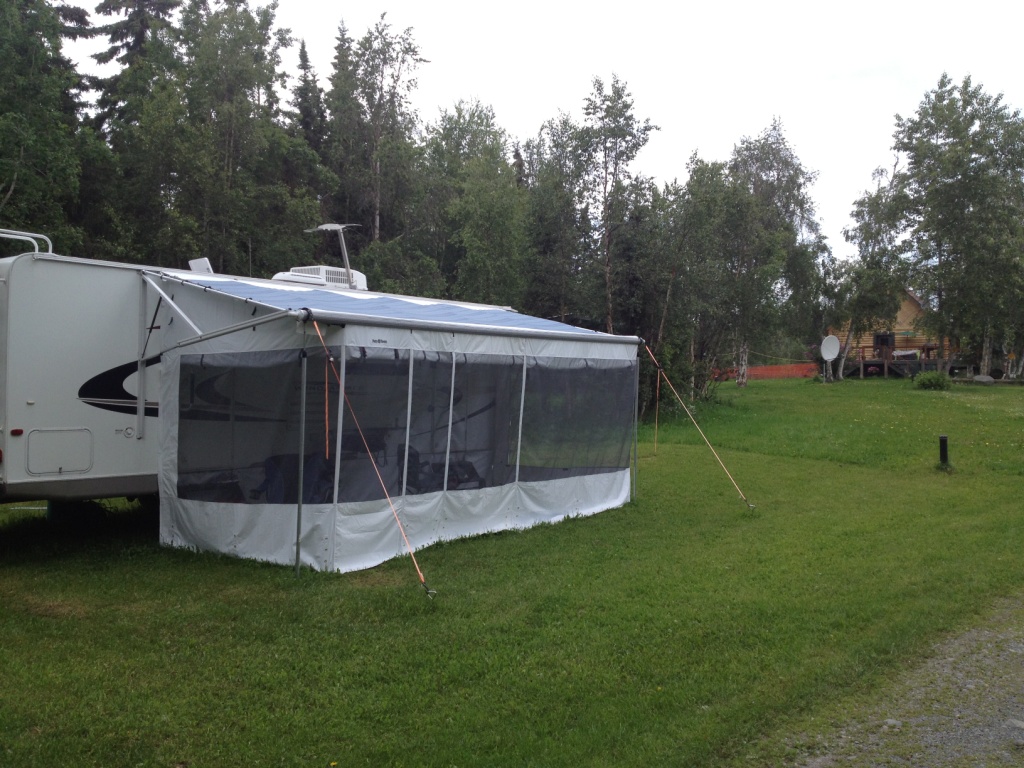 You probably know this, but salmon spawn in fresh water lakes and streams, then they die. The salmon eggs left behind hatch into fingerlings and they eventually make it to the ocean. Depending on the species of salmon they live for about three years in the ocean before returning to their original birth site. It's a miracle of nature how the salmon gather all at one time then suddenly make a 'run' up the river.

By the end of the season we caught (and shipped to Texas) about 120 lbs of frozen salmon filets and smoked salmon (about 50-60 fish) with JoDon catching more fish than me. I have owned the same filet knife for more than 30 years (probably 1,000+ fish) and this summer it got a workout. Next year I'm teaching JoDon how to filet!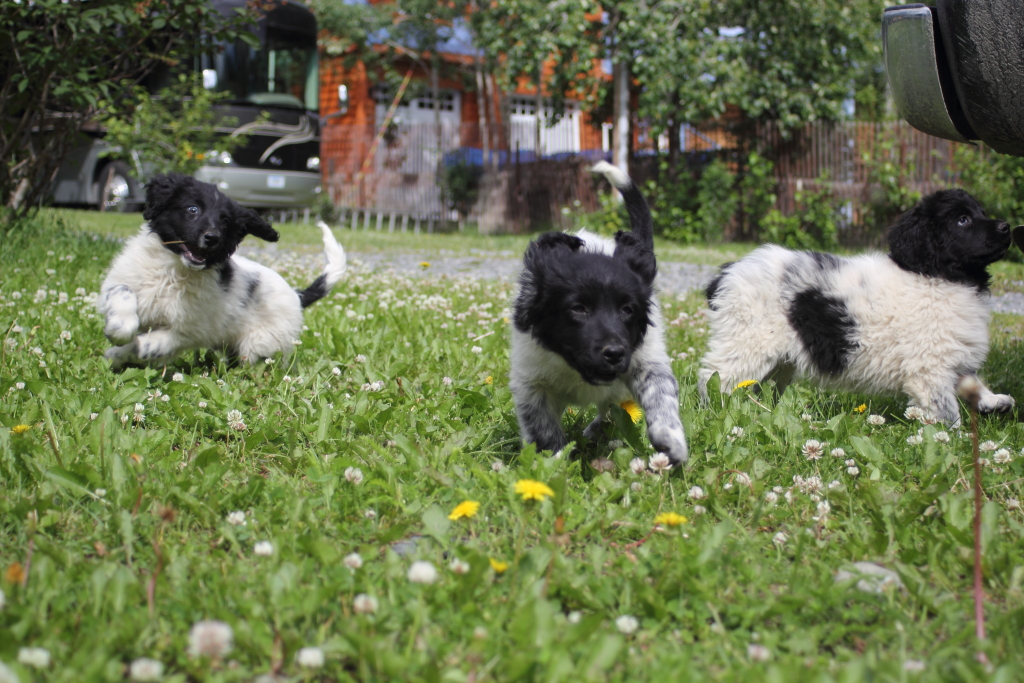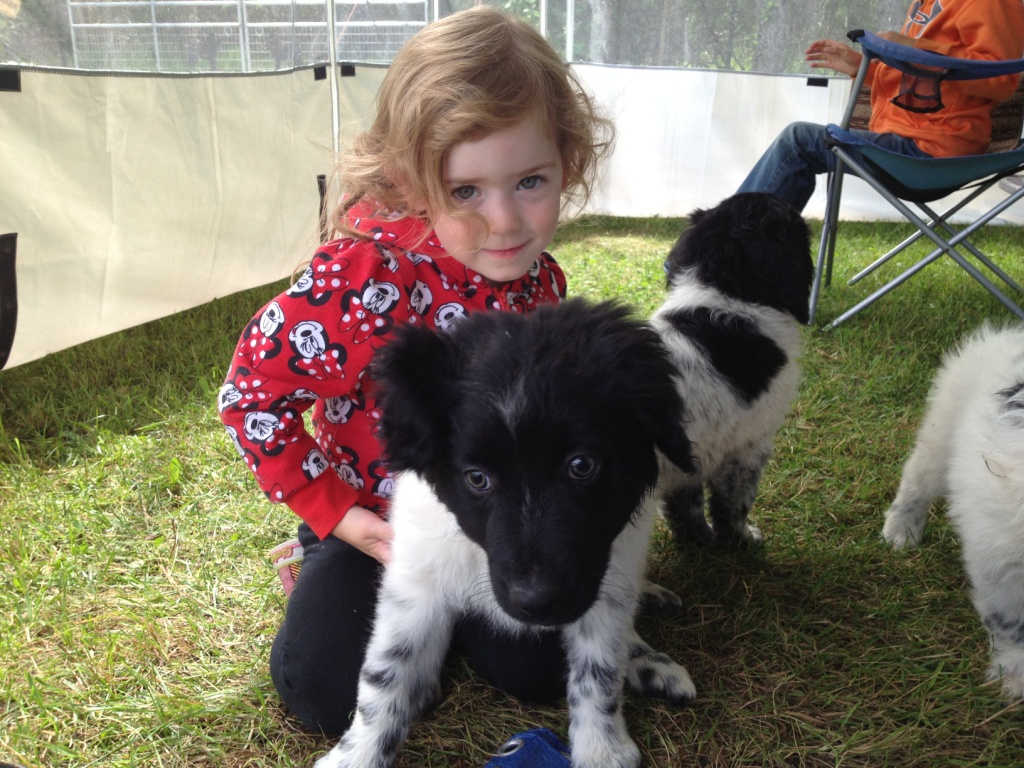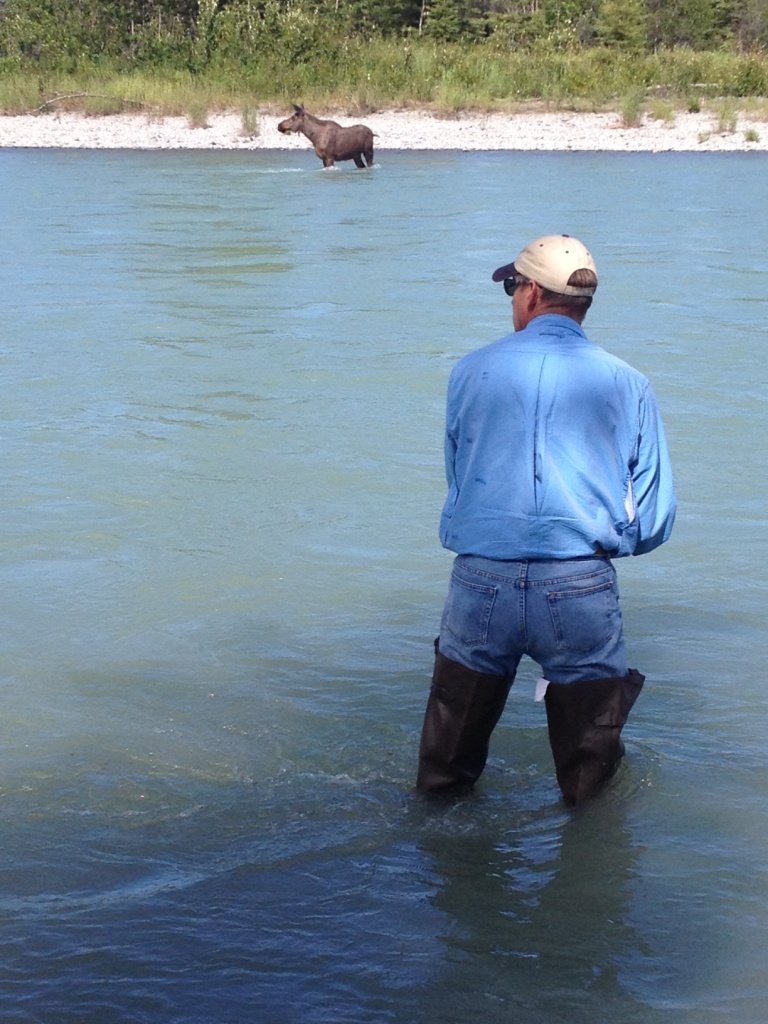 Our Soldotna living arrangement was quite unusual, but a great experience. We parked our travel trailer in the backyard of a lady of Dutch origin, Renske. Her property is on the Kenai River and we shared the yard with Bert, Ingi and a dog kennel. Renske is a dog breeder specializing in Bovier and Stabyhaun breeds. Bouviers are a mild mannered Belgium herding dog and Stabyhouns are a black and white Dutch hunting dog. There were several litters of pups of different ages so it was fun playing with them. The best part of the set up was our private riverbank to fish. Public fishing areas are shoulder to shoulder with fishermen and it's called 'Combat fishing'; and that's no joke.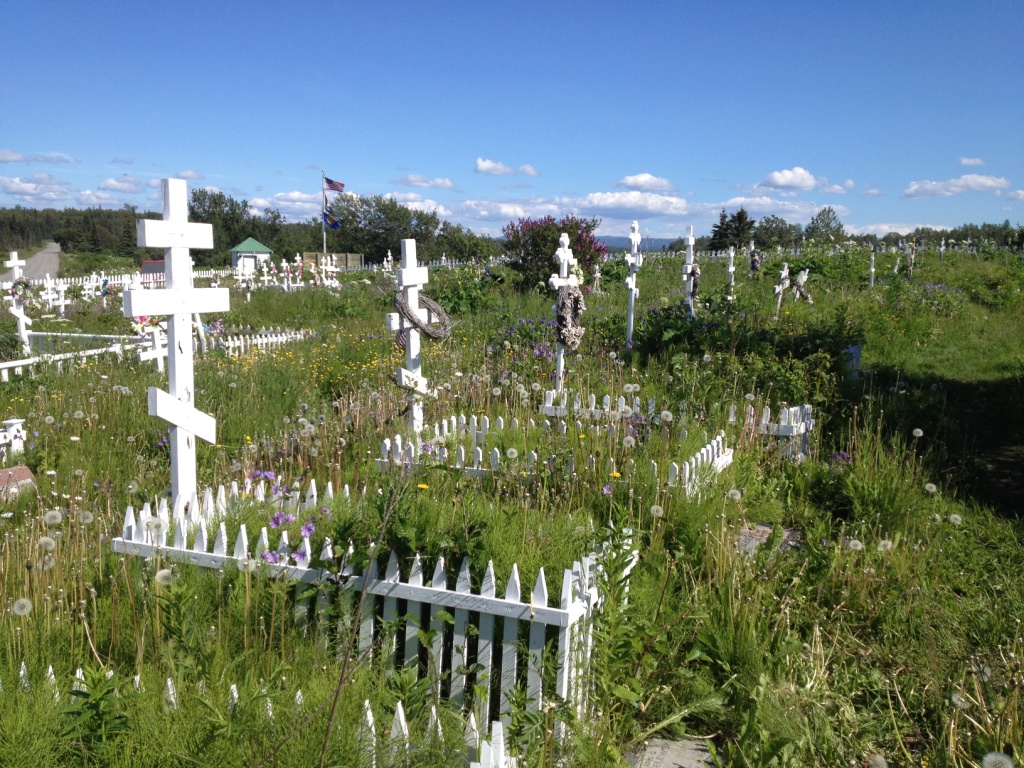 We took a day off from fishing and traveled along the coastline to the township of Homer. Along the way we stopped and took pictures of a Russian Orthodox cemetery located in Ninilchik. The entire coastline and Homer was gorgeous.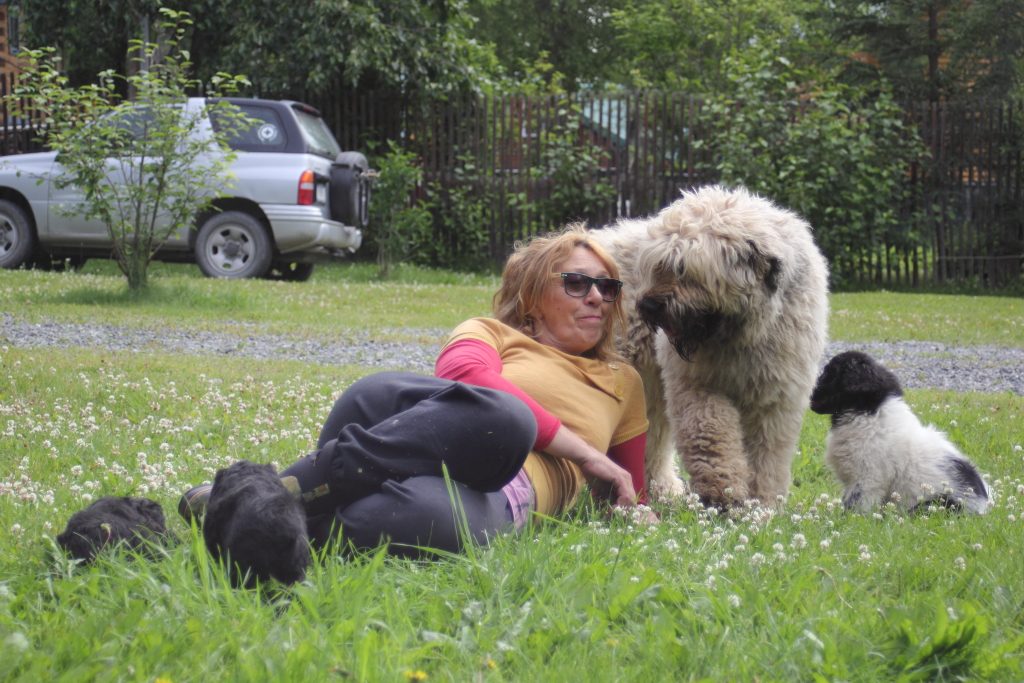 Renske with Shaman and pups.
Brian with the daily catch.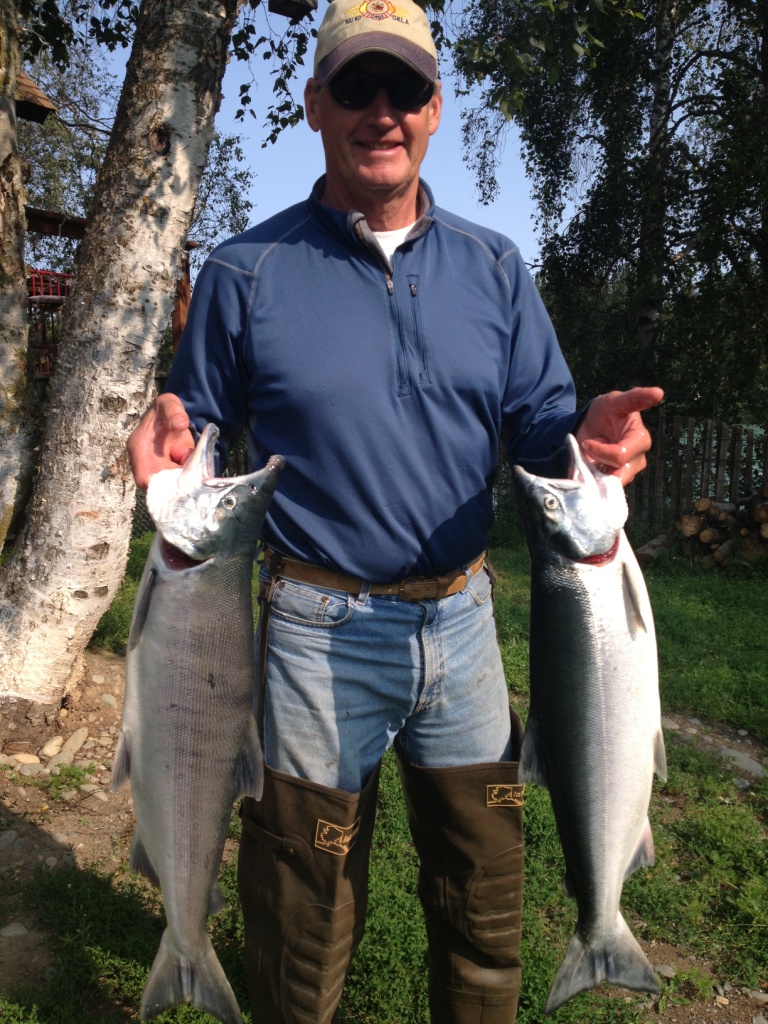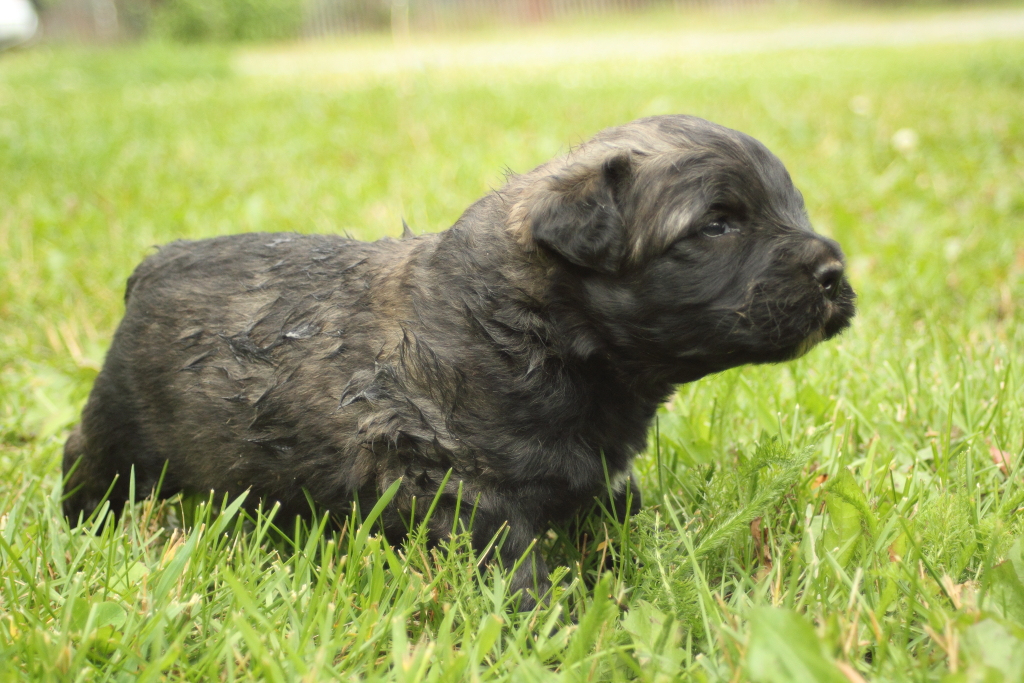 JoDon helping deliver a litter of Bouviers.

The same pups a few weeks later.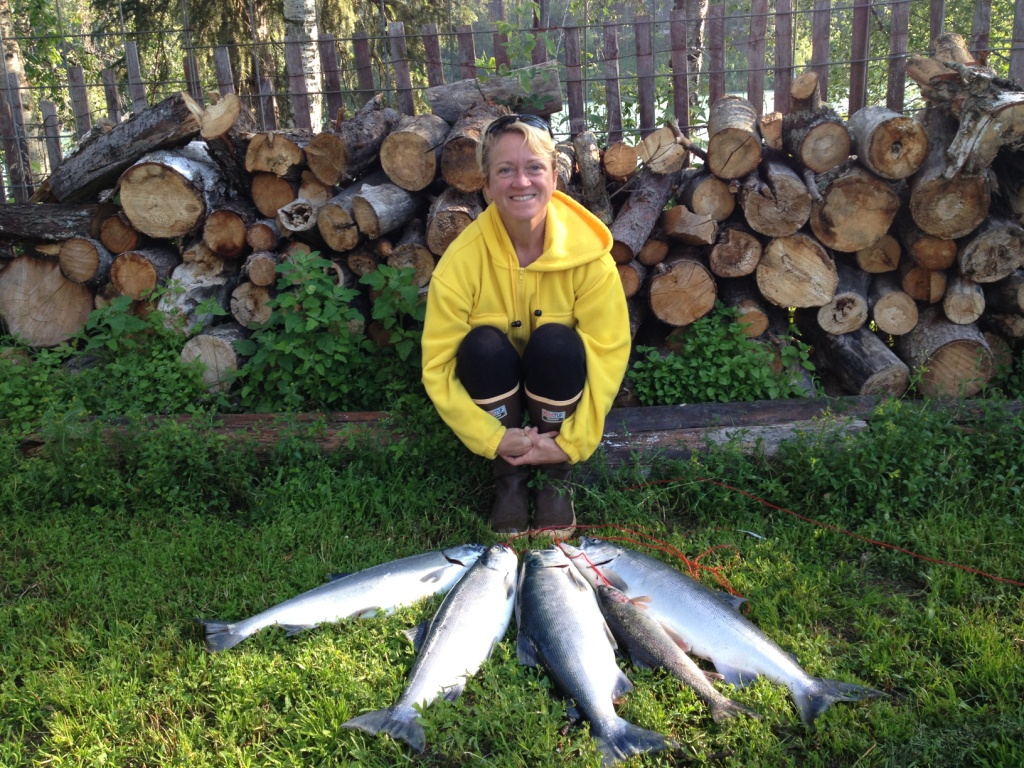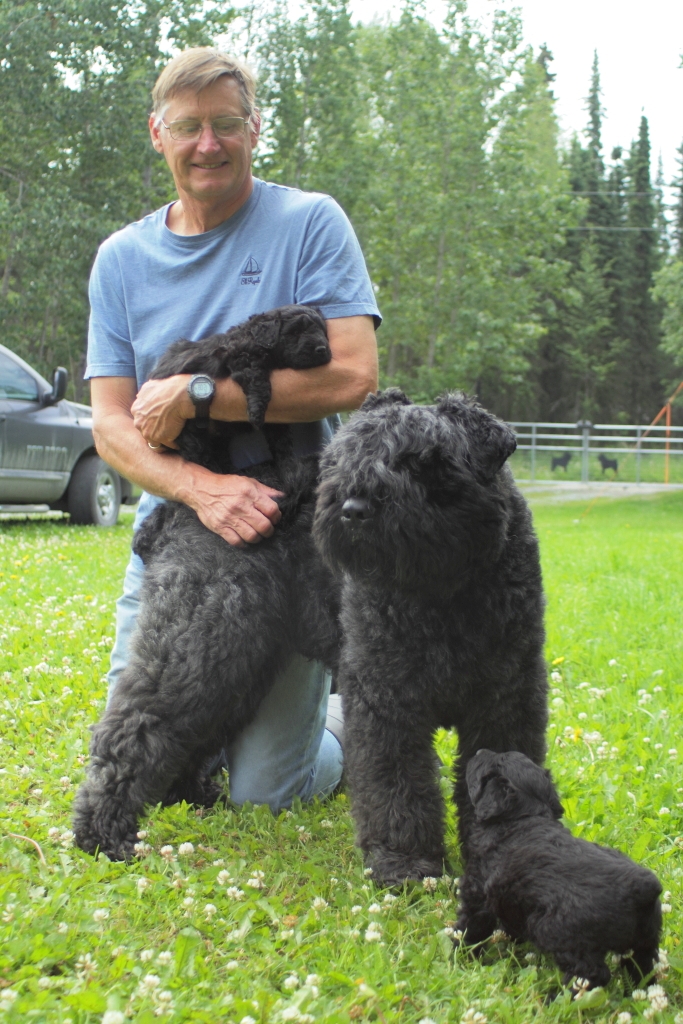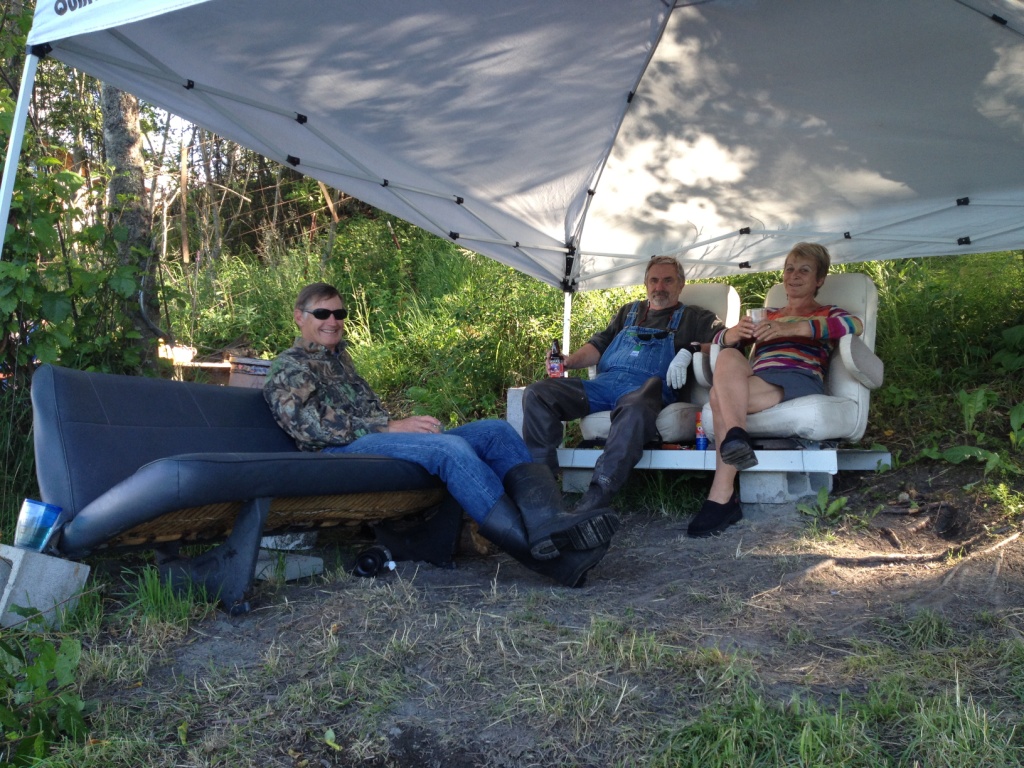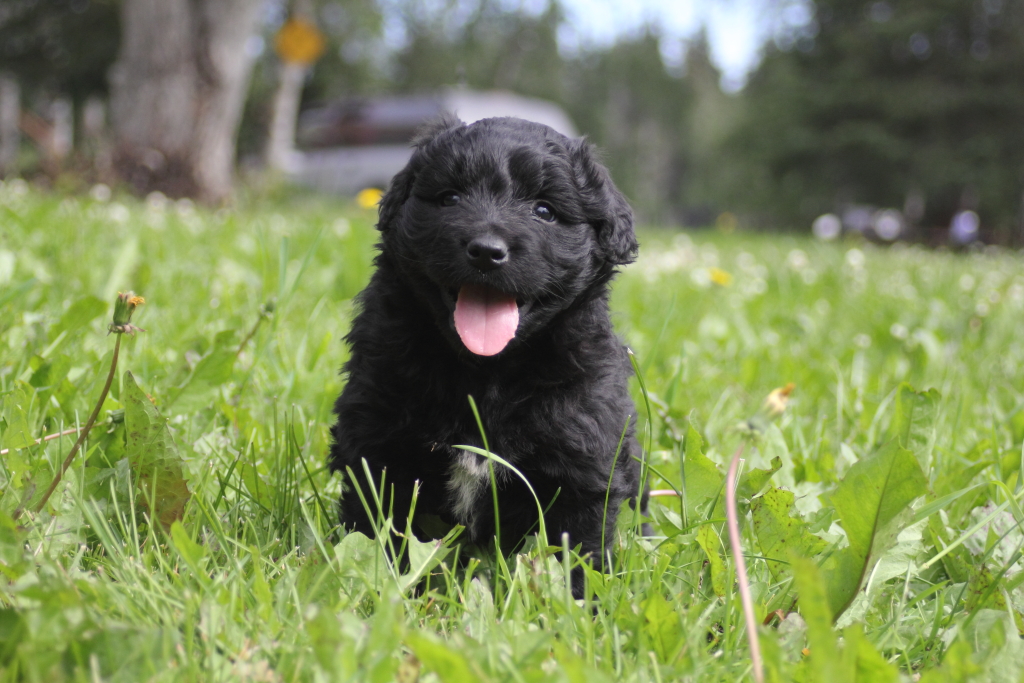 After 5 weeks of fishing and playing with pups we spent our last evening with Bert and Ingi on the Kenai River in our hillbilly campsite. As crazy as it looks, the camp was extremely comfortable, especially when raining.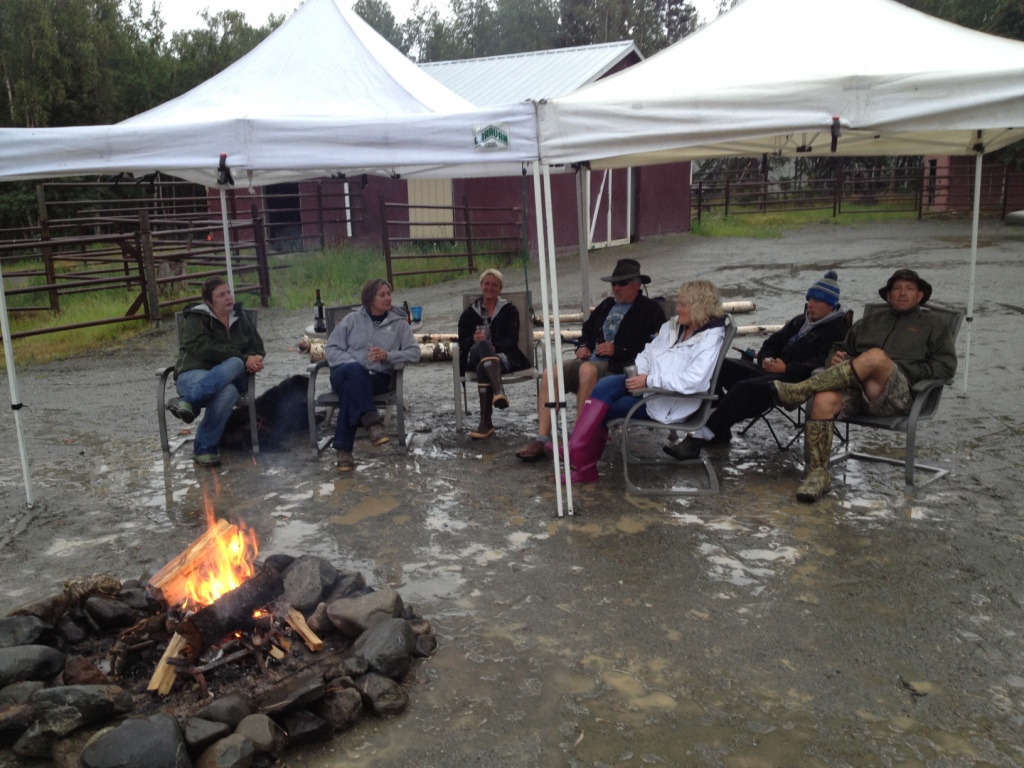 Since we had not caught any fish since arriving to Alaska (HA!) we previously made arrangements for a fly-in fishing trip with JoDon's friend David, his wife Sue and friends Al & Grif. We met everyone in Anchorage and had an Alaska summer evening in the cold, pouring down rain. But, it was a fantastic evening.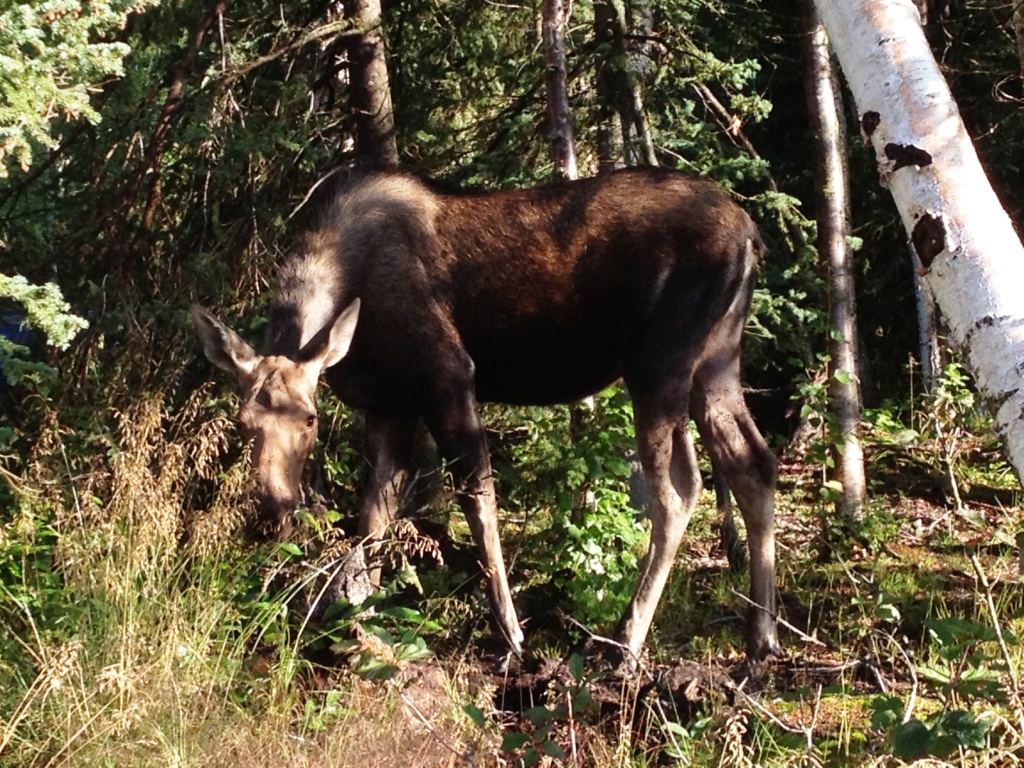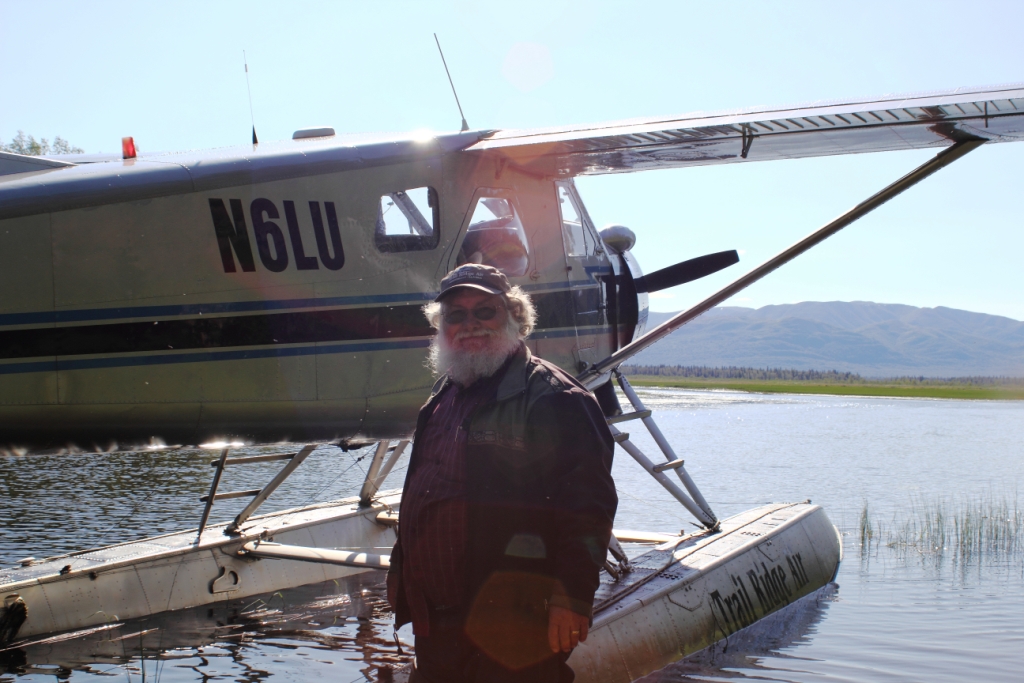 The moose that terrozies Sue's garden.

Bush pilot Dan.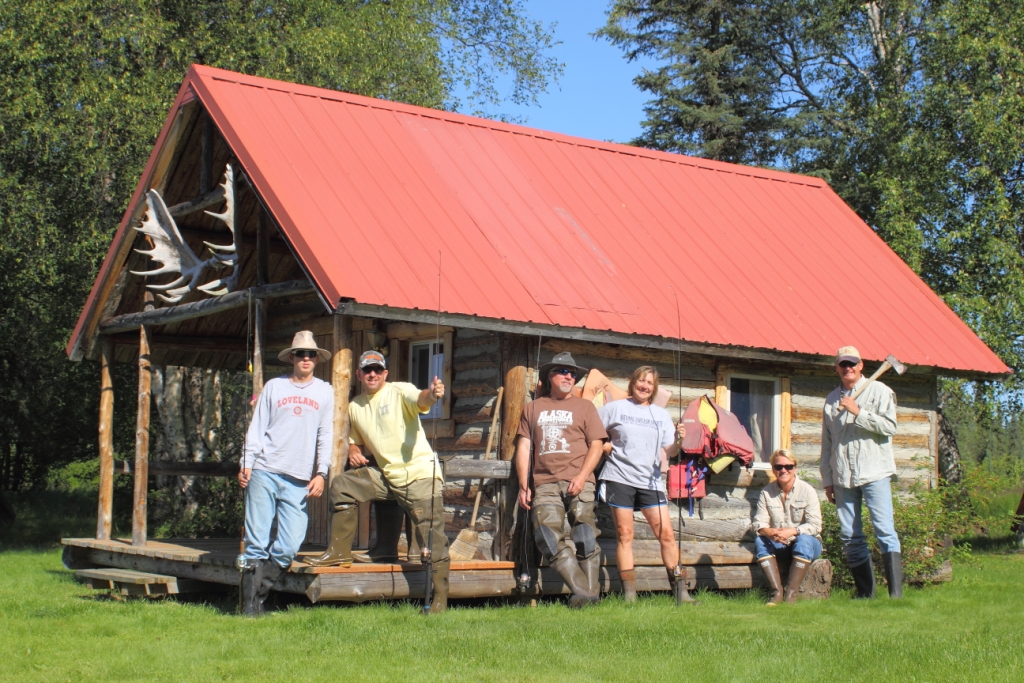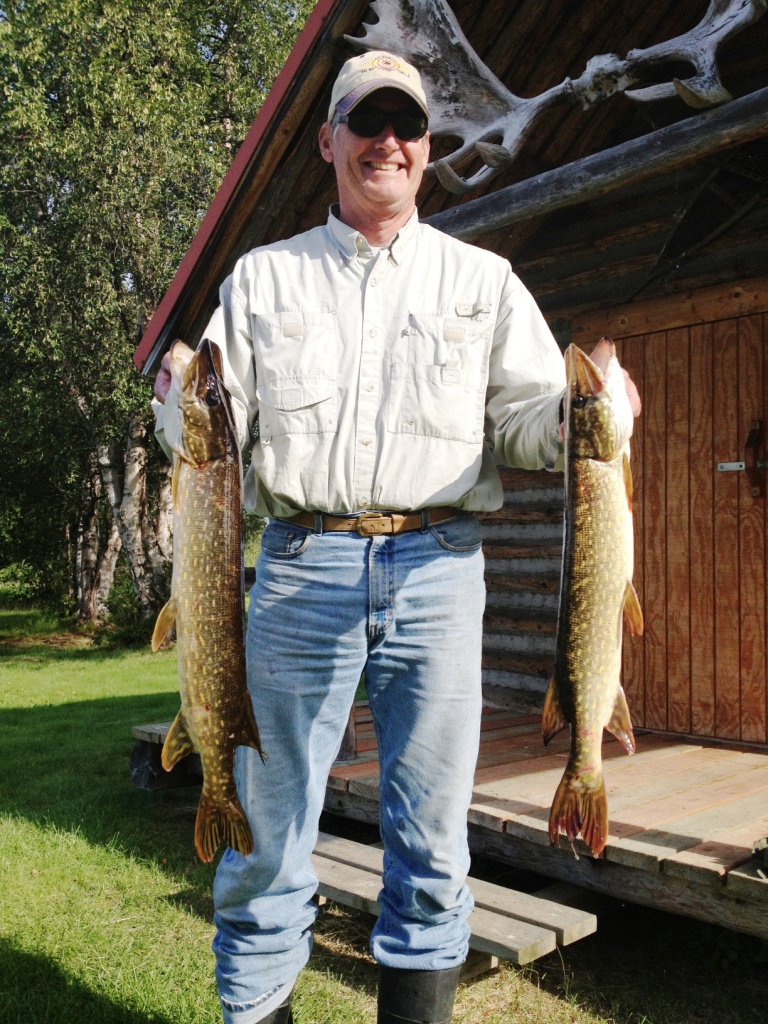 The Anchorage airport includes the world's largest fleet of float planes that is located in a lake next to the main airfield. It was definitely an experience taking off on the water, and flying one hour to Lake Alexander, a remote campsite without running water or electricity. After landing at 6 pm we immediately started fishing for Northern Pike. When we stopped fishing for the 'day', I looked down at my watch and it was 11 pm (now the sunsets at 3 am). We cleaned fish, cooked fish for dinner and hit the bunks by 2 am. The second and third days of fishing were similar. I told JoDon, "If I never catch another fish in my life, that's OK." My right hand trigger finger is still sore from casting.

Sue and JoDon fishing with Denali in the background.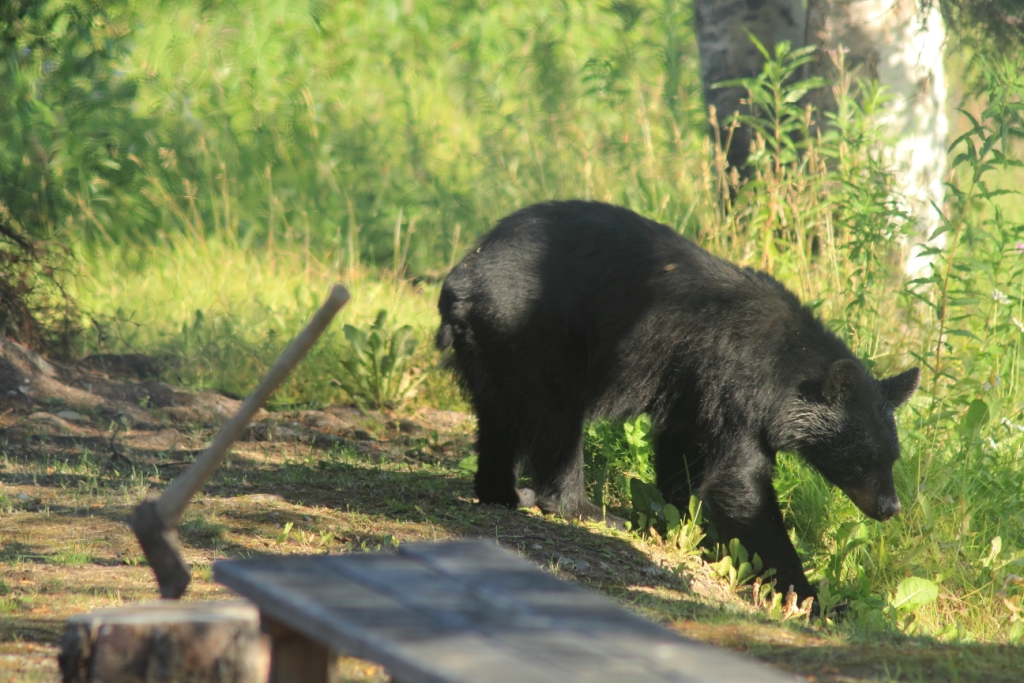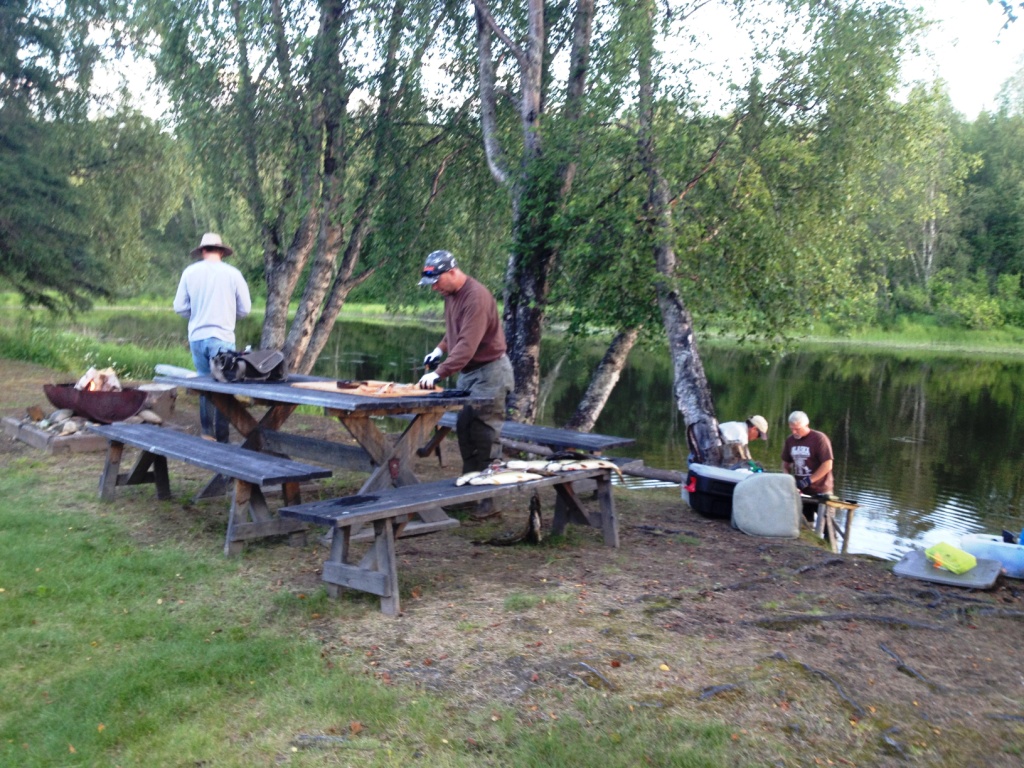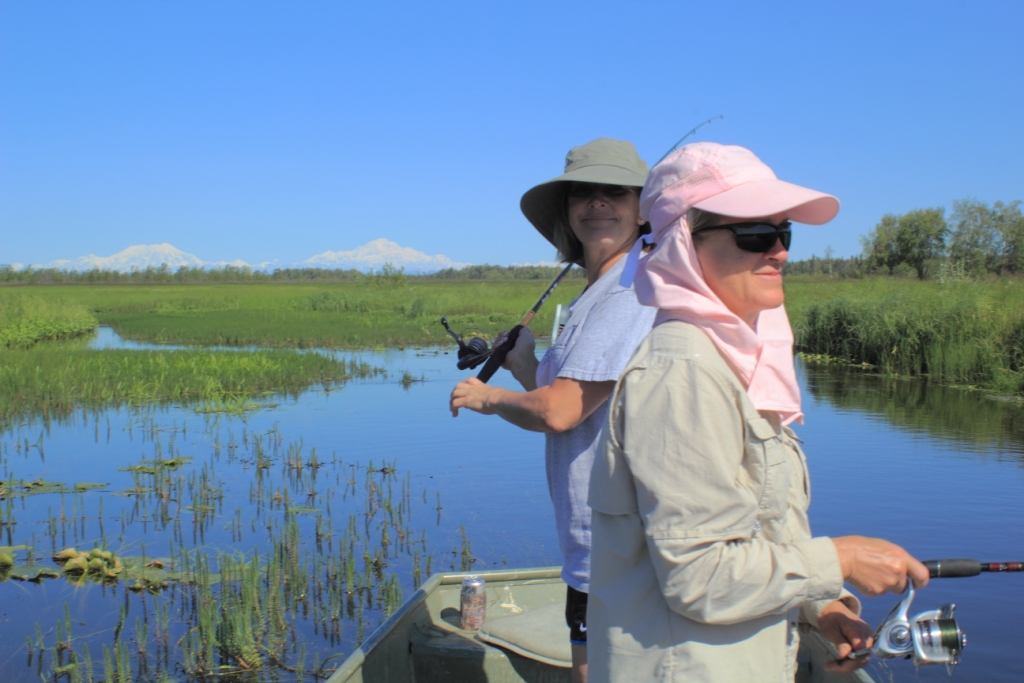 One evening a bear entered our camp and refused to leave. We tried all the bear "scare" recommendations: whistling, yelling, banging pots & pans, throwing rocks, but the bear was stubborn and would not leave. After about an hour we were all frustrated by this bear. So I replicated the golf scene from the movie "Sideways" and waved two brooms over my head, yelling & screaming. The bear relented and went back into the forest.

We are looking forward to hosting family this month and showing them a few of our Alaska highlights we've enjoyed during this summer of "Outdoor Disneyland."

Cheers!
Brian and JoDon