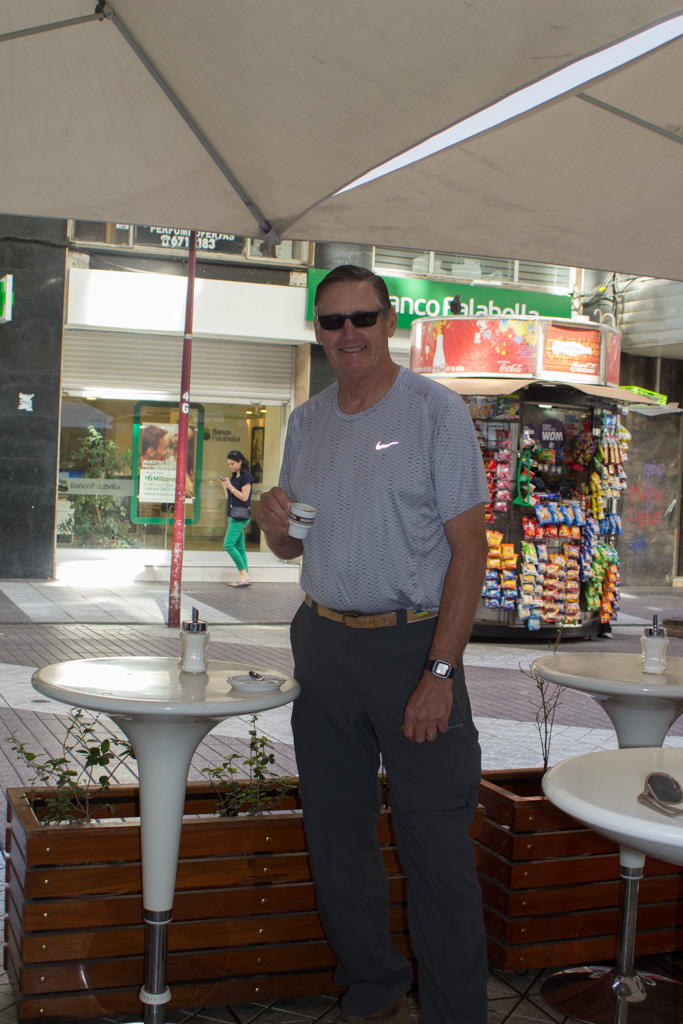 On The Road Again

March 11, 2017
Our six month sojourn throughout South America began in Santiago, Chile. Why there? Because we could get airline tickets for $5.50 each + airline miles. Let's go!

In Santiago we decided to follow Anthony Bourdain's lead and hit the standup coffee bar, El Caribe. Throughout downtown Santiago there are Hooter type coffee establishments: hot chicks in short skirts and high heels serving expresso coffee with a soda water chaser. Why hasn't anyone thought of that for downtown Dallas?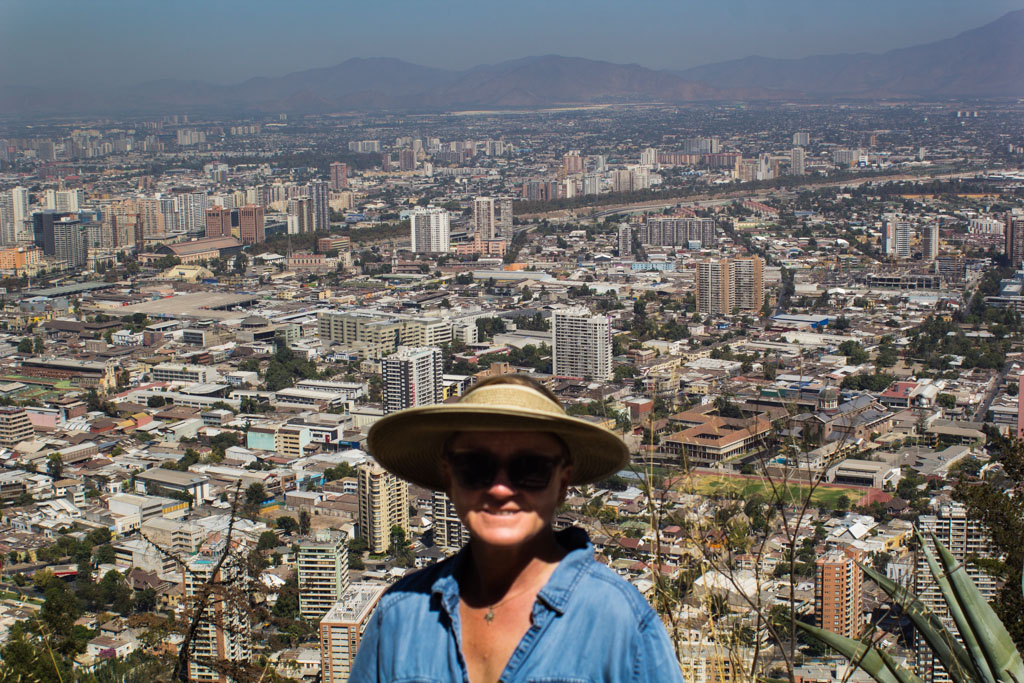 Since there's not a whole lot to do in Santiago we decided to take on some small hikes in the foothills within the city. The best thing to do in Santiago is to eat seafood. You could travel the world (and we have) and not find better seafood than Santiago. Its only two hours from the Pacific Ocean and the best seafood is sent directly to the city. Our favorite was grilled octopus, it was fabulous but their seafood stews were also "out of this world" in flavor including huge, oversized mussels.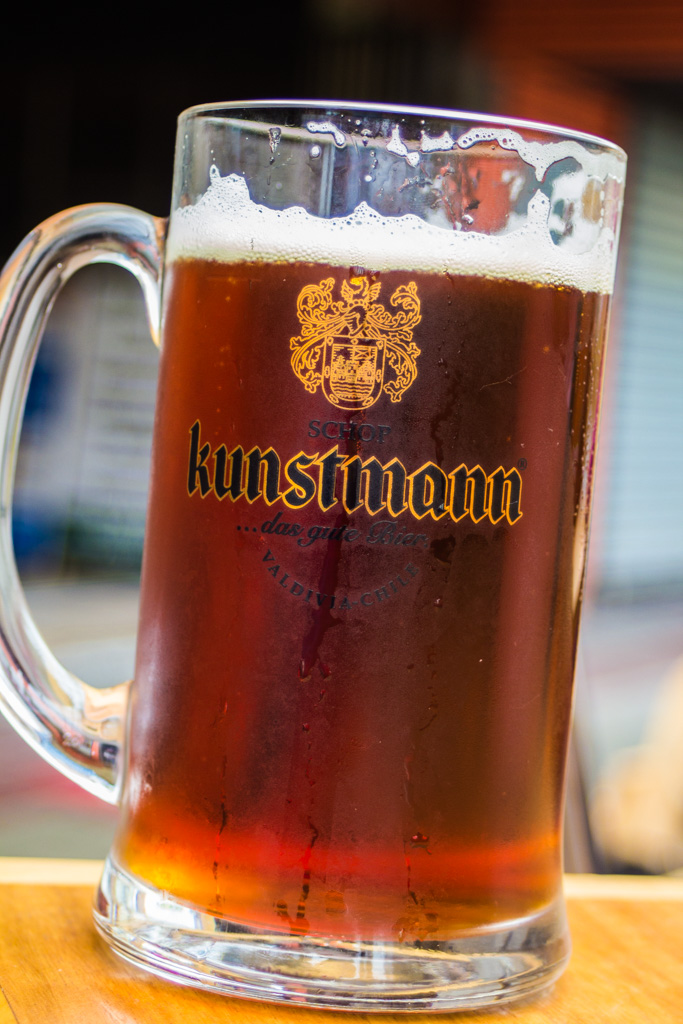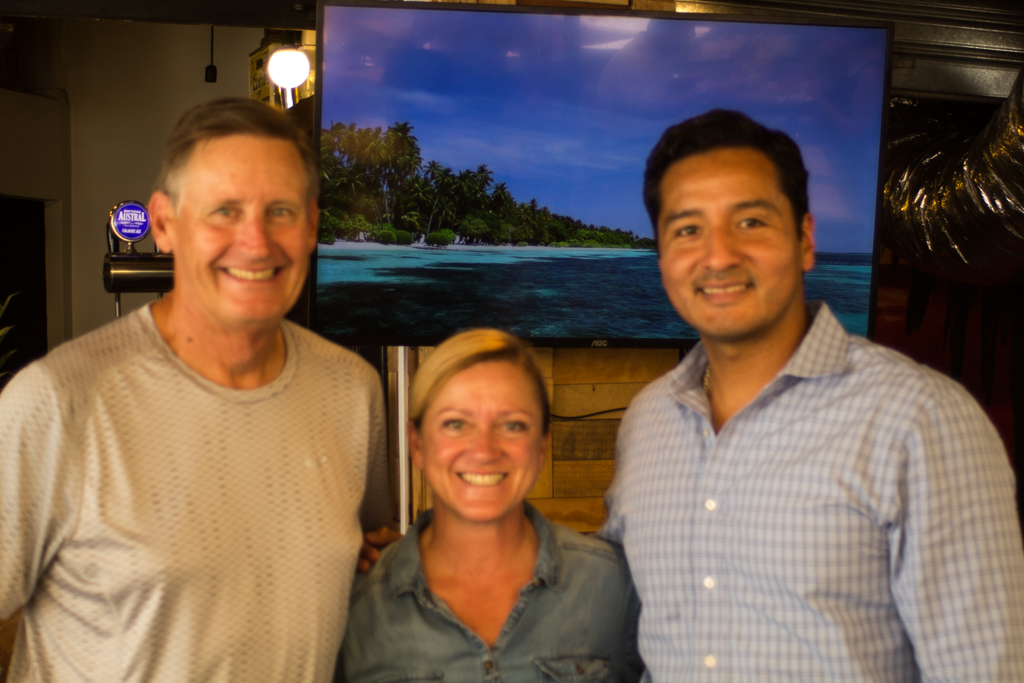 Providence interceded during our trip: while staying in the Vegas hotel in Santiago we learned that our good friend, Santiago Vega, was arriving on a business trip. We met him in the suburb of Providencia, what karma is that! It was great to hear of Santiago's successes, which was no surprise to either of us. Congratulations Santiago!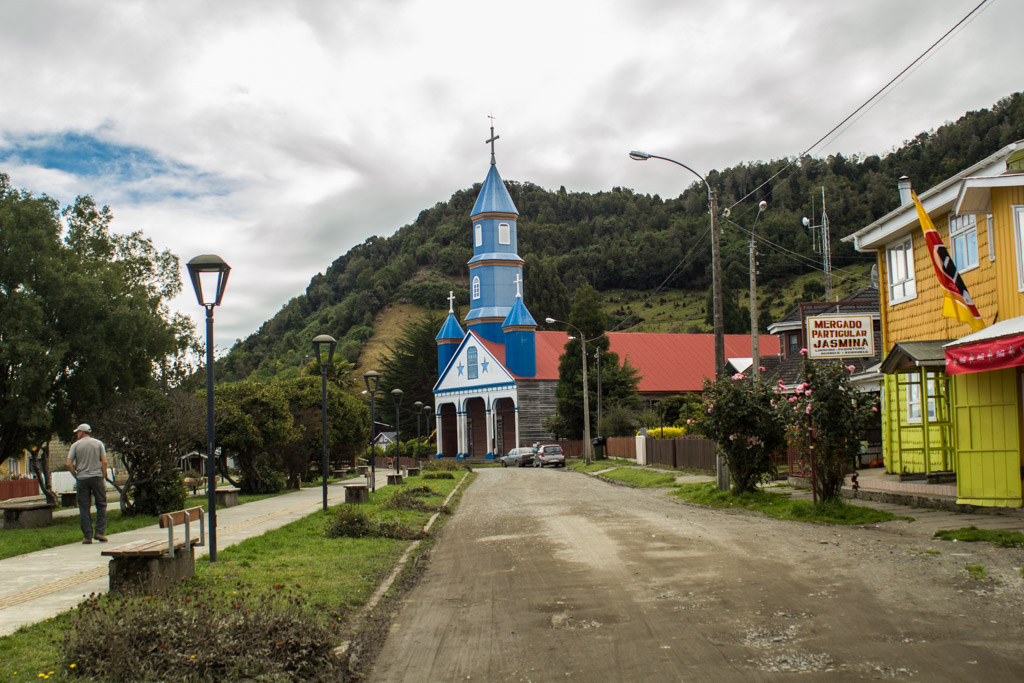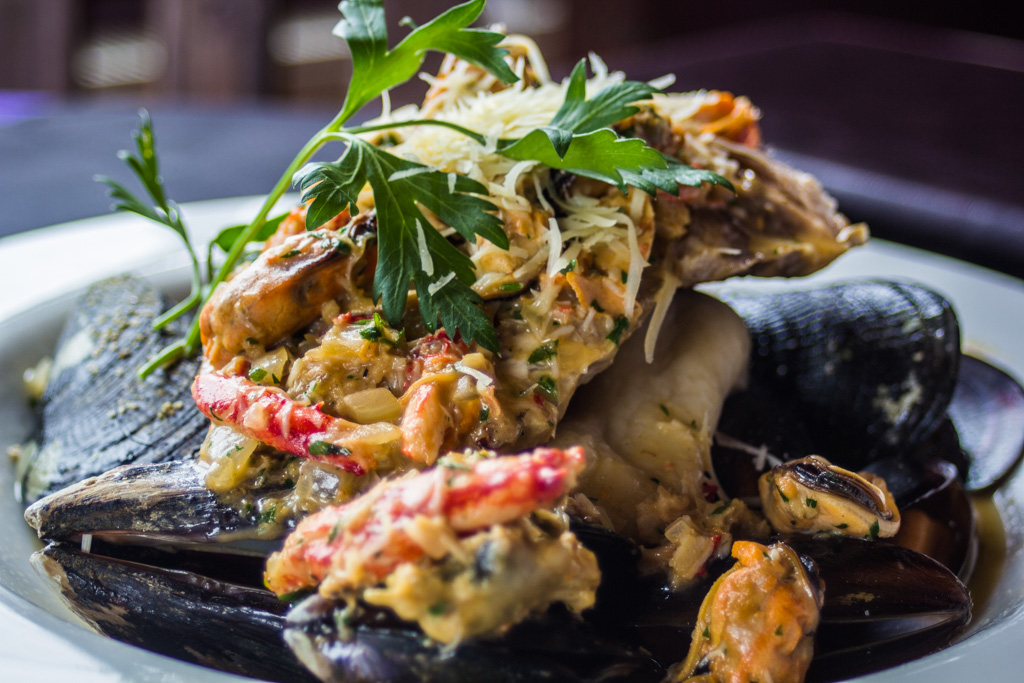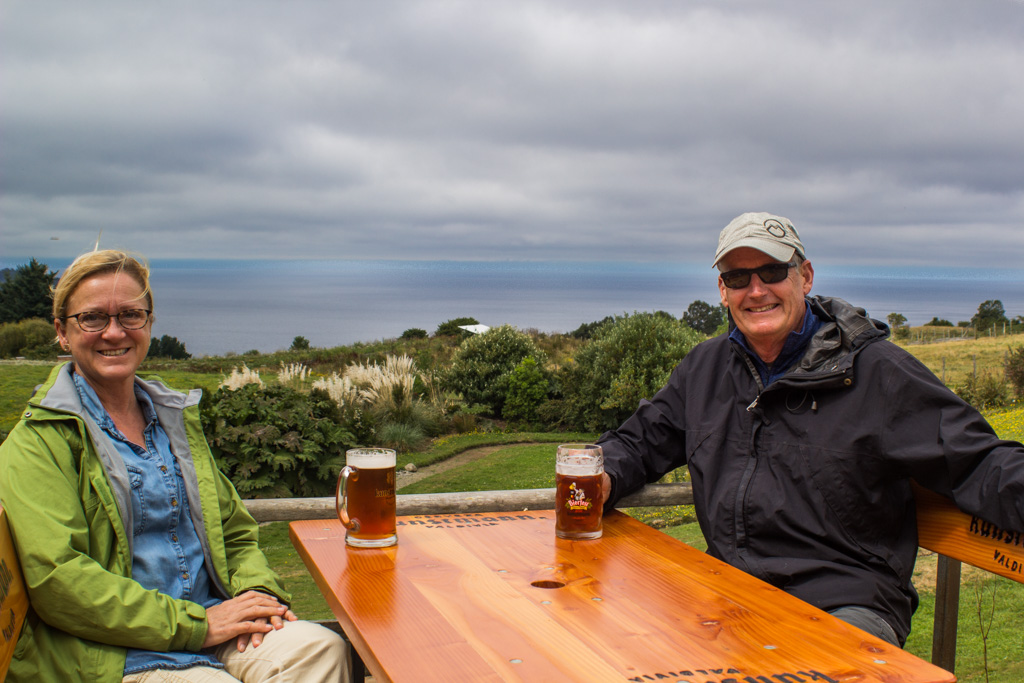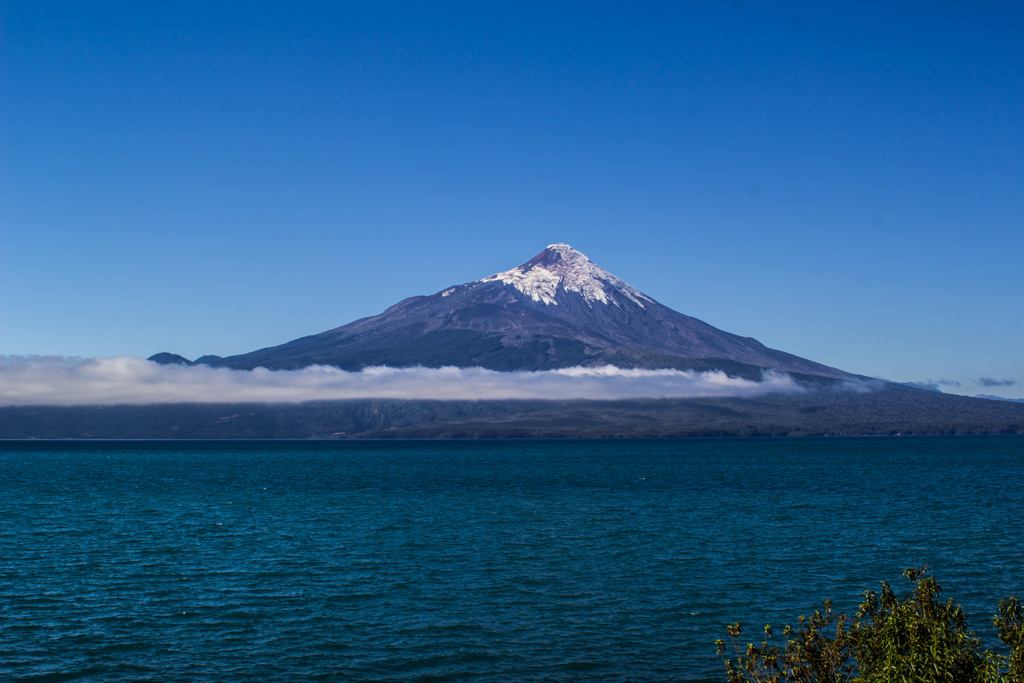 Lago Llanquihue out side of Puerto Varas, Chile.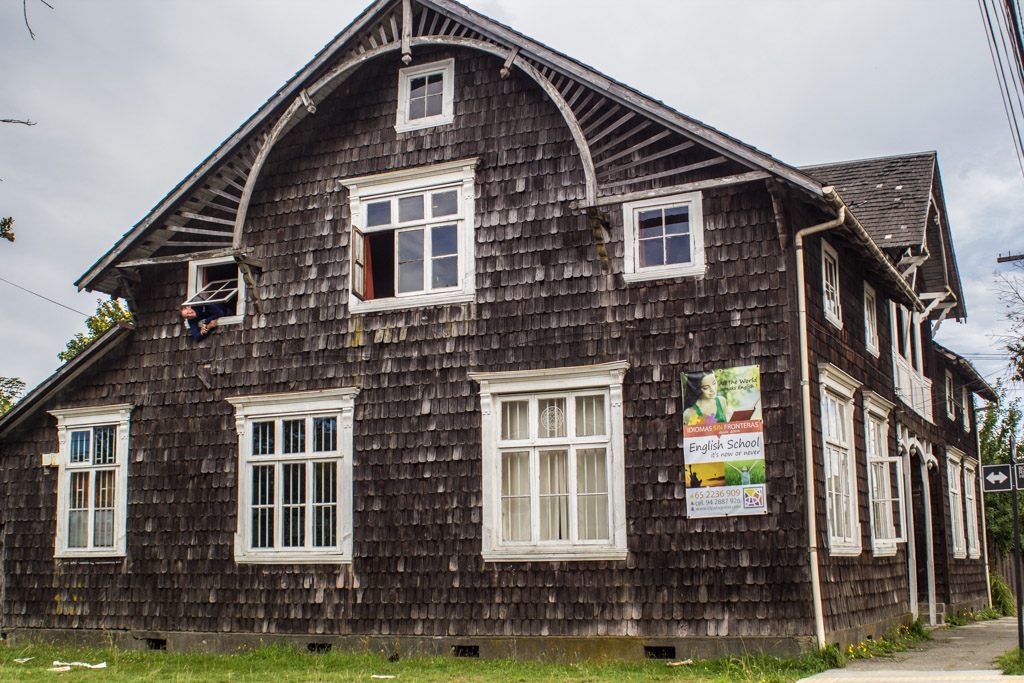 From Santiago we headed by bus south; the freeway was almost exactly like traveling highway 99 from Fresno, CA north. The freeway through the small valley was crowded with big rigs hauling loads of tomatoes, there were endless fields of table grapes, peaches, etc. and many huge Dole and Del Monte processing plants. As we traveled south there were apple and pear trees + berries (remember that we are in the southern hemisphere, the more south, the colder it becomes).

From the fruit basket of Chile we headed to the coast and the Lake District. Spectacular views! Along the way we stayed in a combination of AirBNB's and hostels, like this one, with Brian sticking his head out the window.

We decided to rent a car in Puerto Montt (Chile) and tour Chiloé Island and the Chilean Lake District. Chiloé is well known for their historic wooden churches built by local shipbuilders. Hence, the church designs are very unique. The Lake District was also spectacular that include lakes (duh!) and tall volcanoes. Nice!

Brian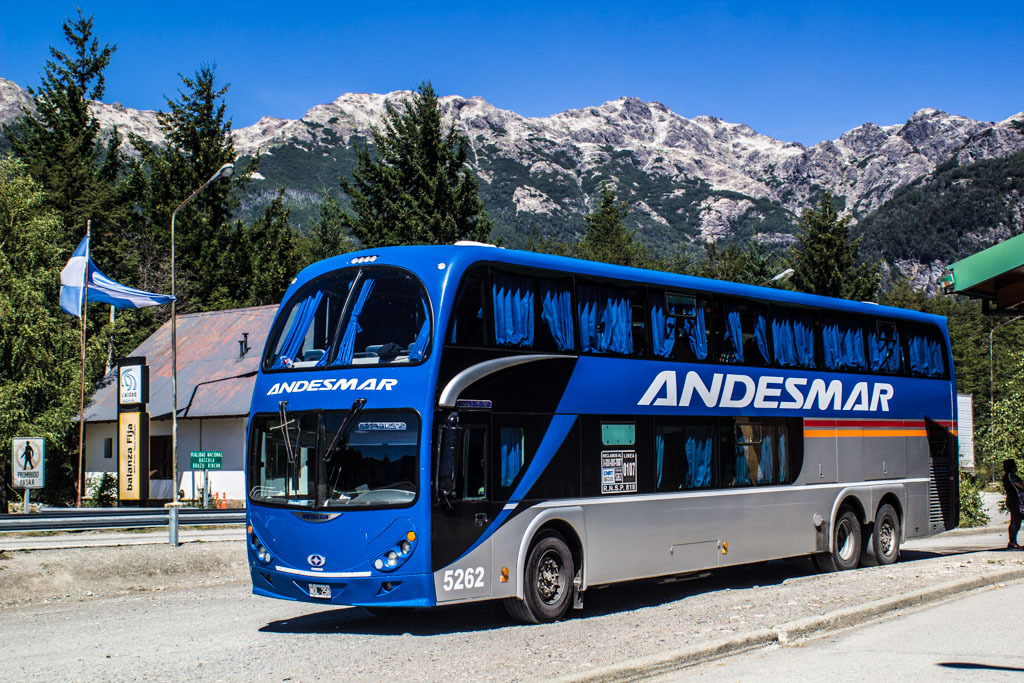 By South American standards Chile is a very prosperous country with a large middle class. It is difficult to find the abject poverty that is prevalent in third world countries. You would think that Chileans would be super sharp but they're not. Example: I entered a nice restaurant at noon and asked the hostess in Spanish, "What time does the restaurant open?"

She replied, "Today?"

BR: "Yes, what time does the restaurant open today?

Hostess: "Today for lunch?"

BR: "Yes, what time does the restaurant open today for lunch?"

Hostess: "I don't know."

After a long discussion with two bartenders it was decided they would open between 12:30 and 1pm. I moved on to a different restaurant.
From the Chilean Lake District we boarded a bus to cross the Andes Mountains into Argentina. The bus lines are efficient, however slow climbing the steep mountain grades. But we made it to Argentina!
Woo-Hoo!

We arrived to the winter snow skiing area of Villa la Angostura and Bariloche, Argentina with spectacular late summer temperatures: highs in the 60'sF and lows in the 40'sF. We filled our days hiking in the surrounding mountains. We really liked it there, but prefer a less crowded environment than the Aspen of Argentina.

Double click to edit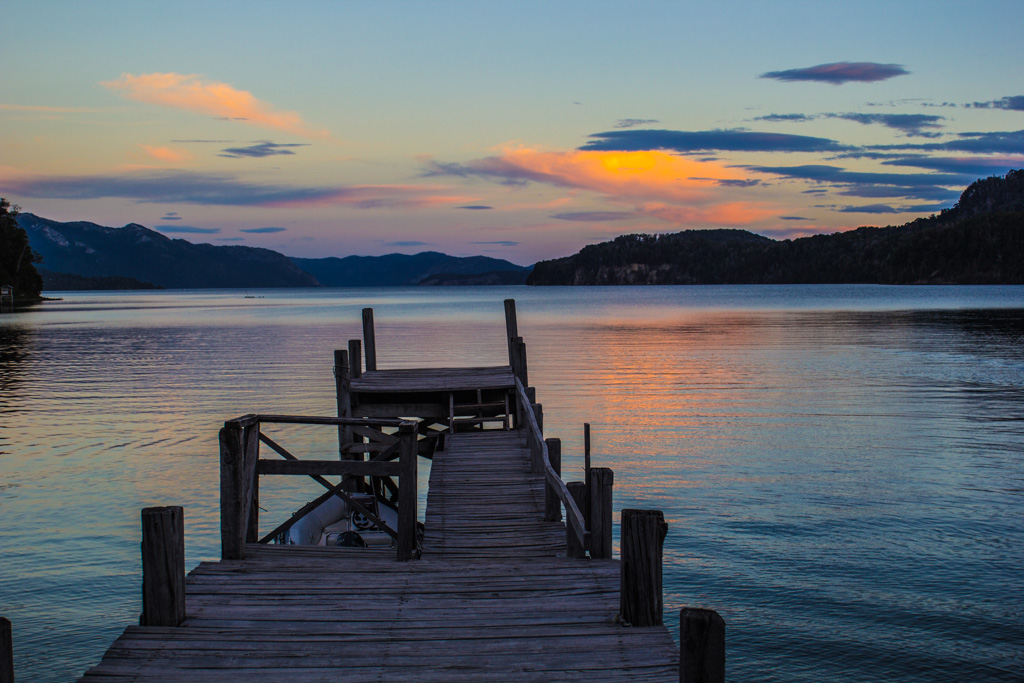 After spending our first night in a dorm room this was our view from our very nice hotel the second night in Villa la Angostura. Lago Nahuel Huapi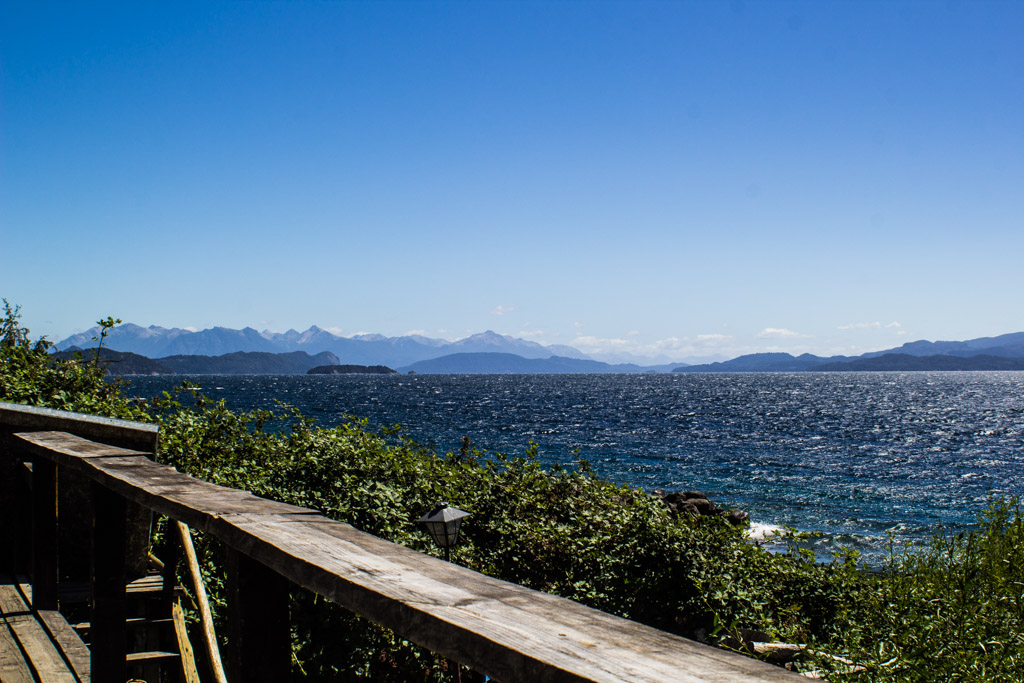 Moving on to Bariloche the view of the same lake is very deceiving. The lake is an equally beautiful surrounding but the view was the only thing good about the run-down, very old hostel behind it. With weird people staying there (us excluded) and even weirder people working there (if you could tell who worked there), we thought our lap top would get ripped off at any moment (it never did). All's well that ends well!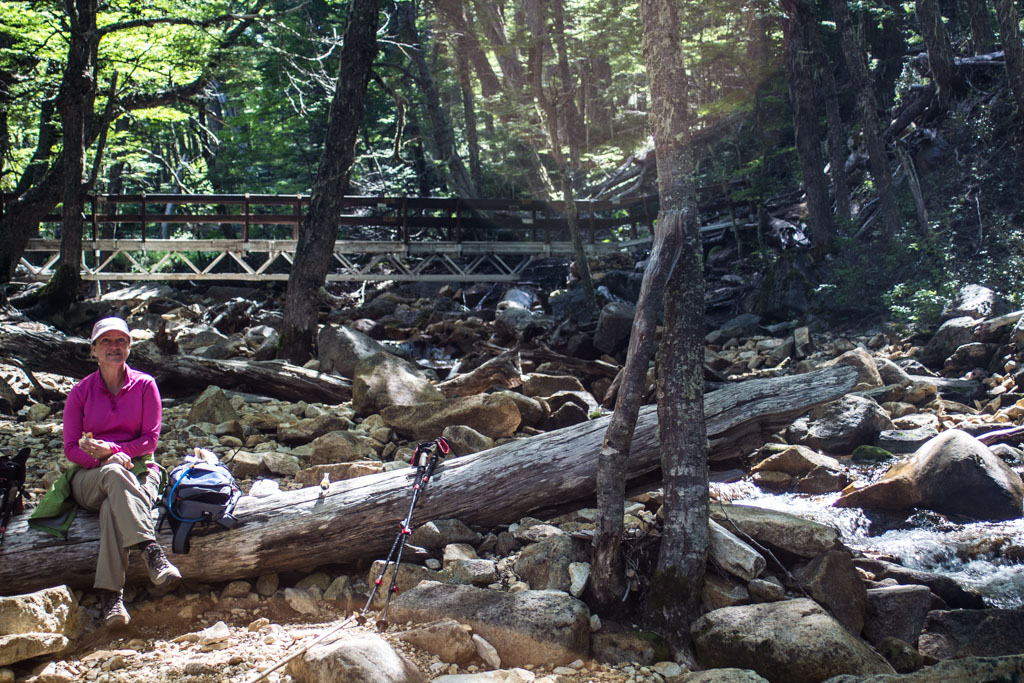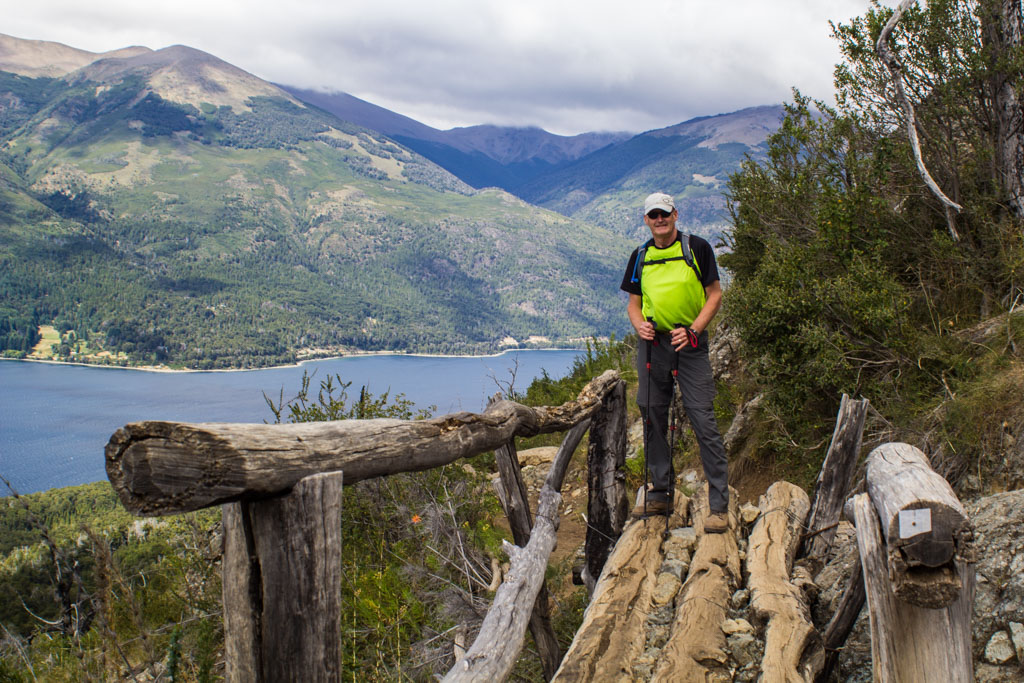 After a day delay due to high winds we made it to Parque National Nahuel Haupi for a beautiful all day hike (expect sleet at the top).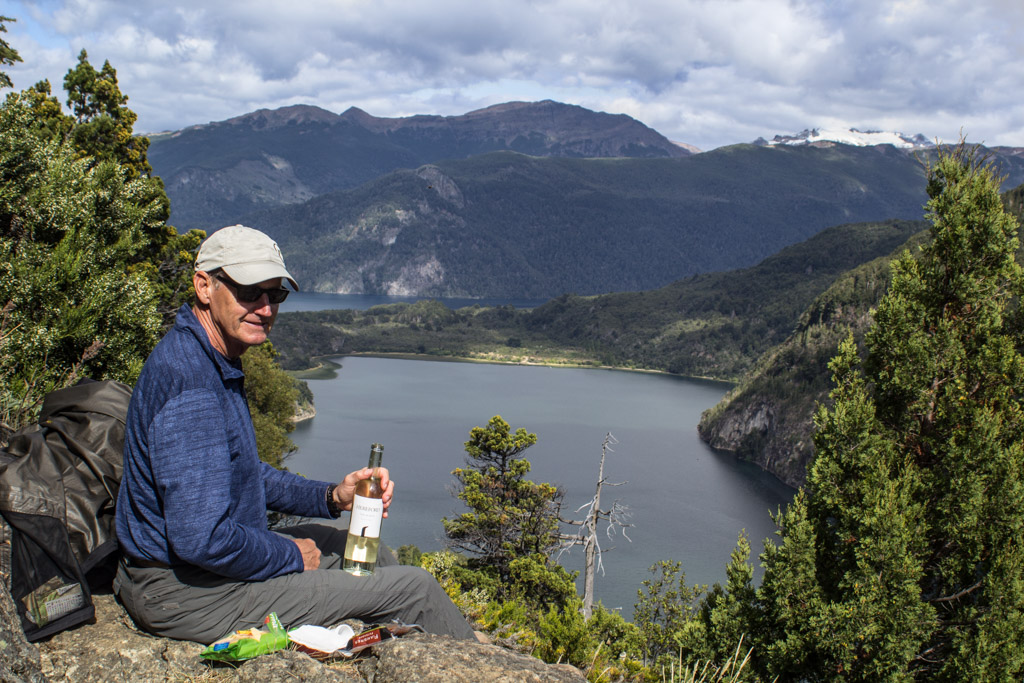 We continued to travel by bus from one winter snow ski resort to another and take in as many hikes as possible. The scenery is awesome, and our fellow travelers are from around the world, but most are from France and Germany with a scattering of older Americans (not us) traveling in tour groups. Riding a bus from one Argentine mountain slope to another, you travel the steppes of Northern Patagonia, Argentina. The steppes remind us of many areas of New Mexico/Colorado/Wyoming where the vast prairies of "nothing" give way to majestic mountains.

Patagonia is the bucolic area of South America that is shared by Argentina and Chile. It is one of the most beautiful and undeveloped regions in the world.

What do you do when you find out there is only one bus a day into Parque National Los Alerces that leaves at 08:00 returning at 21:00, the views outstanding and the hiking is easy? Pack snacks and a bottle of wine of course!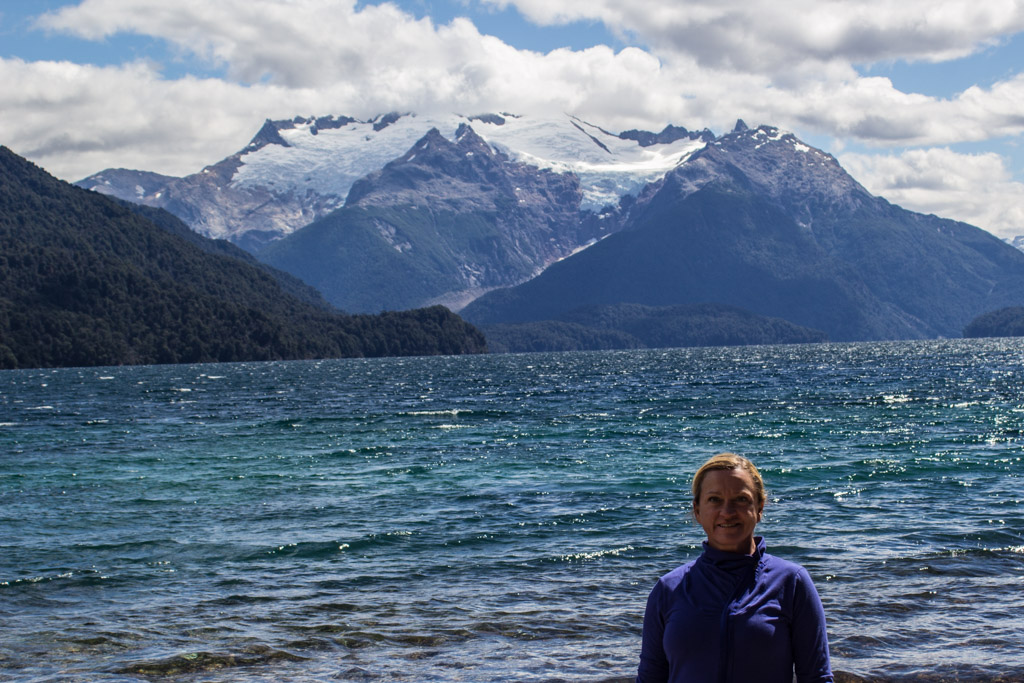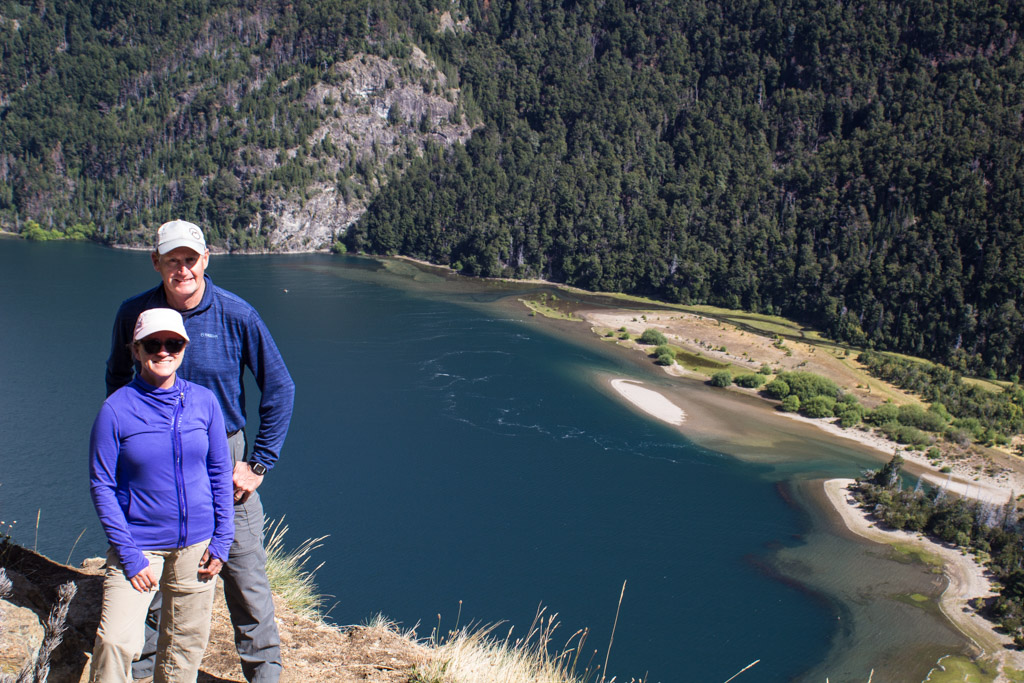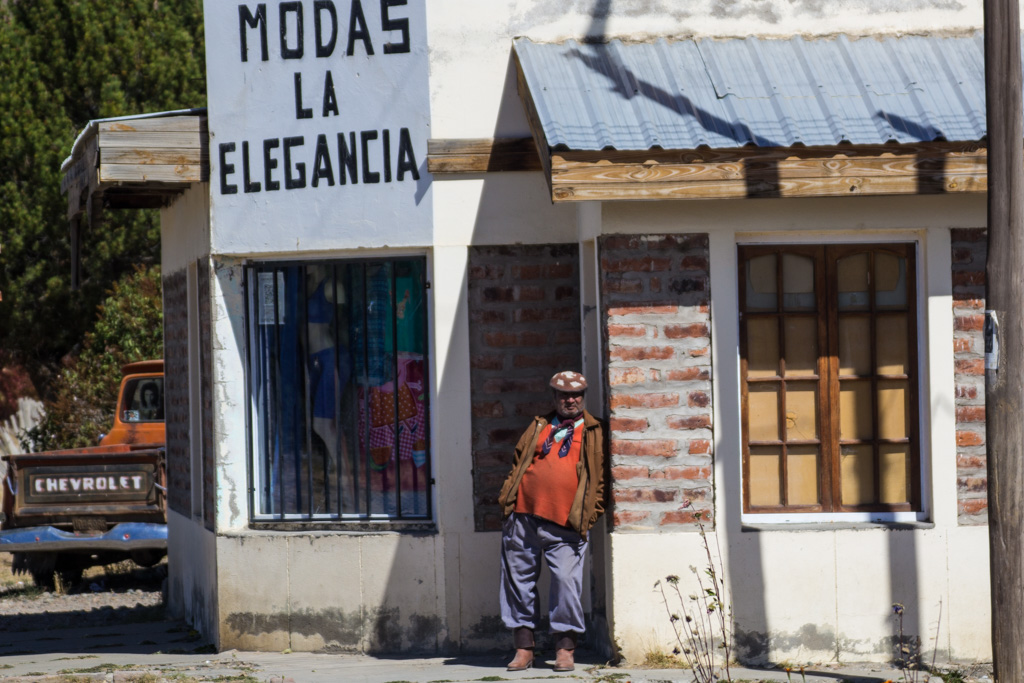 We made the decision to go further south from Esquel on the inland Route 40 vs along the faster coastal route. There are more interesting opportunities traveling along the mountains instead of fast tracking it through the oil producing coastal towns. In a small village we saw this old Argentine gaucho (cowboy).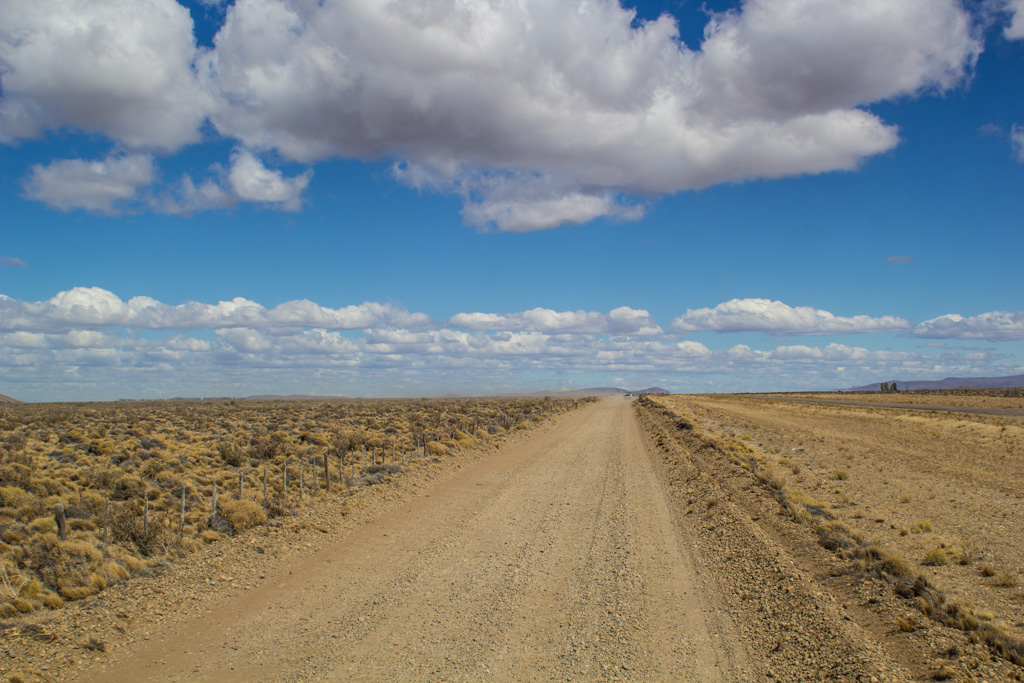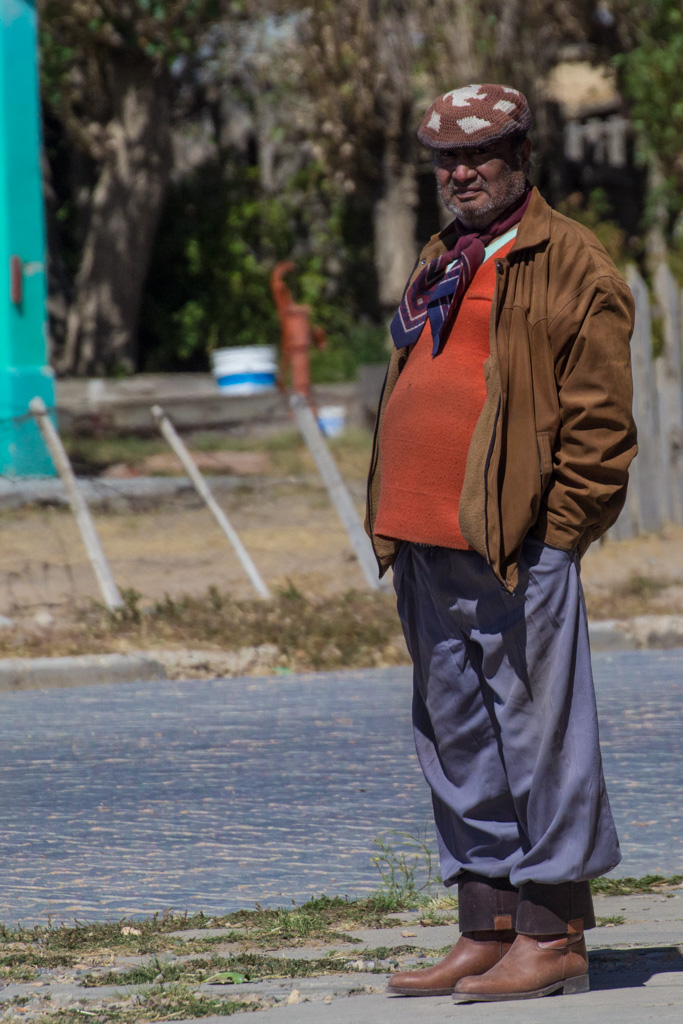 Route 40 on a day trip from Esquel to Perito Moreno.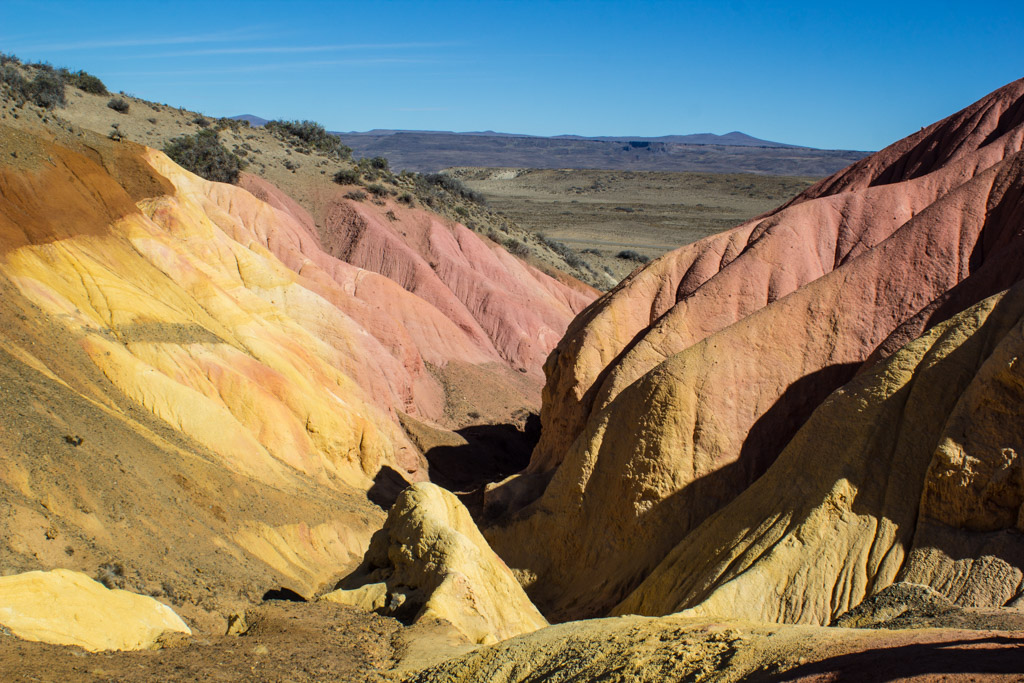 Thanks to JoDon's research we took a detour from hiking lush green mountains to hiking the dry steppe looking for "The Cave of the Hands." It wasn't an easy process but we found the caves that hands of all ages (babies through old people) stenciled to the walls. Different colored minerals were collected and mixed with animal fats and gypsum. The powder was then sprayed onto wall by blowing through a straw making a stencil of their hands, marking their territories. There are more than 1,000 hand depictions at one site and they date back 4,000 years. Most of the hands are left hands since they held the straws with their right hands. There are also drawings of animals including their important food source the guanaco (a large camelid), the rhea (an ostrich type bird) + puma (mountain lions). Interesting the same type of hand depictions can be found in Australia.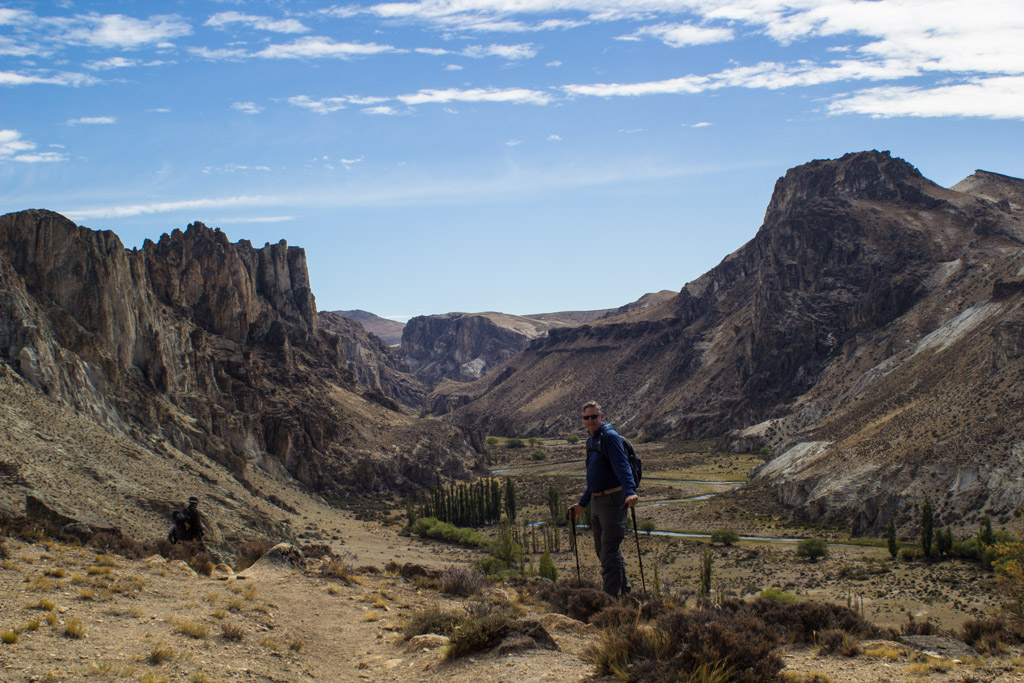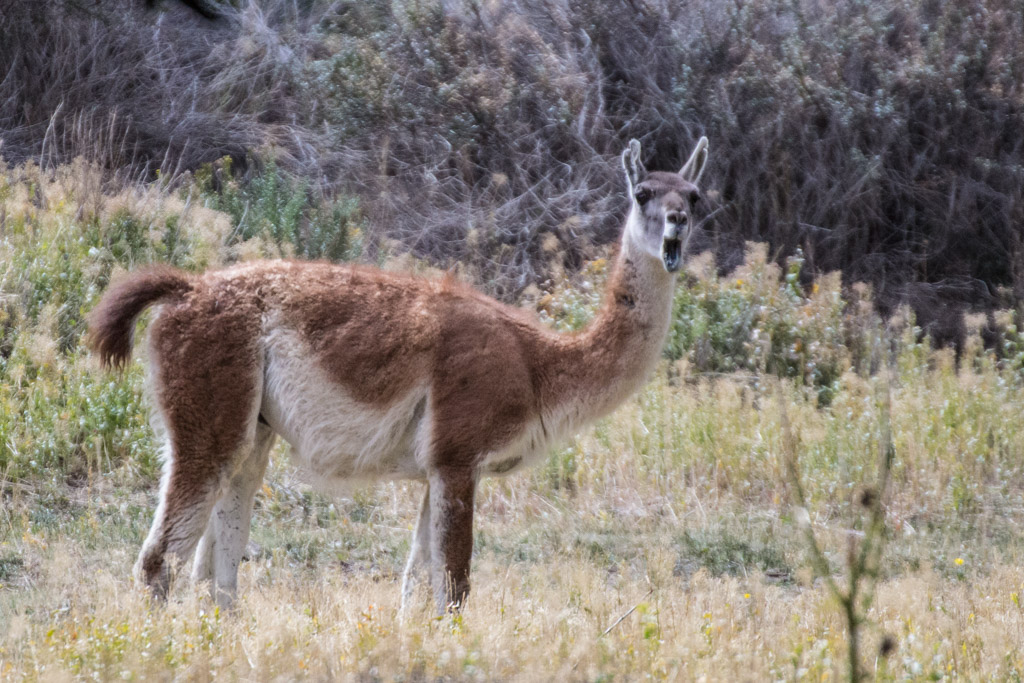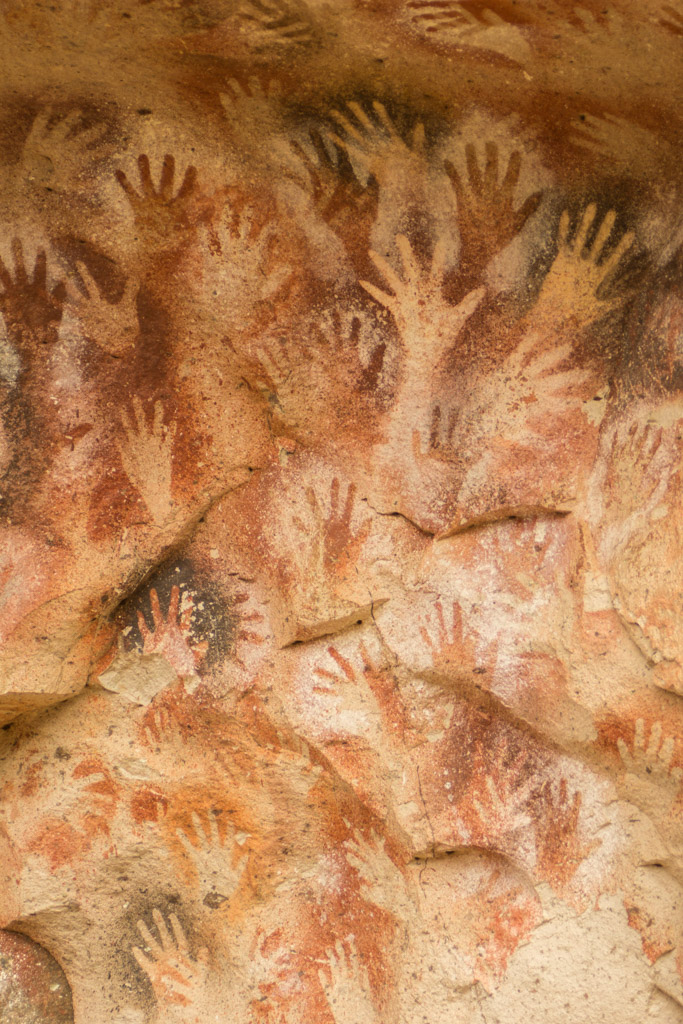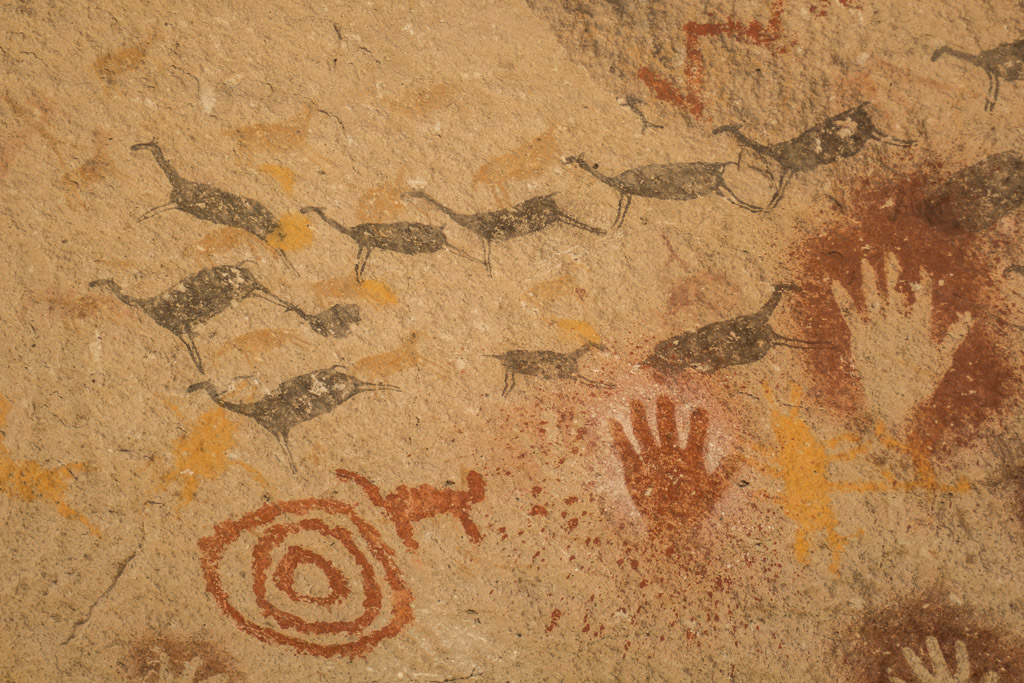 Argentines are friendlier than Chileans, almost to a fault when waiting in a line and the clerk is chatting endlessly with a customer (Americans are impatient). There are more Argentines of Italian descent than Spanish and therefore their speech cadence has a definite Italian sing-song cadence. Their pronunciation of words varies from town to town. Examples: when saying, "See ya" AKA "nos vemos" they say "Nos vemos che" (now I better understand how Che Guevara got his nickname). For takeout service in Spanish I say, "Para llevar." One lady pronounced it, "Par-shee-var-che." A hotel clerk told me to go down the hallway (pasillo) but he called it, "shawsillo." All in all, we get along fine.

JoDon and I were a little surprised to find people waiting in long lines for a restaurant at 11pm. We went to an Argentine BBQ shop at 8:30pm and were told to come back in an hour when the meat was done. Can you imagine a Texas BBQ joint beginning serving at 9:30 pm? Another weird thing is seeing parrots amongst snowcapped mountains. To me, this is about as strange as seeing snowcapped mountains in McAllen!

Patagonia is a region of South America that includes both Chile and Argentina. It is almost completely undeveloped and has spectacular sceneries that include green mountains, glaciers and big rivers. There is wildlife, but nothing as compared to Alaska.

It is raining today in the alpine village of El Chaltén, Argentina so it's a great day to update our website. Tomorrow we continue south to Punta Arenas, Chile, AKA, the wind capital of the world (I thought the Panhandle of Oklahoma claimed that title). There we will meet daughter, Amanda, for a Patagonian adventure.

A few random thoughts:
-we do not miss the 24/7 political hate now published in the US.
-A few years ago South American politically leftist countries included Argentina, Brazil, Venezuela, Peru and Ecuador. It appears that within a month Venezuela will be the only one.
-Hereford cattle are the prominent breed in Argentina. Along with lamb, Argentina is a carnivore's wonderland with tasty meats cooked over fires. Chile: good meat, fantastic seafood!
-Berets are the popular headwear of older Argentine men.
-In the central mountains of Chile and Argentina, the prominent ranch, brewery and restaurant names have German surnames.
-To get to El Chaltén, we rode an overnight bus 12 hours (departed 9pm, arrived 9am) that included 4 hours of dirt road. A few nips of vodka removed some of the bumps in the road and made for good sleeping.
-That same bus displayed a sign in English, "Please do not remove your shoes." Wearing the same boots hiking for days and days we decided that sign didn't apply to us. Sorry fellow travelers!
-Argentines are addicted to drinking 'mate' their national drink. It is a combination of herbs in a large mug drank with a large metal straw. Different herbs can be used to help with digestion, diabetes, high blood pressure, etc. They pour boiling water in their mugs throughout the day and it is common to see Argentines hiking with a special kit that contains their mugs, straws and hot water thermoses. To each they're own, but we don't get it.

More later!
Brian and JoDon